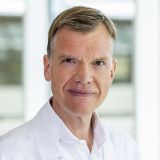 Keywords
Carcinoma, Pancreatic Ductal; General Surgery; Oncology
Research interests
To date, his main scientific interest focuses on pancreatic cancer and pancreatitis, the interdisciplinary treatment of pancreatic cancer including neoadjuvant multimodal therapy and the prediction of resectability as well as prehabilitation strategies for patients during neoadjuvant treatment.
He is a peer reviewer for some international surgical journals. Dr. Schindl received grants from the Austrian Surgical Society, the Austrian Science Fund and Tenovus Fund Scotland for his research.
He is a faculty member at Medical University of Vienna as Associate Professor of Surgery and Coordinator of the Pancreatic Cancer Unit at the Comprehensive Cancer Center Vienna.
Techniques, methods & infrastructure
Interdisciplinary Pancreatic Cancer Unit: tertiary referral hospital interdisciplinary network (clinic & research)
Austrian Task Force Pancreas: multicenter interdisciplinary network (clinic & research)
Pancreatic Cancer registry
Pancreatic Cancer research: diagnosis and treatment
Pancreatitis, acute and chronic - clinical approaches
Rehabilitation program: determination of patients' fitness and measures for intervention