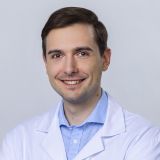 Keywords
Artificial Intelligence; Biostatistics; Bone Regeneration; Guided Tissue Regeneration; Oral Medicine; Oral Surgical Procedures
Research group(s)
Competence Center of Oral Biology
Head: Reinhard Gruber
Research Area: The Competence Center Oral Biology is involved in dental research and training. The work is done in an interdisciplinary team with national and international cooperation, integrating academia and industry.
Members:
Research interests
Balazs Feher conducts research at Vienna General Hospital and the University Clinic of Dentistry. He is studying towards a Ph.D. in Endocrinology and Metabolism on competitive grants issued by the International Team for Implantology Foundation and the Osteology Foundation (Thesis Committee: Prof. Reinhard Gruber, Prof. Ulrike Kuchler, Prof. Johannes Grillari). He is also a contributor to the ITU/WHO Focus Group on Artificial Intelligence for Health as well as a member of the European Association for Osseointegration's Junior Committee. In 2018, he was awarded the European Prize for Research in Implant Dentistry.
His preclinical research focuses on osteocytic signaling in bone regeneration. Osteocytes play a crucial role in bone resorption and regeneration. However, several aspects of their elaborate signaling remain elusive. Prof. Gruber and Dr. Feher investigate osteocytic signaling using Cre/lox knockout models in cooperation with the Center for Biomedical Research.
His clinical research focuses on data science in oral surgery. In extensive collaborative efforts with multiple universities around the world, Prof. Kuchler and Dr. Feher apply novel research methods to the field of dental surgery, ranging from advanced statistical modeling for surgical risk prediction to artificial intelligence and convolutional neural networks for oral cyst and tumor diagnosis.
Techniques, methods & infrastructure
In their preclinical projects, Prof. Gruber and Dr. Feher use Cre/lox knockout models to selectively disable parts of the osteocytic signaling pathway. For analysis, in vivo and ex vivo micro-computed tomography, histology, and histomorphometry are used in cooperation with the Core Facility Hard Tissue and Biomaterial Research.
In their clinical projects, Prof. Kuchler and Dr. Feher use large datasets and advanced analytics to estimate biological processes like postoperative cyst regeneration and predict surgical risk after procedures like wisdom tooth removal or dental implant placement. Moreover, deep learning, specifically convolutional neural networks are used in cooperation with the Charité in Berlin.
Grants
Osteocytic RANKL expression in bone graft consolidation (2020)
Source of Funding: Osteology Foundation, Young Researcher Grant
Principal Investigator
Disabling osteocyte apoptosis in mice: Impact on calvarial bone regeneration (2019)
Source of Funding: International Team for Implantology Foundation, Small Research Grant
Principal Investigator