Apply and track the current status of your PhD application online at anytime
You can use our PhD application program to apply online to our PhD programs within the application deadline. After you have submitted your application, complete with all the necessary supporting documents and references, our online application tool will be where you can track the progress of your application, and find out if you have been selected to receive an offer at the end of the application process.
The application tool allows you to:
View your application information
Enter your referee contact details
Track the status of your reference letters
Upload and view your supporting documents
Accept or decline your offer, should you recieve one
Meet with your faculty online, when being invited for an online interview
See the agenda for your on campus visit, when being invited for a personal interview.
Track the general status of your application in the application process
View all open PhD positions in the current call
Contact our PhD Coordinator for support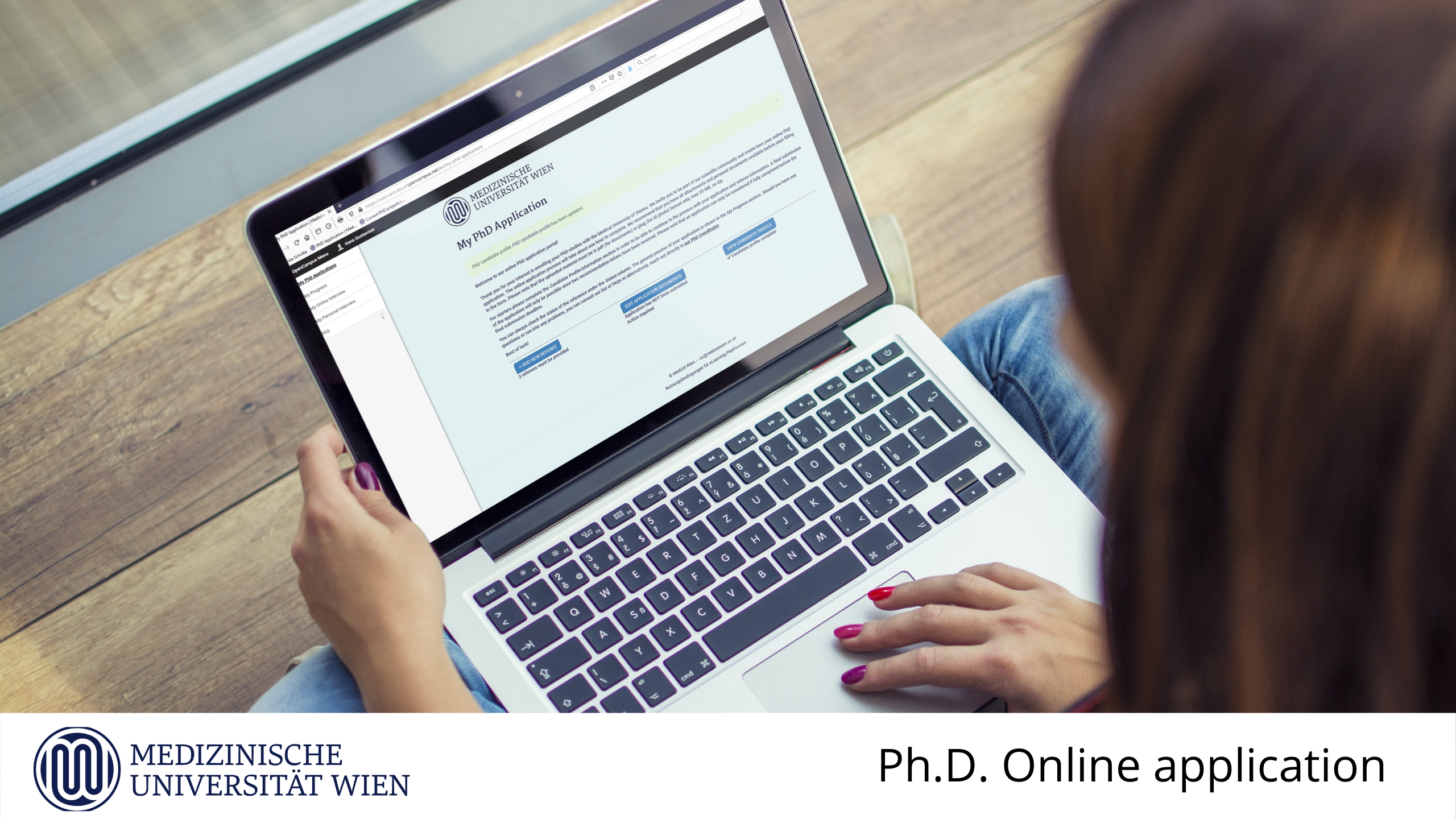 ---
Using the online PhD application tool of MedUni Wien
After you have completed the necessary preparation, and you are ready to begin your online application, please take note of the following important information.
To access the application online tool, click on the Join Us button appearing on the website, that holds all information for prospective PhD students. Alternatively go to the website that lists all open PhD opportunities and click on the Apply Now button.
General information about the online tool: The application tool is only available in English and also the application must be submitted in English. No amendments are possible after submission of the application. Thus, we advise you to make sure that you have entered all the important information and uploaded all the required documents before hitting the Apply for PhD button at the end of the application form. Any status change can be tracked via the online application tool. Additionally you will be notified by email of any updates. An application can only be lodged once one out of two reference letters have been submitted within the deadline period.
Application process step-by-step
Register yourself in our online application tool to receive your login credentials.
Fill in your personal details in the candidate profile. Once you have submitted your candidate profile, two more icons appear on your screen.
Request your references by clicking on the Add New Referee button, and enter the name and contact details of your two referees. The application tool updates in real-time the status of your reference. Additionally, you will be notified by Email email about it. Once one out of two references were are successfully submitted and all the application forms and documents filled in, you are ready for submission.
Fill in the the application documents form, as well as submit all supporting documents, transcripts and an additional CV. In the application form you are will be asked to give information about your research interests, past research and professional experience as well as list any social skills you might have developed over time. Transcripts need to be submitted in English and original language. For this step of the application process, you may do the translation yourself. However, at admission you will need to present us with transcript documents of an authorized professional translator. Please submit your application only once you have met all the requirements. A confirmation of receipt will be sent to you, as soon as we receive your application.
You can access the list of all current open positions by clicking on PhD Open Call in the menu bar found on your the left hand in the upper corner.
Track the status of your application anytime by clicking on My Progress in the menu bar. This overview shows you all single steps of the application and selection process. Here you can also display all information you have entered and uploaded.
If you have been shortlisted for an online interview, check your online interview details by clicking on My Online Interview in the menu bar. You can directly access the Webex meeting from here on the day of your interview to meet with our faculty online. Should you get shortlisted for an interview, you will be asked to confirm your attendance directly to the email invitation that we have sent you.
In case you were shortlisted for a personal interview with our faculty, check your agenda for your campus visit by clicking on My Personal Interview in the menu bar.
If you have any difficulties during the application process, please contact our PhD Coordinator by clicking on Contact PhD Coordinator in the menu bar. For quick assistance, please consult our FAQ selection, accessible through the menu bar.
Important information:
Your application is not complete without the required supporting documentation, which must be submitted through the online application tool as part of your application. If any supporting document, including references, are not provided, your application will not be considered and your application will be withdrawn when the application deadline has passed.
For more information on what document and information you have to submit, please continue reading the section on supporting documentation below.
---
Information required for the PhD application form
When completing the application form, you will have to provide the following information:
Personal information: You will be asked to enter your personal data (E.g. nationality, address, date of birth).
Research interests: Please select your preferred research field and indicate up to to three potential PhD projects and supervisors from the list of recruiting faculty you are interested in.
Two referees: You will need to provide us with the name and professional email address of two academic referees, who are available and willing to evaluate your professional experience and development. Your referees should know you personally and be able to comment on your academic performance. Referees should be professionally established at the level of principal scientist, group leader, lecturer or higher ranking. References from Post-Docs, PhD students or class-mates cannot be accepted.
Your academic experience: You will be asked to provide information regarding your previous academic studies,
Your research and labatory experience: You will be asked to give information about your previous research projects that you have been involved in. Please list here any laboratory experience and/or internship and what knowledge you have gained during the process.
Publications: In this section, please note down all your publications if you already have any.
Your motivation letter: Write a short statement and address these three areas


Present perspective: Why do you want to pursue a PhD and why is MedUni Wien is your preferred choice of university?
Past perspective: What experiences or activities bear on your qualifications for this program, e.g., academic research, teaching, professional experience and so on. How does this experience or your personal background relate to your decision to undertake a PhD? What is your biggest strength that you would bring to your researach team?
Future perspective: What are your research interests, , including the topics and areas you would like to study in the PhD PhD program(s)? And, what are your short- and long-term career objectives?

Other knowledge and experience: Here you have the opportunity to enter your experience and knowledge in the field of leadership, scientific writing or programming.
---
Supporting documents needed for the PhD application
Before you start the online registration, you should prepare PDF files of your supporting documents. Each file should be a single one-sided PDF not exceeding 20MB. You can upload your documents and transcrips as long as you have not submitted your application. Important note, once you have pressed Submit, no amendments can be made to your application anymore.
Please upload scanned versions of the following documents:
For each university degree obtained, the official, final certificate plus a translation if the original is not in English or German.
For each degree obtained or in progress, an official transcript of records listing coursework and grades, plus a translation if the original is not in English, German or French.
CV (max 2 pages, please do NOT include photo)
Language proficiency certificate (if applicable and already available),
Other major certificates or award documents if relevant,
Working permit (if applicable and already available)
Funding documents (if applicable and already available).
You will be asked to upload a profile picture in your candidate profile. The picture will only be used for your campus visit if you are shortlisted for a personal interview. Our faculty do not have access to your candidate profile. Only a very selected number of administration staff, who are involved in the organization of the campus visit days will be able to view this information.
---
What selection criterias apply?
The volume and quality of applications recieved varies from year to year, but levels are usually very high, which makes our PhD programs very competative. Having that said, there are too many factors in place that makes it impossible to predict the outcome of an application. However, we wanted to give you some guidance to help you submit the best application you can.
Academic record
The academic record will be evaluated by the academic achievements and demonstrated scientific abilitiesof the candidates, taking into account the level of opportunity and early stage of the career of the candidates. Following documents and data will be used to guide the selection during the application process:
Relevant working experience
Relevant research experience
Reference letters
Any awards and/or scholarships received
Any publications
Transcripts
Notable extracurricular achievements
Motivation letter
Evaluators will see if the candidate was able to clearly articulate and explain their interest in the PhD program and/or project. How past experiences and potential talents of the canidate contribute to the desired project or research team. Candidates should highlight evidence of their past achievements and ability to work well in a team, as well as independently.:
The emphasis of the selection is as follows:
70% Academic performance
30% Non-academic qualities
No socio-economic data is will be taken into consideration for the selection process at a PhD level.
To avoid bias, all our faculty will use standardized evaluation forms during all three steps. They must enter their evaluation for each assigned candidate in our application online tool and will have no access to the assessment of others. Candidates are asked to fill in their CV information in our Application documents form and type their motivation letter in our online tool to ensure that all candidates use the same format when proving their information. There is the possibility to upload an additional CV (without any foto please).