Focus of the PhD programs
We focus our research work on the five core areas of immunology, cancer research and oncology, neurosciences, cardiovascular medicine and medical imaging and attachgreat importance to conduct interdisciplinary research in our projects. On a daily baiss, medical professionals work together here with mathematicians or physicists on their projcts. Our doctoral studies are bundled in the form of thematic programs and offer a wide range of interdisciplinary research projects to choose from. Our teams are just as divers as your research that is what makes our work so exciting.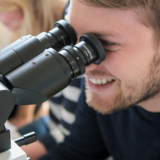 Educational objectives
The PhD programs aim to provide you with all the necessary skills and knowledge that make an excellent scientist and head of science. It does not matter whether you want to work in an academic or in the private sector in the future, the requirements are basically very similar. We accompany you in your first steps as a young researcher in the development of your independent project. The PhD course is practice-oriented, as you will learn most of the skills and knowledge as part of your academic work in a team. After successfully completing your training, the following description corresponds to your profile:
A systemic understanding of a study field and proficiency in the skills and methods associated with this field;
Ability to plan, design, implement and adapt a research project with scientific integrity,
Production of original research output which increases the borders of knowledge by the development of a substantial research work,
Ability to make the research output available to the scientific society according to national and international publication standards,
Ability for critical analysis, evaluation and synthesis of new and complex ideas,
Ability to communicate with the professional environment, the scientific community and the society in general about basic questions of science and scientific politics,
Ability to promote technological, social and cultural progress within an academic and professional context in a knowledge society.
---
Workflow of the PhD programmes
The PhD study takes at least six semesters and comprises of 180 ECTS. All courses make up a total of 30 hours each semester, which corresponds to 16.7% of the total duration of the course (based on a standard 40-hour). The remaining time (83.3%) is available for developing your own project for the doctoral thesis.
The PhD Programme comprises a comprehensive scientific training in your chosen research area as well as the acquisition of general skills for the scientific profession, in order to prepare the graduates for a career in various academic, medical, industrial and public scientific areas. This accompanying education is carried out in courses, including lectures, seminars, journal clubs, propedeutics, asic courses, thesis seminars or study periods abroad. The entire time you work with your supervisor and the rest of the research team.
Towards the end of your studies, you will work on an independent research project, which will be documented in a doctoral thesis and defended publicly. We have put together more detailed information on the curriculum, including a study plan proposal, here for your consideration.
---
Career outlook
The completed PhD program gives you the opportunity to work in a wide variety of areas, including:
Medical research
Project management
Science journalism
Professorship and teaching
Consultation to public administration, NGOs and industry
Marketing and Sales
Innovation and product development
Quality management
Funding