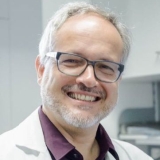 Keywords
Allergy and Immunology; Biotechnology; Cell Biology; Cell Culture Techniques; Granulocyte Immunology; Molecular Biology; Oncology
Research group(s)
CCC Tumorimmunology
Members:
Surgical Research Laboratories
Head: Michael Bergmann
Research Area: The task of the laboratory is to combine molecular/cellular biology and the needs posed by surgical patients. Thus, the laboratory acts at the interface between clinical medicine and basic research, promoting translational medical science.
Members:
Research interests
Our basic research interest is the immune response to cell death with special focus on cancer. We investigate which types of cell death (apoptosis, necroptosis, necrosis etc.) are induced by anti-cancer therapies, which molecular structures on dying cells are recognized by immune cells (DAMPs, mitochondria etc.), which receptors are involved, and what is the response of the different parts of the immune system (e.g. monocytes/macrophages, neutrophils, and the complement system). Many studies (including from our group) strongly suggest that the clearance of dying cells initiates anti-inflammatory, pro-resolving mechanisms. We hope to find ways to overcome this inhibition of an anti-cancer immune response.
In the area of tumor immunology we characterize the immune cell infiltrate in primary human colorectal cancers on a phenotypical and functional level. The immunology of a healthy colon differs strongly from other organs. It is constantly exposed to huge amounts of microbial molecules and the immune system is therefore strongly anti-inflammatory. We compare the activation status and function of many different immune cell types in healthy colon with colon cancer and try to understand how the tumor evades an anti-cancer immune response.
Techniques, methods & infrastructure
Standard molecular biology assays including qPCR, Western, ELISA, cell culture, flow cytometry. Qantitative immunohistochemistry, functional cell assays, two-dimensional gel electrophoresis, ptoteomics, CRC clinical data, CRC Tumorbank