Nation Hospital is designed to be a 144 bed multi-specialty hospital spanning a total of 40.000m² in 7 blocks with a unique steel and glass facade aesthetically pleasing. Located in a prime location of Abu Dhabi near the Sheikh Khalifa Medical City.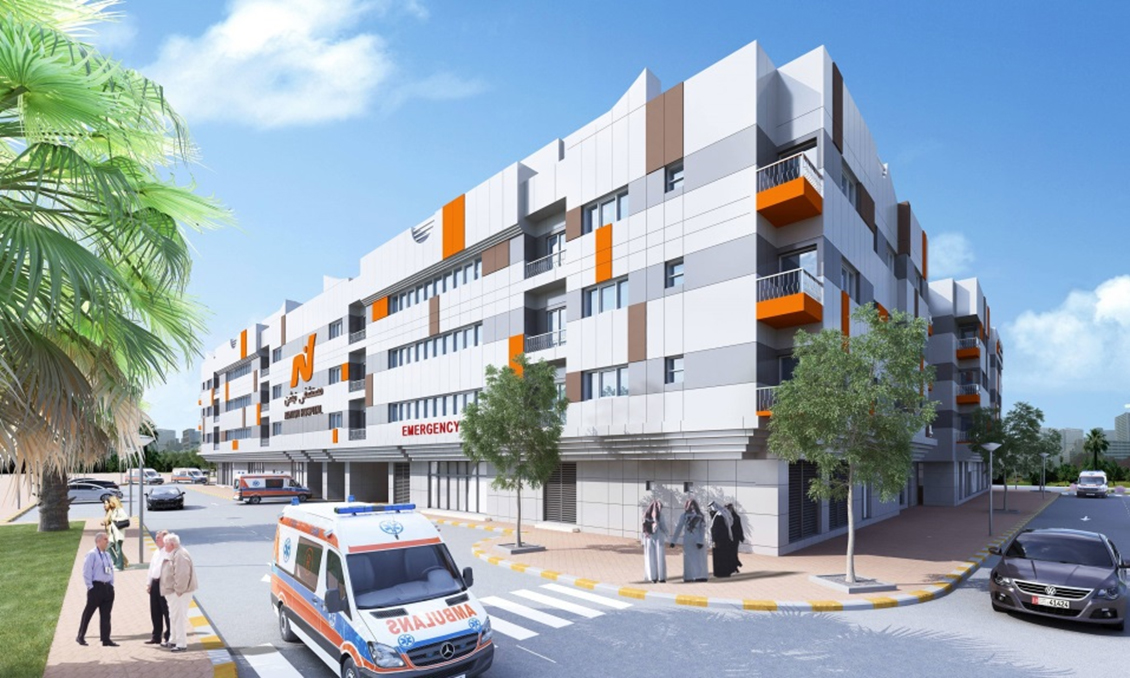 Nation Hospital has been designed to meet the UAE's increasingly complex medical needs, providing new choices for people in search of expertise and clinical excellence. Strategically located in the heart of Abu Dhabi, Nation Hospital provides the most sought-after specialities within the UAE's expanding community in a committed and compassionate environment for individuals and families alike.
The hospital boasts a comprehensive number of highly qualified consultants, professional nursing and non-medical staff. They have been recruited locally and internationally to provide an unparalleled healthcare experience with personalized service and efficient medical care to citizens, residents, and medical tourists of Abu Dhabi, UAE, and the region.
In order to create a hospital that has the depth of clinical knowledge and technology needed to meet these challenges, Bin Omeir Medical Group partnered with the Medical University of Vienna-one of the most prestigious universities, boasting a 650 year heritage of evidence-based science and research.
Nation Hospital's mission is to be the region's premium healthcare destination and employer of choice providing a culture of medical excellence and compassionate patient-centric care.
Medical University of Vienna International and Bin Omeir Medical Group have opened a new chapter together. A chapter, which both envision will end with people saying with confidence when looking for a world-class medical facility, "Nation Hospital, that's the place."
In order to turn this vision into reality, 4 Centres of Excellence were created to offer world-class treatment and care in specialist areas.
These Centres of Excellence cover disciplines such as
Mother and Child: Gynaecology, Obstetrics, Labour and Delivery, Paediatrics (Neonatal Intensive Care)
Diabetology: interdisciplinary treatment encompassing Endocrinology, Cardiology, Nephrology, Haemodialysis, Neurology, Urology, Ophthalmology, Orthopaedics and a comprehensive group diabetes educational programmes
Orthopaedics: Chronic and acute musculoskeletal (bone and joint) diseases, sport injuries, orthopaedic and therapeutic surgical procedures for adults, and paediatric orthopaedic malformations
Ophthalmology: chronic and acute visual problems, eyelid surgery, cataract, conjunctiva and sclera, cornea, iris, retina, refractive surgery
Anchored by the 4 CoE Nation Hospital will provide a comprehensive range of healthcare services
General Medicine/Inetrnal Medicine
Gastroenterology (Endoscopy Unit)
Diabetes
Cardiology (Cardiac Catheter Labaratory)
Pulmology
Nephrology (Dialysis Unit)
Dermatology
Neurology
General Surgery
Plastic Reconstructive Surgery
Urology
Ophtalmology
Orthopaedics
Ear, Nose and Throat (ENT)
Emergency DepartmentGynaecology and Obstetrics
Intensive Care Unit (ICU) - Adult, Paediatic and Neonatal
Clinical Imaging / Radiology
Operating Theatres (OT)
Day Care Wards
Outpatient Department (Pre-Assessment Clinic/Lactation Clinics)
Inpatients Wards and Single Room Facilities, VIP suits
Laboratory Services & Pathology
Allied Healthcare (Physiotherapy, Nutrition and Dietary, Wellness)
Pharmacy Services
Anaesthesiology
An effective human resources strategy is crucial for the overall sustainability of Nation Hospital (NH), as the availability of exceptional staff is a key success factor for the organization to achieve its mission and vision.
For the management, the key factor to building staff loyalty is to give them value.
Offering competitive salaries, an appealing benefits package, and an employee rewards program to inspire organizational loyalty and sustain high performance;
Attractive salary and benefit scheme exceeding the remuneration in the their home country
Benefits on performance (Key Performance Indicators)
Modern, state-of-the-art work environment
Latest technology regarding medical equipment
Family friendly working times and holidays
Good work - life balance for employees and their families
Continuous Medical Education and Training Programs (CME)
Highly professional team
Marketing building up the brand and reputation of the hospital
Affiliation with one of the largest University Hospitals in Europe (2,200 beds)
Core values and working culture of Medical University of Vienna
To commission, develop and continuously improve the medical services of the departments
To assume responsibility for cost-effective service provision in a market driven entity
To surpass service quality and customer satisfaction indicators compared to other leading hospitals
To ensure a sustainable benefit and high quality outcome in Nation Hospital's clinical organization culture and systems
To actively participate to ensure the facility achieves JCI - accreditation
To participate in the existing network in Abu Dhabi and further develop this network
To ensure the provision of international levels of care by keeping abreast of the latest developments in their fields of expertise
To actively support marketing activities of the hospital
To work fully aligned with the hospital's HR policy, HAAD policies & guidelines (Health Authority of Abu Dhabi) and the labour law of Abu Dhabi (Ministry of Labour)
---
Service Manifesto
Nation Hospital is committed to pursuing the delivery of primary and secondary health services whilst consistently meeting the highest quality of care and meeting the customer's expectations.
In the context of a compassionate hospital environment, patients, families and the wider community can trust in the integrity of the hospitals services and guiding principles. People who come to nation Hospital will feel cared for – human attributes that are delivered through the provision of advanced technology, highly specialized internationally experienced physicians in a premium customer environment
The patient-centric approach at Nation Hospital is designated to generate the very best possible clinical outcomes in an environment of integrity, respect and compassion.