The MIC nodes invite you to take part and interact actively in a virtual poster tour through the most innovative and exciting topics related to medical imaging presented by young scientist.
---
Postersessions at a glance
MIC Nodes | Postersessions 14:00 - 14:45
The Rapid-Fire pitches are taking place during the Science I session at 13:00-13:55.
Skin Lesion Classification by Transfer Learning Using a Multi Scale and Multi Network Ensemble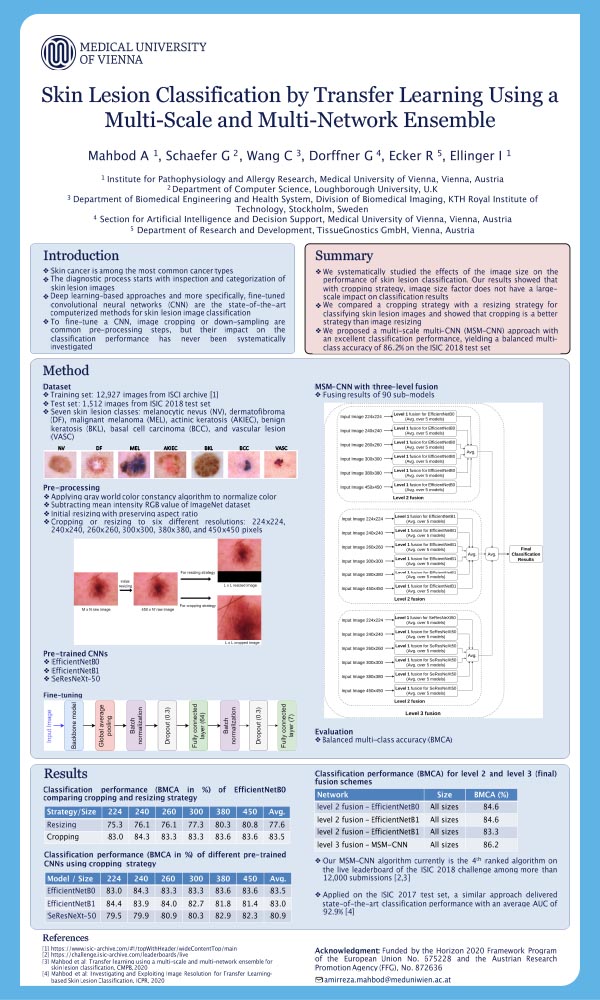 Amirreza Mahbod
Institute of Pathophysiology and Allergy Research, Medical University of Vienna
Introduction
Skin cancer is among the most common cancer types in the white population and consequently computer aided methods for skin lesion classification based on dermoscopic images are of great interest. A promising approach for this uses transfer learning to adapt pre-trained convolutional neural networks (CNNs) for skin lesion diagnosis. Since pre-training commonly occurs with natural images of a fixed image resolution and these training images are usually significantly smaller than dermoscopic images, downsampling or cropping of skin lesion images is required. This however may result in a loss of useful medical information, while the ideal resizing or cropping factor of dermoscopic images for the fine-tuning process remains unknown.
We investigate the effect of image size for skin lesion classification based on pre-trained CNNs and transfer learning. Dermoscopic images from the International Skin Imaging Collaboration (ISIC) skin lesion classification challenge datasets are either resized to or cropped at six different sizes ranging from 224x224 to 450x450. The resulting classification performance of three well established CNNs, namely EfficientNetB0, EfficientNetB1 and SeReNeXt-50 is explored. We also propose and evaluate a multi-scale multi-CNN (MSM-CNN) fusion approach based on a three-level ensemble strategy that utilises the three network architectures trained on cropped dermoscopic images of various scales.
Our results show that image cropping is a better strategy compared to image resizing delivering superior classification performance at all explored image scales. Moreover, fusing the results of all three fine-tuned networks using cropped images at all six scales in the proposed MSM-CNN approach boosts the classification performance compared to a single network or a single image scale. On the ISIC 2018 skin lesion classification challenge test set, our MSM-CNN algorithm yields a balanced multi-class accuracy of 86.2% making it the currently second ranked algorithm on the live leaderboard.
We confirm that the image size has an effect on skin lesion classification performance when employing transfer learning of CNNs. We also show that image cropping results in better performance compared to image resizing. Finally, a straightforward ensembling approach that fuses the results from images cropped at six scales and three fine-tuned CNNs is shown to lead to the best classification performance.
Forward viewing photoacoustic laparoscope using all optical ultrasound detection, flexible fiber bundles and fiber core targeted fast scanning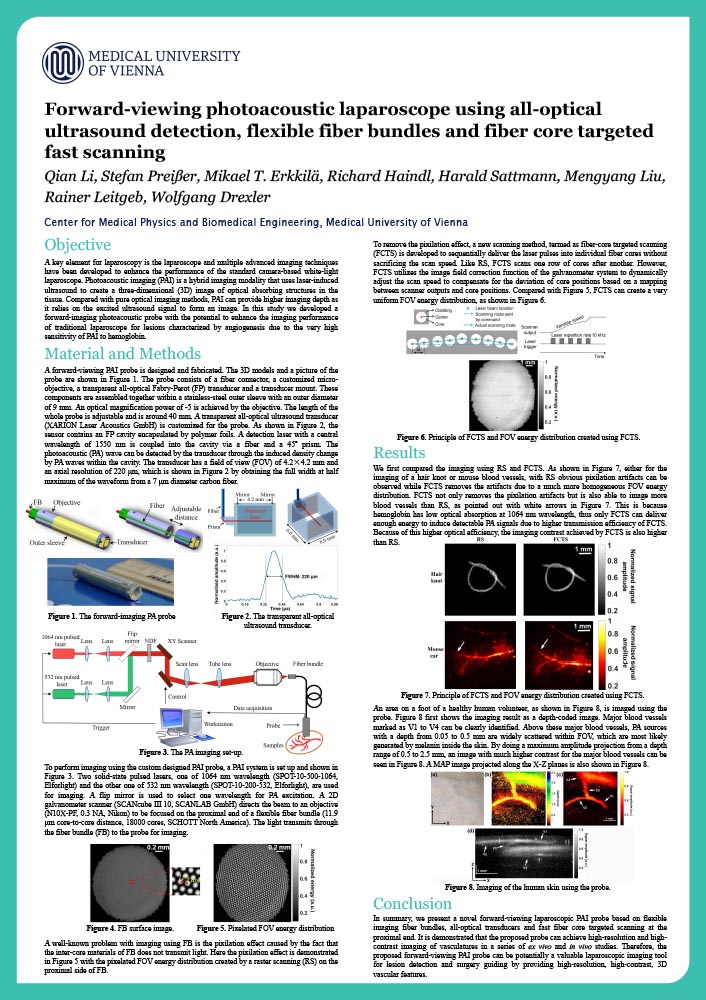 Qian Li
Center for Medical Physics and Biomedical Engineering, Medical University of Vienna
Introduction
A key element for laparoscopy is the laparoscope and multiple advanced imaging techniques have been developed to enhance the performance of the standard camera based white light laparoscope Photoacoustic imaging ( is a hybrid imaging modality that uses laser induced ultrasound to create a three dimensional 3 D) image of optical absorbing structures in the tissue Compared with pure optical imaging methods, PAI can provide higher imaging depth as it relies on the excited ultrasound signal to form an image In this study we developed a forward imaging photoacoustic probe with the potential to enhance the imaging performance of traditional laparoscope for lesions characterized by angiogenesis due to the very high sensitivity of PAI to hemoglobin.
Dose distribution prediction for radiation therapy using Super-Convergence training routine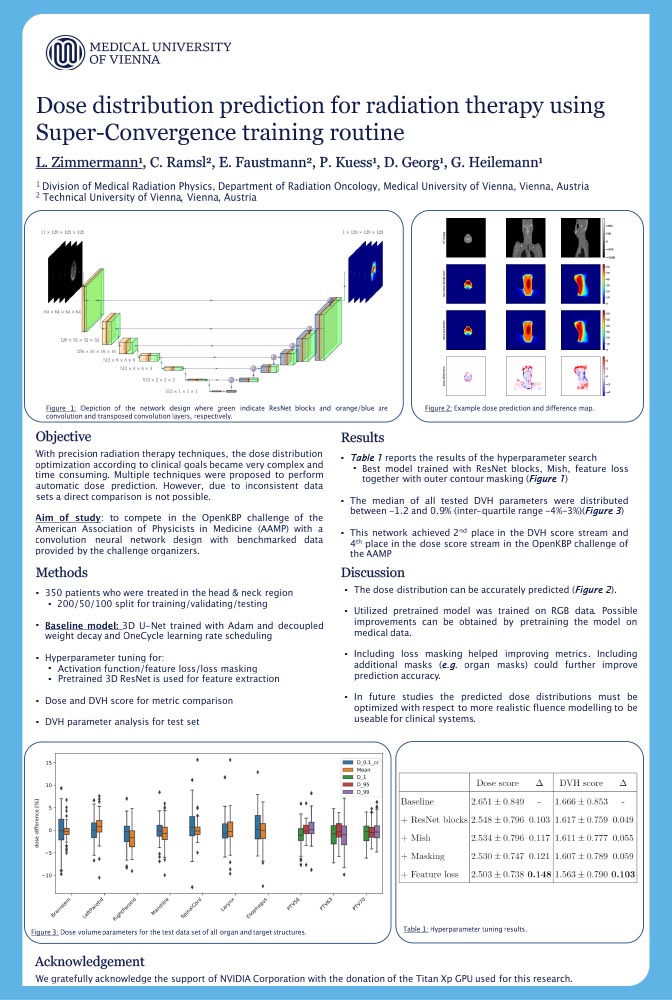 Lukas Zimmermann
Department of Radiation Oncology, Medical University of Vienna
Introduction
With state-of-the-art radiation therapy techniques, treatment planning and the close distribution optimization according to clinical goals became very complex and time consuming. Multiple techniques were proposed to perform automatic dose prediction but due to inconsistent data sets a direct comparison is not possible.
Influence of delineation modality on overall accuracy of machine learning predictive model on colorectal carcinoma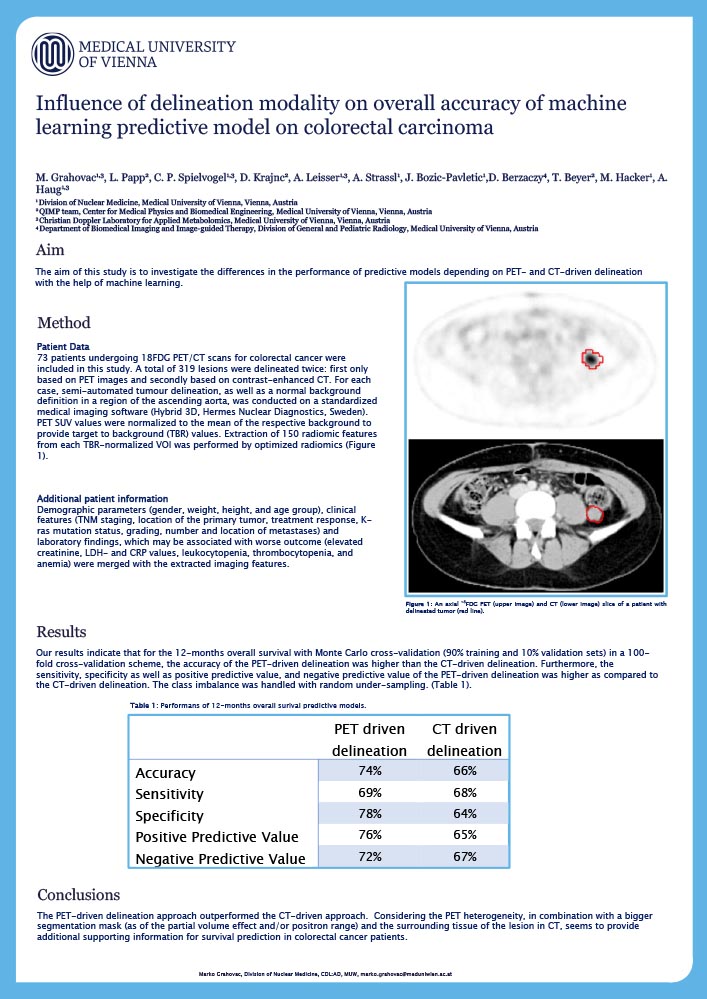 Marko Grahovac
Division of Nuclear Medicine, Medical University of Vienna
Christian Doppler Laboratory for Applied Metabolomics
Introduction
Positron Emission Tomography (PET) / Computer Tomography (CT) support diagnosis and follow-up of patients with colorectal cancer (CRC). To date, the association of the PET and CT-driven in vivo radiomics features with the overall survival (OS) is not well explored. The aim of this study was to investigate the differences in the performance of predictive models depending of PET- and CT-driven delineation with the help of machine learning.
Metabolic mapping in gliomas using 7T-CRT-FID- MRSI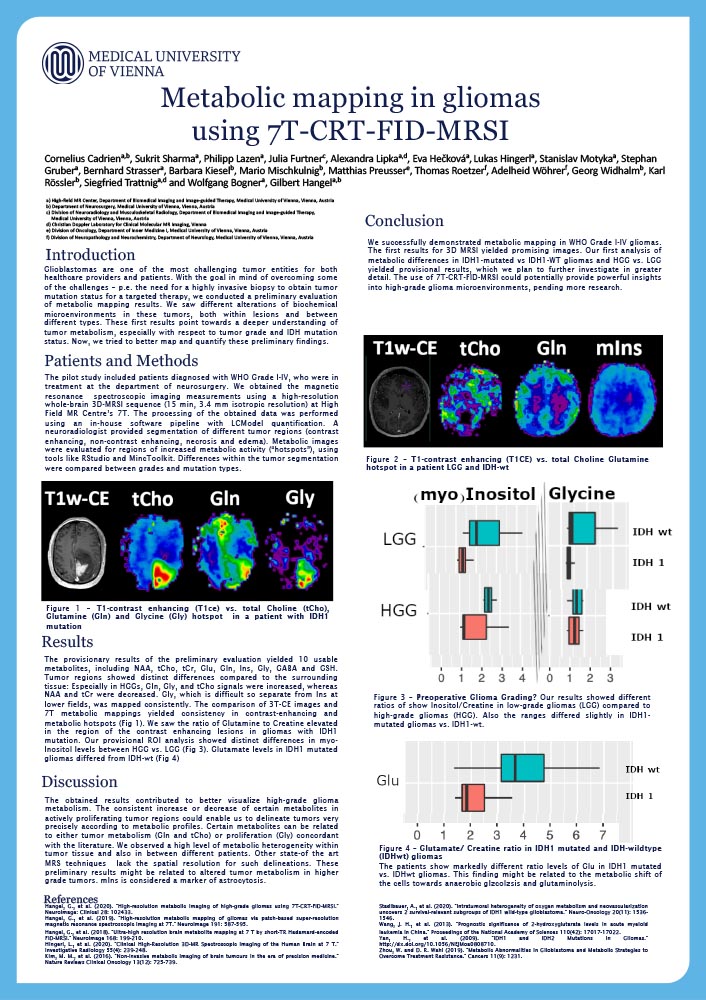 Cornelius Cadriena
High-field MR Center, Department of Biomedical Imaging and Image-guided Therapy
Department of Neurosurgery, Medical University of Vienna
Introduction
Glioblastomas create altered biochemical microenvironments to grow and thrive. Using recent advances in magnetic resonance metabolic imaging, we mapped heterogenous metabolic behavior with 7T-CRT-FID-MRSI.
Fluorescence lifetime imaging and spectroscopic analysis combined in a surgical microscope for optimized fluorescence-guidance in brain tumor resection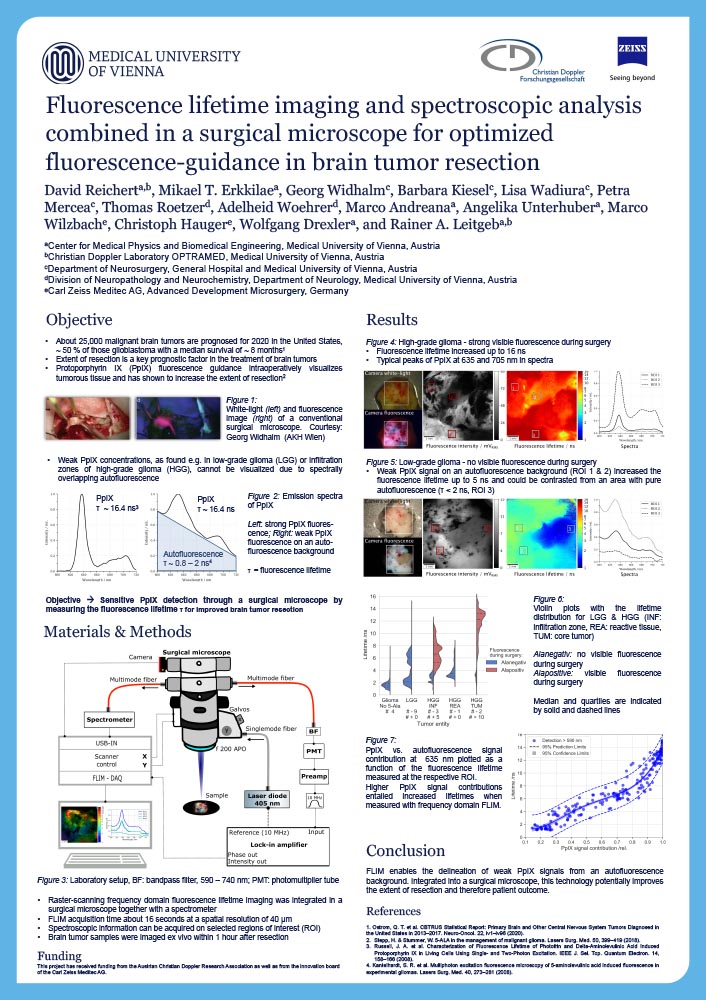 David Reichert
Center for Medical Physics and Biomedical Engineering, Medical University of Vienna
Christian Doppler Laboratory OPTRAMED
Introduction
Protoporphyrin IX (PpIX) fluorescence-guided surgery has established as a standard for enhanced resection of malign glioma. However, low-grade glioma (LGG) or weakly infiltrated brain parenchyma often emit weak PpIX fluorescence and are hard to distinguish from non-pathological tissue with conventional surgical microscopes. What is more, low PpIX concentrations compete with spectrally overlapping tissue autofluorescence, inherently limiting the sensitivity of fluorescence intensity based PpIX detection.