Dr. Robert Loewe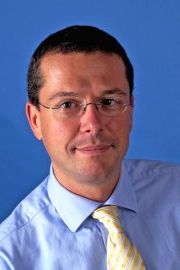 MedUni Wien RESEARCHER OF THE MONTH, April 2007
Die Jury "Researcher of the Month" verleiht die Auszeichnung für diesen Monat Herrn Dr. Robert Loewe aus Anlass der Publikation "Dimethylfumarate impairs Melanoma Growth and Metastasis", die kürzlich in dem renommierten Journal "Cancer Research" erschienen ist (1). Diese Arbeit beschreibt den therapeutischen Effekt von Dimethylfumarat (DMF) in der Behandlung des kutanen Melanoms in vivo und vitro. Die in dieser Arbeit beschriebenen Effekte von Dimethylfumarat machen diese Substanz zu einer potentiellen neuen therapeutischen Option in der adjuvanten Therapie des kutanen Melanoms. Bereits in früheren Arbeiten hat Herr Dr. Loewe wesentlich zum Verständnis der Wirkung von Fumarsäureestern beigetragen, indem er eine Interaktion von Fumarsäureestern mit dem Transkriptionsfaktor NF-ĸB als wesentliches Wirkungsprinzip dieser Substanzgruppe identifizieren konnte (2,3). Die Hemmung der NF-ĸB-Signalkaskade in chronisch-entzündlichen und malignen Erkrankungen wird derzeit von zahlreichen Gruppen weltweit als viel versprechendes therapeutisches Konzept angesehen.
Fumarsäureester – eine neue Klasse von NF-ĸB Inhibitoren
Fumarsäureester werden seit Jahrzehnten in der Behandlung der Psoriasis eingesetzt. Verwendet wird ein Gemisch aus vier verschiedenen Fumarsäureestern. Obwohl der therapeutische Effekt gut dokumentiert ist und mit der Wirksamkeit moderner Präparate ("Biologicals") verglichen werden kann, ist der Wirkmechanismus dieser Substanzklasse nicht aufgeklärt – der Einsatz von Fumarsäureestern erfolgt auf Grund empirischer Einschätzungen.
In früheren Arbeiten konnten Robert Loewe et al. zunächst zeigen, dass von zahlreichen getesteten Fumarsäureestern lediglich Dimethylfumarat (DMF) eine relevante biologische Wirkung hat (2). In diesen Arbeiten konnte auch gezeigt werden, dass DMF die Synthese bestimmter, in der Entzündungsantwort üblicherweise vermehrt synthetisierter Proteine unterdrückt. DMF hemmt vor allem jene Proteine in ihrer Synthese, die unter der transkriptionellen Kontrolle des Transkriptionsfaktors NF-ĸB stehen. Eigene Untersuchungen ergaben, dass DMF den Transport aktiver NF-ĸB-Proteine in den Kern beeinträchtigt und dadurch die Transkription NF-ĸB abhängiger Gene (3) verhindert.
NF-ĸB ist eine Familie von Transkriptionsfaktoren, die alle eine gemeinsame Proteindomäne (eine sogenannte REL-Domäne) besitzen. NF-ĸB spielt eine Schlüsselrolle in entscheidenden zellulären Prozessen wie der Regulation der Entzündungsantwort, der Wachstumskontrolle oder der Steuerung der Apoptose. Bei zahlreichen Erkrankungen kommt es ursächlich oder in Folge der Erkrankung zu einer Aktivierung von NF-ĸB. Dies kann im Wesentlichen einerseits endogen durch konstitutive Aktivierung, andererseits exogen durch Entzündungsvorgänge geschehen.
Eine Aktivierung der NF-ĸB Signalkaskade führt zu einer gesteigerten Entzündungsantwort, hat aber auch proliferationsfördernde antiapoptotische Effekte. Gerade bei Tumorerkrankungen spielt die Aktivierung von NF-ĸB eine wesentliche Rolle für das Fortschreiten der Erkrankung, und wie in den letzten Jahren gezeigt werden konnte, weisen viele maligne Erkrankungen eine konstitutive Aktivierung dieser Signalkaskade auf. Dies trifft auch auf das Melanom zu, auch hier ist NF-ĸB konstitutiv aktiviert. Diese gesteigerte NF-ĸB Aktivität wirkt anti-apoptotisch, fördert die Zellproliferation, und führt zu einer Zunahme des metastatischen Potentials. Zusätzlich führt die Aktivierung von NF-ĸB zu gesteigerter Chemoresistenz. Die Eigenschaft von DMF als NF-ĸB-Inhibitor eröffnet neue interessante therapeutische Möglichkeiten bei der Behandlung des Melanoms.
Persönliches
Robert Loewe wurde 1968 in Wien geboren und studierte Medizin an der Medizinischen Fakultät der Universität Wien. Er ist seit 2000 Mitarbeiter des Labors für Endothelzellbiologie unter der Leitung von Univ.-Prof. Dr. Peter Petzelbauer. Gleichzeitig absolvierte er seine Ausbildung im Fach Dermatologie und Venerologie sowie seine Zusatzausbildung in Dermatohistopathologie an der Universitätsklinik für Dermatologie, Abteilung für Allgemeine Dermatologie (Univ.-Prof. Dr. Klaus Wolff, Univ.-Prof. Dr. Hubert Pehamberger). Dr. Robert Loewe erhielt bereits eine Vielzahl an Preisen, darunter den wissenschaftlichen Förderungspreis der Firma AESCA sowie den Förderungspreis des Fonds der Stadt Wien für innovative interdisziplinäre Krebsforschung. 2006 wurde ihm das zum ersten Mal von der Österreichischen Gesellschaft für Dermatologie und Venerologie (ÖGDV) vergebene Klaus Wolff-Fellowship an der Harvard University in Boston, USA, zuerkannt. Er kann darüber hinaus auf eine umfangreiche nationale und internationale Vortragstätigkeit zurückblicken, er ist Gutachter in internationalen Journalen und betreut mit großer Freude Studierende des alten und neuen Curriculums. 2006 hat er seine Habilitationsschrift zur Erlangung der Venia docendi an der Medizinischen Universität Wien eingereicht.
Literatur (Auswahl)
Loewe R, Valero T, Kremling S et al. Dimethylfumarate Impairs Melanoma Growth and Metastasis. Cancer Res 2006;66:11888-96.
Loewe R, Pillinger M, de Martin R et al. Dimethylfumarate inhibits tumor-necrosisfactor-induced CD62E expression in an NF-ĸB-dependent manner. Journal of Investigative Dermatology 2001;117:1363-8.
Loewe R, Holnthoner W, Groger M et al. Dimethylfumarate inhibits TNF-induced nuclear entry of NF-ĸB/p65 in human endothelial cells. Journal of Immunology 2002;168:4781-7.
Kontakt
Dr. Robert Loewe
Universitätsklinik für Dermatologie
Klinische Abteilung für Allgemeine Dermatologie
Medizinische Universität Wien
Währinger Gürtel 18-20
1090 Wien
T: +43 (0)1 40400-4786/-7700
F: +43 (0)1 40400-402
robert.loewe@meduniwien.ac.at
---