Dr. Nicolas Kozakowski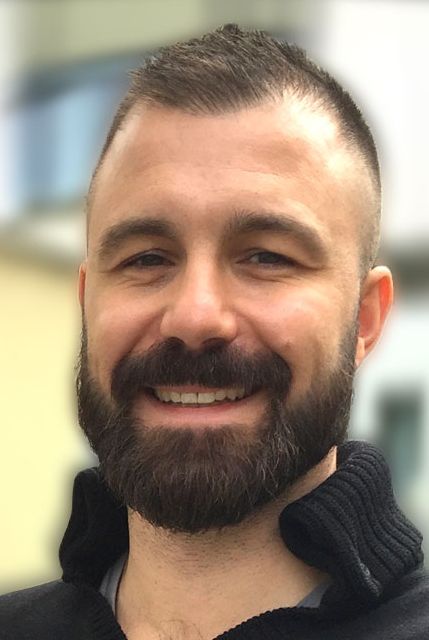 MedUni Wien RESEARCHER OF THE MONTH, August 2016
Die Jury "Researcher of the Month" verleiht die Auszeichnung für diesen Monat Herrn Dr. Nicolas Kozakowski aus Anlass der im Top-Journal Kidney International (IF: 8,563) erschienenen Arbeit "The diffuse extent of peritubular capillaritis in renal allograft rejection is an independent risk factor for graft loss." Die Kooperationsarbeit mit Dr. Zeljko Kikic von der klinischen Abteilung für Nephrologie und Dialyse (Universitätsklinik für Innere Medizin III) war Gegenstand eines Editorials von Lorraine C. Racusen im selben Journal und wurde von der Österreichischen Gesellschaft der Pathologie mit dem Hans Popper Preis 2015 prämiert.
Peritubuläre Kapillaritis – ein neues prognostisches Zeichen für einen späteren Transplantationsverlust
Die histopathologische Begutachtung der Biopsie des transplantierten Organs spielt in der Diagnostik der Nierentransplantatabstoßung eine zentrale Role, wobei basierend auf dem primär zu Grunde liegenden immunologischen und morphologischen Schädigungsmuster zwischen Zell- und Antikörper-vermittelter (humoraler) Abstoßung unterschieden wird. Für deren Beurteilung wird am Klinischen Institut für Pathologie (KIP) die international anerkannte pathologische Konsensus Klassifikation nach Banff angewendet [1]. Ein wesentliches histologisches Kriterium der humoralen Abstoßung ist die peritubuläre Kapillaritis, eine durch Entzündungszellen verursachte Anschoppung kleinerer Blutgefäße der Niere, die als prognostischer Hinweis für den späteren Transplantatverlust anzusehen ist [2]. Diese Veränderungen und deren Bedeutung waren jedoch bis zum heutigen Zeitpunkt nicht ausreichend untersucht worden.
Dieser Umstand motivierte Dr. Kozakowski, Lokalisation und Ausmaß der betroffenen Kapillaren und Zusammensetzung der infiltrierenden weißen Blutzellen in Nierentransplantatbiopsien im Detail zu evaluieren. Die groß angelegte Studie, die mehr als 1300 Nierentransplantatbiopsien von 749 Patienten untersuchte, erlaubte, die diffuse Verteilung (mehr als 50% der Nierenrinde) der peritubulären Kapillaritis als neuen unabhängigen Risikofaktor für den Verlust des transplantierten Organs zu etablieren. Zusätzlich war die diffuse peritubuläre Kapillaritis unabhängig mit der zukünftigen immunvermittelten chronischen Abstoßung assoziiert. Wie seit einigen Jahren vermutet, konnte weiter erstmals gezeigt werden, dass diese Entzündungsform nicht nur im Rahmen der Antikörper-mediierten Nierentransplantatabstoßung, sondern aber auch während der T-zell mediierten Abstoßung auftritt und mit späteren, zum Verlust des Organs führenden, vernarbenden Veränderungen der Gefäße direkt assoziiert ist [3].
Diese Ergebnisse waren Diskussionsgrundlage bei der in Vancouver abgehaltenen Banff Konsensus Konferenz im Oktober 2015, die neue wissenschaftliche Erkenntnisse in Empfehlungen zur Befundung von Transplantatbiopsien umsetzt. Die von Dr. Kozakowski beschriebenen Kriterien zur Beschreibung dieser Läsion wurden dabei als wichtiger Bestandteil der prognostischen und therapeutischen Beurteilung von Nierentransplantatbiopsien anerkannt [4] und ihre Verwendung in der Befunderstellung empfohlen.
Wissenschaftliches Umfeld
Dr. Nicolas Kozakowski studierte Medizin in Paris, Frankreich. Nach dem Abschluss seines Studiums und der Absolvierung der Nationalprüfung, verbrachte er sechs Monate im Pathologischen Labor des Universitätskrankenhauses in Reims. Ein Ernst Mach-Stipendium ermöglichte ihm einen wissenschaftlichen Aufenthalt am Klinischen Institut für Pathologie (KIP) der Medizinischen Universität im Oktober 2004. Nach der Nostrifikation begann er am KIP seine klinisch-diagnostische Ausbildung im Fach Pathologie und Molekularpathologie, die er 2015 abschloss. Sein wissenschaftlicher Schwerpunkt liegt in der Nephropathologie und er publizierte bereits mehrere Arbeiten in Top-Zeitschriften, teils in Kollaboration mit Mitarbeitern der Universitätsklinik für Innere Medizin III, Abteilung für Nephrologie und Dialyse, über die Pathologie der Nierentransplantatabstossung [5-8].
Zur Person
Geboren 1978 nahe Paris, studierte Dr. Kozakowski Humanmedizin an der Faculté de Médecine Xavier Bichat Paris VII in Frankreich. Dr. Kozakowski arbeitet als Facharzt am KIP. Er ist als Mitglied der Nephropathologischen Arbeitsgruppe (mit Prof. H. Regele und Prof. R. Kain) für die Bereitstellung des zentralisierten Spezialservice zur Befundung von ca. 1400 Nierenbiopsien im Jahr (davon 500 Nierentransplantatbiopsien) für die Universitätskliniken und für Einsender aus weiten Teilen Österreich mit verantwortlich.
Ausgewählte Literatur
Haas M, Sis B, Racusen LC et al. Banff 2013 meeting report: inclusion of c4d-negative antibody-mediated rejection and antibody-associated arterial lesions. Am J Transplant 2014; 14: 272–283.
Wiebe C, Gibson IW, Blydt-Hansen TD, et al. Rates and determinants of progression to graft failure in kidney allograft recipients with de novo donor-specific antibody. Am J Transplant 2015; 15: 2921-2930.
Kozakowski N, Herkner H, Bohmig GA, Regele H, Kornauth C, Bond G et al. The diffuse extent of peritubular capillaritis in renal allograft rejection is an independent risk factor for graft loss. Kidney Int 2015;88(2):332-340.
Racusen LC, Bagnasco SM. Peritubular capillaritis in the renal allograft takes center stage. Kidney Int 2015 Aug;88(2):218-20.
Kikic Z, Kainz A, Kozakowski N, Oberbauer R, Regele H, Bond G et al. Capillary C4d and Kidney Allograft Outcome in Relation to Morphologic Lesions Suggestive of Antibody-Mediated Rejection. Clin J Am Soc Nephrol 2015;10(8):1435-1443.
Kikic Z, Herkner H, Sengolge G, Kozakowski N, Bartel G, Plischke M. Pretransplant risk stratification for early survival of renal allograft recipients. Eur J Clin Invest 2014;44(2):168-175.
Eskandary F, Bond G, Regele H, Kozakowski N, Kikic Z, Wahrmann M et al. Late Antibody-Mediated Rejection in a Large Prospective Cross-Sectional Study of Kidney Allograft Recipients--Preliminary Results of the Screening Phase of the BORTEJECT Trial. Clin Transpl 2014:189-195.
Kozakowski N, Bohmig GA, Exner M, Soleiman A, Huttary N, Nagy-Bojarszky K et al. Monocytes/macrophages in kidney allograft intimal arteritis: no association with markers of humoral rejection or with inferior outcome. Nephrol Dial Transplant 2009;24(6):1979-1986.
---