Elisabeth Maritschnegg, PhD. MSc.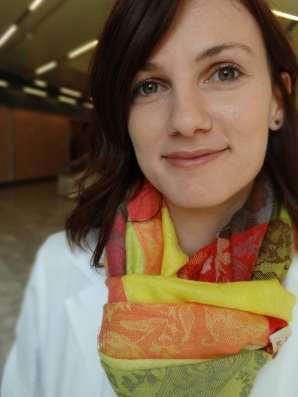 MedUni Wien RESEARCHER OF THE MONTH, Dezember 2016
Die Jury "Researcher of the Month" verleiht die Auszeichnung für diesen Monat Frau Elisabeth Maritschnegg aus Anlass der im Top-Journal "Journal of Clinical Oncology"
(IF 20.982) erschienenen Arbeit "Lavage of the uterine cavity for molecular detection of Müllerian duct carcinomas – A proof of concept study" [1]. Die Arbeit entstand im Zuge ihres PhD-Studiums an der Universitätsklinik für Frauenheilkunde (Medizinische Universität Wien), Arbeitsgruppe Molekulare Onkologie, unter der Leitung von Prof. Dr. R. Zeillinger. Neben der Klinischen Abteilung für Gynäkologie und gynäkologische Onkologie (klinischer Projektleiter Prof. Dr. P. Speiser) war auch das Klinische Institut für Pathologie der Medizinischen Universität Wien an dieser Studie beteiligt (Prof. Dr. R. Horvat). Internationale klinische Kooperationspartner waren das Universitätskrankenhaus der Katholieke Universiteit Leuven, Belgien, Charité Universitätsmedizin Berlin und die Kliniken Essen Mitte. Besonders hervorzuheben ist die enge Zusammenarbeit mit Prof. Dr. Bert Vogelstein, vom Sidney Kimmel Comprehensive Cancer Center der Johns Hopkins Universität, Baltimore, USA.
Früherkennung von malignen gynäkologischen Tumoren - abstammend vom Müllerschen Gang - mittels "Lavage-Technik" im Cavum uteri.
40% der Sterbefälle an gynäkologischen Tumorerkrankungen sind auf Eierstock- und Endometriumkarzinome zurück zu führen. Beide können in zwei Gruppen eingeteilt werden. Typ I – wird für gewöhnlich bereits früh diagnostiziert, Typ II weist einen wesentlich aggressiveren Phänotyp auf und oft keine, oder nur unspezifische Früh-Symptome. Die derzeit verwendeten diagnostischen Methoden umfassen die Bestimmung des Tumormarkers CA-125 im Serum, sowie einen transvaginalen Ultraschall. Die Sensitivität und Spezifität dieser Methoden erlaubt allerdings keine Frühdiagnose dieser Krebserkrankungen. Diese Arbeit beschreibt die Etablierung einer innovativen Methode zur Detektion von Eierstock-, sowie Endometriumkarzinomen. Die Methode basiert auf aktuellen Erkenntnissen, die gezeigt haben, dass Typ II Tumore und vielleicht auch Teile von Typ I Tumoren sich tatsächlich in der Tube entwickeln, wo auch Vorstufen identifiziert wurden, welche als "serous tubal intraepithelial carcinoma" STICs bezeichnet werden. Zellen invasiver Karzinome und auch schon von STICs werden sehr häufig abgeschilfert. In der Studie wurde der Hypothese nachgegangen, ob diese abgeschilferten Zellen mittels einer Lavage der Uterushöhle gewonnen und mittels Mutationsanalyse detektiert werden können.
Die proof-of-concept Studie zeigte, dass in 24/30 (80%) der untersuchten Ovarialkarzinompatientinnen ein derartiger Nachweis möglich war. Dies gelang auch im Fall einer Patientin mit einem okkulten, mittels CA-125 und Ultraschall nicht erkennbaren Ovarialkarzinom. Des Weiteren wurden alle fünf der in die Studie eingeschlossenen Patientinnen mit Endometriumkarzinom positiv getestet. Die Ergebnisse dieser Arbeit lassen hoffen, dass zukünftig eine Früherkennung von Ovarial- und Endometriumkarzinomen unter Anwendung dieser Technik möglich sein wird. Die verschiedenen potentiellen Anwendungsgebiete dieser Methodik werden derzeit in größeren, prospektiven Studien getestet.
Wissenschaftliches Umfeld
Im Zuge ihres Molekularbiologie-Studiums verfasste Elisabeth Maritschnegg ihre Bachelorarbeit am "Department of Organismic and Evolutionary Biology" an der Harvard University. Ihre Masterarbeit, die sich mit der Detektion von zirkulierender Tumor DNA im Blut von Kolorektalkarzinom-Patienten beschäftige, entstand unter der Leitung von Dr. Thomas Bauernhofer, an der Medizinischen Universität Graz. Anschließend wurde sie im Zuge ihres PhD-Studiums Mitarbeiterin der Arbeitsgruppe "Molekulare Onkologie" an der Universitätsklinik für Frauenheilkunde der Medizinischen Universität Wien. Die Durchführung der oben genannten Studien wurde nur durch eine Zusammenarbeit verschiedener Zentren möglich. Neben den eingangs angeführten Kooperationspartnern besteht auch eine laufende wissenschaftliche Zusammenarbeit mit folgenden Institutionen: University of Washington Seattle, Medizinische Universität Graz, Medizinische Universität Innsbruck, Charles Universität Prag, Universitätsklinikum Hamburg-Eppendorf, University College London, Trinity College Dublin, Charles Universität Pilsen, University Medical Center Radboud, Nijmegen.
Für die oben genannte Arbeit wurde Frau Maritschnegg mit dem Sanofi-Aventis Preis ausgezeichnet. Sie konnte die Ergebnisse bereits in mehreren Vorträgen auf internationalen Konferenzen präsentieren, wie zum Beispiel im Rahmen der "Molecular Medicine Tri-Conference" in San Francisco, sowie der von der American Association for Cancer Research (AACR) veranstalteten "Advances in Ovarian Cancer Research" Konferenz in Orlando. Hierbei wurde sie durch ein Reisestipendium des Comprehensive Cancer Centers Wien unterstützt.
Neben einem Nationalbankprojekt, welches sie gemeinsam mit Dr. Paul Speiser eingereicht hat, erhielt sie auch eine Forschungsförderung durch den Fellinger Krebsforschungsverein, zur Untersuchung von p53 Prionen im Ovarialkarzinom.
Zur Person
Elisabeth Maritschnegg wurde 1987 in Graz geboren. 2006 maturierte sie mit Auszeichnung in Deutschlandsberg. Anschließend absolvierte sie das Molekularbiologie-Studium in Graz. Ihr Masterstudium schloss sie 2012, ebenfalls mit Auszeichnung, ab. Anschließend absolvierte sie das PhD-Studium mit dem Schwerpunkt "Malignant Diseases" an der Medizinischen Universität Wien, welches sie im Jahr 2016 mit Auszeichnung abgeschlossen hat Sie ist nach wie vor in der Arbeitsgruppe "Molekulare Onkologie", geleitet von Prof. Robert Zeillinger, als Postdoc tätig.
Ausgewählte Literatur
Maritschnegg E, Wang Y, Pecha N, Horvat R, Van Nieuwenhuysen E, Vergote I, Heitz F, Sehouli J, Kinde I, Diaz Jr. LA, Papadopoulos N, Kinzler KW, Vogelstein B, Speiser P, Zeillinger R. Lavage of the uterine cavity for molecular detection of Müllerian duct carcinomas – A proof of concept study. J Clin Oncol. 2015 Dec.
---