Dr. Guido Gualdoni, PhD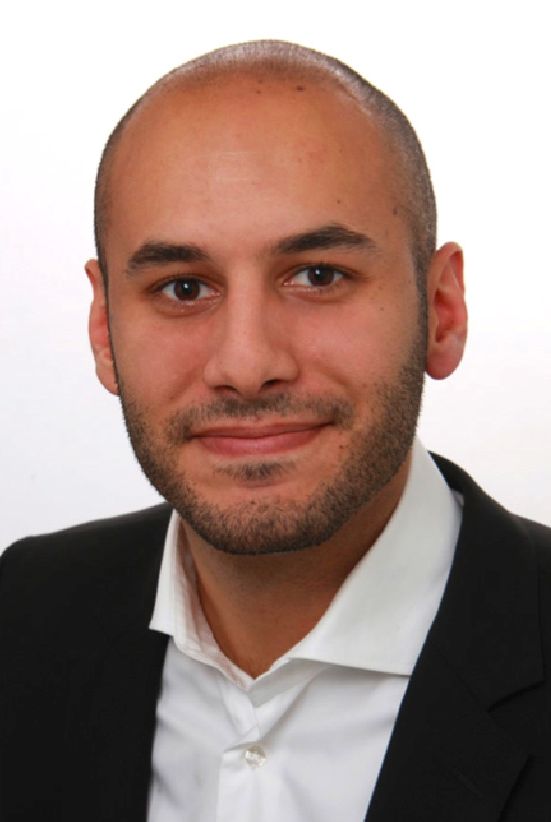 MedUni Wien RESEARCHER OF THE MONTH, Juni 2016
Die Jury "Researcher of the Month" verleiht die Auszeichnung für diesen Monat Herrn Dr. Guido Gualdoni aus Anlass der im Top-Journal "Scientific Reports" (IF 5.57) erschienenen Arbeit "Azithromycin inhibits IL-1 secretion and non-canonical inflammasome activation". [4]. Die multidisziplinäre Studie entstand im Rahmen des PhD-Studiums von Dr. Gualdoni am Institut für Immunologie in der Arbeitsgruppe von Univ.-Prof. Dr. G. Zlabinger (Leiter des Instituts für Immunologie) in Zusammenarbeit mit der Arbeitsgruppe von Assoc. Prof. Dr. P. Steinberger (Institut für Immunologie), der Arbeitsgruppe von Mag. DDr. K. G. Schmetterer (Klinische Abteilung für Medizinisch-chemische Labordiagnostik, Leitung: Univ.-Prof. Dr. O. Wagner) und Dr. T. Lingscheid (Medizinische Klinik mit Schwerpunkt Infektiologie und Pneumologie, Charité Universitätsmedizin, Berlin).
Azithromycin: Mehr als nur ein Antibiotikum
Makrolide sind eine Antibiotikawirkstoffklasse, die breiten Einsatz insbesondere in der Behandlung respiratorischer Infekte findet. Zusätzlich zu ihrem antimikrobiellen Effekt sind die Substanzen bekannt dafür, auch immunmodulatorische Wirkungen zu entfalten, die unter anderem für die gute klinische Wirksamkeit der Substanzen verantwortlich gemacht werden [1]. Ein wichtiges Steuerungselement der natürlichen Immunabwehr ist das sogenannte Inflammasom: ein regulatorischer Proteinkomplex, welcher von verschiedenen Stimuli aktiviert werden kann und zur Einleitung einer Entzündung über die Freisetzung von Zytokinen (IL-1b, IL-1a und IL-18) führt [2]. Wie fast alle inflammatorischen Signalwege kann auch hier eine überschießende Aktivierung in pathologische Prozesse münden. So wurde kürzlich eine Beteiligung erhöhter Inflammasom-Aktivität insbesondere in der Pathogenese entzündlicher pulmonaler Erkrankungen festgestellt [3].
Obwohl das Inflammasom ein zentraler Regulator von Erkrankungen ist, für die eine langfristige Makrolidtherapie intensiv diskutiert wird (COPD, Cystische Fibrose uvm.), waren die Auswirkungen von Makroliden auf diesen Signalweg bisher noch nicht erforscht. In der hier vorliegenden Studie wurde der Einfluss einiger der wichtigsten Makrolide (Azithromycin, Clarithromycin und Roxithromycin) auf das Inflammasom untersucht. Hierbei konnte festgestellt werden, dass Azithromycin selektiv die Ausschüttung von IL-1b und IL-1a hemmt, während die anderen untersuchten Makrolide keinen diesbezüglichen Einfluss hatten. Weiterführende Experimente deuteten auf eine vermehrte Aufnahme von Azithromycin in Immunzellen als ein kausales Element für diese Unterschiede hin. Als Mechanismus für die verringerte Aktivität des Inflammasoms konnte eine gehemmte Expression der inflammatorischen Caspase-4 nachgewiesen werden, welche das sogenannte "non-canonical" Inflammasom aktiviert. Die an humanen Immunzellen gewonnenen Erkenntnisse konnten letztlich anhand einer Endotoxin-Sepsis in einem Tierversuch verifiziert werden [4].
Mit dieser Studie stehen erstmals vergleichende Untersuchungen hinsichtlich des Einflusses von Makroliden auf den zentralen Entzündungsmechanismus zur Verfügung, der im Design klinischer Studien zur Behandlung Inflammasom-vermittelter Erkrankungen von Bedeutung ist.
Wissenschaftliches Umfeld
Dr. Gualdoni begann seine wissenschaftliche Tätigkeit bereits im 5. Semester des Medizinstudiums in der Arbeitsgruppe von Prof. H. Burgmann an der Klinischen Abteilung für Infektionen und Tropenmedizin, Innere Medizin I, wo er die Immunogenität der H1N1 Impfung in Risikopopulationen untersuchte [5-7]. Später wechselte er dann in die Arbeitsgruppe von Prof. G. Zlabinger am Institut für Immunologie zur Absolvierung seiner Diplomarbeit, wo er die Auswirkungen einer Glykolyseinhibition auf die Zytokinproduktion von Immunzellen erforschte. Nach Abschluss seiner Diplomarbeit wurde er in das MD-PhD-Exzellenzprogramm der Medizinischen Universität aufgenommen und war weiterhin im Rahmen seines PhD-Studiums in der Arbeitsgruppe von Prof. G. Zlabinger am Institut für Immunologie tätig. Seine Forschungstätigkeit befasst sich hauptsächlich mit den Auswirkungen metabolischer Prozesse auf die Immunzellfunktion und der therapeutischen Beeinflussbarkeit entzündlicher Signalwege im Sinne einer Immunregulierung [8]. Dr. Gualdoni hat im Laufe seiner Forschungstätigkeit Stipendien der Österreichischen Gesellschaft für Allergologie und Immunologie sowie der European Federation of Immunological Societies erhalten und wurde auf der letzten Jahrestagung der Österreichischen Gesellschaft für Allergologie und Immunologie mit dem "Best Oral Presentation" Preis ausgezeichnet.
Zur Person
Dr. Gualdoni wurde 1988 in Buenos Aires (Argentinien) geboren. Er studierte von 2007 bis 2013 Humanmedizin an der Medizinischen Universität Wien mit Auslandsstudienaufenthalten an der University of California Los Angeles (USA), Fudan University Shanghai (VR China), am Katete Hospital (Sambia) und an der Charité Berlin (D). Seit 2011 war Dr. Gualdoni in das MD-PhD-Exzellenzprogramm inskribiert und absolvierte so parallel zu seinem Humanmedizinstudium bereits ein PhD-Studium. Sein Medizinstudium schloss er 2013 ab und war daraufhin als Assistenzarzt für Immunologie am Institut für Immunologie tätig. Nach Abschluss seines PhD Studiums im Jahr 2016 wechselte er an die Klinische Abteilung für Infektionen und Tropenmedizin der Univ. Klinik für Innere Medizin I, wo er sich zurzeit in Ausbildung zum Facharzt für Innere Medizin befindet. Neben seiner Forschungstätigkeit beteiligt sich Dr. Gualdoni auch an der Lehre im Rahmen des Humanmedizinstudiums und betreut Bachelor- und Diplomarbeiten.
Ausgewählte Literatur
Kanoh, S. & Rubin, B. K. Mechanisms of Action and Clinical Application of Macrolides as Immunomodulatory Medications. Clin. Microbiol. Rev. 23, 590-615 (2010).
Strowig, T., Henao-Mejia, J., Elinav, E. & Flavell, R. Inflammasomes in health and disease. Nature 481, 278-286 (2012).
Brusselle, G. G., Provoost, S., Bracke, K.R., Kuchmiy, A. & Lamkanfi, M. Inflammasomes in respiratory disease: from bench to bedside. Chest 145, 1121-1133 (2014).
Gualdoni, G. A., Lingscheid, T., Schmetterer, K. G., Hennig, A., Steinberger, P., Zlabinger, G. J. Azithromycin inhibits IL-1 secretion and non-canonical inflammasome activation. Sci. Rep. 5, 12016 (2015).5.
Lagler, H., Wenisch, J. M., Tobudic, S., Gualdoni, G. A., Rödler, S., Rasoul-Rockenschaub, S., Jaksch, P., Redlberger-Fritz, M., Popow-Kraupp, T., Burgmann, H. Immunogenicity and Tolerability after Two Doses of Non-Adjuvanted, Whole-Virion Pandemic Influenza A (H1N1) Vaccine in HIV-Infected Individuals. PLoS ONE 7, e36773 (2012).6.
Lagler, H., Grabmeier-Pfistershammer, K., Touzeau-Römer, V., Tobudic, S., Ramharter, M., Wenisch, J., Gualdoni, G.A., Redlberger-Fritz, M., Popow-Kraupp, T.,
Rieger, A., Burgmann, H. Pandemic influenza A H1N1 vaccine in recipients of solid organ transplants: immunogenicity and tolerability outcomes after vero cell derived, non-adjuvanted, whole-virion vaccination. Vaccine 29, 6888-6893 (2011).
Gualdoni, G. A., Lingscheid, T., Tobudic, S., Burgmann, H. Low nasal carriage of drug-resistant bacteria among medical students in Vienna. GMS Krankenhaushygiene Interdiszip. 7, Doc04 (2012).8. Gualdoni, G. A., Kovarik, J.J., Hofer, J., Dose, F., Pignitter, M., Doberer, D., Steinberger, P., Zlabinger, G.J. Resveratrol enhances TNF- production in human monocytes upon bacterial stimulation. Biochim. Biophys. Acta 1840, 95-105 (2014).
---