Dr. Matthias Unseld, PhD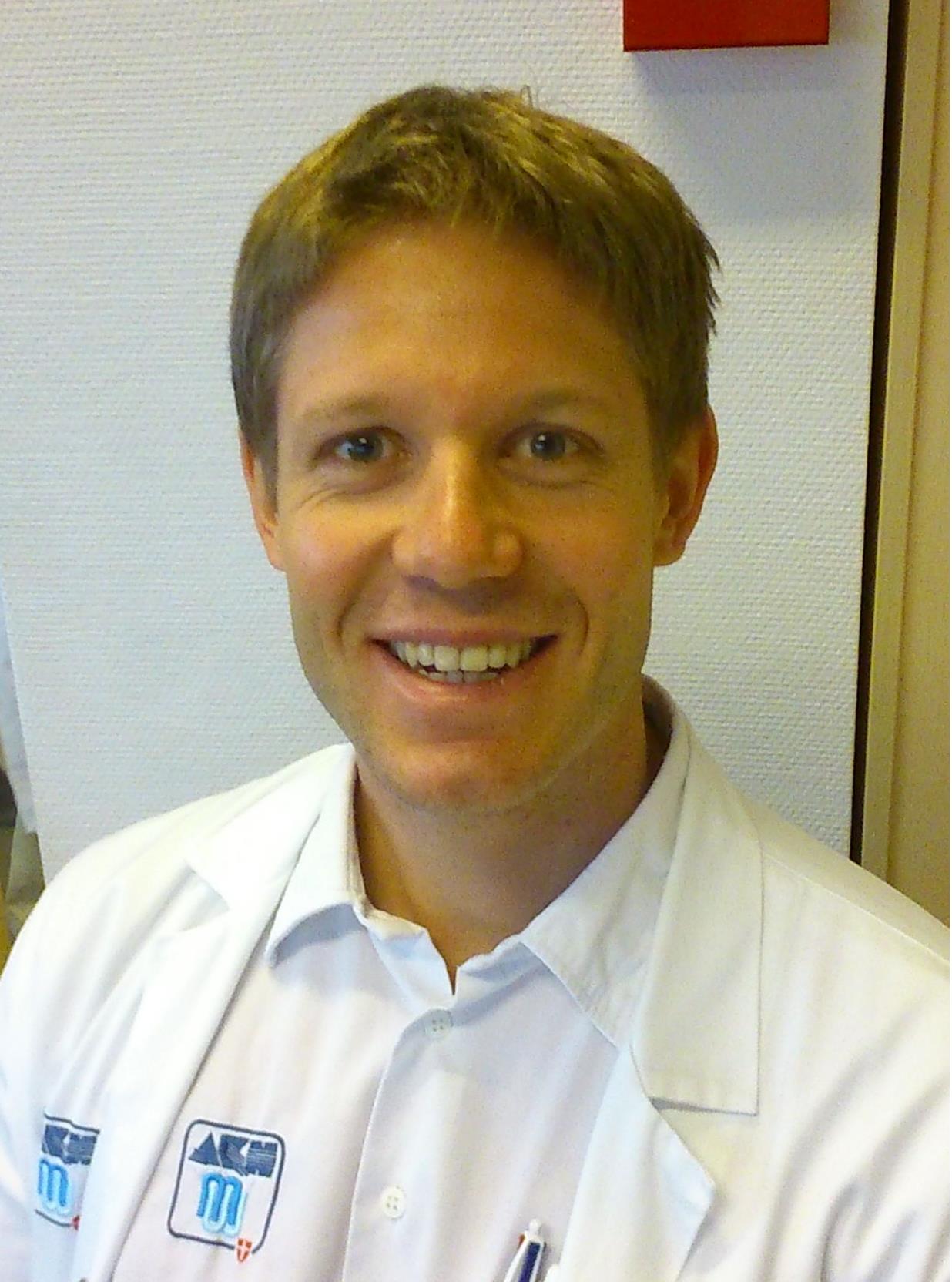 MedUni Wien RESEARCHER OF THE MONTH, Oktober 2016
Die Jury "Researcher of the Month" verleiht die Auszeichnung für Oktober 2016 Herrn Dr. Matthias Unseld PhD aus Anlass der im Top-Journal "Thrombosis Haemostasis" erschienenen Arbeit "PTEN expression in endothelial cells is down-regulated by uPAR to promote angiogenesis". Die multidisziplinäre Studie entstand im Rahmen des PhD-Studiums von Dr. Unseld am Institut für Gefäßbiologie und Physiologie in der Arbeitsgruppe von Univ.-Prof. Dr. Bernd Binder und der Klinik für Innere Medizin I in der Arbeitsgruppe von Prof. Zielinski/Prof. Prager am Comprehensive Cancer Center Wien.
uPAR und PTEN in der Gefäßneubildung
Der Urokinaserezeptor (uPAR) ist ein zentrales Protein der Zellmigration und des Zellüberlebens. Über unterschiedliche Mechanismen ist es diesem Oberflächenrezeptor möglich diverse Signalkaskaden in der Zelle zu aktivieren. Seine Rolle in der Gefäßneubildung und damit auch in der Tumorentstehung wurde bereits ausgiebig erforscht. Eine funktionelle Rolle von uPAR konnte bereits bei Tumorerkrankungen des Dickdarms, der Lunge, des Magens und der Brust nachgewiesen werden. Eine prognostische Rolle kommt auch der quantitativen Erhebung von uPAR mRNA Spiegeln aus dem Tumorgewebe zu, welche invers mit dem mittleren Gesamtüberleben von Krebspatienten korrelieren. Beim Lungen- und beim Darmkrebs haben zirkulierende uPAR Werte prognostische Relevanz. Eine mögliche funktionelle Erklärung liefert dabei eine rezente Beobachtung, die eine Endothelzell-aktivierende Funktion des von Krebszellen ausgeschütteten uPAR auf die Angiogenese vorschlug. Letztlich blieb aber die Frage offen, warum uPAR so viele verschiedene Funktionen innehält und ob sich diese nicht auf einen gemeinsamen Mechanismus zusammenführen lassen. In unserem Projekt konnten wir die essentielle Rolle uPARs mit der Regulation des zentralen Tumorsuppressorgens PTEN und dessen Konsequenzen auf die Angiogenese erklären. Die Phosphatase PTEN ist allgemein für die Regulation des wichtigsten Überlebenssignalweges in der Zelle mitverantworlich. Mit einer Reihe von in vitro und in vivo Versuchen, darunter auch der Generierung von heterozygoten PTEN Mäusen, die mit uPAR-/- Mäusen gepaart wurden, konnten wir ein besseres Verständnis für die zentrale Rolle von uPAR auf das Endothelzell-Verhalten und dessen Konsequenz in der Angiogenese schaffen. Dies sind letztlich Grundvoraussetzungen für die Entwicklung neuer Therapiestrategien Angiogenese-abhängiger Erkrankungen, wie z.B. Krebserkrankungen.
Wissenschaftliches Umfeld
Dr. Unseld begann seine wissenschaftliche Tätigkeit im Rahmen einer Kooperation zwischen dem Institut f. Gefäßbiologie (Leitung: Prof. Binder/Prof. Geiger) mit der Klinischen Abteilung für Onkologie (Leitung: Prof. Zielinski) im Labor von Prof. Prager. Der Forschungsschwerpunkt konzentrierte sich zunächst auf die Untersuchung der Gefäßausbildung in Abhängigkeit von zwei wichtigen Signalproteinen, den Urokinase Rezeptor und die Phosphatase PTEN. In der Zellkultur und am Mausmodell konnten, in enger Kooperation mit dem gesamten Team der Gefäßbiologie und Physiologie, grundlegende Mechanismen für die Gefäßbildung in Tumorerkrankungen gewonnen werden. Diese Arbeit führte in weiterer Folge zu einer engen Kooperation mit dem auf Phosphatasen spezialisten Prof. Zhang (Vorstand für Biochemie und Pharmakologie, Purdue University, US). Seit dem Beginn seiner klinischen Ausbildung bringt Dr. Unseld sein erworbenes Wissen im Rahmen der translationellen Forschung am Comprehensive Cancer Center Vienna (Leitung: Prof. Zielinski) im Labor von Prof. Prager ein. Neben der Grundlagen- und Klinischen Forschung engagierte sich Dr. Unseld bereits früh mit Themen der "Public Health". So konnte er gemeinsam mit Prof. Kapusta und Prof. Lesch zur Suchtprävention bei Studenten beitragen. Seine Arbeiten wurden bereits mehrfach ausgezeichnet (Mike and Josie Harper Cancer Fellowship, University Notre Dame, Indiana, US; Erste Bank Forschungsförderungspreis).
Zur Person
Dr. Unseld wurde 1983 in Klagenfurt geboren. Er studierte von 2002 bis 2008 Humanmedizin an der Medizinischen Universität Wien mit Auslandsstudienaufenthalten an der Karl Ruprechts Universität Heidelberg in Deutschland. Nach dem Studium für Humanmedizin widmete er sich der Grundlagenforschung am Institut für Gefäßbiologie unter der Leitung von Prof. Binder/Prof. Geiger am Zentrum für Physiologie und Pharmakologie der Medizinischen Universität Wien. Neben seinem PhD-Studium hegte er eine ausgiebige Lehrtätigkeit im Fach Physiologie und Gefäßbiologie. Seit 2014 befindet sich Dr. Unseld an der Abteilung für Onkologie der Univ. Klinik für Innere Medizin I (Leitung: Prof. Zielinski) in Ausbildung zum Facharzt für Innere Medizin. Neben seiner Forschungstätigkeit in unterschiedlichen Richtungen der Grundlagenforschung und klinischen Forschung beteiligt sich Dr. Unseld auch weiterhin an der Lehre im Rahmen des Humanmedizinstudiums und betreut zahlreiche Bachelor- und Diplomarbeiten.
Ausgewählte Literatur
Aguirre-Ghiso JA

,

Liu D

,

Mignatti A

,

Kovalski K

,

Ossowski L

.

Urokinase receptor and fibronectin regulate the ERK(MAPK) to p38(MAPK) activity ratios that determine carcinoma cell proliferation or dormancy in vivo.

Mol Biol Cell.

2001 Apr;12(4):863-79.
Binder BR, Mihaly J, Prager GW. uPAR-uPA-PAI-1 interactions and signalling: A vascular biologist's view. Throm Haemost 2007; 97:336-42.

Blasi F., Carmeliet P. uPAR: a versatile signalling orchestrator. Nat Rev Mol Cell Biol. 2002; 3: 932-43.

Leslie NR

,

Foti M

.

Non-genomic loss of PTEN function in cancer: not in my genes.

Trends Pharmacol Sci.

2011; 32:131-40.

Yamada KM, Araki M. Tumor suppressor PTEN: modulator of cell signaling, growth, migration and apoptosis. J Cell Sci. 2001 Jul;114(Pt 13):2375-82.

Liu D

,

Aguirre Ghiso J

,

Estrada Y

,

Ossowski L

.

EGFR is a transducer of the urokinase receptor initiated signal that is required for in vivo growth of a human carcinoma.

Cancer Cell.

2002 Jun;1(5):445-57.

Luyendyk JP

,

Schabbauer GA

,

Tencati M

,

Holscher T

,

Pawlinski R

,

Mackman N

.

Genetic analysis of the role of the PI3K-Akt pathway in lipopolysaccharide-induced cytokine and tissue factor gene expression in monocytes/macrophages.

J Immunol.

2008 Mar 15;180(6):4218-26.

Min HY

.,

Doyle LV

.,

Vitt CR

. Et al.

Urokinase receptor antagonists inhibit angiogenesis and primary tumor growth in syngeneic mice.

Cancer Res.

1996; 56: 2428-33.

Patel

L, Pass I, Coxon P, Downes CP, Smith SA, Macphee CH. Tumor suppressor and anti-inflammatory actions of PPARgamma agonists are mediated via upregulation of

PTEN

. Curr Biol.

2001

May 15;11(10):764-8.

Pezzolesi

MG, Platzer P, Waite KA, Eng C. Differential expression of

PTEN

-targeting microRNAs miR-19a and miR-21 in Cowden syndrome. Am J Hum Genet.

2008

May;82(5):1141-9.

Ploug M, Gårdsvoll H, Jørgensen TJ, et al. Structural analysis of the interaction between urokinase-type plasminogen activator and its receptor. Biochem Soc Trans. 2002; 30:177-83.

Poettler M, Unseld M, Mihaly-Bison J, Uhrin P, Koban F, Binder BR, Zielinski CC, Prager GW. The urokinase receptor (CD87) represents a central mediator of growth factor-induced endothelial cell migration. Thromb Haemost. 2012 Aug;108(2):357-66.

Prager GW

.,

Breuss JM

.,

Steurer S

. Et al. Vascular endothelial growth factor receptor-2-induced initial endothelial cell migration depends on the presence of the urokinase receptor.

Circ Res.

2004; 94: 1562-70.

Prager GW

,

Mihaly J

,

Brunner PM

,

Koshelnick Y

,

Hoyer-Hansen G

,

Binder BR

.

Urokinase mediates endothelial cell survival via induction of the X-linked inhibitor of apoptosis protein.

Blood.

2009 Feb 5;113(6):1383-90.

Schabbauer G

,

Matt U

,

Günzl P

,

Warszawska J

,

Furtner T

,

Hainzl E

,

Elbau I

,

Mesteri I

,

Doninger B

,

Binder BR

,

Knapp S

.

Myeloid PTEN promotes inflammation but impairs bactericidal activities during murine pneumococcal pneumonia.

J Immunol.

2010 Jul 1;185(1):468-76.
---