Dr. Maximilian Marhold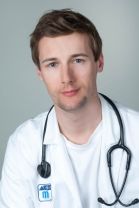 MedUni Wien RESEARCHER OF THE MONTH,
Die Jury "Researcher of the Month" verleiht die Auszeichnung für diesen Monat Herrn Dr. Maximilian Marhold aus Anlass der im Top-Journal "Molecular Cancer Research" (IF 4.5) erschienenen Arbeit "HIF-1alpha Regulates mTOR Signaling and Viability of Prostate Cancer Stem Cells" [1]. Die wissenschaftliche Arbeit entstand in der Forschungsgruppe von Univ.-Prof. Dr. M. Krainer und
Priv.-Doz. Dr. P. Horak in den Forschungslabors des Comprehensive Cancer Centers und der Universitätsklinik für Innere Medizin I im Anna Spiegel Forschungsgebäude. Enge Kooperationen bestanden und bestehen unter anderem mit der Arbeitsgruppe für Epigentik der Universitätsklinik für Innere Medizin I (Univ.-Prof.in Dr.in Sabine Zöchbauer-Müller / Dr. Gerwin Heller), der Core Facility Flow Cytometry (Univ.-Prof. Dr. Andreas Spittler) und der Univ.-Klinik für Urologie (Univ.-Prof. Dr. Shahrokh Shariat). Die Arbeit wurde von der Österreichischen Gesellschaft für Hämatologie und Onkologie (OeGHO) und der Fellinger Krebsforschung großzügig ad personam gefördert.
Krebsstammzellen im Prostatakarzinom
Im Zuge des besseren molekularen Verständnisses der Entstehung solider Tumore wurde in den letzten Jahren festgestellt, dass es auch auf zellulärer Ebene Faktoren gibt, die für die Entstehung und Aufrechterhaltung von Krebs eine Rolle spielen. Entdeckt wurde, dass sich Krebszellen desselben Tumors nicht gleichen und spezialisierte Aufgaben übernehmen können, was als "intratumorale Heterogenität" bezeichnet wird. Basierend auf Beobachtungen in einem Leukämiemodell, in welchem stammzellartige Krebszellen nachgewiesen werden konnten, wurden diese Krebsstammzellen (engl. Cancer Stem Cells (CSCs)) genannten Zellen auch in soliden Tumoren - wie etwa dem Prostatakarzinom - festgestellt. Interessant ist in diesem Zusammenhang die Beobachtung, dass es im speziellen Fall des Prostatakarzinoms unterschiedliche Krebsstammzellpopulationen zu geben scheint, deren Vorhandensein die Prognose von betroffenen Patienten beeinflusst.
Hypothetisiert wird, dass eine Auslöschung der CSCs eines Tumors die Resistenzentwicklung von Tumoren gegenüber Chemotherapie oder Bestrahlung verhindern kann. Demnach wäre es von außerordentlicher Bedeutung Faktoren zu identifizieren, welche für das Überleben von Krebsstammzellen wichtig sind, um neue - gegen diese Faktoren gerichtete - Therapien zu entwickeln.
Zu diesem Zweck isolierte Dr. Marhold stammzellartige Krebszellen aus einem transgenen Mausmodell sowie aus humanen Zelllinien und konnte für diese eine differenzielle Antwort auf hypoxische Stimuli nachweisen. Die zelluläre Antwort auf Hypoxie - eine Verminderung der Sauerstoffkonzentration auf subphysiologisches Niveau - treibt Krebszellen normalerweise zu einer Ausschüttung von Faktoren an, welche eine erhöhte Proliferation und Wachstum bewirken. Die beobachteten Krebsstammzellen reagierten jedoch im Vergleich mit nicht-stammzellartigen Krebszellen mit einer erniedrigten Proliferationsrate durch eine verstärkte Hemmung des mTOR-Signaltransduktionsweges. Durch diesen Mechanismus sind sie potentiell in der Lage, zulasten von Proliferation intrazelluläre Überlebenssignale zu aktivieren und - in einer Art Ruhezustand - zytostatischen Therapieverfahren zu entgehen.
Wissenschaftliches Umfeld
Dr. Marhold arbeitete von 2011 bis 2014 als Dissertant an der Universitätsklinik für Innere Medizin I, Comprehensive Cancer Center (PhD-Programm "Malignant Diseases"). Seine Dissertationskommission formierte sich aus seinem Betreuer, Univ.-Prof. Dr. M. Krainer (MUW), seinem Mentor Dr. G. Superti-Furga (CeMM) und Dr. J. Knoblich (IMBA). Zuvor war er, betreut von Univ.-Prof. Dr. R. Crevenna und Univ.-Prof.in Dr.in Chr. Marosi, als Diplomand an der Universitätsklinik für Physikalische Medizin und Rehabilitation im Fachgebiet onkologische Rehabilitation tätig. Für seine wissenschaftliche Arbeit erhielt er nationale und internationale Auszeichnungen. Im Zuge seines Doktorats verbrachte Dr. Marhold einen Forschungsaufenthalt am Biophysikalischen Institut der Tschechischen Akademie der Wissenschaften in Brünn.
Zur Person
Geboren 1988 in Wien, studierte Dr. Marhold Humanmedizin im Exzellenzprogramm "MDPhD" an der Medizinischen Universität Wien. Derzeit ist er als Arzt in Facharztausbildung an der Klinischen Abteilung für Onkologie der Universitätsklinik für Innere Medizin I tätig.
Ausgewählte Literatur
Marhold M, Tomasich E, El-Gazzar A, Heller G, Spittler A, Horvat R, Krainer M, Horak P. HIF-1alpha Regulates mTOR Signaling and Viability of Prostate Cancer Stem Cells. Mol Cancer Res. 2015 Mar;13(3):556-64.
Bonnet D, Dick JE. Human acute myeloid leukemia is organized as a hierarchy that originates from a primitive hematopoietic cell. Nat Med. 1997 Jul;3(7):730-7.
Goldstein AS, Huang J, Guo C, Garraway IP, Witte ON. Identification of a cell of origin for human prostate cancer. Science. 2010 Jul 30;329(5991):568-71.
Wang X, Kruithof-de Julio M, Economides KD, Walker D, Yu H, Halili MV, et al. A luminal epithelial stem cell that is a cell of origin for prostate cancer. Nature. 2009 Sep 24;461(7263):495-500.
Taylor RA, Toivanen R, Frydenberg M, Pedersen J, Harewood L, et al. Human epithelial basal cells are cells of origin of prostate cancer, independent of CD133 status. Stem Cells. 2012 Jun;30(6):1087-96.
Wang ZA, Mitrofanova A, Bergren SK, Abate-Shen C, Cardiff RD, Califano A, et al. Lineage analysis of basal epithelial cells reveals their unexpected plasticity and supports a cell-of-origin model for prostate cancer heterogeneity. Nat Cell Biol. 2013 Mar;15(3):274-83.
---