Dr. Gabor Geza Kovacs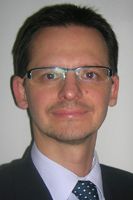 MUW RESEARCHER OF THE MONTH, April 2009
Die Jury "Researcher of the Month" verleiht die Auszeichnung für diesen Monat Herrn Dr. Gabor Geza Kovacs aus Anlass der im Jahre 2008 im Journal of Neuropathology and Experimental Neurology erschienenen Publikation "White matter tauopathy with globular glial inclusions: a distinct entity of sporadic frontotemporal lobar degeneration"[1]. Für diese Arbeit wurde Herrn Dr. Kovacs und Mitautoren 2009 der renommierte "Cavanagh Prize" verliehen, der alle zwei Jahre von der "British Neuropathological Society" an junge Neurowissenschaftler vergeben wird, deren Arbeiten wesentlich zum Verständnis neurologischer Erkrankungen beigetragen haben. Die prämierte Publikation, in der eine neue neurodegenerative Krankheit beschrieben wird, entstand am Klinischen Institut für Neurologie/KIN (Leiter: Univ.-Prof. Dr. Dr.h.c. H. Budka) und wurde in enger Kooperation mit internationalen Zentren durchgeführt.
Erstbeschreibung einer neuen neurodegenerativen Krankheitseinheit (Tauopathie) mit vorwiegend oligodendroglialer Pathologie
Die Gruppe der Tauopathien umfasst neurodegenerative Krankheitsbilder, deren gemeinsames Merkmal die Ansammlung des Tau-Proteins im Gehirn ist. Das Tau-Protein ist ein niedermolekulares Phosphoprotein, welches sich in Zellen an stützende Zytoskelett-Proteine (Mikrotubuli) bindet und deren Zusammenbau reguliert. Neurodegenerative Erkrankungen sind durch einen krankhaften und progredienten Verlust von Nervenzellen charakterisiert. Die verschiedenen Krankheitsbilder zeigen dabei eine selektive Vulnerabilität verschiedener Nervenzellpopulationen. Die Klassifikation neurodegenerativer Erkrankungen basiert sowohl auf der klinischen Präsentation mit topographisch typischer Verteilung und involviertem Zelltyp des degenerativen Prozesses als auch auf Basis der Ablagerung von strukturell veränderten Proteinen wie Prion-Protein, Tau, -Amyloid, -Synuclein, TDP-43, oder Huntingtin.
Frontotemporale lobäre Degenerationen (FTLD) umfassen eine Gruppe von Erkrankungen, die mit einer umschriebenen Atrophie des Frontal- und Temporallappens einhergehen. Klinisch zeichnen sich die Betroffenen durch eine frontotemporale oder semantische Demenz oder auch eine primär progressive, nicht-flüssige Aphasie aus. Neuropathologisch sind die einzelnen Unterformen durch pathologische Tau- oder TDP-43 immunreaktive Einschlüsse in Nerven- und Gliazellen gekennzeichnet.
In der eingangs genannten Studie mit dem Titel "White matter tauopathy with globular glial inclusions: a distinct entity of sporadic frontotemporal lobar degeneration" konnten sieben Fälle mit einem ungewöhnlichen, bislang unbekannten morphologischen Phänotyp identifizieren werden. In einer multidisziplinären und internationalen Zusammenarbeit wurden die klinischen, neuropathologischen, ultrastrukturellen, biochemischen und genetischen Daten dieser sieben Fälle analysiert. Die klinische Symptomatik entspricht dabei einer Verhaltensvariante einer frontotemporalen Demenz. Neuropathologisch steht jedoch eine gliale Tauopathologie mit zahlreichen kugelförmigen Einschlüssen in Oligodendrozyten der weißen Substanz im Vordergrund. Die Markveränderungen sind mit einem Verlust an Myelinscheiden und Axonen sowie einer markanten Mikrogliaaktivierung vergesellschaftet, die insbesondere für die neuroradiologische Diagnostik von Demenzerkrankungen von Bedeutung sein könnten. Auf Basis dieser sieben Fälle konnte eine neuer klinisch-pathologischen Phänotyp einer sporadischen neurodegenerativen Erkrankung definiert werden. Die "Tauopathie mit kugelförmigen Gliaeinschlüssen" erweitert das Spektrum der neurodegenerativen Erkrankungen und stellt neben der Multisystematrophie (Synukleinopathie) eine weitere Erkrankung mit vorwiegend oligodendroglialer Pathologie dar.
Wissenschaftliches Umfeld
Die prämierte Arbeit entstand in enger Zusammenarbeit mit europäischen und amerikanischen Zentren: Medical Research Council Laboratory of Molecular Biology, Cambridge, UK; Nationales Institut für Psychiatrie und Neurologie, Budapest, Ungarn; Indiana Alzheimer Disease Center, Indiana University School of Medicine, Indianapolis, IN, USA. Dr. Kovacs ist darüber hinaus in weitere internationale Forschungsprojekte des KIN eingebunden und ist maßgebend beteiligt an der Akquirierung des EU-Großprojektes NeuroScreen für die MUW und ist auch Ansprechpartner für zwei weitere EU-Projekte am KIN (NeuroPrion und BrainNet Europe.).
Persönliches
Dr. G. Kovacs wurde 1969 in Kecskemet/Ungarn geboren. Aufgrund familiärer Umstände verbrachte er einen Teil seiner Kindheit in Nigeria. 1987 maturierte er in Ungarn, 1994 erfolgte die Promotion zum Doktor der Medizin an der Semmelweis Universität in Budapest/Ungarn mit "Summa cum laude". Seine Diplomarbeit absolvierte er an der University of Edinburgh / UK. Im Anschluss folgten Facharztausbildungen für Neurologie und Neuropathologie an der Semmelweis Universität. Seit dieser Zeit verbrachte er wissenschaftliche Gastaufenthalte in Wien, in Edinburgh,/UK und Indianapolis/USA. Seit 2000 ist er mit Unterbrechungen am Klinischen Institut für Neurologie tätig. In seinen wissenschaftlichen Arbeiten beschäftigt er sich vorrangig mit der Neuropathologie und Pathogenese neurodegenerativer Erkrankungen einschließlich Prionenerkrankungen [2-10]. Er ist im Editorial Board zweier internationaler Journale. Im Herbst 2008 suchte er an der Medizinischen Universität Wien um seine Habilitation an. G. Kovacs ist verheiratet und Vater eines Sohnes und einer Tochter.
Kovacs GG, Majtenyi K, Spina S, Murrell JR, Gelpi E, Hoftberger R, Fraser G, Crowther RA, Goedert M, Budka H, Ghetti B. White matter tauopathy with globular glial inclusions: a distinct entity of sporadic frontotemporal lobar degeneration. J Neuropath Exp Neurol 2008;67:963-75. (Originalarbeit)
Kovacs GG, Milenkovic IJ, Preusser M, Budka H. Nigral burden of alpha-synuclein correlates with striatal dopamine deficit. Mov Disord. 2008;23:1608-12. (Originalarbeit)
Kovacs GG, Budka H. Prion diseases: from protein to cell pathology. Am J Pathol. 2008;172:555-65. (Invited Review)
Kovacs GG, Gelpi E, Ströbel T, Ricken G, Nyengaard JR, Bernheimer H, Budka H. Involvement of the endosomal-lysosomal system correlates with regional pathology in Creutzfeldt-Jakob disease. J Neuropathol Exp Neurol. 2007;66:628-36. (Originalarbeit)
Horvath MC, Kovacs GG, Kovari V, Majtenyi K, Hurd YL, Keller E. Heroin abuse is characterized by discrete mesolimbic dopamine and opioid abnormalities and exaggerated nuclear receptor-related 1 transcriptional decline with age. J Neurosci. 2007;27:13371-5. (Originalarbeit)
Kovacs GG, Puopolo M, Ladogana A, Pocchiari M, Budka H, van Duijn C, Collins SJ, Boyd A, Giulivi A, Coulthart M, Delasnerie-Laupretre N, Brandel JP, Zerr I, Kretzschmar HA, de Pedro-Cuesta J, Calero-Lara M, Glatzel M, Aguzzi A, Bishop M, Knight R, Belay G, Will R, Mitrova E; EUROCJD. Genetic prion disease: the EUROCJD experience. Hum Genet. 2005;118:166-74. (Originalarbeit)
Kovacs GG, Preusser M, Strohschneider M, Budka H. Subcellular localization of disease-associated prion protein in the human brain. Am J Pathol. 2005;166:287-94. (Originalarbeit) Kovacs GG, Höftberger R, Majtényi K, Horváth R, Barsi P, Komoly S, Lassmann H, Budka H, Jakab G. Neuropathology of white matter disease in Leber's hereditary optic neuropathy. Brain. 2005;128:35-41. (Originalarbeit)
Kovacs GG, László L, Kovács J, Jensen PH, Lindersson E, Botond G, Molnár T, Perczel A, Hudecz F, Mezo G, Erdei A, Tirián L, Lehotzky A, Gelpi E, Budka H, Ovádi J. Natively unfolded tubulin polymerization promoting protein TPPP/p25 is a common marker of alpha-synucleinopathies. Neurobiol Dis. 2004;17:155-62. (Originalarbeit)
Kovacs GG, Lindeck-Pozza E, Chimelli L, Araújo AQ, Gabbai AA, Ströbel T, Glatzel M, Aguzzi A, Budka H. Creutzfeldt-Jakob disease and inclusion body myositis: abundant disease-associated prion protein in muscle. Ann Neurol. 2004;55:121-5. (Originalarbeit)
Kontakt
Dr. Gabor Geza Kovacs
Klinisches Institut für Neurologie
Währinger Gürtel 18-20
1090 Wien
---