Ao. Univ. Prof. Dr. MARKUS RADERER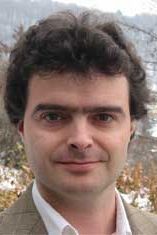 RESEARCHER OF THE MONTH, December 2005
Die Jury "Researcher of the Month" verleiht die Auszeichnung für diesen Monat Herrn Ao. Univ. Prof. Dr. Markus Raderer aus Anlass seiner rezenten Publikation "Phase II study of Oxaliplatin for treatment of patients with mucosa-associated lymphoid tissue lymphoma " im Journal of Clinical Oncology. Im Rahmen dieser prospektiven Studie wurde das Potential des Chemotherapeuticums Oxaliplatin in der Therapie des MALT-Lymphoms untersucht. Die Ergebnisse zeigen die hohe Wirksamkeit und gleichzeitig eine ausgezeichnete Verträglichkeit der Chemotherapie mit Oxaliplatin auch beim fortgeschrittenen oder rezidivierten MALT-Lymphom.
Das MALT-Lymphom: Eine neue chemotherapeutische Standardtherapie.
Extranodale Lymphome des Mukosa-assoziierten lymphatischen Gewebes (Mucosa-Associated Lymphoid Tissue, MALT) treten bevorzugt im Magen auf, können allerdings in allen Organen des Körpers entstehen. Aufgrund ihrer Assoziation mit Helicobacter pylori (HP) im Magen scheint ein antigener Stimulus in der Entstehung dieser Lymphome eine wesentliche Rolle zu spielen. Dementsprechend reagiert ein hoher Prozentsatz von Patienten mit MALT-Lymphomen des Magens auf eine antibiotische HP-Eradikation mit einer Rückbildung des Lymphoms. Durch die Arbeit von Raderer gelang es, negative prognostische Parameter für das Ansprechen auf HP-Eradikation wie zu Grunde liegende Autoimmunerkrankung mit Produktion monoklonaler Immunglobuline zu identifizieren, während gleichzeitig gezeigt werden konnte, dass diese Faktoren keinen Einfluss auf das Ansprechen des Lymphoms gegenüber Chemotherapie haben. Dies erscheint umso wichtiger, als - entgegen der bisherigen Meinung – die Arbeiten der Wiener Arbeitsgruppe zeigen konnten, dass MALT-Lymphome in hohem Grad zur Dissemination neigen und auch noch nach Jahrzehnten eine hohe Rezidivrate haben. Das von Raderer und Mitarbeitern etablierte Staging und Nachsorgesystem wurde mittlerweile von internationalen Organisationen wie der EGILS (European Gastrointestinal Lymphoma Study Group) zum Standard erklärt. Letztendlich waren Raderer und Mitarbeiter wegweisend in der Etablierung der Chemotherapie in der Therapie von MALT-Lymphomen und von Magenlymphomen generell, wobei der systematisch beschrittene Weg, MALT-Lymphome als systemische Erkrankung zu sehen und zu therapieren, zunehmend nachvollzogen und bestätigt wird.
Die Forschungsarbeit Markus Raderers zeichnet sich durch eine Reihe nationaler und internationaler Kooperationen aus. Innerhalb der MUW besteht eine enge Zusammenarbeit zwischen der Arbeitsgruppe Prof. Raderers (Univ.-Klinik für Innere Medizin I) und dem Klinischen Institut für Pathologie/Hämatopathologie, der Univ.-Klinik für Innere Medizin IV / Abteilung für Gastoentereologie und Hepatologie, der Univ.-Klinik für Nuklearmedizin, der Univ.-Klinik für Hals-, Nasen- Ohrenkrankheiten und der Univ.-Klinik für Augenheilkunde. International bestehen Kooperationen mit dem Royal University College London, der University of Cambridge, dem Netherlands Cancer Institute Amsterdam sowie dem Klinikum Aschaffenburg/Gastroenterologie. Darüber hinaus ist Herr Raderer Gründungsmitglied der European Gastrointestinal Lymphoma Study Group (EGILS).
Persönliches
Markus Raderer ist Jahrgang 1969 und studierte von 1987 –1993 Medizin an der Universität Wien. Anschließend absolvierte er am AKH Wien die Facharztausbildung für Innere Medizin. Seine Forschungsarbeiten liegen auf dem Gebiet der gastrointestinalen Onkologie mit den Schwerpunkten Chemotherapie, nuklearmedizinische Tumordiagnostik, gastrointestinale Lymphome und endokrin aktive Tumoren. Raderer habilitierte sich für das Fach Angewandte und Experimentelle Onkologie sowie für das Fachgebiet Innere Medizin. Im Jahre 2002 wurde er an der Abteilung für Onkologie / Innere Medizin I der MUW zum Programmdirektor für Extranodale Lymphome sowie Endokrin-aktive Tumoren ernannt. Er erhielt eine Reihe wissenschaftlicher Preise, ist Editorial Board Member des Journal of Nuclear Oncology und Reviewer bei renommierten internationalen Zeitschriften.
Raderer M, Woehrer S, Bartsch R, Prager G, Drach J, Hejna M, Gaiger A, Turetschek K, Jaeger U, Streubel B, Zielinski CC. Phase II study of oxaliplatin for treatment of patients with mucosa-associated lymphoid tissue lymphoma. lymphoma. J Clin Oncol 2005; 23: 8442–8446
Wöhrer S, Streubel B, Bartsch R, Chott A, and Raderer M. Monoclonal immunoglobulin production is a frequent event in patients with mucosa associated lymphoid tissue lymphoma.
Clin Cancer Res 2004; 10:7179-81
Raderer M, Streubel B, Woehrer S, Puespoek A, Jaeger U, Formanek M, Chott A. High relapse rate in patients with MALT lymphoma warrants life long follow-up.
Clin Cancer Res 2005; 11:3349-52
Streubel B, Huber D, Wöhrer S, Chott A, and Raderer M. Frequency of chromosomal aberrations involving MALT1 in mucosa-associated lymphoid tissue lymphomas in patients with Sjogren's syndrome.
Clin Cancer Res 2004; 10:476-80
Grünberger B, Hauff W, Lukas J, Wöhrer S, Zielinski C, Streubel B, Chott A, and Raderer M. "Blind" antibiotic treatment targeting Chlamydia is not effective in patients with MALT lymphoma of the ocular adnexa.
Ann Oncol 2005; in press
Raderer M, Streubel B, Woehrer S, Haefner M, Chott A. Successful antibiotic treatment of Helicobacter pylori negative gastric MALT lymphomas. Gut. Published online first: 18. November 2005, doi:10.1136/gut.2005.083022.
---