Dr.in Jolanta Siller-Matula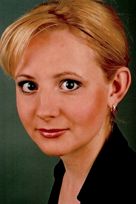 MedUni Wien RESEARCHER OF THE MONTH, Dezember 2009
Die Jury "Researcher of the Month" verleiht die Auszeichnung für diesen Monat Frau Dr. Jolanta Siller-Matula aus Anlass der im November 2008 im Journal of the American College of Cardiology erschienen Publikation "Calcium-channel blockers reduce the antiplatelet effect of clopidogrel" (IF 11.05) [1]. Diese Arbeit entstand in der Arbeitsgruppe Hämatologie & Immunologie (Leiter: A.o. Univ.-Prof. Dr. B. Jilma) an der Universitätsklinik für Klinische Pharmakologie in Kooperation mit der Univ.-Klinik für Innere Medizin II (Univ.-Prof. Dr. I. Lang und Ao. Univ.-Prof. Dr. G. Christ). Das Projekt wurde vom Jubiläumsfonds der Österreichischen Nationalbank gefördert. Die Arbeitsgruppe beschäftigt sich seit Jahren mit der Erforschung von Ursachen für sog. Resistenzen (unvollständige/fehlende Wirkung) der Plättcheninhibitoren Clopidogrel und Aspirin und Medikamenten-Interaktionen zwischen Clopidogrel und Kalziumkanalblockern sowie Protonen Pumpen-Inhibitoren [2-6].
Kalziumkanalblocker schwächen die Wirkung des Plättcheninhibitors "Clopidogrel" ab
Clopidogrel ist ein Plättcheninhibitor, der in der Sekundärprävention von atherosklerotischen Erkrankungen bei Patienten mit akutem Koronarsyndrom nach perkutaner Koronarintervention und mit peripherer arterieller Verschlusskrankheit eingesetzt wird. Clopidogrel ist ein Prodrug (inaktiver oder wenig aktiver pharmakologischer Stoff) und wird durch das Cytochrom-P450 in der Leber zu wirksamen Metaboliten aktiviert, wobei die Isoenzyme CYP2C19 und CYP3A4 eine besondere Rolle spielen. Über dieselben Enzyme werden auch manche Kalziumkanalblocker metabolisiert.
Ziel dieser Studie war es zu untersuchen, ob die gleichzeitige Einnahme von Clopidogrel und Kalziumkanalblockern die Wirkung von Clopidogrel reduziert. Für diese Studie wurden 200 Patienten mit koronarer Herzerkrankung mit Stentimplantation und Medikation von Clopidogrel untersucht. Ein Viertel der Patienten bekam zusätzlich noch einen Kalziumkanalblocker (v.a. Amlodipin). Die Ergebnisse zeigen eine mögliche Wechselwirkung zwischen Clopidogrel und dem Kalziumkanalblocker im Sinne einer Minderung der Plättchenaggregationshemmung von Clopidogrel. Auch konnte gezeigt werden, dass die gleichzeitige Medikation von Clopidogrel und Kalziumkanalblockern zu einer Zunahme der Häufigkeit von kardiovaskulären Komplikationen führt. Die Verwendung von Kalziumkanalblockern zur Blutdrucksenkung bei Patienten mit Koronarstents ist daher nicht zu empfehlen.
Als möglicher Mechanismus für die geringere kardioprotektive Wirkung von Clopidogrel unter Komedikation mit Kalziumkanalblockern wird eine Arzneimittelinteraktion diskutiert. Durch Kalziumkanalblocker ist eine Hemmung von CYP3A4 und damit eine Inhibition der metabolischen Aktivierung von Clopidogrel in unterschiedlichem Ausmaß möglich.
Die Interaktionsstudien haben eine beachtliche internationale Resonanz verursacht, wie die Medienberichterstattung (www.google.com) und die Zitierung in den "FDA Projects in Scientific Priority Areas" sowie "Early Communication about an Ongoing Safety Review of clopidogrel bisulfate" zeigen.
Wissenschaftliches Umfeld
Die Forschungstätigkeit von Frau Dr. Siller-Matula beinhaltet die Klinische Pharmakologie auf dem Gebiet der Plättcheninhibitoren, Interaktionen und Resistenzentwicklungen zwischen Clopidogrel und Aspirin, Einfluss von Kalziumkanalblockern auf die Plättchenaggregation unter Miteinbeziehung klinisch-kardiologischer und hämatologischer Fragestellungen. Auf diesen Gebieten entwickelten sich Kooperationen innerhalb der MUW mit der Univ.-Klinik für Innere Medizin II (Univ.-Prof. Dr. I. Lang, Ao. Univ.-Prof. Dr. G. Christ, Ao. Univ.-Prof. Dr. G. Kreiner, Ao. Univ.-Prof. Dr. G.
Delle-Karth), der Klinischen Abteilung für Transfusionsmedizin
(Ao. Univ.-Prof. Dr. S. Panzer), dem Klinischen Institut für Medizinische und Chemische Labordiagnostik (Ao. Univ.-Prof. Dr. P. Quehenberger) sowie der Abteilung für Biomedizinische Forschung (Mag. Dr. R. Plasenzotti) und weiters eine Kooperation mit der 3 Medizinischen Abteilung des Wilhelminenspitals (Prim. Univ.-Prof. Dr. K. Huber). Eine internationale Kooperation besteht mit dem University Department of Medicine, City Hospital, Birmingham, England, Haemostasis Thrombosis and Vascular Biology Unit (A. Blann, MD).
Persönliches
Frau Dr. Siller-Matula ist 1981 in Nowy Sacz, Polen geboren und begann 2000 mit dem Studium der Humanmedizin an der Medizinischen Universität Warschau. 2002-2005 Studium an der MUW mit Promotion 2005 mit der Diplomarbeit: "P2Y receptor mediated differentiation of human skeletal muscle cells". 2006 Beginn des PhD-Studium mit der Dissertation: "Thrombin-induced disseminated intravascular coagulation: establishing an experimental model to study Thrombin effects in vivo" (Betreuer: Ao. Univ.-Prof. Dr. B. Jilma, Univ.-Klinik für Klinische Pharmakologie/MUW). Frau Dr. Siller-Matula wurden zahlreiche Awards und Research Grants zuerkannt. Seit 2006 ist Frau Dr. Siller-Matula an der Universitätsklinik für Klinische Pharmakologie beschäftigt.
Siller-Matula JM, Lang I, Christ G, Jilma B: Calcium-channel blockers reduce the antiplatelet effect of clopidogrel. J Am Coll Cardiol 2008;52(19):1557-63.
Siller-Matula JM, Spiel AO, Lang IM, Kreiner G, Christ G, Jilma B: Effects of pantoprazole and esomeprazole on platelet inhibition by clopidogrel. Am Heart J 2009;157(1):148 e1-5.
Siller-Matula JM, Christ G, Lang IM, Delle-Karth G, Huber K, Jilma B: Multiple Electrode Aggregometry better predicts stent thrombosis than the VASP assay. J Thromb Haemost 2009;in press.
Siller-Matula JM, Haberl K, Prillinger K, Panzer S, Lang I, Jilma B: The effect of antiplatelet drugs clopidogrel and aspirin is less immediately after stent implantation. Thromb Res 2009;123(6):874-80.
Siller-Matula JM, Gouya G, Wolzt M, Jilma B: Cross validation of the Multiple Electrode Aggregometry. A prospective trial in healthy volunteers. Thromb Haemost 2009;102(2):397-403.
Siller-Matula JM, Panzer S, Jilma B: Reproducibility and standardized reporting of the vasodilator-stimulated phosphoprotein phosphorylation assay. Platelets 2008;19(7):551-4.
Kontakt
Dr. Jolanta Siller-Matula
Medizinische Universität Wien
Univ. Klinik für Klinische Pharmakologie
Währinger Gürtel 18-20
1090 Wien
---