Dr. Tobias Klatte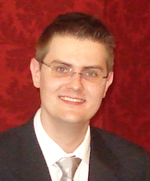 MedUni Wien RESEARCHER OF THE MONTH, Dezember 2010
Die Jury "Researcher of the Month" verleiht die Auszeichnung für diesen Monat Herrn Dr. Tobias Klatte aus Anlass der 2010 in dem Top-Journal "The Journal of Urology" erschienenen Publikation "Development and External Validation of a Nomogram Predicting Disease Specific Survival After Nephrectomy for Papillary Renal Cell Carcinoma" (IF 4.016)[1]. In dieser Multicenter-Studie wurde das erste prognostische Modell in Form eines Nomogramms entwickelt, welches speziell auf das papilläre Nierenzellkarzinom zugeschnitten ist. Damit sind aggressive Tumoren treffsicher zu identifizieren und eine maßgeschneiderte postoperative Nachsorge und Therapie möglich. Diese Studie entstand an der Univ.-Klinik für Urologie der MedUni Wien (Leiter: o.Univ.-Prof. DDr. M. Marberger) in der Arbeitsgruppe "Nierenzellkarzinom" (Priv.-Doz. Dr. M. Remzi, Ao.Univ.-Prof.in Dr.in A. Haitel) in Zusammenarbeit mit dem Klinischen Institut für Pathologie der MedUni Wien (Leiter: o.Univ.-Prof. Dr. D. Kerjaschki) und den urologischen und pathologischen Kliniken/Institutionen der Universitäten Graz und Los Angeles/Californien.
Das erste prognostische Modell für das papilläre Nierenzellkarzinom
Lange Zeit als uniforme Tumorentität betrachtet, wurden in den vergangenen Jahren histologische Nierenzellkarzinom-Subtypen mit spezifisch alterierten Signalwegen und unterschiedlicher Prognose charakterisiert [1]. Das papilläre Nierenzellkarzinom ist der zweithäufigste Subtyp und findet sich in 10-20 % der Nierentumoren[2]. Nach 20 Jahren intensiver Forschung ist dieser Subtyp nun bezüglich Pathologie, Proteinexpression, genetischer Veränderungen und prognostischer Faktoren charakterisiert [3].
Prognostische Faktoren sind wichtig für die Patientenberatung, die Nachsorge nach chirurgischer Therapie und darüber hinaus für die Planung von adjuvanten Therapien unerlässlich [4, 5]. Da bekannt ist, dass immer mehrere Faktoren die Prognose eines Patienten beeinflussen, wurden in den vergangenen Jahren prognostische Modelle angefertigt, z.B. in Form von Nomogrammen. Ein Nomogramm weist im Unterschied zu herkömmlichen Risikogruppierungen den Vorteil auf, dass es individuell für jeden Patienten anwendbar ist.
In dieser Multicenter-Studie wurden insgesamt 435 Patienten von den beteiligten urologischen Kliniken eingebracht und eine Re-Evaluation der H&E Schnitte durch die Pathologen jeder Universität durchgeführt. Es wurde nun aus den Daten zweier Kliniken ein Nomogramm kreiert, welches die tumorspezifische 5-Jahres-Überlebensrate aus den signifikanten prognostischen Faktoren vorhersagte. Die Daten der dritten Klinik wurden für die externe Validierung verwendet. Es zeigten sich als wichtigste Prognosefaktoren die inzidentelle Tumordetektion ("Zufallsbefund Nierentumor"), das T- und M-Stadium, das Ausmaß der Tumornekrose und die mikrovaskuläre Invasion. Diese Faktoren bildeten die Basis des Nomogramms, welches eine herausragende Genauigkeit von 93,6% aufwies. In der externen Validierung wurde die Genauigkeit mit 94,2% bestätigt.
Wissenschaftliches Umfeld
Bereits während des Medizinstudiums begann Dr. Klatte an der Urologischen Universitätsklinik Magdeburg/Deutschland wissenschaftlich zu arbeiten. Nach Beendigung des Medizinstudiums erfolgte ein zweijähriges Research Fellowship am Department of Urology der UCLA (Prof. Dr. Pantuck, Prof. Dr. Belldegrun, Prof. Dr. Said), wobei hierbei insbesondere klinische, pathologische, immunhistochemische und genetische prognostische Faktoren erforscht wurden. Mit dieser Klinik besteht weiterhin eine intensive Forschungskooperation. Seit 2008 arbeitet Dr. Klatte an der Universitätsklinik für Urologie der MedUni Wien (Leiter: Prof. DDr. M. Marberger) und ist in der Arbeitsgruppe "Nierenzellkarzinom" (Priv.-Doz. Dr. M. Remzi, Ao. Univ.-Prof.in Dr.in A. Haitel) tätig. Weiters besteht in der Nierenzellkarzinom-Forschung eine enge Kooperationen mit der Medizinischen Universität Graz (Prof. Dr. R. Zigeuner, Ass.-Prof. Dr. S. Mannweiler). Außerdem beschäftigt sich Dr. Klatte mit der translationalen Forschung beim Nierenzellkarzinom und Blasenkarzinom. Diese Projekte werden gemeinsam mit Frau Dr.in M. de Martino durchgeführt.
Persönliches
Dr. Klatte, geboren 1980 in Schönebeck (Elbe), Deutschland. 1999-2005 Medizinstudium an der Otto-von-Guericke-Universität Magdeburg, Deutschland (Gesamtnote Medizinstudium: 1,0). 2002-2003 BWL-Fernstudium mit Abschluss als Diplom-Gesundheitsökonom, Dipl.oec.med. (Gesamtnote: 1,3). 2005/2006 Promotionsstudent an der Otto-von-Guericke-Universität Magdeburg. 2006/2007 Research Fellow am Department of Urology, Division of Urologic Oncology, UCLA School of Medicine, Los Angeles, California, USA (Prof. Dr. A. S. Belldegrun, Prof. Dr. A. J. Pantuck). 2007 Promotion zum Dr. med. "magna cum laude" mit der Arbeit: "Die perioperative Immunmodulation mit Interleukin-2 und Interferon-alpha bei Patienten mit Nierenzellkarzinom" (Betreuer: PD Dr. M. Böhm, Prof. Dr. E. P. Allhoff). Seit 2008 Assistenzarzt an der Universitätsklinik für Urologie, MedUni Wien.
Zahlreiche Auszeichnungen, Stipendien und Preise. Weiters Gutachter für mehrere hochkarätige urologische Zeitschriften.
Klatte T, Remzi M, Zigeuner RE, Mannweiler S, Said JW, Kabbinavar FF, Haitel A, Waldert M, de Martino M, Marberger M, Belldegrun AS, Pantuck AJ. (2010): Development and external validation of a nomogram predicting disease specific survival after nephrectomy for papillary renal cell carcinoma. - J Urol. Jul;184(1):53-58. Epub 2010 May 15. IF 4,016
Klatte T, Pantuck AJ. (2010): Molecular biology of renal cortical tumors. - Urol Clin North Am 2008;35:573-80. IF 1,724
Belldegrun AS, Klatte T, Shuch B, LaRochelle JC, Miller DC, Said JW, Riggs SB, Zomorodian N, Kabbinavar FF, Dekernion JB, Pantuck AJ. (2010): Cancer specific survival outcomes among patients treated during the cytokine era of kidney cancer (1989-2005): a benchmark for emergingtargeted cancertherapies. - Cancer 2008;113:2457-63. IF 5,238
Klatte T, Pantuck AJ, Said JW, Seligson DB, Rao NP, LaRochelle JC, Shuch B, Zisman A, Kabbinavar FF, Belldegrun AS. (2010): Cytogenetic and molecular tumor profiling for type 1 and type 2 papillary renal cell carcinoma. - Clin Cancer Res 2009;15:1162-9. IF 6,488
Klatte T, Lam JS, Shuch B, Belldegrun AS, Pantuck AJ. (2010): Surveillance for renal cell carcinoma: Why and how? When and how often? - Urol Oncol. 2008;26(5):550-4. IF 2,662
Lam JS, Klatte T, Kim HL, Patard JJ, Breda A, Zisman A, Pantuck AJ, Figlin RA. (2010): Prognostic factors and selection for clinical studies of patients with kidney cancer. - Crit Rev Oncol Hematol 2008;65:235-62. IF 4,589
Kontakt
Dr. Tobias Klatte
Universitätsklinik für Urologie
Währinger Gürtel 18-20
1090 Wien
---