Ass.-Prof. DI Dr. Wolfgang Bogner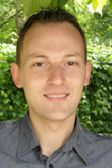 MedUni Wien RESEARCHER OF THE MONTH, Dezember 2012
Die Jury "Researcher of the Month" verleiht die Auszeichnung für diesen Monat Herrn Ass.-Prof. DI Dr. Wolfgang Bogner aus Anlass der 2012 im Top-Journal "Radiology" (IF 6.069) erschienenen experimentellen Arbeit "Readout-segmented Echo-planar Imaging Improves the Diagnostic Performance of Diffusion-weighted MR Breast Examinations at 3.0 T" [1]. Diese Publikation entstand an der Medizinischen Universität Wien, Universitätsklinik für Radiodiagnostik in Kooperation mit dem MR Exzellenzzentrum (Leitung: Univ.-Prof. Dr. S. Trattnig) und dem Bereich Molekulare und Gender Bildgebung (Leiter: Univ.-Prof. Dr. Th. Helbich). In dieser Studie wurde der diagnostische Wert der diffusionsgewichteten (DW) MR-Bildgebung basierend auf der Standard Single-Shot-Echo-Planar und Read-Out-Segmented-Echo-Planar-Bildgebung bei Patientinnen mit Verdacht auf Brustkrebs untersucht.
Neue Akquisitionsstrategien der diffusionsgewichteten Magnetresonanz (MR)- Bildgebung verbessert die Diagnostik von tumorösen Erkrankungen der Brust
Die MR-Bildgebung beim Karzinom der weiblichen Brust stützt sich auf die Sichtbarmachung von Kontrastmittelanreicherungen im Tumorgewebe. Diagnostisch wichtig sind die Intensität, die räumliche Verteilung und die Dynamik der KM-Anreicherung [4,5]. Eine Schwachstelle dieser Methode besteht darin, dass gutartige Veränderungen fälschlicherweise als maligne Tumore klassifiziert werden und zu unnötigen Biopsien Anlass geben [1,2,3] können. Es ist daher notwendig, zusätzlich spezielle MR-Protokolle zur Verbesserung der Diagnostik zu entwickeln. In dieser Arbeit konnte gezeigt werden, dass die diffusionsgewichtete Bildgebung eine zuverlässige nicht-invasive kontrastmittelfreie Untersuchungsmethode darstellt, mit deren Hilfe die Spezifität der Tumordiagnostik erhöht werden kann. Die diffusionsgewichtete Bildgebung beruht auf dem Nachweis der Beweglichkeit von H2O-Molekülen (= Diffusion) im Brustgewebe, wobei die Diffusion durch eine hohe Zellzahl behindert wird. Dadurch können die zellreichen malignen Tumore von gutartigen Veränderungen besser differenziert werden [1,2]. Gerade in der Brust führen jedoch Bewegung und starke Schwankungen im Magnetfeld bedingt durch das angrenzende Lungenvolumen und das Herz oft zu massiven Bildartefakten. Erst die Beseitigung bisheriger technischer Limitationen, wie in dieser rezenten Publikation gezeigt wurde, hat der diffusionsgewichteten MR- Bildgebung der Brust zum Durchbruch verholfen. Dr. Bogner untersuchte außerdem den Einfluss diverser Diffusions-Messparameter auf die Verlässlichkeit der Diagnose und setzt sich basierend auf seinen Ergebnissen für eine Standardisierung der Messroutine ein [2]. Neueste noch unveröffentlichte Ergebnisse zeigen, dass durch eine effiziente Kombination der kontrastmittelverstärkten und diffusionsgewichteten MR- Bildgebung der Brust bis zu zwei Drittel aller nicht-indizierten Biopsien vermieden werden könnten.
Wissenschaftliches Umfeld
Das Exzellenzzentrum für Hochfeld-MR (Leitung: Univ.-Prof. Dr. S. Trattnig) ist das Zentrum seiner Tätigkeit, wo er schon 2006 unter Betreuung von Ass.-Prof. Dr. St. Gruber seine wissenschaftliche Arbeit begann. Forschungsschwerpunkte sind die Entwicklung und klinische Evaluierung neuer Methoden im MR-Hochfeldbereich für verschiedene klinische und grundlagenorientierte Fragestellungen. Eine internationale Zusammenarbeit besteht in den Bereichen Neuro- und Stoffwechselbildgebung (Boston/USA und Erlangen/Deutschland). Derzeit absolviert Dr. Bogner einen einjährigen Forschungsaufenthalt (Schrödinger-Auslandsstipendiums des FWF) am Martinos Center for Biomedical Imaging, Department of Radiology, Massachusetts General Hospital, Harvard Medical School, Charlestown, MA, USA. Darüber hinaus besteht eine enge Kooperation mit Siemens Healthcare (Erlangen, D). Seit 2009 erhielt Dr. Bogner diverse Stipendien und Projektförderungen und konnte als Projektleiter mehr als
€ 300.000,- an Drittmitteln einwerben (z.B.: KLIF-Projekt KLI-61: "7 Tesla MR spectroscopy in diffusely infiltrating gliomas" und OeNB-Projekt 13834: "Improved Breast Cancer Diagnosis and Therapy Monitoring by 23Na Magnetic Resonance Imaging at Ultra-high field").
Persönliches
Dr. Bogner wurde 1980 in Mistelbach (NÖ) geboren. Matura am Gymnasium Gänserndorf 1999. 1999-2005 Studium der Technischen Physik an der Technischen Universität Wien, welches er 2005 mit der Diplomarbeit im Bereich Strahlenschutz/Strahlenphysik am AIT Austrian Institute of Technology und Atominstitut der Österreichischen Universitäten abschloss. Nach Absolvierung seines Präsenzdienstes wechselte er sein Fachgebiet, dissertierte am MR- Exzellenzzentrum und schloss 2009 seine Doktorarbeit mit dem Titel "In vivo localized 31P NMR Spectroscopy at High Magnetic Field using Gradient Modulated Adiabatic Inversion Pulses" mit Auszeichnung ab. 2011 wurde Dr. Bogner zum Ass.-Prof. ernannt. Er ist verheiratet und begeisterter Anhänger der japanischen Kampfkünste und des traditionellen Bogensports.
Bogner W, Pinker K, Bickel H, Chmelik M, Weber M, Helbich TH, Trattnig S, Gruber S: Readout-segmented EPI improves the diagnostic performance of diffusion-weighted MRI breast examinations at 3 Tesla. Radiology Apr 2012; 263(1):64-76.
Bogner W, Gruber S, Pinker K, Grabner G, Stadlbauer A, Weber M, Moser E, Helbich TH, Trattnig S: Diffusion-weighted MRI for differentiation of breast lesions at 3.0 Tesla: How does selection of diffusion schemes affect diagnosis? Radiology Nov 2009; 253(2): 341-51.#
Gruber S, Debski BK, Pinker K, Chmelik M, Grabner G, Helbich TH, Trattnig S, Bogner W: Three-dimensional Proton Magnetic Resonance Spectroscopic Imaging (3D-MRSI) at 3 T for the Differentiation of Benign and Malignant Breast Lesions. Radiology Dec 2011; 261(3): 752-761.
Pinker K, Bogner W, Gruber S, Bickel H, Duffy S, Schernthaner M, Dubsky P, Pluschnig U, Rudas M, Trattnig S, Helbich TH: High resolution MRI of the breast at 3T: Which BI-RADS descriptors are most strongly associated with the diagnosis of breast cancer? Eur Radiol 2011
Pinker K, Grabner G, Bogner W, Gruber S, Szomolanyi P, Trattnig S, Heinz-Peer G, Weber M, Fitzal F, Pluschnig U, Helbich TH: A Combined High Temporal and High Spatial Resolution 3 Tesla MR Imaging Protocol for the Assessment of Breast Lesions: Initial Results. Invest Radiol. Sept 2009; 44(9):553-8.
Stadlbauer A, Bernt R, Gruber S, Bogner W, Pinker K, van de Riet W, Haller J, Salomonowitz E: Usefulness and efficacy of diffusion-weighted whole-body imaging with background body signal suppression (DWIBS) for diagnosis of malignant and benign breast lesions. Eur Radiol. Oct 2009; 19(10): 2349-56.
Kontakt
Ass.-Prof. DI Dr. Wolfgang Bogner
Exzellenzzentrum Hochfeld-MR
Medizinische Universität Wien
Lazarettgasse 14
1090 Wien
Telefon: +43 (0)1 40400-6471
E-Mail: wolfgang.bogner@meduniwien.ac.at
---