Dr. Andreas A. Kammerlander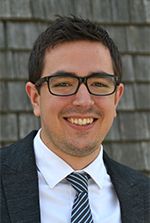 MedUni Wien RESEARCHER OF THE MONTH, Dezember 2015
Die Jury "Researcher of the Month" verleiht die Auszeichnung für diesen Monat Herrn Dr. Andreas Kammerlander aus Anlass der im Top-Journal "Journal of the American College of Cardiology" (IF 16.503) erschienenen Arbeit "Right Ventricular Dysfunction, But Not Tricuspid Regurgitation, Is Associated With Outcome Late After Left Heart Valve Surgery" [1]. Diese Studie entstand an der Klinischen Abteilung für Kardiologie in Zusammenarbeit mit der Klinischen Abteilung für Herzchirurgie sowie dem Institut für Medizinische Statistik.
Nicht das Vorliegen einer wirksamen Trikuspidal-klappen-insuffizienz, sondern eine eingeschränkte Rechtsventrikelfunktion ist nach linksseitiger Herzklappenoperation prognostisch relevant.
Nach Operation einer linksseitigen Herzklappe, also der Mitral- und oder der Aortenklappe, findet sich oft Jahre später eine signifikante Trikuspidalklappeninsuffizienz. Inwieweit dieses Phänomen prognostisch relevant ist, war bislang kaum erforscht.
Dr. Kammerlander konnte zeigen, dass nicht das Vorliegen einer wirksamen Trikuspidalklappeninsuffizienz, sondern eine eingeschränkte Rechtsventrikelfunktion unabhängig mit der Prognose assoziiert ist. Diese Resultate geben wichtige Hinweise auf die noch wenig untersuchten pathophysiologischen Mechanismen, die zur Entwicklung einer Trikuspidalklappeninsuffizienz nach vorangegangener linksseitiger Herz-klappenoperation führen. Aufgrund der Entwicklung einer post-kapillären pulmonalen Hypertension bei linksseitigem Klappenvitium erhöht sich die Nachlast für den rechten Ventrikel, der sich in der Funktion einschränkt und dilatiert, wodurch sich eine Trikuspidalklappeninsuffizienz entwickelt. Auch nach operativer Korrektur des linksseitigen Klappenfehlers bleibt die post-kapilläre pulmonale Hypertension häufig bestehen und erhöht die Nachlast für den rechten Ventrikel.
Im Lichte dieser Ergebnisse muss ein Zweit-Klappeneingriff zur Korrektur einer derartigen "sekundären" Trikuspidalklappeninsuffizienz bei PatientInnen nach vorangegangener linksseitiger Klappenkorrektur kritisch hinterfragt werden.
Wissenschaftliches Umfeld
Dr. Kammerlander forscht derzeit auf dem Gebiet der nicht-invasiven Gewebecharakterisierung mittels kardialer Magnetresonanztomographie (T1-mapping), womit sich sein vom FWF (KLI 245) gefördertes Dissertationsprojekt unter der Anleitung von Prof. Julia Mascherbauer beschäftigt. Die Ergebnisse dieses Forschungsprojektes wurden rezent im Top-Journal "JACC: Cardiovascular Imaging" zur Publikation angenommen [2]. Darüberhinaus besteht eine enge Kooperation mit der Forschungsgruppe um Prof. Diana Bonderman auf dem Gebiet der Herzinsuffizienz mit erhaltener Linksventrikelfunktion [3-7].
Zur Person
Dr. Kammerlander wurde 1988 in Linz, Oberösterreich geboren. Nach der Matura mit ausgezeichnetem Erfolg studierte er in Mindeststudienzeit Humanmedizin in Wien und arbeitete schon als Student in der Forschungsgruppe von Prof. Julia Mascherbauer an der Klinischen Abteilung für Kardiologie der MedUni Wien, wo er derzeit auch als PhD Student im Programm "Vascular Biology" (n094) tätig ist.
Dr. Kammerlander konnte seine Forschungsarbeiten auf mehreren nationalen und internationalen Kongressen präsentieren. Unter anderem hielt er zwei Vorträge am weltweit größten kardiologischen Kongress, jenem der European Society of Cardiology in Barcelona (2014). 2015 wurden ihm der "Österreichische Kardiologenpreis" (Clinical Science) und der "Sanofi-Aventis Preis" zuerkannt.
Kammerlander AA, Marzluf BA, Graf A, Bachmann A, Kocher A, Bonderman D, Mascherbauer J. Right Ventricular Dysfunction, But Not Tricuspid Regurgitation, Is Associated With Outcome Late After Left Heart Valve Surgery. J Am Coll Cardiol. 2014 (64):2633-2642.
Kammerlander AA, Marzluf BA, Zotter-Tufaro C, Aschauer S, Duca F, Bachmann A, Knechtelsdorfer K, Wiesinger M, Pfaffenberger S, Greiser A, Lang I, Bonderman D, Mascherbauer J. T1-Mapping by Cardiac Magnetic Resonance Imaging: From Histological Validation to Clinical Implication. JACC Cardiovasc Imaging [accepted for publication, # JIMG081715-0865-TR]
Zotter-Tufaro C, Mascherbauer J, Duca F, Koell B, Aschauer S, Kammerlander AA, Panzenboeck A, Sadushi-Kolici R, Bangert C, Laimer D, Ristl R, Lang IM, Bonderman D. Prognostic significance and determinants of the six-minute walk test in patients with heart failure and preserved ejection fraction. JACC Heart Failure. 2015 3(6):459-466.
Goliasch G, Zotter-Tufaro C, Aschauer C, Duca F, Koell B, Kammerlander AA, Ristl R, Lang IM, Maurer G, Mascherbauer J, Bonderman D. Outcome in Heart Failure with Preserved Ejection Fraction: The Role of Myocardial Structure and Right Ventricular Performance. PLOS One. 2015 Jul 30;10(7):e0134479
Zotter-Tufaro C, Duca F, Kammerlander AA, Koell B, Aschauer S, Dalos D, Mascherbauer J, Bonderman D. Diastolic pressure gradient predicts outcome in patients with heart failure and preserved ejection fraction. J Am Coll Cardiol. 2015. 66(11):1308-10.
Karakus G*, Kammerlander AA*, Aschauer S, Marzluf BA, Zotter-Tufaro C, Bachmann A, Degimenciouglu A, Duca F, Babayev J, Pfaffenberger S, Bonderman D, Mascherbauer J. Pulmonary artery to aorta ratio for the detection of pulmonary hypertension: cardiovascular magnetic resonance and invasive hemodynamics in heart failure with preserved ejection fraction. Journal of Cardiovascular Magnetic Resonance. 2015 Aug 30;17(1):79. * geteilte Erst-Autorenschaft.
Aschauer S, Kammerlander AA, Zotter-Tufaro C, Ristl R, Pfaffenberger S, Bachmann A, Duca F, Marzluf BA, Bonderman D, Mascherbauer J. The right heart in heart failure with preserved ejection fraction: insights from cardiac magnetic resonance imaging and invasive haemodynamics. Eur J Heart Fail. 2015 Oct 9. doi: 10.1002/ejhf.418. [Epub ahead of print]
Kontakt
Dr. Andreas Kammerlander
Universitätsklinik für Innere Medizin II
Abteilung für Kardiologie
Medizinische Universität Wien
Währinger Gürtel 18-20
1090 Wien
T: +43 (0)1 40400-46140,-48560
F: +43 (0)1 40400-42160
andreas.kammerlander@meduniwien.ac.at
---