Ao. Univ.Prof. Dr. Siegfried TRATTNIG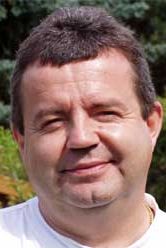 RESEARCHER OF THE MONTH, Februar 2006
Die Jury "Researcher of the Month" verleiht die Auszeichnung für diesen Monat Herrn ao. Univ.Prof. Dr. Siegfried Trattnig für die Zuerkennung von zwei FWF-Projekten mit einer Gesamtsumme von € 700.000,- im Jahre 2005. Das erste FWF-Projekt (P18110-B15) mit dem Titel "Visualization of Biomechanical Properties of Articular Cartilage by MR" ist ein Grundlagenforschungsprogramm. Das zweite FWF-Projekt (L243-B15) mit dem Titel "Monitoring of Autologous Cartilage Implantation by 3T MR" wurde im Rahmen des Translational Research Programms (TRP) des FWF angenommen, welches die Umsetzung von Erkenntnissen aus der Grundlagenforschung in die klinische Anwendung fördert. Das Translational Research Programm des FWF ist ein hochkompetitives Programm mit einer Annahmerate unter 10 %.
Frühdiagnostik von Knorpelschäden mittels Hochfeld – Magnetresonanztomographie (MRT)
Schädigungen des Gelenksknorpels zählen zu den häufigsten Erkrankungen, welche im jugendlichen Alter durch eine traumatische Genese, im höheren Alter als Folge einer Arthrose auftreten. Die MRT hat sich als nicht-invasive Methode in der Bildgebung der Morphologie des normalen Knorpels und von Knorpelschäden etabliert. Neben den biochemischen Veränderungen spielen auch biomechanische Eigenschaften - als Ausdruck der Festigkeit des Knorpels - eine wesentliche Rolle in der Integrität des Knorpels, insbesondere bei Knorpeltransplantaten.
Ziel des ersten FWF-Projektes ist die Entwicklung und Validierung selektiver MR-Parameter in der Evaluation von biomechanischen Eigenschaften des Knorpels. Zu diesem Zweck sind In vitro-Studien geplant, die an operativ gewonnenen humanen Knorpel- Knochen-Präparaten mittels unterschiedlicher MR-Techniken - wie Messung von T1-(mit Kontrastmittel) und T2-Relaxationszeiten - Diffusionsmessungen und durch Anwendung der Natriumbildgebung eine biochemische und biomechanischer Analyse ohne und mit kontrollierter Druckmessung ermöglichen. Diese Druckbelastung des Knorpels erfolgt durch eine speziell konstruierte MR-taugliche Vorrichtung, die angepasst an die MR-Spule unter MRKontrolle die Messungen erlaubt. In Kooperation mit einer Arbeitsgruppe der Technischen Universität Graz (Leiter:Prof.Dr.Gerhard Holzapfel) werden die untersuchten Knorpel- Knochenstücke zusätzlich mechanischen Tests (physikalische Festigkeitsprüfung) unterzogen und mit den Ergebnissen der MR-Untersuchungen korreliert. Als nächster Schritt ist die An- wendung dieser MR-Techniken an Probanden und Patienten unter Verwendung einer MRtauglichen Vorrichtung geplant, welche die Untersuchung an Knie-und Sprunggelenken im MR-Gerät unter Bewegung und mit kontrollierter Druckbelastung erlaubt.
Die Hochfeld-MRT ist die Methode der Wahl zum Monitoring von autologen Knorpeltransplantaten. Die chirurgische Therapie von Knorpeldefekten hat sich in den letzten Jahren stetig weiterentwickelt, wobei heute als besonders vielversprechende Methode die autologe Knorpelzelltransplantation mittels Biomaterialen angesehen wird. Dabei werden arthroskopisch Knorpelzellen entnommen, auf Trägersubstanzen gezüchtet um damit anschließend über einen arthroskopischen Zweiteingriff den Knorpeldefekt aufzufüllen. Das zweite FWF-Projekt im Rahmen des Translational Research Programms beschäftigt sich mit der nicht invasiven Verlaufskontrolle mit MRT bei Patienten mit Knorpeltransplantaten. Dieses Projekt wird in enger Kooperation mit der Universitätsklinik für Unfallchirurgie (Leiter der Arbeitsgruppe: Univ.Prof.Dr.Stefan Marlovits) durchgeführt. Die Entwicklung und die zunehmende Häufigkeit der Knorpelersatztherapien verlangen nach einer idealerweise nicht invasiven Methode für das postoperative Monitoring. Mit den genannten knorpelspezifischen MR-Parametern wird der gezüchtete Knorpel in vitro und nach Transplantation in vivo in zeitlich definierten Abständen untersucht. Die dadurch klinisch gewonnene Information über Biochemie und Biomechanik könnten in Zukunft die Anwendung von invasiven arthroskopischen Techniken minimieren und in der Verlauskontrolle insbesondere von Patienten mit Knorpeltransplantaten eingesetzt werden
Persönliches
Siegfried Trattnig, Jahrgang 1959, studierte in Wien Medizin und promovierte 1985. Ausbildung zum Facharzt für Radiologie an der 2.Medizinischen Univ.-Klinik der Wiener Medizinischen Fakultät, 1993 Habilitation für Diagnostische Radiologie. Sein spezieller Forschungsbereich ist die Bildgebung mittels MRT. 1994-1999 war Prof.Trattnig stellvertretender Leiter an der Klinischen Einrichtung § 83-UOG Institut für Magnetresonanz Tomographie. Seit Oktober 2000 ist Prof.Trattnig medizinischer Leiter des Hochfeld-MR an der Universitätsklinik für Radiodiagnostik, seit 2003 auch medizinischer Leiter für das neugegründete Exzellenzzentrums für Hochfeld MR und seit 2004 Projektleiter für das 7T (Tesla) Projekt der MUW, dessen Finanzierung Prof. Trattnig gemeinsam mit Ao. Univ.Prof. DI. Dr. Ewald Moser vom Zentrum für Biomedizinische Technik und Physik durch eine erfolgreiche Projekteinreichung im Rahmen der Uni-Infrastrukturprogramme II/III des BMfBWK ermöglicht hat.
Ein Hauptforschungsschwerpunkt von Prof. Trattnig ist die Frühdiagnostik von Knorpelschäden, die er bildgebend seit 1998 am damals österreichweit einzigen 3T-Hochfeld-MRTomographen durchgeführt hat. Die Arbeiten seiner Forschergruppe haben auf diesem Gebiet international wesentlich zur Weiterentwicklung nicht-invasiver MR-Methoden in der Knorpeldiagnostik beigetragen. Die anfänglich an Präparaten durchgeführten Knorpelstudien seiner Arbeitsgruppe stehen jetzt durch eine intensive interdisziplinäre Zusammenarbeit mit der Univ.-Klinik für Unfallchirurgie und einer Forschungskooperation mit der Firma Siemens an der Schwelle zur klinischen Anwendung. Prof. Trattnig ist u.a. "Member of the Imaging Group of the International Cartilage Repair Society (ICRS)" und "Cooperation Partner of Siemens Company for the Clinical Application of Musculo-Skeletal Sequences in Articular Cartilage at the First Clinical 3T MR (TRIO)". Die Gesamtsumme der seit 1998 für die Knorpelforschung requirierten Drittmittel beläuft sich auf Euro 850.000. Prof. Trattnig hat 180 Publikationen, davon 53 als Erstautor und 16 Buchbeiträge verfasst. Er hat 19 wissenschaftliche Grants eingeworben und 5 wissenschaftliche Preise gewonnen.
Trattnig S, Ba-Ssalamah A, Pinker K, Plank C, Vecsei V, Marlovits S.

Matrix-based autologous chondrocyte implantation for cartilage repair: non-invasive monitoring by high-resolution magnetic resonance imaging.

Magn Reson Imaging 2005; 23:779-787

Mlynarik V, Szomolanyi P, Toffanin R, Vittur F, Trattnig S.

Transverse relaxation mechanisms in articular cartilage.

Journal of Magnetic Res. 2004; 169:300-307

Mlynarik V, Sulzbacher I, Bittsansky M, Fuiko R, Trattnig S.

Investigation of apparent diffusion contrast as an indicator of early degenerative disease in articular cartilage.

J Magn Reson Imaging 2003; 17(4):440-4

Ba-Ssalamah A, Schibany N, Puig S, Herneth AM, Nöbauer-Huhmann IM, Trattnig S

Imaging articular cartilage defects in the ankle joint with 3D fat-suppressed echo planar imaging: comparison with conventional 3D fat-suppressed gradient echo imaging.

Magn Reson Imag 2002; 16:209-2

Trattnig S, Huber M, Mlynarik V, Puig S, Imhof H.

Magnetic Resonance Imaging of articular cartilage and evaluation of cartilage diseases.

Invest Radiol 2000; 35:595-601

Mlynarik V, Trattnig S, Huber M, Zembsch A, Imhof H.

The role of relaxation times in monitoring proteoglycan depletion in articular cartilage

J Magn Reson Imaging 1999; 10:497-502

Trattnig S, Mlynarik V, Breitenseher M, Huber M, Zembsch A, Rand T, Imhof H.

MRI Visualization of Proteoglycan depletion in articular cartilage via intravenous administration of Gd-DTPA

Magn Reson Imaging 1999; 17:577-583

Trattnig S, Huber M, Breitenseher M, Trnka H, Rand T, Kaider A, Helbich T, Imhof H, Resnick D.

Imaging Articular Cartilage Defects with Fat-Suppressed 3D Echo Planar Imaging (EPI): Comparison with Conventional Fat-Supressed 3D GE Sequence and Correlation with Histology.

Journal of Computer Assisted Tomography 1998; 22:8-14
Kontakt:
Ao.Univ.Prof.Dr.Siegfried Trattnig
Medizinische Leitung
Exzellenzzentrum Hochfeld Magnetresonanz
Univ.-Klinik für Radiodiagnostik
---