Priv.-Doz. Dr. Matthias Bolz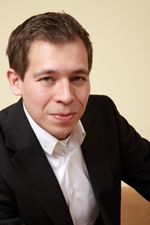 MUW RESEARCHER OF THE MONTH, Februar 2011
Die Jury "Researcher of the Month" verleiht die Auszeichnung für diesen Monat Herrn Priv.-Doz. Dr. Matthias Bolz aus Anlass der Publikation "In vivo retinal morphology after grid laser treatment in diabetic macular edema" in dem Top-Journal "Ophthalmology" 2010;
(IF 5.491) [1]. In der vorliegenden Studie wurden erstmals bei Patienten mit diabetischem Makulaödem die morphologsichen retinalen Veränderungen unmittelbar nach standardisierter Grid-Laser-Behandlung mittels eines "Pattern Scan Laser System (PASCAL)" in vivo mittels der "Spectral Domain Optical Coherence Tomography (SD OCT)" untersucht.
Morphologische Veränderung nach Grid-Laser-Behandlung bei Patienten mit "Diabetischer Makulopathie"
Die optische Kohärenztomographie (OCT) hat in der Diagnostik retinaler Erkrankungen in den letzten Jahren zunehmend an Bedeutung gewonnen und neben den bisher standardmäßig eingesetzten diagnostischen Verfahren, wie zum Beispiel der Fluoreszenzangiographie, eine wichtige Rolle in der klinischen Augenheilkunde eingenommen. Waren mit der OCT bisher nur zweidimensionale Laserscans mit Bildern in mäßiger Auflösung durchführbar, so erlaubt die weiterentwickelte Technik einen vorgegebenen retinalen Bereich von 6x6 Millimeter mit Raster-B-Scans abzutasten und damit die dreidimensionale Analyse aller Netzhautschichten in hoher, detailgetreuer Auflösung.
Auch in der Diagnostik der diabetischen Makulopathie hat die OCT in den vergangenen 5 Jahren einen zentralen Stellenwert gewonnen. In der oben erwähnten Studie wurden Effekte einer Netzhautlasertherapie auf die Morphologie des diabetischen Makulaödems des Menschen in vivo erstmals beschrieben [1]. Die Netzhautlasertherapie ist seit circa drei Jahrzehnten "state of the art" in der Therapie des diabetischen Makulaödems, obwohl der genaue Wirkmechanismus bis heute nicht zur Gänze geklärt ist. In der vorliegenden Studie zeigte sich, dass die Applikation eines einzelnen Laserherds zu einer lokalen Koagulation des Photorezeptor-Außensegmentes und konsekutiv zu einer Apoptose der gesamten Zelle führt. Im OCT wird das durch das Auftreten einer scharf begrenzten, hyperreflektiven Zone in den äußeren Netzhautschichten deutlich, die wiederum charakteristischen zeitlichen Veränderungen unterliegt. Durch die hohe Auflösung konnte durch den Nachweis der apoptotisch bedingten Hyperreflektivität im OCT Bild der exakte Verlauf der Photorezeptorzellen in ihrer Gesamtheit durch die äußeren Netzhautschichten erstmals analysiert werden.
Aufbauend auf dieser Arbeit konnten in weiterer Folge Effekte der Laserbehandlung auf die intraretinale Verteilung der Mikroexsudate, entsprechend kleinsten Ansammlungen von Lipoproteinen und Makrophagen, erstmals beschrieben werden [2,3]. In weiterer Folge können anhand dieser Ergebnisse auch die Effekte unterschiedlicher Laserquellen und –behandlungen auf die Morphologie der menschlichen Netzhaut miteinander verglichen werden.
Wissenschaftliches Umfeld
Dr. Bolz ist Leiter der Arbeitsgruppe "Diabetic Retinopathy Research Group Vienna" (DRRG Vienna), die vor 3 Jahren gemeinsam mit Univ.-Prof. Dr. U. Schmidt-Erfurth gegründet wurde. Der Forschungsschwerpunkt ist die bildgebende Diagnostik im Rahmen der Therapie der diabetischen Retinopathie. DRRG Vienna hat in den letzten beiden Jahren sieben Originalarbeiten in internationalen Top-Journalen publiziert [1-7]. Vor der Gründung von DRRG Vienna war er als Medical Director am Aufbau des Vienna Reading Centers der Universitätsklinik für Augenheilkunde beteiligt, das sich in der Zwischenzeit als Zentrum für Auswertungen bildgebender Untersuchungen im Rahmen internationaler, multizentrischer Studien etabliert hat. Es gibt eine enge Zusammenarbeit mit der Arbeitsgruppe von Univ.-Prof. Dr. C. Hitzenberger vom Zentrum für Medizinische Physik und Biomedizinische Technik der MUW, um die bildgebende Diagnostik in der klinischen Routine zu verbessern. Eine weitere Forschungskooperation besteht mit der Klinischen Abteilung für Endokrinologie und Stoffwechsel (Leiter: Univ.-Prof. Dr. A. Luger). Dr. Bolz ist stellvertretender Leiter der Diabetes-Ambulanz der Augenklinik unter der Leitung von Univ.-Prof. Dr. C. Scholda.
Persönliches
Dr. Bolz ist 1978 in Wien geboren. Neusprachliches Gymnasium BG XIX und Matura 1996. Medizinstudium an der Wiener Universität von 1997-2004. 1998/99 Sanitäterausbildung bei der Johanniter Unfallhilfe/Wien, zur Zeit tätig als ehrenamtlicher Mitarbeiter. 2001-2003 Wissenschaftlicher Mitarbeiter am Institut für Klinische Pharmakologie der Universität Wien. Dissertation: "Effect of Cyclooxygenase inhibition and Endothelin. A receptor-blockade on hyperoxia-induced vasoconstriction in the human retina" (Univ.-Prof. Dr. L. Schmetterer, Institut für Klinische Pharmakologie). Dr. Bolz arbeitet seit 2006 im Team von Frau Univ. Prof. Dr. U. Schmidt-Erfurth an der Universitätsklinik für Augenheilkunde und Optometrie, zunächst als Assistenzarzt und seit Jänner 2011 als Facharzt. Seit 2009 ist er Mitglied des Vorstands der Österreichischen Ophthalmologischen Gesellschaft. Dr. Bolz ist seit 2 Jahren verheiratet und Vater einer einjährigen Tochter. Zu seinen persönlichen Interessen zählen Sport und Musik sowie die gepflegte Wiener Stammtischtradition.
Bolz M, Kriechbaum K, Simader C, Deák GG, Lammer J, Treu C, Scholda C, Prünte C, Schmidt-Erfurth U. In vivo retinal morphology following grid laser treatment in diabetic macular edema. Ophthalmology. 2010 Mar;117(3):538-44. Epub 2010 Jan 4.
Bolz M, Schmidt-Erfurth U, Deák GG, Mylonas G, Kriechbaum K, Scholda C. Optical coherence tomographic hyperreflective foci: a morphologic sign of lipid extravasation in diabetic macular edema. Diabetic Retinopathy Research Group Vienna. Ophthalmology. 2009 May;116(5):914-20.
Deák GG, Bolz M, Kriechbaum K, Prager S, Mylonas G, Scholda C, Schmidt-Erfurth U. Effect of retinal photocoagulation on intraretinal lipid exudates in diabetic macular edema documented by optical coherence tomography. Ophthalmology. 2010 Apr;117(4):773-9. Epub 2010 Jan 15.
Bolz M, Ritter M, Schneider M, Simader C, Scholda C, Schmidt-Erfurth U. A systematic correlation of angiography and high-resolution optical coherence tomography in diabetic macular edema. Ophthalmology. 2009 Jan;116(1):66-72.
Kriechbaum K, Bolz M, Deák GG; Prager S, Scholda C, Margarethe Schmidt-Erfurth U. High resolution imaging of the human retina in vivo after scatter photocoagulation treatment using a semi-automated laser system. Ophthalmology. 2010 Mar;117(3):545-51. Epub 2010 Jan 19.
Deak GG, Bolz M, Ritter M, Prager SG, Benesch T, Schmidt-Erfurth U. A systematic correlation of morphology and functional alterations in diabetic macular edema. Invest Ophthalmol Vis Sci. 2010 May 19.
Lammer J, Scholda C, Prünte C, Benesch T, Schmidt-Erfurth U, Bolz M. Retinal thickness and volume measurements in diabetic macular edema: a comparison of four optical coherence tomography systems. Retina. 2010 Jul 30. [Epub ahead of print].
Kontakt
Priv. Doz. Dr. Matthias Bolz
Universitätsklinik für Augenheilkunde und Optometrie
A-1090 Wien, Währinger Gürtel 18-20
Univ. Prof.in Dr.in Ursula Schmidt-Erfurth
Universitätsklinik für Augenheilkunde und Optometrie
Währinger Gürtel 18-20
1090 Wien
---