Priv.-Doz. Dr. Oskar Koperek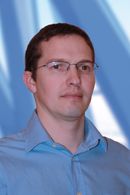 MedUni Wien RESEARCHER OF THE MONTH, Februar 2012
Die Jury "Researcher of the Month" verleiht die Auszeichnung für diesen Monat Herrn Dr. Oskar Koperek aus Anlass der im September 2011 im Top-Journal "Journal of Pathology" (IF 7,274) erschienenen Publikation "Expression of hypoxia associated proteins in sporadic medullary thyroid cancer is associated with desmoplastic stroma reaction and lymph node metastasis and may indicate somatic mutations in the VHL gene" [1]. Die nominierte Publikation entstand in der Arbeitsgruppe "Endokrine Pathologie" unter der Leitung von Dr. Koperek am Klinischen Institut für Pathologie (Leiter: Prof. Dr. D. Kerjaschki) der MedUni Wien in Kooperation mit dem Klinischen Institut für Neurologie, dem Labor Kaserer und Salzer OG Wien, dem Weatherhall Institute of Molecular Medicine, Universität Oxford, und dem Department für chirurgische Endokrinologie (Leiter: Prof. B. Niederle), Universitätsklinik für Chirurgie. Die Resultate zeigen, dass beim "Medullären Schilddrüsenkarzinom (MTCS)" die Tumorhypoxie eine wichtige Rolle bei der Entwicklung von lokoregionalen Metastasen darstellt. Da die traditionelle zytostatische Chemotherapie nur einen geringen therapeutischen Effekt bei der Behandlung des MTCS aufweist, ergibt sich durch die medikamentöse Blockierung der sogenannten Hypoxie-Pathways eine neue Therapieoption für Patienten mit MTC. Die Arbeit wurde auch mit dem Rokitansky-Preis 2011 der Österreichischen Gesellschaft für Pathologie ausgezeichnet.
Hypoxie spielt eine wesentliche Rolle in der Metastasierung medullärer Schilddrüsenkarzinome
Die Arbeitsgruppe um Dr. Koperek befasst sich hauptsächlich mit Schilddrüsenkarzinomen, deren Metastasierung und Tumor/Stroma-Interaktion. Sie konnten in den letzten Jahren zeigen, dass der Interaktion zwischen Tumorzellen und Tumor-Stroma eine wesentliche Rolle bei der Metastasierung zukommt [2-7]. Es konnte nachgewiesen werden, dass medulläre Schilddrüsenkarzinome nur dann Lymphknotenmetastasen ausbilden, wenn sie eine desmoplastische Bindegewebsreaktion aufweisen. Auch bei kleinen papillären Schilddrüsenkarzinomen (papilläre Mikrokarzinome) dürfte die Bindegewebsreaktion Voraussetzung für ein metastatisches Potential dieser Tumoren sein.
Wie es zu dieser Stroma-Reaktion kommt, ist unklar. In der nun veröffentlichten Studie konnten die beteiligten Wissenschaftler zeigen, dass die Tumor-Hypoxie eine wichtige Rolle bei der Metastasierung dieser Tumoren spielt. Sie untersuchten zwei Hypoxie-assozierte Proteine (Hypoxia inducible factor 1 und Carboanhydrase IX) an 100 medullären Schilddrüsenkarzinomen und konnten eine Expression dieser Proteine in einem Teil der Karzinome nachweisen. Die Expression Hypoxie-abhängiger Proteine korrelierte signifikant mit der Metastasierung des Tumors und der desmoplastischen Stromareaktion im Tumor, so dass anzunehmen ist, dass hypoxische Veränderungen/Reaktionen eine wichtige Rolle in der Entwicklung von Lymphknotenmetastasen spielen. In diesem Zusammenhang konnten sie in medullären Schilddrüsenkarzinomen auch Mutationen am Hypoxia Inducible Factor 1-regulierenden Gen Van Hippel Lindau (VHL) finden, die mit einem hohen Metastasierungspotential verbunden sind. Aufgrund dieser Erkenntnisse kann einerseits anhand der desmoplastischen Stromareaktion, aber auch anhand des Nachweises Hypoxie-assoziierter Proteine, das Metastasierungspotential besser abgeschätzt werden. Darüber hinaus eröffnen diese Ergebnisse ein potentiell weites Spektrum an neuen "Targeted Therapies" die bei Hypoxie hochregulierte Proteine, wie z.B. die Carboanhydrase IX, angreifen. Diese Tatsache ist umso wichtiger, da bei medullären Schilddrüsenkarzinomen derzeit neben der chirurgischen Therapie keine weiteren Standardtherapien zur Verfügung stehen und insbesondere konventionelle Chemotherapien keine wesentlichen Erfolge zeigen.
Wissenschaftliches Umfeld
Der Arbeitsschwerpunkt von Dr. Koperek liegt in der Erfoschung der pathobiologischen Mechanismen der Metastasierung von Schilddrüsenkarzinomen. Sein besonderes Interesse gilt der Interaktion der Tumorzellen mit dem Tumorstroma und Mutationen der Tumorzell-DNA. Zur Erforschung dieser Mechanismen kooperiert Doz. Koperek mit einer Vielzahl von nationalen und internationalen Forschungseinrichtungen, wie zum Beispiel mit dem Austrian Institute of Technologies (AIT), Cancer Research UK, und der Universität Heidelberg. Die Arbeiten von Dr. Koperek haben Grundlegendes zum Verständnis der Stromareaktion bei Schilddrüsenkarzinomen beigetragen, seine Erkenntnisse sind zum Teil bereits in die klinische Routine eingeflossen.
Persönliches
Dr. Koperek ist 1973 in Wien geboren. Matura 1992, anschließend, 1992-1994, Studium der Biologie, 1994-1999 Medizinstudium an der Universität Wien mit Promotion im Mai 1999. 2002-2007 Ausbildung zum Facharzt für Pathologie am Klinischen Institut für Pathologie an der MedUni Wien. Seit
1. Jänner 2008 Additivfacharztausbildung "Zytologie und Humangenetik". Habilitation am 2. November 2011. Seit 2005 Mitglied bzw. Ersatzmitglied des Betriebsrates des akademischen Personals der MedUni Wien. Mehrere Auszeichnungen und Preise, sowie Reviewtätigkeit. Dr. Koperek ist verheiratet und hat drei Kinder.
Koperek O, Bergner O, Pichlhöfer B, Oberndorfer F, Hainfellner JA, Kaserer K, Horvat R, Harris AL, Niederle B, Birner P "Expression of hypoxia associated proteins in sporadic medullary thyroid cancer is associated with desmoplastic stroma reaction and lymph node metastasis and may indicate somatic mutations in the VHL gene" J Pathology, 2011 Sep;225(1):63-72.
Koperek O, Kornauth C, Capper D, Berghoff AS, Asari R, Niederle B, Deimling A, Birner P and Preusser M "Immunohistochemical detection of the BRAF V600E mutated protein in papillary thyroid carcinoma « Am J Surg Pathol. 2012, accepted.
Koperek O, Asari R, Niederle B, Kaserer K. Desmoplastic stroma reaction in papillary thyroid microcarcinoma. Histopathology 2011 April 11.
Vierlinger K, Mansfeld MH, Koperek O, Noehammer C, Kaserer K and Leisch F: "Identification of SERPINA1 as single marker for papillary thyroid carcinoma through microarray meta analysis and quantification of its discriminatory power in independent validation." BMC Med Genomics. 2011 Apr 6;4(1):30.
Koperek O, Prinz A, Scheuba C, Niederle B, Kaserer K. Tenascin C in medullary thyroid microcarcinoma and C-cell hyperplasia. Virchows Arch 2009 Jul;455(1):43-8.
Koperek O, Scheuba C, Cherenko M, Neuhold N, De Micco C, Schmid KW, et al. Desmoplasia in medullary thyroid carcinoma: a reliable indicator of metastatic potential. Histopathology 2008 Apr;52(5):623-30.
Koperek O, Scheuba C, Puri C, Birner P, Haslinger C, Rettig W, et al. Molecular characterization of the desmoplastic tumor stroma in medullary thyroid carcinoma. Int J Oncol 2007 Jul;31(1):59-67.
Kontakt
Priv.-Doz. Dr. Oskar Koperek
Klinisches Institut für Pathologie / MedUni Wien
Währinger Gürtel 18-20
1090 Wien
---