All News
Mag.a Anastasia Meshcheryakova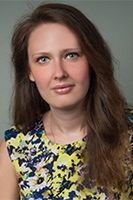 MedUni Wien RESEARCHER OF THE MONTH, Februar 2015
Die Jury "Researcher of the Month" verleiht die Auszeichnung für diesen Monat Frau Mag.a Anastasia Meshcheryakova aus Anlass der im multidisziplinären Top-Journal "PLOS ONE" (IF 3.730) erschienenen Arbeit "B cells and ectopic follicular structures: novel players in anti-tumor programming with prognostic power for patients with metastatic colorectal cancer" [1]. Die multidisziplinäre Studie entstand aus einer Zusammenarbeit des Teams aus GrundlagenforscherInnen unter der Leitung von Ass.-Prof.in Diana Mechtcheriakova (Arbeitsgruppe: Molecular Systems Biology and Pathophysiology) am Institut für Pathophysiologie und Allergieforschung (Leitung: Univ.-Prof.in Barbara Bohle) im Rahmen des Zentrums für Pathophysiologie, Infektiologie und Immunologie (Leitung: Univ.-Prof. Hannes Stockinger) mit der Universitätsklinik für Chirurgie, dem Klinisches Institut für Pathologie, dem Institut für Klinische Biometrie sowie dem Messerli Forschungsinstitut. Die Arbeit wurde durch den Fonds zur Förderung der wissenschaftlichen Forschung (FWF) unterstützt.
Patientenspezifische, immunologische Prägung am Metastasenrand als neuer prognostischer Marker
Das kolorektale Karzinom mit Lebermetastasen (CRCLM) stellt, trotz jüngster Verbesserungen im Bereich der systemischen Behandlung, nach wie vor eine therapeutische Herausforderung dar. Noch immer sind die Erkenntnisse bezüglich der biologischen Mechanismen, welche die Krankheitsentwicklung beeinflussen könnten, begrenzt. Hervorzuheben ist dabei, dass keiner der derzeit verwendeten klinisch-pathologischen Parameter als guter prognostischer Marker verwendet werden kann. Die Identifizierung neuer Biomarker könnte zur Verbesserung im Bereich der patientenorientierten medizinischer Versorgung beitragen.
Das wissenschaftliche Team der Medizinischen Universität Wien stellte sich die Frage ob die patientenspezifische immunologische Prägung im Bereich der Metastase einen prognostischen Effekt hat und somit zur Risikostratifizierung von CRCLM Patienten herangezogen werden könnte. In diesem Projekt wurde eine innovative, automatisierte, Mikroskopie-basierte Technologie eingesetzt, um die computergesteuert Quantifizierung von Immunzellenpopulation durchzuführen. Dabei konnten zuvor einzelne Regionen innerhalb des komplexen Gewebes definiert werden, in welchen dann die einzelnen mit dem jeweiligen zelltypspezifischen Marker gefärbten Immunzellen direkt im Gewebeverband erkannt wurden.
Die aktuelle Arbeit zeigt zum ersten Mal die Ansammlung von B-Lymphozyten am Metastasenrand und, dass Keimzentrum-ähnliche Follikel bei CRCLM-PatientInnen am Metastasenrand in Erscheinung treten. Diese Beobachtung weist darauf hin, dass entscheidende Prozesse der B-Zell-Antwort auf potenzielle Tumorantigene, wie die Affinitätsreifung und Klassenwechsel der gebildeten Antikörper, unter der lokalen Aktivität von AID (Aktivierungs-induzierte Cytidin-Deaminase, [5]) direkt an der Schnittstelle zwischen Leber und Metastase stattfinden.
Eine weitere wichtige Erkenntnis der Studie ist, dass CRCLM-PatientInnen, welche eine hohe Zahl an B-Lymphozyten und/oder ektopische Follikel aufweisen, ein niedriges Rückfallrisiko haben, wo hingegen bei PatientInnen mit geringer Zahl oder dem kompletten Fehlen von B-Lymphozyten und/oder ektopischen Follikel ein hohes Rückfallrisiko vorliegt. Somit identifiziert die Studie B-Lymphozyten und/oder ektopische Follikel als neue Biomarker des Rückfallrisikos. Entscheidend dabei ist, dass diese neuen Biomarker bezüglich ihres prognostischen Potenzials allen soweit bekannten klinischen Parametern überlegen sind.
Zusätzlich zur Aufdeckung der patientenspezifischen, immunologischen Prägung am Metastasenrand als neuer prognostischer Biomarker, deuten die Ergebnisse auf eine Anti-Tumor-Wirkung der dort stattfindenden B-Lymphozyten-gesteuerten Mechanismen hin und zeigen somit neue Wege zur Entwicklung neuartiger Behandlungsstrategien für CRCLM-PatientInnen auf. Der in der Studie präsentierte Algorithmus zur Patientenstratifizierung soll somit neue Anhaltspunkte zur Etablierung weiterer, patientenorientierter Selektionskriterien für weitere Therapie liefern und eine verbesserte Stratifizierung der PatientInnen im Rahmen von klinischen Studien zur Entwicklung neuer Behandlungsstrategien ermöglichen.
Wissenschaftliches Umfeld
Anastasia Meshcheryakova entwickelte bereits während des Studiums der Molekularen Biologie an der Universität Wien, ein großes Interesse für das Fach Immunologie. In ihrer Diplomarbeit, die in der Arbeitsgruppe von Univ.-Prof. Herbert Strobl am Institut für Immunologie an der Medizinischen Universität Wien durchgeführt wurde, untersuchte sie wichtige immunologische Fragestellungen, wie die der Plastizität der myelopoetischen Zellen unter inflammatorischen Bedingungen [2]. In ihrem derzeitigen PhD Studium, welches sie am Institut für Pathophysiologie und Allergieforschung in der Arbeitsgruppe von Ass.-Prof.in Diana Mechtcheriakova absolviert, liegt ihr Interesse auf dem Gebiet der Tumorimmunologie. Der erste Schwerpunkt der Arbeit ist dabei die Aufdeckung der Rolle der patientenspezifischen immunologischen Prägung von Immunzellpopulationen im Tumorgewebe als potenzieller prognostischer Marker für den Krankheitsverlaufs und als möglicher neuer Mechanismus der Tumorentwicklung und Tumorprogression und/oder therapeutischer Ansatz [1]. Im zweiten Teil ihrer Dissertation beschäftigt sich Frau Mag.a Meshcheryakova mit neuen Einblicken in die Rolle der Sphingolipide in der Progression von Krebserkrankungen mit dem speziellen Augenmerk auf das Zusammenspiel mit dem Immunsystem. Ziel ist die Identifizierung möglicher neuer Assoziationen der Sphingolipidmaschinerie mit dem Krankheitsverlauf von Krebserkrankungen wie dem Ovarialkarzinoms, und die damit verbundene Verbesserung der Prognose für die PatientInnen [7]. In einem weiteren Teil der Arbeit soll die Rolle des Sphingolipid Netzwerkes in der epithelial-mesenchymalen Transition, einem kritischen Prozess der Tumorprogression und Metastasierung, untersucht werden [8].
Zur Person
Geboren 1985 in Moskau, wechselte Frau Mag.a Anastasia Meshcheryakova mit ihrer Familie im Jahr 1993 nach Wien, wo sie 2003 das Wirtschaftskundliche Realgymnasium der Dominikanerinnen Wien mit ausgezeichnetem Erfolg abgeschlossen hat. Sie absolviert derzeit ein PhD Studium an der Medizinischen Universität Wien (Programm: Immunologie). Bereits während des Studiums der Molekularen Biologie an der Universität Wien, welches sie mit ausgezeichnetem Erfolg abschlossen hat, erhielt sie mehrmals ein Leistungsstipendium. Ihre Diplomarbeit mit dem Titel "Molecular Analysis of p38MAPK Signal Integration in Granulocytes" wurde vom NAWI-CLUB der Fakultät für Naturwissenschaften und Mathematik (Universität Wien) unter der Berücksichtigung des gesamten Studienerfolgs, als hervorragende Diplomarbeit aus dem Bereich der Molekulare Biologie prämiert. Auch während des PhD Studiums wurde ihre Arbeit auf nationalen und internationalen Symposien mit zahlreichen Preisen ausgezeichnet. Für die Teilnahme am internationalen Immunologiekongress 2013 erhielt Frau Mag.a Anastasia Meshcheryakova ein Reisestipendium von der European Federation of Immunological Societies (EFIS). Neben ihrer Forschungstätigkeit ist Frau Mag.a Anastasia Meshcheryakova als Mitbetreuerin von Bachelor- und DiplomstudentInnen tätig.
Ausgewählte Literatur

Meshcheryakova A*, Tamandl D*, Bajna E, Stift J, Mittlboeck M, Svoboda M, Heiden D, Stremitzer S, Jensen-Jarolim E, Grünberger T, Bergmann M, Mechtcheriakova D. (*EQ) B cells and ectopic follicular structures: novel players in anti-tumor programming with prognostic power for patients with metastatic colorectal cancer. PLoS One. 2014 Jun 6;9(6):e99008.
Köffel R, Meshcheryakova A, Warszawska J, Hennig A, Wagner K, Jörgl A, Gubi D, Moser D, Hladik A, Fischer MB, Scheinecker C, Gesslbauer B, Knapp S, Strobl H. Monocytic cell differentiation from band-stage neutrophils under inflammatory conditions via MKK6 activation. Blood. 2014 Oct 23;124(17):2713-24.
Slany A, Meshcheryakova A, Beer A, Ankersmit H, Paulitschke V, Gerner C. Plasticity of fibroblasts demonstrated by tissue-specific and function-related proteome profiling. Clinical Proteomics 2014, 11:41 [Epub ahead of print].
Slany A, Haudek-Prinz V, Meshcheryakova A, Bileck A, Lamm W, Zielinski C, Gerner C, Drach J. Extracellular matrix remodeling by bone marrow fibroblast-like cells correlates with disease progression in multiple myeloma. J Proteome Res. 2014 Feb 7;13(2):844-54.
Mechtcheriakova D, Svoboda M, Meshcheryakova A, Jensen-Jarolim E. Activation-induced cytidine deaminase (AID) linking immunity, chronic inflammation, and cancer. Cancer Immunol Immunother. 2012 Sep;61(9):1591-8.
Paulitschke V, Berger W, Paulitschke P, Hofstaetter E, Knapp B, Dingelmaier-Hovorka R, Födinger D, Jäger W, Szekeres T, Meshcheryakova A, Bileck A, Pirker C, Pehamberger H, Gerner C, Kunstfeld R. Vemurafenib resistance signature by proteome analysis offers new strategies and rational therapeutic concepts. Mol Cancer Ther. 2015 Jan 22. [Epub ahead of print].
Svoboda M, Meshcheryakova A, Heinze G, Jaritz M, Pils D, Cacsire Castillo-Tong D, Hager G, Thalhammer T, Jensen-Jarolim E, Birner P, Braicu I, Sehouli J, Lambrechts S, Vergote I, Mahner S, Zimmermann P, Zeillinger R, Mechtcheriakova D. AID/APOBEC-network reconstruction identifies pathways associated with survival in ovarian cancer. (2015, submitted).
Meshcheryakova A, Svoboda M, Jaritz M, Köfeler HC, Tahir A, Gerner C, Mechtcheriakova D. Contribution of the sphingolipid-associated mechanisms to the process of epithelial to mesenchymal transition (2015, in preparation for submission).
Kontakt
Mag.a Anastasia Meshcheryakova
Institut für Pathophysiologie und Allergieforschung
Zentrum für Pathophysiologie, Infektiologie und Immunologie
Medizinische Universität Wien
Währinger Gürtel 18-20
1090 Wien
---