All News
Dr. Claudio Spick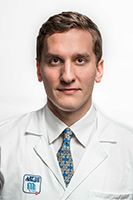 MedUni Wien RESEARCHER OF THE MONTH, Februar 2015
Die Jury "Researcher of the Month" verleiht die Auszeichnung für diesen Monat Herrn Dr. Claudio Spick aus Anlass der im Top-Journal "European Radiology" (IF 4.338) erschienenen Arbeit "MRI-only Lesions: Application of Diffusion-weighted Imaging obviates unnecessary MR-guided Breast Biopsies" (1). Die Arbeit entstand in der Abteilung für Molekulare und Genderbildgebung (Univ.Prof. Dr. T.H. Helbich) an der Univ.Klinik für Radiologie (Univ.Prof. Dr. C. Herold) und Nuklearmedizin (Univ.Prof. Dr. M. Hacker) unter der Leitung von Assoc. Prof. Pascal Baltzer. Zudem wurde Dr. Spick für diese Arbeit zweifach ausgezeichnet: Mit dem Robert Kienböck Preis 2014 und dem Astra Zeneca-Forschungs-förderungspreis 2014.
Die Diffusionsgewichtete MR-Bildgebung ermöglicht Biopsien in primär MRT detektierten Brustläsionen zu vermeiden.
Der second-look-Ultraschall (SLU) ist prinzipiell die Methode der Wahl um primär MRT detektierte Brustläsionen abzuklären. Die wichtigste Aufgabe des SLU in der klinischen Praxis liegt in der Lokalisierung MRT detektierter Läsionen, um eine histologische Verifikation, mittels ultraschall-gezielter Biopsie, durchführen zu können. Die Detektionsrate einer Läsion, sei es eine gutartige oder bösartige, mittels SLU entspricht etwa 60%. Das Fehlen eines Korrelats in der SLU zeigt in etwa 12% eine maligne Läsion und daher kann das Fehlen eines Korrelats in der SLU Malignität nicht ausschließen (2).
Mit der Magnetresonanztomographie (MRT) steht das sensitivste Verfahren zur Detektion von Brustkrebs zur Verfügung und erlaubt dadurch Brustläsionen richtig zu kategorisieren und in bestimmten Fällen Malignität auch auszuschließen (3-7). Diese überlegene Sensitivität führt jedoch zur Erkennung von Läsionen, welche ausschließlich in der MRT sichtbar sind. Diese primär MRT detektierten Brustläsionen, auch definiert als "MRI-only", werden initial bei keiner anderen Modalität (z.b. Mammographie oder Ultraschall) detektiert (1).
Somit ist bei primär MRT detektierten Brustläsionen, welche nicht mittels SLU lokalisiert werden können, die histologische Überprüfung durch MR-gezielte Biopsie indiziert, selbst wenn letztlich ein Großteil davon gutartig sind (EUSOBI guidelines).
Obwohl die MRT-gezielte Biopsie als eine genaue und sichere Methode betrachtet wird, wurden falsch-positive Ergebnisse in bis zu 74,1 % der Fälle berichtet. Diese Tatsache unterstreicht die Notwendigkeit einer besseren Unterscheidung zwischen gutartigen und bösartigen Läsionen um unnötige Biopsien zu reduzieren und damit auch die Genauigkeit der MRT der Brust weiter zu verbessern.
In Dr. Spicks Arbeit konnte erstmals aufgezeigt werden, dass mittels diffusionsgewichteter MR-Bildgebung (DWI) primär MR-detektierte Brustläsionen besser unterschieden werden und somit über 30 % der Biopsien bei Patientinnen vermieden werden könnten.
Grundlage der diffusionsgewichteten MR-Bildgebung (DWI) ist die freie Diffusion von Wasserstoffprotonen im Extrazellularraum, welche auf der Brown´schen Molekularbewegung basiert. Im Tumorgewebe besteht ein vermehrtes, irreguläres und gesteigertes Wachstum von malignen Zellen, welches zu einer Störung des Extrazellularraums führt und somit Wasserstoffprotonen nicht mehr frei diffundieren können. Hingegen liegt im gesunden Gewebe eine solche Störung nicht vor.
Weiters ist es mit der diffusionsgewichteten MR-Bildgebung möglich, den Diffusionskoeffizienten "Apparent Diffusion Coefficient" (ADC) eines Gewebes quantitativ zu erfassen. Der ADC lässt quantitativ ermitteln, in welchem Ausmaß Wasserstoffprotonen in dem untersuchten Gewebe in der Lage sind, frei zu diffundieren.
Darüber hinaus konnten erstmals quantitative Ein- und Ausschlusskriterien für Malignität in diesen Läsionen bestimmt werden und somit ein weiterer Baustein dafür gelegt werden, dass die diffusionsgewichtete MR-Bildgebung der Brust als imaging biomarker nützlich sein kann.
Dies steht im Einklang mit einem Trend zur multiparametrischen MRT der Brust um noch eine verbesserte nicht-invasive Differenzierung von benignen und malignen Brusttumoren zu ermöglichen(8;9). Diese Kongruenz von neueren Untersuchungstechniken, insbesondere im Bezug auf DWI, unterstreicht die direkte klinische Anwendbarkeit dieser Technik bei der Unterstützung einer Diagnose.
Somit wird empfohlen, diffusionsgewichtete MR-Sequenzen bei jedem MRT Protokoll der Brust durchzuführen.
Wissenschaftliches Umfeld:
Dr. Spick begann seine wissenschaftliche Tätigkeit 2008 während seines Medizinstudiums in Graz unter Anleitung von Univ. Prof. Dr. Dieter H. M. Szolar und erhielt für seine Forschungsarbeit 2010 das Leistungsstipendium der Medizinischen Universität Graz. Seit 2011 ist Dr. Spick Mitarbeiter der wissenschaftlichen Arbeitsgruppe für Gender und Molekulare Bildgebung unter der Leitung von Univ. Prof. Dr. Thomas Helbich. Einer seiner wissenschaftlichen Schwerpunkte ist Bildgebung der Brust mittels MR-Tomographie (Supervisor: Assoc. Prof. Dr. Pascal Baltzer). Dieser soll in Zukunft auch in Kombinationen mit Hybridmethoden liegen. Aus diesem Grunde wird Dr. Spick ab April 2015 als erster Fellow des neu etablierten "UCLA Translational Biomarker Development Program" einen klinischen Forschungsaufenthalt an der University of California Los Angeles durch Unterstützung des US Department of Energy (DoE) absolvieren.
Zur Person:
Dr. Claudio Spick wurde 1986 in Klagenfurt am Wörthersee geboren und studierte von 2004 bis 2010 Humanmedizin an der Medizinischen Universität Graz. Seit 2011 absolviert Dr. Spick seine Facharztausbildung an der Universitätsklinik für Radiologie und Nuklearmedizin.
Spick C, Pinker-Domenig K, Rudas M, Helbich TH, Baltzer PA. MRI-only Lesions: Application of Diffusion-weighted Imaging obviates unnecessary MR-guided Breast Biopsies. Eur Radiol. 2014. Jun;24(6):1204-10.
Spick C, Baltzer PAT. Diagnostic Utility of Second-Look US for Breast Lesions Identified at MR Imaging: Systematic Review and Meta-Analysis. Radiology. 2014 Nov;273(2):401-9.
Spick C, Szolar DH, Preidler KW, Tillich M, Reittner P, Baltzer PA. Breast MRI used as a problem-solving tool reliably excludes malignancy. Eur J Radiol. 2015 Jan;84(1):61-
Spick C, Szolar DH, Tillich M, Reittner P, Preidler KW, Baltzer PA. Benign (BI-RADS 2) lesions in breast MRI. Clin Radiol. 2015. Accepted for publication. 10.1016/j.crad.2014.12.004
Spick C, Szolar DHM, Baltzer PA, Tillich M, Reittner P, Preidler KW, Pinker-Domenig K, Helbich TH. Rate of Malignancy in MRI-Detected Probably Benign (BI-RADS 3) Lesions. AJR Am J Roentgenol. 2014 Mar;202(3):684–9.
Spick C, Tillich M, Reittner P, Preidler KW, Helbich TH, Szolar DH. Predictive value of magnetic resonance imaging in patients classified as BI-RADS™ 1 to 3. Eur Radiol. Insights into Imaging 2010;1(S1):S155.
Spick C, Tillich M, Reittner P, Preidler K, Helbich T, Szolar D. Negativer Vorhersagewert der MR-Mammographie (MRM) bei MRM BI-RADSTM 3 klassifizierten Läsionen. RöFo - Fortschritte auf dem Gebiet der Röntgenstrahlen und der bildgebenden Verfahren. 2011 Apr;183(S 01). doi.10.1055/s-0031-1279375
Pinker K, Bogner W, Baltzer P, Gruber S, Bickel H, Brueck B, et al. Improved diagnostic accuracy with multiparametric magnetic resonance imaging of the breast using dynamic contrast-enhanced magnetic resonance imaging, diffusion-weighted imaging, and 3-dimensional proton magnetic resonance spectroscopic imaging. Invest Radiol. 2014 Jun;49(6):421–30.
Bickel H, Pinker-Domenig K, Bogner W, Spick C, Bagó-Horváth Z, Weber M, et al. Quantitative apparent diffusion coefficient as a noninvasive imaging biomarker for the differentiation of invasive breast cancer and ductal carcinoma in situ. Invest Radiol. 2015 Feb;50(2):95–100.
Kontakt:
Dr. med. univ. Claudio Spick
Radiologie und Nuklearmedizin
Medizinische Universität Wien
Währinger Gürtel 18-20
1090 Wien
---