Ao.Univ .Prof. Dr. PETER VALENT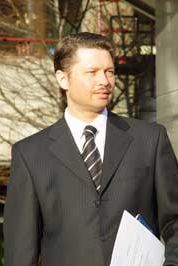 RESEARCHER OF THE MONTH, Jänner 2005
Die Jury "Researcher of the Month" anerkennt durch die Verleihung des MUW Forschungspreises im Monat Jänner 2005 die langjährige Spitzenforschung von Prof.Dr.Peter Valent auf dem Gebiet der Physiologie und Pathophysiologie sowie Erkrankungen der Mastzellen. Als Anerkennung seiner Leistungen auf diesem Gebiet hat die American Society of Haematology Prof. Valent eingeladen, einen Hauptvortrag mit dem Thema "Mast cell proliferative disorders: Diagnosis, classification and therapy" im Dezember 2004 in San Diego zu halten. Eine solche Einladung erhalten nur wenige europäische Wissenschaftler und Prof. Valent ist der erste österreichische Hämatologe, dem diese Ehre zuteil wurde.
Die (Wieder)entdeckung der Mastzelle als hämatopoetische Zelle.
Das Knochenmark ist ein Bildungsort zahlreicher Zellarten, unter anderem auch von Mastzellen. Sie wurden bereits vor 150 Jahren von Paul Ehrlich entdeckt. Mastzellen sind im Vergleich zu anderen Blutzellen im normalen Knochenmark in nur (scheinbar) geringer Menge vorhanden und können im zirkulierenden Blut unter normalen Umständen nicht identifiziert werden. Prof. Valent und sein Team beschäftigt sich seit cirka 20 Jahren damit, diese Zellart zu charakterisieren und von anderen Zellarten, z.B. den Basophilen, abzugrenzen. Er hat gezeigt, dass der SCF (stem cell factor) der spezifische Differenzierungsfaktor von Mastzellen ist. Er hat Methoden entwickelt, Mastzellen mit immunhistochemischen Methoden zu identifizieren und hat gezeigt, dass durch Messung des Mastzellmarkers Tryptase im Serum die Zahl und Aktivität der Mastzellen gemessen und monitiert werden kann.
Dadurch war es ihm möglich, Erkrankungen der Mastzellen mit großer Sicherheit zu diagnostizieren. Durch konsequente Arbeit erwarb er auf diesem Gebiet eine internationale Spitzenposition. Im Jahre 2000 lud er die Experten auf diesem Gebiet zu einem Symposium nach Wien ein und erreichte einen Konsens über die Kriterien und Klassifikation der Mastozytosen. Dieses Konsensuspapier wurde von der WHO in ihr Standardbuch der Klassifikation hämatologischer Neoplasien aufgenommen (Valent et al, in: WHO, Classification of tumours, pathology and genetics of tumours of heamatopoetic and lymphoid tissue, IARC Press: Lyon 2001).
Im Zuge seiner Mastzellforschungen machte Prof. Valent auch die bedeutsame Entdeckung, dass ein Teil der akuten myeloischen Leukämien eine Mastzelldifferenzierung aufweist und konnte damit zu den schon bekannten Subtypen die myelomastozytäre Leukämie als neuen Entität hinzufügen. Er konnte auch zeigen, dass bei diesem Subtyp die Messung der Serumtryptase ein wichtiger prognostischer Parameter ist. Prof. Valent ist Gründer und Koordinator des europäischen Mastozytose Kompetenznetzwerkes (ECNK).
Andere Forschungsgebiete von Prof. Valent
Prof. Valent hat neben der Mastzellforschung weitere Forschungsschwerpunkte, insbesondere auf dem Gebiet der myeloischen Neoplasien. In den letzten Jahren hat sich seine Forschungsgruppe mit der Identifikation neuer potentieller "Targets" bei der chronischen myeloischen Leukämie (z.B. m-TOR) beschäftigt und ist involviert in der klinischen Evaluierung neuer Therapien bei dieser Krankheit. Er hat auch eine sehr effektive Chemotherapie bei akuter myeloischer Leukämie beschrieben.
Persönliches
Professor Dr. Peter Valent wurde 1962 in Wien geboren. Studium an der Medizinischen Fakultät der Universität Wien, Promotion 1987. 1995 Abschluss seiner Facharztausbildung Innere Medizin, 1998 erwarb er den Zusatzfacharzt für Hämato-Onkologie. 1992 wurde ihm die Venia docendi für Experimentelle Hämatologie zuerkannt, 1997 auch für Innere Medizin. Im gleichen Jahr wurde ihm der Berufstitel eines Außerordentlichen Universtitätsprofessors verliehen.
Wissenschaftliche Preise und Anerkennungen
Professor Dr. Valent ist Träger zahlreicher Preise, unter anderem:
Paracelsus Preis der Österreichischen Gesellschaft für Innere Medizin (1985),
Karl Landsteiner Preis der Österreichischen Gesellschaft für Allgerologie und Immunologie (1989),
Wilhelm Türk Preis der Österreichischen Gesellschaft für Hämatologie und Onkologie (1991),
Theodor Billroth Preis der Wiener Ärztekammer (1991), und
Mack Forster Award of the European Soc. for Clinical Investigation (1995).
Professor Valent ist in zahlreichen Zeitschriften im Editorial Board als Section Editor und Reviewer tätig. Hervorzuheben sind auch die Organisation mehrerer hochkarätiger Symposien und Kongresse mit internationalen Wissenschaftlern in Wien.
Mast cell proliferative disorders: Diagnosis, classification and therapy. Haematology (Am. Soc Hematol Educ. Program) 2004; 146-62.
Sperr WR, Piribauer M, Wimazal F, Fonatsch C, Thalhammer-Scherrer R. Schwarhzinger I, Geissler K, Knobl P, Jäger U, Lechner K. Valent P.
A novel effective and safe consolidation for patients over 60 years with acute myeloid leukemia: intermediate dose cytarabine (2 x 1 g/m2 on days 1, 3, and 5). Clin Cancer Res
2004; 15:3965-71
Valent P, Akin C, Sperr WR, Horny HP, Metcalfe DD.
Mast cell proliferative disorders: current view on variants recognized by the World Health Organization. Hematol Oncol Clin North Am. 2003; 17:1227-41
Valent P, Akin C, Sperr WR, Horny HP, Arock M, Lechner K, Bennett JM, Metcalfe DD.
Diagnosis and treatment of systemic mastocytosis: state of the art. Br J Haematol. 2003; 122:695-717.
Valent P, Baghestanian M, Bankl HC, Sillaber C, Sperr WR, Wojta J, Binder BR, Lechner K.
New aspects in thrombosis research: possible role of mast cells as prfibrinolytic and antithrombotic cells. Thromb Haemost. 2002; 87:786-90.
Sperr WR, Jordan JH, Baghestanian M, Kiener HP, Samorapoompichit P, Semper H. Hauswirth A, Schernthaner GH, Chott A, Natter S, Kraft D, Valenta R, Schwartz LB, Geissler K, Lechner K, Valent P.
Expression of mast cell tryptase by myeloblasts in a group of patients with acute myeloid leukemia. Blood. 2001; 98:2200-9.
Valent P, Horny HP, Escribano L, Longley BJ, Li CY, Schwartz LB, Marone G, Nunez R, Akin C, Sotlar K, Sperr WR, Wolff K, Brunning RD, Parwaresch RM, Austen KF, Lennert K, Metcalfe DD, Vardiman JW, Bennett JM.
Diagnostic criteria and classification of mastocytosis: a consensus proposal. Leuk Res. 2001; 25:603-25.
Kontakt:
Ao.Univ.Prof.Dr.Peter Valent
Univ.-Klinik für Innere Medizin I,
Klin. Abt. für Haematologie und Haemostasteologie
Währinger Gürtel 18-20
1090 Wien
---