DDr. Angelika B. RIEMER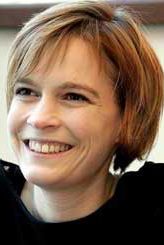 RESEARCHER OF THE MONTH, Januar 2006
Die Jury "Researcher of the Month" verleiht die Auszeichnung für diesen Monat Frau DDr. Angelika Riemer aus Anlass ihrer rezenten Publikation "Vaccination With Cetuximab Mimotopes and Biological Properties of Induced Anti-Epidermal Growth Factor Receptor Antibodies" im Journal of the National Cancer Institute [3]. In dieser Arbeit wird am Modell des monoklonalen anti-epidermal growth factor receptor (EGFR)-Antikörpers Cetuximab gezeigt, dass es möglich ist, eine Epitop-spezifische Impfung zu entwickeln, die körpereigene polyklonale Antikörper mit gleichem Wirkungsprofil wie der ursprüngliche monoklonale Antikörper induziert. Dies könnte dazu führen, dass kostspielige monoklonale Antikörper-Therapien in Zukunft durch eine Impfung ersetzbar sind.
Epitop-spezifische Induktion von Anti-Tumor-Antikörpern
Monoklonale Antikörper-Therapien gegen Wachtumsfaktor-Rezeptoren gehören zu den meistversprechenden neuen Ansätzen in der Onkologie. Diese sogenannten "targeted therapies" sind für Patienten, deren Tumor den entsprechenden Rezeptor überexprimiert, von großem Nutzen. Die bekanntesten Beispiele sind der anti-HER-2 Antiköper Trastuzumab (Herceptin), der bei Brustkrebs eingesetzt wird, und der anti-EGFR Antikörper Cetuximab (Erbitux) in der Therapie des Colon-Carcinoms.
Frau DDr. Riemer et al. [1] konnten in einer ersten Publikation zu dieser Thematik für Trastuzumab zeigen, dass es möglich ist, mit Hilfe der Phage-display-Technologie sogenannte Mimotope zu definieren. Mimotope sind "epitope mimics", also kleine Peptide, die ein gegebenes Epitop strukturell (dreidimensionale Konformation, Ladung) imitieren. Durch Kopplung der Mimotope an immunogene Träger-Moleküle entsteht ein vollwertiger Impfstoff, der im Mausmodell dazu führte, dass dem ursprünglichen monoklonalen Antikörper äquivalente Immunglobuline gebildet wurden. In umgekehrter Anwendung können Mimotope auch dazu verwendet werden, die genaue Antikörperbindungsstelle am Zielprotein zu bestimmen [2].
In der nun vorliegenden Publikation [3] konnte diese prinzipielle Ersetzbarkeit von passiver Antikörpertherapie durch eine aktive epitop-spezifische Impfung auch für Cetuximab gezeigt werden. Epitop-Spezifität ist bei Impfungen gegen Wachstumsfaktor-Rezeptoren von besonderer Bedeutung, da es bei Impfungen mit dem ganzen Rezeptor-Protein auch zur Induktion von Tumorwachstums-fördernden Antikörpern kommen kann. Die durch die Mimotop-Impfung induzierten Antikörper hatten in der Tat das gleiche Wirkungsprofil wie der ursprüngliche monoklonale Antikörper Cetuximab: Sie banden mit hoher Affinität an den EGFR, und führten zu antibody-dependent cellular cytotoxicity und complement-dependent cytotoxicity, also zu Tumorzell-Lyse durch Antikörper-aktivierte Effektorzellen und Komplement. Als direkte Wirkung auf den Rezeptor konnte eine verstärkte Internalisierung beobachtet werden, was zu einer Reduktion der Rezeptordichte an der Zelloberfläche führte. Einerseits dadurch und andererseits durch eine Blockade der Signaltransduktion wurde außerdem das Wachstum von EGFR-positiven Tumorzellen gehemmt.
Der größte Vorteil dieser Impfung gegenüber passiver Antikörper-Applikation ist, dass es sich bei den gebildeten Antikörpern um körpereigene Proteine handelt, die keine weitere, den Therapieverlauf schädigende, Immunantwort auslösen können. Zusätzlich müssen sie nicht regelmäßig infundiert werden, sondern werden kontinuierlich gebildet, unter Ausnutzung des immunologischen Gedächtnisses.
Persönliches
Angelika Riemer wurde 1976 in Salzburg geboren und studierte Medizin in Wien und in Bristol, England, und absolvierte ein Semester Immunologie in Melbourne, Australien. Anschliessend studierte sie in Wien Molekulare Biologie mit Schwerpunkt Immunologie. Sie verfasste ihre beiden Dissertationen, welche die Generierung von Mimotop-Impfstoffen zum Inhalt hatten, in der Arbeitsgruppe von Univ.-Prof. Dr. Jensen-Jarolim am Institut für Pathophysiologie. Im März 2002 promovierte Frau Riemer sub auspiciis praesidentis zur Doktorin der gesamten Heilkunde und im März 2005 konnte Angelika Riemer ein zweites Mal sub auspiciis praesidentis zur Doktorin der Naturwissenschaften promovieren. Sie steht heute in Ausbildung zum Facharzt für Immunologie und hat seit November 2005 eine aus Anlass der doppelten Promotion sub auspiciis praesidentis geschaffene Rektoratsstelle an der Universitätsklinik für Dermatologie inne.
Angelika Riemer ist Trägerin einer Vielzahl nationaler und internationaler Preise, unter anderem zweier Scholar-in-Training Awards der American Association of Cancer Research, des Merit Award der American Society of Clinical Oncology, des AstraZeneca Scholar Award des San Antonio Breast Cancer Symposiums, zweier Förderungspreise der Stadt Wien für innovative interdisziplinäre Krebsforschung sowie des Wolfgang Denk-Preises für Onkologie 2005 der Österreichischen Gesellschaft für Hämatologie und Onkologie. Frau DDr. Riemer weist bereits eine ausgedehnte Vortragstätigkeit bei internationalen Kongressen auf. Darüber hinaus war und ist sie im alten und neuen Medizincurriculum in der Lehre tätig.
Generation of peptide mimics of the epitope recognized by trastuzumab on the oncogenic protein Her-2/neu.
Angelika B. Riemer, Markus Klinger, Stefan Wagner, Astrid Bernhaus, Luca Mazzucchelli, Hubert Pehamberger, Otto Scheiner, Christoph C. Zielinski, Erika Jensen-Jarolim. The Journal of Immunology 2004; 173(1): 394-401.
Matching of trastuzumab (Herceptin®) epitope mimics onto the surface of Her-2/neu – a new method of epitope definition.
Angelika B. Riemer, Georg Kraml, Otto Scheiner, Christoph C. Zielinski, Erika Jensen-Jarolim. Molecular Immunology 2005; 42(9): 1121-4; Epub 2005 Jan 8.
Vaccination with cetuximab mimotopes and biological properties of induced anti-EGFR antibodies.
Angelika B. Riemer, Harald Kurz, Markus Klinger, Otto Scheiner, Christoph C. Zielinski, Erika Jensen-Jarolim. The Journal of the National Cancer Institute 2005, 97: 1663-70.
Kontakt:
DDr. Angelika Riemer
Univ.-Klinik für Dermatologie, Abt. f. Allg. Dermatologie
Währinger Gürtel 18-20
1090 Wien
---