Prof. Dr. Jafar-Sasan Hamzavi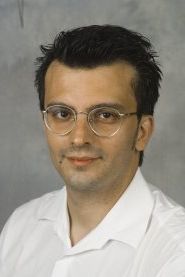 MedUni Wien RESEARCHER OF THE MONTH, Jänner 2007
Die Jury "Researcher of the Month" verleiht die Auszeichnung für diesen Monat Herrn Ao. Univ. Prof. Dr. Jafar-Sasan Hamzavi aus Anlass seiner rezenten Publikationen"Effect of deep insertion of the cochlear implant electrode array on pitch estimation and speech perception. " (1) und "The role of intensity upon pitch perception in cochlear implant recipients" (2). Prof. Hamzavi gehört seit 1995 der Wiener Cochlear-Implantat-Gruppe an und ist eines der erfolgreichsten Mitglieder dieser Arbeitsgruppe. Die Autoren der genannten Publikationen konnten nachweisen, dass unter den verschiedenen Variablen, wie Alter des Patienten (der Patientin), Dauer der Taubheit, residuales Hörvermögen und Stimulationsrate, im Besonderen auch die Insertionstiefe des Cochlear-Implantates bis zur "Schneckenspitze" für eine optimale Sprachperzeption wesentlich ist. Basierend auf den Ergebnissen und Beobachtungen seiner beiden Studien wurde ein neues Elektrodendesign für Cochlear-Implantate entwickelt, welches ein besseres Sprachverständnis als bisher eingesetzte Elektroden gewährleistet; diese Entwicklung wurde mit Hilfe der MedUniWien zum Patent angemeldet.
Hintergrund
Cochlear-Implantate stellen derzeit die einzige mögliche therapeutische Maßnahme bei kongenital gehörlosen Säuglingen und Kleinkindern unter 3 Jahren sowie bei nach Spracherwerb ertaubten oder schwersthörigen Erwachsenen dar. Die Wiener HNO-Universitätsklinik ist historisch die Wiege dieser Rehabilitationsmethode in Europa (erstes Cochlear-Implantat: 1977) (4) und liegt seit einem Jahrzehnt weltweit im Spitzenfeld dieser Implantatforschung und deren Anwendung. Die basiswissenschaftliche Entwicklungsarbeit, die von der Wiener Klinik in den 70er und 80er Jahren in Zusammenarbeit mit der Technischen Universität Wien geleistet wurde, führte zur Gründung einer eigenen Implantatfirma, welche heute den zweiten Platz auf dem Weltmarkt einnimmt.
Moderne Implantate sowie neue Implantationstechnologien bieten der überwiegenden Mehrzahl der Patienten eine weitgehende Hör- und Sprachrehabilitation, die sowohl den Regelschulbesuch mit normaler audioverbaler Kommunikation und erfolgreichem Schulabschluss als auch eine Rückkehr ins Berufsleben gewährleistet. Durch die immensen Fortschritte auf dem Gebiet der Cochlear-Implantate ist es heute möglich, mit den Geräten der neuesten Generation nicht nur ein offenes Sprachverständnis zu erreichen, sondern Höreindrücke zu erzielen, die der Qualität des "akkustischen" Hörens sehr nahe kommen. So stehen der Erhalt des Restgehörs, die natürliche Wahrnehmung von Musik sowie eine möglichst originalgetreue Wiedergabe der Höreindrücke heute im Mittelpunkt der Entwicklungen.
Verbesserung des Sprachverständnisses durch modifizierte Cochlear Implant Elektrode
Cochlear-Implantate sind elektronische Geräte, welche die Funktion des Mittel- und Innenohres ersetzen und bei tauben Patienten zur Wiedererlangung des Hörvermögens eingesetzt werden. Bei der Implantation wird eine Stimulationselektrode in die Hörschnecke (Scala tympani) eingeschoben, wodurch die Spiralganglien des Hörnervs direkt elektrisch stimuliert werden können und Höreindrücke entstehen.
In der Vergangenheit bestand die Meinung, daß sich die Spiralganglien lediglich über die ersten 1,5 Windungen der Schnecke, das entspricht etwa 25mm, erstrecken. Dies führte zu der Annahme, dass die Cochlea-implantierten Patienten von einer Insertionstiefe von mehr als 25mm nicht profitieren, da es in der apikalen Region der Cochlea ("Schneckenspitze") zu keinem regulären Absinken der Tonhöhe kommt und somit an dieser Stelle kein Hörvermögen vermittelt werden kann. Daher haben sich in der Vergangenheit sämtliche Cochlear-Implantat-Hersteller auf ein Elektrodendesign mit einer Insertionstiefe von bis zu 25mm konzentriert.
Die Wiener Arbeitsgruppe hat erstmals 1997 (3) demonstriert, dass eine tiefe und nahezu komplette Insertion der Stimulationselektrode bis 33 mm möglich ist. Im Laufe der Jahre wurde beobachtet, dass Patienten mit einer Insertionstiefe des Implantats von mehr als 25 mm, im Vergleich zu jenen Patienten mit Implantaten geringerer Insertionstiefe, ein deutlich besseres Sprachverständnis aufweisen. Diese tiefe Insertion sollte daher insbesondere bei Patienten mit totalem Hörverlust angewendet werden.
In den aktuellen Publikationen konnte die Arbeitsgruppe anhand der Stimulationselektrode der Firma MedEL neue Aspekte der "deep insertion" definieren und folglich ein neues Elektrodendesign entwickeln. Mit dem Nachweis, dass es im apikalen Bereich der Cochlea ebenfalls zu einem regulären Absinken der Tonhöhenwahrnehmung kommt, konnten in diesem Punkt bisherige Vorstellungen widerlegt werden.
Durch Aktivierung bzw. Deaktivierung der apikalen Elektroden eines Implantates kann die optimale Lage der Elektrode ermittelt werden. Es konnte gezeigt werden, daß die Stimulation der apikalsten Region der Cochlea zu einer signifikanten Verbesserung des Sprachverständnisses führt und weiters, dass zwei Stimulationselektroden im apikalen Segment der Cochlea (im Gegensatz zu vier Elektroden) das funktionell beste Ergebnis bringen.
Persönliches
Jafar-Sasan Hamzavi ist Jahrgang 1967, verheiratet und Vater von zwei Kindern. Er studierte von 1988 -1995 an der Universität Wien Medizin. Anschließend absolvierte er am AKH Wien die Facharztausbildung für Hals-, Nasen-, und Ohrenheilkunde. Seine Forschungsarbeiten konzentrieren sich auf das Gebiet der Otologie mit Schwerpunkt "Cochlear-Implantation". Hamzavi habilitierte sich für das Fach Hals-, Nasen-Ohrenkrankheiten im Jahr 2003. Seit 1997 hat er 44 Originalarbeiten in internationalen Journalen publiziert. Er ist Associate Editor im Iranian Audiology Journal sowie Reviewer bei renommierten internationalen HNO-Zeitschriften. Zwei rezente Arbeiten gewannen den Wissenschaftspreis der österreichischen Gesellschaft für Hals-, Nasen- Ohrenheilkunde 2006.
Literatur
Effect of deep insertion of the cochlear implant electrode array on pitch estimation and speech perception.J Hamzavi, C Arnoldner.Acta Otolaryngol. 2006 Dec;126(11):1182-7
The role of intensity upon pitch perception in cochlear implant recipients.Ch Arnoldner, A Kaider, J HamzaviLaryngoscope. 2006 Oct;116(10):1760-5
Cochlear implant deep-insertion surgeryGstoettner-WK; Baumgartner-WD; Franz-P; Hamzavi, J.LARYNGOSCOPE-. APR 1997; 107 (4) : 544-546
Electrical stimulations with multichannel electrodes in deaf patients.Burian K., Hochmaier E., Hochmaier-Desoyer I., Lessel MR.AAudiology 1980; 19(2): 128-36
Kontakt
Ao.Univ.Prof. Dr. Jafar-Sasan Hamzavi
Univ.-Klinik für Hals-, Nasen- Ohrenkrankheiten
Klinische Abteilung für Allgemeine Hals-, Nasen- Ohrenkrankheiten
Währingergürtel 18-20
T:+43 (0)1 40400-3330/-3333
F:+43 (0)1 40400-33332
jafar-sasan.hamzavi@meduniwien.ac.at
---