Mag. Dr. Thomas Weichhart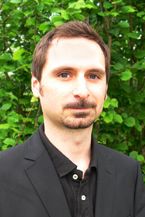 MedUni Wien RESEARCHER OF THE MONTH, Jänner 2012
Die Jury "Researcher of the Month" verleiht die Auszeichnung für diesen Monat Herrn Dr. Thomas Weichhart aus Anlass der im April 2011 in dem Top-Journal "Blood" (IF 10.6) erschienenen Publikation "Inhibition of mTOR blocks the anti-inflammatory effects of glucocorticoids in myeloid immune cells" [1]. Diese Arbeit entstand an der Medizinischen Universität Wien an der Abteilung für Nephrologie & Dialyse (Leitung: Univ.-Prof. DDr. W. Hörl) unter der Leitung von Dr. Weichhart und Ass.Prof. Doz. Dr. M. Säemann in Zusammenarbeit mit dem Institut für Medizinische Genetik (Leiter: Univ.-Prof. Mag. Dr. M. Hengstschläger) und dem Institut für Immunologie (Leiter: Univ.-Prof. Dr. G.J. Zlabinger) sowie dem Institut für Tierzucht und Genetik (Leiter: Univ.-Prof. Dr. med.vet. M. Müller) der Veterinärmedizinischen Universität Wien.
Rapaycin blockiert die suppressive Wirkung von Steroiden auf NF-κB und die Expression von proinflammatorischen Zytokinen in Monozyten und dendritischen Zellen
Die Inhibitoren von mTOR (mammalian Target of Rapamycin) Rapamycin (Sirolimus) und Everolimus spielen eine wichtige Rolle bei der Verhinderung der Abstoßung nach Transplantation von soliden Organen, z.B. von Nieren. Eine Nebenwirkung von Rapamycin ist das Auftreten von nicht-infektiösen inflammatorischen Symptomen wie Pneumonitis, Glomerulonephritis und einer Anämie der chronischen Erkrankung, bedingt durch die Hochregulierung des entzündungsfördernden Transkriptions-faktors NF-κB. Glukokortikoide hemmen NF-κB, sodass sie geeignet wären, diese proinflammatorischen Symptome zu unterdrücken. Allerdings haben klinische Beobachtungen ergeben, dass die Behandlung mit Steroiden in solchen Fällen nicht sehr wirksam ist. In der prämierten Arbeit konnte die Arbeitsgruppe um Dr. Weichhart und Dr. Säemann eine Erklärung für die Ursachen der mangelnden Wirkung von Steroiden finden, indem sie in vitro und in vivo zeigen konnten, dass die Hemmung von mTOR durch Rapamycin mit der Wirkung von Steroiden interferiert, indem es die suppressive Wirkung auf NF-κB und die Expression von proinflammatorischen Zytokinen in Monozyten und dendritischen Zellen blockiert.
Wissenschaftliches Umfeld
Der zentrale Arbeitsschwerpunkt von Dr. Weichhart ist die Erforschung der molekularen und zellulären Regulation von Entzündungsreaktionen in Zellen des angeborenen Immunsystems, wobei die translationellen Perspektiven entscheidend sind, d.h. die Initiation wie auch der Wissenstransfer erfolgt durchaus aus Erfahrungen, welche am Krankenbett gewonnen werden. Seine Arbeiten haben neue, grundlegende Erkenntnisse über ein Protein namens "mammalian Target of Rapamycin" (mTOR) und dessen Rolle bei der Regulierung von Entzündungsreaktionen in Monozyten und dendritischen Zellen erbracht [2-9].
Darüber hinaus zeigen diese Arbeiten auch neue Wege auf, um das Immunsystem für Impfungen oder im Kampf gegen Krebs zu verstärken. Basierend auf den Arbeiten der Arbeitsgruppe testen zurzeit Forschungsgruppen in den USA (National Cancer Institute) und Großbritannien (Barts Cancer Institute) den Einsatz von mTOR-Inhibitoren als immunstimulierenden Zusatz bei experimentellen Immuntherapien bei Krebs mit ersten sehr erfolgsversprechenden Ergebnissen beim Nierenzellkarzinom. Ausgehend von klinischen Beobachtungen konnten somit grundlegende Erkenntnisse über die Rolle von komplexen regulatorischen Prozessen in Immunzellen gewonnen werden, die zu neuen Therapie-Möglichkleiten geführt haben.
Dr. Weichhart gab als Editor in der renommierten Fachbuchreihe "Methods in Molecular Biology" ein Kompendium mit dem Titel "mTOR: Methods and Protocols" mit 29 Fachbeiträgen zu unterschiedlichen Aspekten des Themas heraus, zu dem über 80 weltweit führende mTOR-Forscher beigetragen haben (Humana Press, 2012. im Druck).
Persönliches
Thomas Weichhart wurde 1975 in St. Pölten geboren. 1994-2000 Studium der Biologie/Genetik an der Universität Wien. Diplomarbeit: "Functional selection of vaccine candidate peptides from Staphylococcus aureus whole-genome expression libraries in vitro" (Labor von Prof. A. von Gabain, Intercell AG, Vienna). 2000-2004 PhD-Dissertation: "Identification of an endogenous ligand for TLR4" (Labor von Dr. U. von Ahsen, Pipeline Research Department, Intercell AG, Vienna). Verteidigung der Dissertation mit Auszeichnung. Seit 2005 an der Abteilung für Nephrologie & Dialyse der MEDUNI WIEN tätig. Als Projektleiter konnte Weichhart bereits über € 600.000,- an Drittmitteln einwerben. Er ist Reviewer bei zahlreichen wissenschaftlichen Journalen und hat auch zahlreiche Preise gewonnen, darunter den ESOT Young Investigator Award, den Karl Landsteiner Preis und den Sanofi-Aventis Preis. Seine Arbeit "The TSC-mTOR Signaling Pathway Regulates the Innate Inflammatory Response" [10], publiziert in "Immunity" (IF 24.2), wurde vom Science Magazine zum "Signaling Breakthrough of the Year 2008" nominiert. Dr. Weichhart ist Inhaber von drei Patenten und hat vor kurzem seine Habilitation eingereicht. Dr. Weichhart ist verheiratet, Vater von drei Kindern und begeisterter Radrennfahrer und Skispringer.
Weichhart T, Haidinger M, Katholnig K, Kopecky C, Poglitsch M, Lassnig C, Rosner M, Zlabinger GJ, Hengstschläger M, Müller M, Hörl WH, Säemann MD (2011): Inhibition of mTOR blocks the anti-inflammatory effects of glucocorticoids in myeloid immune cells. - Blood 117(16):4273-83. [IF 10.6]
Weichhart T (2012): Mammalian target of rapamycin: a signaling kinase for every aspect of cellular life. - Methods Mol Biol 821:1-14.
Haidinger M, Werzowa M, Weichhart T, Säemann MD (2011): Targeting the dysregulated mammalian target of rapamycin pathway in organ transplantation: killing 2 birds with 1 stone. - Transplant Rev (Orlando) 25(4):145-53.
Weichhart T, Säemann MD (2010): Sirolimus and kidney transplantation: Unraveling an inflammatory affair. - Am J Transplant 10(12):2569-2570. [IF 6.4]
Weichhart T, Säemann MD (2010): T helper cell differentiation: Understanding the needs of hierarchy. – Immunity 32(6):727-9. [IF 24.2]
Haidinger M, Poglitsch M, Geyeregger R, Kasturi S, Zeyda M, Zlabinger GJ, Pulendran B, Hörl WH, Säemann MD, Weichhart T (2010): A versatile role of mammalian target of rapamycin in human dendritic cell function and differentiation. - J Immunol 185(7):3919-31. [IF 5.6]
Haidinger M, Hecking M, Weichhart T, Poglitsch M, Enkner W, Vonbank K, Prayer D, Geusau A, Oberbauer R, Zlabinger GJ, Soleiman A, Hörl WH, Säemann MD (2010): Sirolimus in renal transplant recipients with tuberous sclerosis complex: clinical effectiveness and implications for innate immunity. - Transpl Int 23(8):777-85. [IF 3.3]
Säemann MD, Haidinger M, Hecking M, Hörl WH, Weichhart T (2009): The multifunctional role of mTOR in innate immunity: implications for transplant immunity. - Am J Transplant 9(12):2655-61. [IF 6.4]
Weichhart T, Säemann MD (2009): The multiple facets of mTOR in immunity. - Trends Immunol 30(5):218-26. [IF 8.8]
Weichhart T, Säemann MD (2008): The PI3K/Akt/mTOR pathway in innate immune cells: emerging therapeutic applications. - Ann Rheum Dis 67(Suppl 3): iii70-iii74. [IF 8.1]
Weichhart T, Costantino G, Poglitsch M, Rosner M, Zeyda M, Stuhlmeier KM, Kolbe T, Stulnig TM, Hörl WH, Hengstschläger M, Müller M, Säemann MD (2008): The TSC-mTOR Signaling Pathway Regulates the Innate Inflammatory Response. – Immunity 8(29): 565-577. [IF 24.2]
Kontakt
Mag. Dr. Thomas Weichhart
Medizinische Universität Wien
Klinik für Innere Medizin III
Abteilung für Nephrologie & Dialyse
Währinger Gürtel 18-20
1090 Wien
---