All News
Ao.Univ.-Prof. Dr. Peter Birner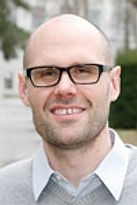 MedUni Wien Researcher of the Month, Jänner 2013
Die Jury "Researcher of the Month" verleiht die Auszeichnung für diesen Monat Herrn Ao.Univ.-Prof. Dr. Peter Birner aus Anlass der 2012 im Top-Journal "Clinical Cancer Research" (IF: 7.338) erschienenen experimentellen Arbeit "MAPKAP kinase 2 overexpression influences prognosis in gastrointestinal stroma tumors, associates with copy number variations on chromosome 1, and expression of p38 MAP kinase and ETV1" [1]. Die nominierte Arbeit entstand im Rahmen der "Upper GI Research Unit" als Kooperationsprojekt mit der Univ.-Klinik für Chirurgie (Ao. Univ.-Prof. Dr. S. Schoppmann), der Univ.-Klinik für Frauenheilkunde (Univ.-Prof. Prof. Dr. B. Streubel), dem Klinischen Institut für Pathologie und der University of Applied Science, FH Campus Wien. Die Arbeit wurde im Dezember 2012 mit dem Billrothpreis der Ärztekammer für Wien ausgezeichnet. Es konnte erstmals gezeigt werden, dass das Gen MAPKAPK2 (Mitogen-activated protein kinase-activated protein kinase 2) eine wesentliche Rolle bei der Progression von "Gastrointestinalen Stromatumoren" spielt und damit einen möglichen neuen Angriffspunkt für "targeted therapies" bei Krebserkrankungen darstellt.
Neuartiger Therapieansatz bei Gastrointestinalen Stromatumoren (GIST) mit Hyperexpresssion von MAPKAPK 2
Gastrointestinale Stromatumore (GIST) sind seltene Tumore des Verdauungstraktes, mit einer Häufigkeit von ca. 20 Neuerkrankungen/Jahr pro Million Einwohner, und sind überwiegend im Magen gelegen. Ein prinzipielles Problem bei GIST stellt die Tatsache dar, dass ihr biologisches Verhalten extrem unterschiedlich ist: Ein Teil der Tumore verhält sich klinisch gutartig, ein anderer Teil metastasiert und ist resistent gegen traditionelle Chemo- oder Strahlentherapie. [2]
Seit einigen Jahren kommen bei großen Hochrisiko- oder bereits metastasierenden Tumoren Tyrosinkinaseinhibitoren zum Einsatz, wodurch die 5-Jahres Rate für rezidivfreies Überleben bis zu 65 % gesteigert werden kann. Problematisch ist jedoch, dass Tyrosinkinaseinhibitoren bei einem Teil der Fälle nicht wirksam sind bzw. sekundäre Resistenzen entstehen.
Wesentliche Voraussetzung für die Entstehung der meisten Gastrointestinalen Stromatumoren sind bestimmte genetische Mutationen, die zur Bildung defekter, dauerhaft aktivierter Wachstumsfaktor-Rezeptoren an der Zelloberfläche führen, wobei es sich in den meisten Fällen um den KIT-Rezeptor handelt. Normalerweise werden diese Rezeptoren erst nach Bindung eines spezifischen Moleküls (Ligand) aktiviert und vermitteln daraufhin ein Signal, welches das Zellwachstum und die Zellproliferation fördert.
In einer rezenten Publikation in der Zeitschrift "Nature" konnte von einer amerikanischen Gruppe gezeigt werden, dass das Onkogen ETV1 durch KIT-Mutationen aktiviert wird, und es wurde die Vermutung aufgestellt, dass ETV1 eine essentielle Rolle bei der Entstehung und Progression von GIST spielt. [3] Die Gruppe um Dr. Birner konnte nun nachweisen, dass die ETV1 Proteinexpression auch durch andere Mechanismen als KIT-Mutationen induziert werden kann (wie etwa ETV1-Gen-Amplifikationen), aber die klinische Relevanz von ETV1 für die Progression von GIST offenbar nur gering ist. Hingegen konnte gezeigt werden, dass der ETV1-Inhibitor MAPKAPK2 eine essentielle Rolle bei der Progression dieser Tumore spielt, wobei über die Rolle von MAPKAPK2 bei Tumorerkrankungen generell nur sehr wenig bekannt ist.
Die Mechanismen, die zur Überexpression von MAPKAPK2 in GIST führen, sind offenbar sehr komplex: In der überwiegenden Anzahl der Fälle wird die Überexpression über den bekannten Mechanismus der Phosphorylierung des Proteins p38 ausgelöst. Bei einem Teil der Fälle scheinen jedoch chromosomale Imbalanzen auf Chromsom 1 die Expression von MAPKAPK2 zu induzieren, und in seltenen Fällen dürfte eine Mutation des MAPKAPK2 Gens die Ursache für die Proteinüberexpression sein.
Von besonderem Interesse ist, dass bereits selektive MAPKAPK2-Inhibitoren zur Verfügung stehen und anhand der Daten der vorliegenden Studie diese Substanzen im Falle einer MAPKAPK2-Überexpression bei GIST-PatientInnen als "targeted therapies" zum Einsatz kommen könnten.
Wissenschaftliches Umfeld
Dr. Birner ist seit 1999 am Klinischen Institut für Pathologie tätig. Seine Forschungsschwerpunkte sind Biomarker und genetische Veränderungen bei malignen Tumoren v.a. des oberen Gastrointestinaltraktes. Dr. Birner ist außerdem Koordinator des Forschungsprogrammes "Hirnmetastasierung" des Comprehensive Cancer Centers der MUW. Es bestehen wissenschaftliche Kooperationen u.a. mit der Universität Heidelberg, Cancer Research UK, dem National Cancer Institute (USA), der Universität Nijmegen (Niederlande) und der bulgarischen Akademie der Wissenschaften.
Persönliches
Nach der Matura absolvierte Dr. Birner von 1989 bis 1992 einen dreijährigen Militärdienst (Militärakademie, Landesverteidigungs-akademie). Anschließend Medizinstudium in Wien. Ab 1999 Facharztausbildung am Klinischen Institut für Pathologie der MUW. 2002 Habilitation, Facharzt 2005. Vorsitzender der Ausbildungskommission der Ärztekammer für Wien 2003-2007, 2007 bis 2009 Stellvertreter des medizinischen Geschäftsführers und Leiter der medizinischen Betriebssteuerung der NÖ Landesklinikenholding. 2009 Rückkehr an das Institut für Pathologie, Gastprofessor an der Universität Heidelberg im SS 2012. Dr. Birner wurde mit zahlreichen Wissenschaftspreisen ausgezeichnet, u.a. dem Kardinal-Innitzer-Förderungspreis. Weiters ist er Gutachter für zahlreiche Fachzeitschriften (u.a. The Lancet, Journal of Clinical Oncology, Trends in Molecular Medicine, Clinical Cancer Research, Oncogene) und Forschungsförderungseinrichtungen, wie etwa die Deutsche Forschungsgemeinschaft (DFG), den Research Grant Council of Hongkong, oder den Fund for Scientific Research – FNRS (Brüssel). Weiters absolvierte die Ausbildung zum "Akademischen Krankenhausmanager" an der WU Wien. Ausbildung zum zertifizierten "Qualitätsmanager im Gesundheitswesen" und Masterstudium "Management in Einrichtungen des Gesundheitswesens" an der Donau-Universität Krems. Derzeit ist Dr. Birner 2. stv. Vorsitzender des Betriebsrates des wissenschaftlichen Personals der MedUni Wien.
Birner P, Beer A, Vinatzer U, Stary S, Höftberger R, Nirtl N, Wrba F, Streubel B, Schoppmann SF: "MAPKAP kinase 2 overexpression influences prognosis in gastrointestinal stroma tumors, associates with copy number variations on chromosome 1, and expression of p38 MAP kinase and ETV1." Clinical Cancer Research 18/2012, 1879-1887.
Schoppmann SF, Berghoff AS, Jesch B, Zacherl J, Nirtl N, Jomrich G, Maroske F, Streubel B, Mesteri I, Birner P: "Expression of podoplanin is a rare event in sporadic gastrointestinal stromal tumors and does not influence prognosis" Future Oncology 8/2012, 859-866
Chi P, Chen Y, Zhang L, Guo X, Wongvipat J, Shamu T, Fletcher JA, Dewell S, Maki RG, Zheng D, Antonescu CR, Allis CD, Sawyers CL: "ETV1 is a lineage survival factor that cooperates with KIT in gastrointestinal stromal tumours." Nature 467/2010, 849-853
Kontakt
Ao.Univ.-Prof. Dr. Peter Birner, MSc
Klinisches Institut für Pathologie
Medizinische Universität Wien
Währinger Gürtel 18-20
1090 Wien
---