All News
Assoc. Prof.in Dr.in Katja Pinker-Domenig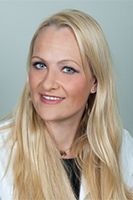 MedUni Wien RESEARCHER OF THE MONTH, Jänner 2015
Die Jury "Researcher of the Month" verleiht die Auszeichnung für diesen Monat Frau Dr.in Katja Pinker-Domenig aus Anlass der im Top-Journal "Clinical Cancer Research" (IF 7.837) erschienenen Arbeit "Improved Differentiation of Benign and Malignant Breast Tumors with Multiparametric 18Fluorodeoxyglucose Positron Emission Tomography Magnetic Resonance Imaging: A Feasibility Study" [1]. Die Arbeit entstand in der Abteilung Molekulare und Genderbildgebung unter der Leitung von Univ.Prof. Dr. T.H. Helbich an der Univ.Klinik für Radiologie (Leitung: Univ.Prof. Dr. C. Herold) und Nuklearmedizin (Leitung: Univ.Prof. Dr. M. Hacker) in Kooperation mit dem Exzellenzzentrum Hochfeld-Magnetresonanz (Leitung: Univ.Prof. Dr. S. Trattnig), der Univ.Klinik für Chirurgie, der Univ.Klinik für Pathologie, der Univ.Klinik für Innere Medizin I/ Klinische Abteilung für Onkologie und dem Comprehensive Cancer Center der MedUni Wien.
In dieser klinischen Studie konnte erstmals gezeigt werden,
dass die multiparametrische 18FDG PET/MRT die diagnostische Genauigkeit in der Brustkrebsdiagnostik signifikant steigert.
In dieser Arbeit untersuchen Pinker et al. erstmals weltweit die klinische Anwendung der multiparametrischen 18 Fluorodeoxyglucose (18FDG) PET/MRT. Dabei werden zahlreiche MRT-Parameter wie die MR-Tumorneoangiogenese-Bildgebung, die Diffusions-gewichtete Bildgebung und die MR-Spektroskopie mit dem 18FDG PET kombiniert, um eine verbesserte Detektion und Charakterisierung von Brusttumoren zu ermöglichen.
Eine zentrale Rolle in der Tumorgenese spielen Schlüsselprozesse wie die Tumorneoangiogenese, die Zellproliferation, die Molekularbewegung und zahlreiche Stoffwechselveränderungen. Die Magnetresonanztomographie (MRT) und Positronen-Emissions-Tomographie (PET) sind molekulare bildgebende Verfahren, die die Quantifizierung dieser Tumorcharakteristika auf einem zellulären und subzellulären Niveau ermöglichen. Bisher wurde versucht, Tumorcharakteristika mit einzelnen Parametern der MRT bzw. PET zu quantifizieren [2, 4, 6, 7, 8 9]. In Anbetracht der komplexen Abläufe in der Tumorgenese ist die Unterscheidung von benignen und malignen Tumoren mit singulären bildgebenden Parametern jedoch eingeschränkt [3,5].
Die zugrundeliegende Hypothese dieser Arbeit basiert auf der Erfassung der Schlüsselprozesse der Tumorgenese mit multiplen mittels MRT und PET generierten Parametern. Demnach soll die Erfassung zahlreicher funktioneller, metabolischer und molekularer Schlüsselprozesse der Tumorgenese zu einer verbesserten nicht-invasiven Unterscheidung von benignen und malignen Tumoren beitragen.
In dieser prospektiven Studie konnte gezeigt werden, dass mittels der multiparametrischen 18FDG PET/MRT eine nicht-invasive Charakterisierung von Brusttumoren auf einem zellulären und subzellulären Niveau möglich ist. Diese neue Methode erlaubt eine verbesserte nicht-invasive Differenzierung von benignen und malignen Brusttumoren und verringert die Falsch-Positiv-Biopsierate signifikant und führt zu einer 50%igen Reduktion "unnötig" durchgeführter Brustbiopsien.
Die multiparametrische PET/MRT stellt somit einen weiteren Schritt zur Implementierung der molekularen Bildgebung in der klinischen Routine dar und ermöglicht damit einen Paradigmenwechsel in Richtung personalisierte Medizin. Die Entwicklung neuer MRT-Parameter und die Entwicklung und Verbesserung neuer spezifischer Radiotracer wird in naher Zukunft eine weiter verfeinerte nicht-invasive Diagnose ermöglichen. Diese Studie kann bereits jetzt als grundlegende Arbeit in der Entwicklung der synchronisierten PET/MRT angesehen werden.
Wissenschaftliches Umfeld
Zentrum der wissenschaftlichen Tätigkeit von Dr.in Pinker-Domenig ist die Abteilung Molekulare und Genderbildgebung. Ihr Forschungsschwerpunkt ist die multimodale molekulare Bildgebung von Tumoren mittels Hochfeld-MRT und PET/MRT zur verbesserten Diagnostik und Therapieverlaufskontrolle. Dr.in Pinker-Domenig kooperiert eng mit dem Exzellenzzentrum für Hochfeld-Magnetresonanz, dem Christian Doppler Labor für Medizinische Strahlenforschung für die Radioonkologie, der Univ.Klinik für Chirurgie, der Univ.Klinik für Pathologie, der Univ.Klinik für Innere Medizin I/ Klinische Abteilung für Onkologie und dem Comprehensive Cancer Center der MedUni Wien. Neben der ausgezeichneten Arbeit veröffentlichte sie in den letzten Jahren zahlreiche Publikationen, die sich mit der Implementierung molekularer MRT-Verfahren in der Onkologie beschäftigen [1-9]. Sie ist häufig Gastvortragende auf zahlreichen nationalen und internationalen Kongressen. Dr.in Pinker-Domenig wurde mit diversen Stipendien, Projektförderungen und Preisen ausgezeichnet. 2014 wurde sie mit dem renommierten Hans und Blanca Moser Förderungspreises 2014 auf dem Gebiet der translationellen Krebsforschung ausgezeichnet.
Zur Person
Dr.in Katja Pinker-Domenig wurde in Wien geboren. Maturaabschluss mit ausgezeichnetem Erfolg, anschließend Studium der Humanmedizin in Wien. Nach Absolvierung der Gegenfächer arbeitete sie als Forschungsassistentin am Exzellenzzentrum für Hochfeld-MRT. Facharztausbildung an der Univ.Klinik für Radiodiagnostik der MedUni Wien. 2009 absolvierte Dr.in Pinker-Domenig ein drei-monatiges ESOR Visiting Scholarship an der Breast Unit des Barts and The London Cancer Centre, St Bartholomew's Hospital,London, UK. In weiterer Folge war Dr.in Pinker-Domenig als Research Fellow im Princess Grace Hospital (The London Breast Institute, Princess Grace Hospital, London, UK) tätig. 2010 legte sie erfolgreich die Facharztprüfung für Radiologie ab und wurde 2013 zum Assoc.-Prof. ernannt. Seit 09/2014 ist sie im Rahmen einer Forschungskarenz am renommierten Memorial Sloan-Kettering Cancer Center in New York tätig.
Pinker K, Bogner W, Baltzer P, Karanikas G, Magometschnigg H, Brader P, Gruber S, Bickel H, Dubsky P, Bago-Horvath Z, Bartsch R, Weber M, Trattnig S, Helbich TH. Improved differentiation of benign and malignant breast tumors with multiparametric 18fluorodeoxyglucose positron emission tomography magnetic resonance imaging: a feasibility study. Clinical Cancer Research 2014 Jul;20(13):3540-9.
Gruber S, Pinker K, Zaric O, Minarikova L, Chmelik M, Baltzer P, Boubela R, Helbich TH, Bogner W, Trattnig S. Dynamic contrast-enhanced MR imaging of breast tumors at 3 and 7 Tesla – a comparison. Invest Radiol. 2014 May;49(5):354-62.
Pinker K, Bogner W, Baltzer P, Gruber S, Bickel H, Brueck B, Trattnig S, Weber M, Dubsky P, Bago-Horvath Z, Bartsch R, Helbich TH. Improved diagnostic accuracy with multiparametric magnetic resonance Imaging of the breast using dynamic contrast-enhanced MRI, diffusion-weighted imaging and 3D proton MR spectroscopic imaging. Invest Radiol. 2014 Feb 21. [Epub ahead of print]
Pinker K, Bogner W, Baltzer P, Trattnig S, Gruber S, Abeyakoon O, Bernathova M, Zaric O, Dubsky P, Bago-Horvath Z, Weber M, Leithner D, Helbich TH. Clinical application of bilateral high temporal and spatial resolution dynamic contrast-enhanced MR imaging of the breast at 7T. Eur Radiol. 2014 Apr;24(4):913-20.
Pinker-Domenig K, Bickel H, Helbich TH, Gruber S, Dubsky P, Pluschnig U, Rudas M, Bago-Horvath Z, Weber M, Trattnig S, Bogner W. Combined contrast enhanced magnetic resonance and diffusion weighted imaging reading adapted to the "Breast Imaging Reporting and Data System" for multiparametric 3 T imaging of breast lesions Eur Radiol. 2013 Jul;23(7):1791-802.
Bogner W, Pinker-Domenig K, Bickel H, Chmelik M, Weber M, Helbich TH, Trattnig S, Gruber S. Readout-segmented echo-planar imaging improves the diagnostic performance of diffusion-weighted MR breast examinations at 3.0 T. Radiology. 2012 Apr;263(1):64-76.
Pinker-Domenig K, Bogner W, Gruber S, Bickel H, Duffy S, Schernthaner M, Dubsky P, Pluschnig U, Rudas M, Trattnig S, Helbich TH. High resolution MRI of the breast at 3 T: which BI-RADS® descriptors are most strongly associated with the diagnosis of breast cancer? Eur Radiol. 2012 Feb;22(2):322-30. Epub 2011 Sep 14.
Gruber S, Debski BK, Pinker K, Chmelik M, Grabner G, Helbich TH, Trattnig S, Bogner W. Three dimensional proton magnetic resonance spectroscopic imaging (3D-MRSI) for differentiation of benign and malignant breast lesions at 3 Tesla. Radiology. 2011 Dec;261(3):752-61.
Pinker K, Grabner G, Bogner W, Gruber S, Szomolanyi, Trattnig S, Heinz-Peer G, Weber M, Fitzal F, Pluschnig U, Rudas M, Helbich TH. A combined high temporal and high spatial resolution 3 Tesla MR Imaging protocol for the assessment of breast lesions: initial results. Invest Radiol. 2009 Sep;44(9):553-8
Kontakt
Assoc. Prof.in Dr.in med.univ. Katja Pinker-Domenig
Medizinische Universität Wien

Universitätsklinik für Radiologie und Nuklearmedizin
Abteilung für Molekulare und Gender Bildgebung
Währinger Gürtel 18-20

1090 Wien
---