A.o. Univ.-Prof. Dr. MARTIN SCHILLINGER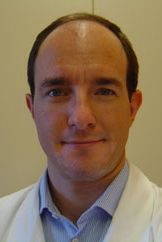 RESEARCHER OF THE MONTH, Juli 2005
Die Jury "Researcher of the Month" verleiht die Auszeichnung für diesen Monat Herrn A.o. Univ.-Prof. Dr. Martin Schillinger. Anlass für diese Auszeichnung sind zwei Publikationen: Die eine Arbeit, "Inflammation and carotid artery – Risk for artherosclerosis study (ICARAS)" von Martin Schillinger und Koautoren erschien kürzlich im renommierten Journal Circulation [1]. Es ist dies die erste große Langzeitstudie, die eine zeitliche Korrelation zwischen Entzündung und den morphologischen Veränderungen einer rasch progredienten Atherosklerose bestätigt (ICARAS ist eines der größten angiologisch-epidemiologischen Projekte in Österreich und inkludiert mehr als 1300 Patienten mit Atherosklerose der extrakraniellen Karotiden). Die zweite Arbeit, Schillingers Editorial "Cardiovascular risk stratification in older patients: role of brain natriuretic peptide, C-reactive protein and urinary albumin levels" im Journal of the American Association of Medicine (JAMA) [2], behandelt ebenfalls das Thema der kardiovaskulären Ris oprädiktion bei älteren Patienten.
Die Entzündung: ein maßgeblicher Faktor für die Pathogenese der Atherosklerose.
Komplikationen einer Atherosklerose sind die häufigsten Krankheits- und Todesursachen in der westlichen Welt. Unter ihnen sind Schlaganfälle die dritthäufigste Todesursache und der häufigste Grund für eine dauernde Behinderung. Etwa ein Drittel dieser Erkrankungen sind durch Thromboembolien als Folge einer Artherosklerose der Karotiden bedingt, und es gibt zunehmend Hinweise, dass Entzündungsvorgänge an der Pathogenese der Atherosklerose maßgeblich beteiligt sind. Grob gesprochen kann die Atherosklerose als eine Art der chronischen Entzündung angesehen werden, die aus einer Wechselwirkung von modifizierten Lipoproteinen, von Monozyten abstammenden Makrophagen, T-Zellen und den normalen Zellelementen der Arterienwand resultieren. Der Entzündungsprozess führt zur Entstehung komplexer Läsionen oder Plaques, die fortschreitend in das Lumen der Arterie vordringen und Stenosen und Verschlüsse hervorrufen. Das Ausmaß der Entzündung, gemessen an bestimmten Entzündungsmarkern, reflektiert die Aktivität
des Krankheitszustandes und wäre daher ein brauchbarer Parameter für die individuelle Progression der Atherosklerose beim individuellen Patienten, allerdings wurde ein direkter zeitlicher Zusammenhang zwischen Entzündung und morphologischer Progression einer Atherosklerose bislang nicht eindeutig nachgewiesen.
Schillinger et al [1] haben in ihrer großangelegten Studie an etwa 1300 Patienten einerseits die Progression der Atherosklerose innerhalb von 6 bis 9 Monaten mittels Duplex-Sonographie ( u.a. [3]) in den Arterien Carotis interna und Carotis communis untersucht, wobei die Bestimmung der Progression durch zwei unabhängige Untersucher, die über Klinik und Laborwerte der Patienten nicht informiert waren, erfolgte. Als charakteristische Laborparameter der entzündlichen Aktivität wurden hochsensitives C-reaktives Protein (hs-CRP) und Serum-Amyloid A (SAA) im Venenblut bestimmt. Die sonographischen und Laborresultate, Parameter der Atherosklerose einerseits bzw. der Entzündung andererseits wurden zu Beginn und Ende der Beobachtungsperiode gegenübergestellt und miteinander verglichen, wobei sich eine signifikante Korrelation zwischen dem Anstieg der Biomarker hs-CRP und SAA im Blut der Patienten und der Progression der Atherosklerose zeigte. Damit gelang den Autoren der Beweis des engen zeitlichen und wohl auch kauslen Zusammenhangs zwischen der Entzündung und den morphologischen Veränderungen einer fortschreitenden Atherosklerose der Karotiden: eine Erhöhung oder Zunahme der Entzündungs-Biomarker hsCRP und SAA spricht für eine aktive atherosklerotische Erkrankung.
Dieser Arbeit vorausgegangen sind zahlreiche Publikationen in Topjournalen über die prognostische Wertigkeit inflammatorischer Parameter hinsichtlich der kardiovaskulären Morbidität von Patienten mit Gefäßerkrankungen (u.a [4, 5]). Neben diesem epidemiologischen Forschungsschwerpunkt beschäftigt sich Prof. Schillinger theoretisch und praktisch mit Aspekten der endovaskulären Therapie atherosklerotischer Krankheitsbilder. Auf diesem Gebiet entstanden ebenfalls zahlreiche Top-Arbeiten (u.a. [6]). Darüber hinaus besteht eine ausgedehnte Vortragstätigkeit auf persönlichen Einladungen bei hochrangigen nationalen und internationalen Kongressen sowie – heuer zum zweiten Mal – die wissenschaftliche Organisation des Kongresses "Endovaskuläre Therapie - Meet the Experts".
Persönliches
Martin Schillinger, Geburtsjahrgang 1975, studierte Medizin in Wien und promovierte daselbst 1998 mit Auszeichnung. Er absolvierte Ausbildungszeiten an den Universitätskliniken für Innere Medizin II und IV, habilitierte sich 2002 für Angiologie über das Thema "Atherosklerose und Restenose: Pathophysiologie und klinische Implikationen" und wurde im selben Jahr A.o. Univ.-Professor. Prof. Schillinger ist seit dem Jahr 2000 Mitarbeiter der Abteilung für Angiologie (Univ.-Prof. Dr. E. Minar) der Universitätsklinik für Innere Medizin II und beschäftigt sich seither wissenschaftlich mit der Bedeutung vaskulärer Entzündungsreaktion im Rahmen atherosklerotischer Krankheitsbilder. Seine Publikationsliste aus 5 Jahren Tätigkeit an der Abteilung für Angiologie umfasst nunmehr mehr als 100 Originalarbeiten, in knapp der Hälfte ist er Erst- oder Seniorautor. Martin Schillinger weist eine ausgedehnte Vortrags- und Lehrtätigkeit vor, ist Mitglied zahlreicher Editorial Boards und als Gutachter einer großen Anzahl wissenschaftlicher Journale tätig.
Schillinger M, Exner M, Mlekusch W, Sabeti S, Amighi J, Rumpold H, Maurer G, Wagner O, Minar E. Inflammation and carotid artery risk for atherosclerosis study (ICARAS). Circulation 2005;111:610-617.
Schillinger M. Cardiovascular risk stratification in older patients: role of brain natriuretic peptide, C-reactive protein and urinary albumin levels. JAMA. 2005;293:1667-1669.
Sabeti S, Schillinger M, Mlekusch W, Nachtmann T, Willfort A, Haumer M, Muellner M, Ahmadi R, Minar E. Duplex sonography for quantification of internal carotid artery stenosis – a comparative analysis of different flow velocity thresholds. Radiology. 2004;232:431-439.
Schillinger M, Exner M, Amighi J, Mlekusch W, Sabeti S, Rumpold H, Wagner O, Minar E. Joint effects of C-reactive protein and glycated hemoglobin in predicting future cardiovascular events in patients with advanced atherosclerosis. Circulation. 2003;108:2323-2328.
Speidl W, Exner M, Amighi J, Mlekusch W, Sabeti S, Rumpold H, Wagner O, Minar E, Schillinger M. Elevated levels of complement factor 5 predict future cardiovascular events in patients with peripheral artery disease. Eur Heart J (in press).
Schillinger M, Exner M, Sabeti S, Mlekusch W, Amighi J, Kalifeh N, Handler S, Quehenberger P, Wagner O, Minar E. Heparin Co-Factor II protects from restenosis after femoropopliteal stenting. Thromb Haemost. 2004;92:1108-1113.
Kontakt:
Ao.Univ.Prof.Dr.Martin Schillinger
Univ.-Klinik für Innere Medizin II,
Klinische Abteilung für Angiologie
1090 Wien
Währinger Gürtel 18-20
---