PROF. PAUL ALEXANDER KYRLE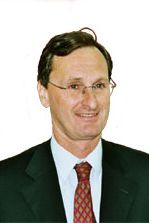 RESEARCHER OF THE MONTH, July / August 2004
Prof. Dr. Paul Alexander Kyrle leitet nun schon seit über 12 Jahren die Austrian Study on Recurrent Venous Thromboembolism (AUREC). AUREC ist dabei die derzeit weltweit größte Studie zur Erforschung von Risikofaktoren für das Wiederauftreten von Venenthrombosen und Lungenembolien. Die neuesten Forschungsergebnisse, die im Juni 2004 (Vol 350, 25: 2558-63) im New England Journal of Medicine publiziert wurden, beschäftigen sich mit dem Risiko der Venenthrombose bei Männern und bei Frauen und brachten überraschende Ergebnisse über den unterschiedlichen "natürlichen Verlauf" der Krankheit bei Männern und Frauen zu Tage. Die Medizinische Universität Wien nimmt diesen rezenten Erfolg von Prof. Kyrle zum Ausgang, die langjährige erfolgreiche Forschungsarbeit im Rahmen der Initiative "MUW-Researcher of the month" auszuzeichnen und zu honorieren..
Geschlechtsspezfische Risikofaktoren der Venenthrombose bei Männern und bei Frauen – Neueste Forschungsergebnisse mit voraussichtlich entscheidenden klinischen Konsequenzen
Die Venenthrombose ist eine chronische Erkrankung. Nach Absetzen der blutverdünnenden Therapie kommt es bei ca. einem Drittel der Patienten zu einem neuerlichen Auftreten eines thromboembolischen Ereignisses. Ca. 5 % der Patienten mit einem Rezidiv versterben an einer Lungenembolie. Es ist daher von größtem Interesse, Patienten mit einem erhöhten Rezidivrisiko zu identifizieren, da diese von einer langdauernden blutverdünnenden Therapie profitieren würden.
Mit Hilfe der AUREC-Studie ist es gelungen, zahlreiche Risikofaktoren zu identifizieren. Dabei konnte aber auch gezeigt werden, dass bedeutende Risikofaktoren für eine erste Thrombose (wie z.B. die Faktor V Leiden Mutation) wenig Bedeutung für das Wiederauftreten von Thrombosen haben und Patienten mit diesen angeborenen Veränderungen keiner länger dauernden blutverdünnenden Therapie bedürfen. Die Ergebnisse der AUREC-Studie haben daher die individuelle Beratung von Patienten mit Venenthrombose im Hinblick auf die Dauer der blutverdünnenden Therapie substantiell beeinflusst.
Die neuesten Forschungsergebnisse, die im Juni im New England Journal of Medicine publiziert wurden, beschäftigen sich mit dem Risiko der Venenthrombose bei Männern und bei Frauen. Bislang war bekannt, dass Frauen während der Schwangerschaft bzw. nach der Entbindung und während der Einnahme von Hormonpräparaten zur Schwangerschaftsverhütung ein erhöhtes Thromboserisiko haben. Ob sich das "basale" Thromboserisiko zwischen Männern und Frauen unterscheidet, war bislang unbekannt. In der rezenten Publikation konnten wir zeigen, dass das Risiko für das Wiederauftreten einer Venenthrombose bei Männern viermal höher ist als bei Frauen. Eine unterschiedliche Verteilung der etablierten Risikofaktoren für die Venenthrombose zwischen Männern und Frauen lag nicht vor. Unsere Forschungsergebnisse könnten durchaus entscheidende klinische Konsequenzen bewirken.
Zum Einen sollten klinischen Studien über Venenthrombose oder Lungenembolie, vor allem jene Studien, die den Einfluss von gerinnungshemmenden Medikamenten untersucht haben, auf geschlechtsspezifische Unterschiede untersucht werden, andererseits muss das geschlechtsunterschiedliche Thromboserisiko in der Planung neuer Studien berücksichtigt werden. Darüber hinaus stellt sich die Frage, ob Frauen eine andere Form der blutverdünnenden Therapie (kürzere Therapiedauer, geringere Intensität) benötigen als Männer.
In der Studie konnte nun der unterschiedliche "natürliche Verlauf" einer Krankheit bei Männern und Frauen gezeigt werden. Die Erforschung der physiologischen Mechanismen, die dieser Beobachtung zu Grunde liegen, wird – so Prof. Kyrle – die nächste wissenschaftliche Herausforderung dieses Forschungsprogrammes sein.
Zur Person:
Prof. Dr. Paul Alexander Kyrle, geb. 1956. in Wien, ist verheiratet und hat zwei Kinder. Er studierte und promovierte in Medizin in Wien (1979) und habilitierte 1989 für Innere Medizin ebenfalls in Wien. Im Juni 1997 wurde ihm der Berufstitel außerordentlicher Professor verliehen.
Zwischen 1986 und 1997 forschte Prof. Kyrle zudem an zahlreichen ausländischen Forschungseinrichtungen: So z.B. Thrombosis Research Unit, King's College Hospital, London, Department of Pharmacology, Royal College of Surgeons of England, Lincoln's Inn Fields, London, Scripps Clinic Research Institute, La Jolla, Ca, USA, Cardiovascular Research Unit, Department of Cardiology, Mount Sinai Medical Center, New York, NY, USA .
Seit 1989 unterrichtet Prof Kyrle regelmäßig und zwar und u.a. zu den Themenkreisen Differentialdiagnose innerer Erkrankungen (Falldemonstrationen, Bed side teaching), zu ausgewählten Kapitel aus der Blutgerinnung, Diagnose und Therapie von Gerinnungsstörungen bzw. Hauptvorlesung für Innere Medizin.
1999 erschien das von ihm verfasste Lehrbuch "Gefäßkrankheiten aus Sicht des Internisten" – Ein Leitfaden für Studenten
Prof. Kyrle ist derzeit stv. Leiter der Klinischen Abteilung für Hämatologie und Hämostaseologie an der Univ.-Klinik für Innere Medizin I der Medizinischen Universität Wien und Leiter des Ludwig-Boltzmann Instituts für Thromboseforschung des Allgemeines Krankenhaus Wien.
Wissenschaftliche Preise und Anerkennungen:
1985 Auslandsstipendium des BM für Wissenschaft und Forschung
1987 Wilhelm Türk-Preis der Österreichischen Gesellschaft für Hämatologie und Onkologie
1989 Alexander Schmid-Preis der Gesellschaft für Thrombose- und Hämostaseforschung
1996 Erwin Schrödinger Auslandsstipendium des österr. Forschungsfonds
1999 Preis der Schweizerischen Gesellschaft für Innere Medizin
2001 Theodor-Billroth-Preis der Ärztekammer für Wien
Ausgewählte Publikationen:
Eichinger S, Weltermann A, Minar E, Stain M, Schönauer V, Schneider B, Kyrle PA. Symptomatic pulmonary embolism and the risk of recurrent venous thromboembolism. Arch Intern Med; in press
Eichinger S, Weltermann A, Mannhalter C, Minar E, Bialonczyk C, Hirschl M, Schönauer V, Lechner K, Kyrle PA. The risk of recurrent venous thromboembolism in heterozygous carriers of factor V Leiden and a first spontaneous venous thromboembolism. Arch Intern Med 2002; 162: 2357-2360
Kyrle PA, Minar E, Hirschl M, Bialonczyk C, Stain M, Schneider B, Weltermann A, Speiser W, Lechner K, Eichinger S. High plasma levels of factor VIII and the risk of recurrent venous thromboembolism. N Engl J Med 2000; 343: 457-462
Weltermann A, Wolzt M, Petersmann K, Graselli U, Kyrle PA: Large amounts of vascular endothelial growth factor at the site of hemostatic plug formation in vivo. Arterioscler Thromb Vasc Biol 1999; 19: 1757-1760
Eichinger S, Minar E, Hirschl M, Bialonczyk C, Stain M, Mannhalter C, Stümpflen A, Schneider B, Lechner K, Kyrle PA: The risk of early recurrent venous thromboembolism after oral anticoagulant therapy in patients with the G20210A mutation in the prothrombin gene. Thromb Haemost 1999, 81: 14-17.
Furlan M, Robles R, Galbusera M, Remuzzi G, Kyrle PA, Brenner B, Krause M, Scharrer I, Aumann V, Mittler U, Solenthaler M, Lämmle B: Von Willebrand factor-cleaving protease in thrombotic thrombocytopenic purpura and the hemolytic-uremic syndrome. N Engl J Med 1998, 339: 1578-1584
Kyrle PA, Mannhalter C, Beguin S, Stümpflen A, Hirschl M, Weltermann A, Stain M, Brenner B, Speiser W, Pabinger I, Lechner K, Eichinger S: Clinical studies and thrombin generation in patients homozygous or heterozygous for the G20210A mutation in the prothrombin gene. Arterioscler Thromb Vasc Biol 1998, 18: 1287-1291
Kontaktadresse:
Univ.-Prof. Dr. Paul Alexander Kyrle
Univ.-Klinik für Innere Medizin I,
Klinische Abteilung für Hämatologie und Hämostaseologie
Währinger Gürtel 18 – 20
1090 Wien
---