Univ.-Ass. Dr. Raphael ROSENHEK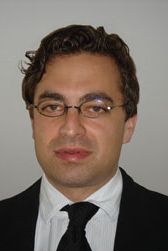 RESEARCHER OF THE MONTH, Juni 2005
Die Jury "Researcher of the Month" verleiht die Auszeichnung für diesen Monat an Herrn Univ.-Ass. Dr. Raphael Rosenhek für die Publikation von R. Rosenhek et al "Statins but not angiotensin-converting enzyme inhibitors delay progression of aortic stenosis" in Circulation [1]. Diese Arbeit zeigt sehr klar, dass Statine - im Gegensatz zu Hemmstoffen des Angiotensin-konvertierenden Enzyms (ACE) - die hämodynamische Progression der Aortenstenose, der häufigsten kardiologischen Erkrankung nach der arteriellen Hypertonie und der koronaren Herzerkrankung, signifikant herabsetzen. Die Wirkung der Statine ist vermutlich durch entzündungs-hemmende Eigenschaften bedingt.
Die Aortenstenose: dritthäufigste kardiologische Erkrankung in Europa und in den USA.
Die Aortenstenose ist die mit Abstand häufigste Herzklappenerkrankung, die derzeit in 2 bis 9% der Bevölkerung über 65 Jahren auftritt. Eine Aortenklappensklerose, die Vorstufe der kalzifizierenden Stenose ohne hämodynamische Auswirkung der Klappengewebsveränderung, ist sogar bei rund 30% der über 65-jährigen nachweisbar. Die Aortenstenose ist eine progrediente Erkrankung, in deren Verlauf die Öffnungsfläche der Aortenklappen kontinuierlich abnimmt. Nach einem längeren Latenzstadium treten als typische Symptome Atemnot als Ausdruck der Herzinsuffizienz, Angina pectoris und/oder Schwindel bzw. Synkopen bei Belastung auf. Im symptomatischen Stadium der Erkrankung ist die Prognose sehr schlecht; der Großteil der Patienten würde ohne chirurgischen Klappenersatz innerhalb weniger Jahre versterben. Mit einer Operation kann wieder eine gute Langzeitprognose erzielt werden.
Im Gegensatz zur früheren Annahme, dass die kalzifizierende Aortenstenose ein passiver Prozess im Sinne von Gewebsdegeneration durch langjährige mechanische Belastung ist, konnte in den letzten Jahren nachgewiesen werden, dass ein aktiver entzündlicher Prozess vorliegt, der Ähnlichkeiten mit der Arteriosklerose aufweist. Sowohl bei der Aortenstenose als auch bei der Arteriosklerose sind Lipidinfiltration, Entzündung, Neoangiogenese, Kalzifizierung und sogar Verknöcherung nachweisbar. Weiters konnte gezeigt werden, dass ACE in der stenotischen, nicht aber in der normalen Aortenklappe vorhanden ist. Da gezeigt wurde, dass Statine wie auch ACE-Hemmer die Progression der koronaren Herzerkrankung hemmen und die klinische Prognose dieser Patienten verbessern können, ließ sich erhoffen, dass auch die Entstehung und Progession der kalzifizierenden Aortenstenose medikamentös verhindert oder zumindest gehemmt werden könnte.
Dr. Rosenhek und Mitarbeiter untersuchten nun in einer retrospektive Studie an 211 Patienten mit Aortenstenose mit zwei zumindest 6 Monate auseinander liegenden echokardiographischen Untersuchungen den Effekt von Statinen und ACE-Hemmern auf die hämodynamische Progression der Erkrankung [1]. Fünfzig Patienten wurden mit einem Statin, 102 mit einem ACE-Hemmer und 32 mit beiden Medikamenten behandelt. Patienten mit Statintherapie waren älter und hatten höhere Cholesterinwerte und häufiger koronare Herzkrankheit als Patienten ohne Statintherapie. Die mit ACE-Hemmern behandelten Patienten hatten häufiger Hypertonie und höhere Cholesterin- und Kreatininwerte als solche ohne diese Therapie.
Während ACE-Hemmer keinen Einfluss auf die hämodynamische Progression der Aortenstenose hatten (p=0.29), zeigten Statin-behandelte Patienten eine signifikant langsamere hämodynamische Progression: die Zunahme der maximalen Flussgeschwindigkeit über die Aortenklappen dieser Patienten betrug 0.10±0.41 m/s/Jahr im Gegensatz zu 0.39±0.42 m/s/Jahr bei unbehandelten Patienten (p<0.0001). Dieser Effekt zeigte sich sowohl bei leicht- bis mittelgradiger als auch bei höhergradiger Aortenstenose. Die hämodynamische Progression der Stenose war sowohl bei den Statinbehandelten als auch bei den unbehandelten Patienten unabhängig vom Cholesterinspiegel. Diese Daten weisen darauf hin, dass die Wirkung der Statine bei der Aortenstenose durch pleiotrope bzw. antiinflammatorische Eigenschaften bedingt sein dürfte. In der multivariaten Analyse mit Einbeziehung von Alter, Geschlecht, Hypertonie, Hypercholesterinämie, Diabetes, koronarer Herzkrankheit sowie Statin- und ACE-Hemmer-Therapie zeigte sich die Statintherapie als einziger unabhängiger Faktor für Progression der Aortenstenose. Prospektive Studien zur Untersuchung des Effekts von Statinen auf die Entstehung und Progression der Aortenstenose sind nun dringend erforderlich.
Dr. Rosenhek ist Mitarbeiter der Arbeitsgruppe von ao. Univ-Prof. Dr. Helmut Baumgartner an der Klinischen Abteilung für Kardiologie (Univ-Prof. Dr. G. Maurer), die sich in den letzten 10 Jahren intensiv um den Aufbau eines Programms für erworbene Klappenfehler und angeborene Herzfehler im Erwachsenenalter bemüht hat. Im klinischen Programm werden jährlich etwa 4500 Patienten ambulant und 200 Patienten stationär behandelt sowie 100 Katheterinterventionen (vorwiegend bei angeborenen Herzfehlern) durchgeführt. Die Forschungstätigkeit umfasst klinische und experimentelle Untersuchungen zu einer Reihe von Fragen in Diagnostik, Therapie und Verlauf von angeborenen und erworbenen Herzfehlern und hat zu zahlreichen Publikationen sowie internationaler Anerkennung geführt. Kooperationen bestehen mit Arbeitsgruppen der European Society of Cardiology und International Society of Adult Congenital Heart Disease, mit Forschungsgruppen in München (Deutsches Herzzentrum) und Zürich sowie in einem speziellen Projekt zur Aortenstenose mit zwei kanadischen Gruppen (Univeristät Ottawa und Laval Universität Quebec). Die Arbeitsgruppe ist in den Nuclei der Working Groups on Valvular Heart Disease und der Working Group on Grown-up Congenital Heart Disease der European Society of Cardiology vertreten.
Persönliches
Raphael Alexander Rosenhek, Jahrgang 1975, studierte Medizin in Wien, zwei Semester als Erasmus-Stipendiat in Spanien, dissertierte in Wien über das Thema "Increased expression of fibrinolytic genes in the pulmonary circulation" und arbeitet seit vielen Jahren an der Klinischen Abteilung für Kardiologie der Universitätsklinik für Innere Medizin II (Univ-Prof. Dr. G. Maurer). Dr. Rosenhek wurde für seine kardiologischen Arbeiten mit einer Reihe von Preisen ausgezeichnet.
Rosenhek R, Rader F, Loho N, Gabriel H, Heger M, Klaar U, Schemper M, Binder T, Maurer G, Baumgartner H. Statins but not angiotensin-converting enzyme inhibitors delay progression of aortic stenosis. Circulation 2004, 110:1291-12955.
Rosenhek R, Klaar U, Schemper M, Scholten Ch, Heger M, Gabriel H, Binder Th, Maurer G, Baumgartner H. Mild and moderate aortic stenosis – natural history and risk stratification by echocardiography. Eur Heart J 2004, 25:199-205.
Rosenhek R, Korschineck I, Gharehbaghi-Schnell E, Jakowitsch J, Bonderman D, Huber K, Czerny M, Schleef RR, Maurer G, Lang IM. Fibrinolytic balance of the arterial wall: pulmonary artery displays increased fibrinolytic potential compared with aorta. Lab Invest 2003, 83:871-876.
Rosenhek R, Maurer G, Baumgartner H. Should early elective surgery be performed in patients with severe but asymptomatic aortic stenosis?
Eur Heart J 2002, 23:1417-1421.
Binder TM, Rosenhek R, Porenta G, Maurer G, Baumgartner H. Improved assessment of mitral valve stenosis by volumetric real-time three-dimensional echocardiography. J Am Coll Cardiol. 2000, 36:1355-1361.
Rosenhek R, Binder T, Porenta G, Lang I, Christ G, Schemper M, Maurer G, Baumgartner H. Predictors of outcome in severe, asymptomatic aortic stenosis N Engl J Med 2000, 343:611-617.
Kontakt:
Univ.-Ass. Dr. Raphael ROSENHEK
Universitätsklinik für Innere Medizin II
Währinger Gürtel 18-20
1090 Wien
---