Priv.Doz. Dr. Diana Bonderman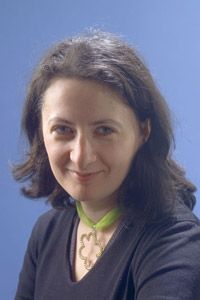 MedUni Wien RESEARCHER OF THE MONTH, Juni 2007
Die Jury "Researcher of the Month" verleiht die Auszeichnung für diesen Monat Frau Priv.Doz.Dr. Diana Bonderman aus Anlass der Publikation "Predictors of Outcome in Chronic Thromboembolic Pulmonary Hypertension" in dem Topjournal "Circulation (1)". Diese Arbeit beschreibt auf Basis der Patienten der "Ambulanz für Pulmonale Hypertension" an der Universitätsklinik für Innere Medizin II, Abteilung für Kardiologie (Vorstand: o.Univ.Prof. Dr. Gerald Maurer), die Risikofaktoren und die Problematik der chirurgischen und medikamentösen Behandlung der chronischen thrombo-embolischen pulmonalen Hypertension.
Risikofaktoren und Therapie der chronisch pulmonalen Hypertension
Die chronisch thromboembolische pulmonale Hypertension (CTEPH) ist eine häufige Ursache des Lungenhochdrucks, die durch Obstruktion vor allem größerer Pulmonalgefäße durch fibrotisch organisierte Thromben entsteht. Dies führt zu einer Erhöhung des Pulmonalgefäßwiderstandes, in der Folge zu einer Rechtsherzbelastung, jedoch erst in fortgeschrittenen Stadien kommt es zu den klinischen Zeichen der Rechtsherzdekompensation. Interessanterweise spielen die klassischen plasmatischen Risikofaktoren für venöse Thromboembolien in der Pathogenese der CTEPH keine Rolle.
Bei einer unbehandelten CTEPH ist mit einer mittleren Lebenserwartung von 4 bis 5 Jahren nach Diagnosestellung zu rechnen. Die Therapie der Wahl ist die pulmonale Endarterektomie, wodurch auch kurative Erfolge zu erzielen sind. Allerdings sind etwa 40% aller Betroffenen aus verschiedenen Gründen als inoperabel einzustufen. Die Ursachen für Inoperabilität sind Thromben in den kleinen distalen Pulmonalgefäßen, ausgeprägte sekundäre Pulmonalgefäßveränderungen, schwere Begleiterkrankungen, fortgeschrittenes Alter oder Ablehnung des Eingriffs durch den Patienten selbst. Darüber hinaus kann nach technisch erfolgreicher pulmonaler Endarterektomie eine pulmonale Hypertension, auf der Basis von sekundären Gefäßveränderungen, persistieren. Für Patienten, die keine geeigneten Operations-kandidaten sind oder von einer Operation nicht profitiert haben, sind derzeit medikamentöse Therapien in Erprobung. Durch exakte Erhebungen an 180 Patienten des Wiener CTEPH-Kollektivs ist es gelungen, Risikofaktoren für die Entwicklung einer CTEPH zu definieren, und ihnen eine prognostische Bedeutung zuzuordnen.
In der prämierten Arbeit wurden 181 Patienten über einen medianen Zeitraum von 22.1 (0.03-152) Monaten beobachtet. Dabei hatten Patienten mit Zustand nach Splenektomie, infizierten ventrikulo-atrialen Shunts zur Hydrocephalusbehandlung, permanent liegenden zentralen Sonden, chronisch entzündlichen Darmerkrankungen oder Osteomyelitis eine deutlich schlechtere Prognose als Patienten ohne Risikofaktoren, wenn als Endpunkte Tod durch Rechtsherzversagen oder die Lungentransplantation gewählt wurden (hazard ratio 3.17; CI 1.70-5.92; p=0.0003). Diese Beobachtung ist sowohl für die Gruppe der nicht operierten als auch der operierten Patienten gültig. Die 30-Tages-Mortalität nach pulmonaler Endarterektomie (24% versus 9%) und die Inzidenz der postoperativen pulmonalen Hypertension (92% versus 20%) waren in der Gruppe der CTEPH-Patienten mit einem der Risikofaktoren gegenüber der Gruppe ohne Risikofaktoren signifikant erhöht. Die Ergebnisse aus dieser Arbeit zeigen die Notwendigkeit einer sorgfältigen Selektion von Patienten, die von einer medikamentösen Therapie komplementär oder alternativ zur pulmonalen Endarterektomie profitieren.
Wissenschaftliches Umfeld
Frau Priv.Doz. Dr. Diana Bonderman ist Mitarbeiterin der Arbeitsgruppe von Frau Univ.Prof. Dr. Irene M. Lang, Professorin für Gefäßbiologie an der Universitätsklinik für Innere Medizin II, Abteilung für Kardiologie. In der "Ambulanz für Pulmonale Hypertension", welche rund 300 Patienten pro Jahr versorgt, werden die für die Forschungstätigkeit wichtigen klinischen Daten erhoben und ausgewertet. Die wissenschaftliche Tätigkeit umfasst klinische und experimentelle Untersuchungen, die sich mit der Pathogenese, dem Verlauf und der Therapie der pulmonalen Hypertension beschäftigen. Auf diesen Gebieten besteht eine enge Zusammenarbeit mit der Abteilung für Spezielle Thoraxchirurgie (Leiter: Univ.Prof. Dr. Walter Klepetko), welche auf thorax-chirurgische Eingriffe, wie pulmonale Endarterektomien und Lungentransplantationen, spezialisiert ist (1,2,3). Kooperationen bestehen auch mit Arbeitsgruppen der "European Society of Cardiology" und der "American Thoracic Society", als auch mit der "Working Group on Pulmonary Circulation" der "European Society of Cardiology".
Persönliches
Frau Diana Bonderman wurde 1971 in Kischinew, Moldawien (ehem. UdSSR) geboren und emigrierte im Alter von 8 Jahren nach Österreich. Abschluss des Medizinstudiums an der Universität Wien 1998 mit Dissertation über das Thema: ?Mechanisms Underlying Aortic Dilatation in Congenital Aortic Valve Malformation?. Anschließend absolvierte Frau Dr. Bonderman einen einjährigen Forschungsaufenthalt an der ?Division of Thrombosis Research?, Mount Sinai School of Medicine, New York, USA. Seit Februar 2000 ist Diana Bonderman an der Abteilung für Kardiologie tätig, 2006 wurde ihr die Venia docendi zuerkannt. Für ihre wissenschaftliche Tätigkeit wurde sie mit einer Reihe von Preisen ausgezeichnet (Dissertationspreis, Billroth Preis der Ärztekammer für Wien, "Young Investigator?s Award" der "American Heart Association", 2. Preis der Österreichischen Kardiologischen Gesellschaft, sowie zahlreiche Leistungs-, Förderungs- und Reisestipendien, sowie Posterpreise). Frau Dr. Bonderman ist Mitglied des Editorial Board von "Pulmonary Hypertension Reviews" und Ersatzmitglied der Gleichbehandlungskommission der MUW.
Ausgewählte Literatur
Bonderman D, Skoro-Sajer N, Jakowitsch J, Adlbrecht Ch, Dunkler D, Taghavi S, Klepetko W, Kneussl M, Lang IM. Predictors of outcome in chronic thromboembolic pulmonary hypertension. Circulation 2007; published online Apr. 9, 2007.
Bonderman D, Jakowitsch J, Adlbrecht Ch, Schemper M, Kyrle PA, Schonauer V, Exner M, Klepetko W, Kneussl MP, Maurer G, Lang IM. Medical conditions increasing the risk of chronic thromboembolic pulmonary hypertension. Thromb Haemost 2005; 93: 512-6
Bonderman D, Nowotny R, Skoro-Sajer N, Jakowitsch J, Adlbrecht Ch, Kneussl M, Klepetko W, Lang IM. Bosentan therapy for inoperable chronic thromboembolic pulmonary hypertension. Chest 2005 Oct;128(4):2599-603.
Kontakt
Priv.-Doz.Dr.Diana Bonderman
Univ.-Klinik für Innere Medizin II
Klinische Abteilung für Kardiologie
Währinger Gürtel 18-20
1090 Wien

T: +43 (0)1 40400-4614
F: +43 (0)1 40400-4216
diana.bonderman@meduniwien.ac.at
---