Ao. Univ.-Prof Dr. PETER PETZELBAUER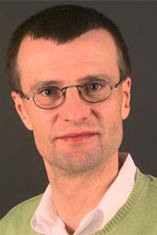 RESEARCHER OF THE MONTH, March 2005
Die Jury "Researcher of the Month" verleiht die Auszeichnung für diesen Monat an Herrn Ao. Univ.-Prof Dr. Peter Petzelbauer für die Publikation Petzelbauer P, Zacharowski P, Miyazaki Y, Friedl P, Wickenhauser G, Castellino F, Gröger M, Wolff K, Zacharowski K. "The fibrin-derived peptide Bß15-42 protects the myocardium against ischemia-reperfusion injury" in Nature Medicine [1]. Diese Arbeit zeigt im Modell einer akuten wie einer chronischen myokardialen ischämischen Reperfusionsschädigung, dass eine körpereigene Substanz – das Fibrinfragment B-beta 15-42 – die Infiltration durch Leukozyten, die Infarktgröße und die nachfolgende Narbenbildung wesentlich reduziert. Die Resultate erbringen den faszinierenden Beweis, dass die Interaktion von Fibrinfragmenten, Entzündungszellen und VE-Cadherin in der Pathogenese der kardialen Reperfusionsverletzung von entscheidender Bedeutung sind.
Fibrin, Endothelzellen und Herzinfarkt
Endothelzellen bilden die innere Auskleidung der Blutgefäße. Sie dichten durch reißverschlussartigeKontaktstrukturen den Blutstrom gegenüber dem außen liegenden Gewebe ab. Die erste Publikation aus Petzelbauers Labor zur Frage der Bildung dieses Reißverschluss entstand 1997 [2]. Seit dieser Zeit wird an der Frage gearbeitet, wie dieser Reißverschluss im Bedarfsfall auch 'aufgehen' kann, um Reparaturmechanismen und Abwehrreaktionen zu ermöglichen. Denn nur auf diese Weise können zur Abwehr von Infektionen weiße Blutkörperchen in das Gewebe einwandern. Was in diesem Fall erwünscht ist, kann in anderen Situationen aber auch Gewebsschaden verursachen. Das ist beispielsweise bei Herzinfarkt-Patienten der Fall, bei denen ein verschlossenes Herzkranzgefäß z.B. durch Ballon-Dilatation wieder geöffnet wird. Die Wiederherstellung des Blutflusses ist von Vorteil, um den Untergang von Herzmuskel zu minimieren, doch der plötzlich wieder einströmende Sauerstoff verursacht eine paradoxe Entzündungsreaktion, die den Gewinn durch die sogenannte Reperfusionsbehandlung zum Teil wieder aufhebt. Bei Herzinfarkt-Patienten führt diese Entzündungsreaktion zur Vergrößerung des Herzmuskelschadens und damit zur verstärkten Narbenbildung.
Die nun ausgezeichnete Publikation zeigt, dass das körpereigene Fibrinfragment B-beta 15-42 diese Vorgänge blockieren kann. Im Blutgefäß bilden sich unter Bedingungen der Ischämie, gefolgt von Reperfusion, die sogenannten E-Fragmente. Diese bilden eine Brücke zwischen Endothelzellen und Immunzellen und führen so zum Einwandern von weißen Blutkörperchen ins Herzgewebe. Das Peptid B-beta 15-42 konkurriert mit den E-Fragmenten um die Bindung an Endothelzellen.
Die molekulare Zielstruktur des B-beta 15-42 - Peptids an der Endothelzelle ist VE-Cadherin, das Hauptprotein des Reißverschlusses der Zell-Kontaktzone. Gibt man im Rahmen einer Behandlung hohe Dosen des Peptides B-beta 15-42, so verhindert man die Entzündungsreaktion und verkleinert den Herzinfarkt. Sowohl bei Mäusen als auch bei Ratten zeigte sich eine Verringerung der Größe des Herzinfarkts im Mittel um 50%. Diese Experimente wurden am extrakorporalen Herz (Langendorff - Modell) und in Fibrinogen-defizienten Tieren wiederholt und brachten den faszinierenden Beweis, dass die Interaktion von Fibrinfragmenten, Entzündungszellen und VE-Cadherin von entscheidender Bedeutung für die Pathogenese der kardialen Reperfusionsverletzung ist Die Wissenschafter kamen zu dem Schluss, dass das natürlich vorkommende Peptid B-beta 15-41 einen potenziellen Kandidaten für die Reperfusionsbehandlung beim Menschen darstellt.
Die Experimente wurden durch Kooperationen mit K. Zacharowski (Universitätsspital Düsseldorf) und mit F. Castellino (University of Notre Dame, USA) ermöglicht.
Persönliches
Peter Petzelbauer, Jahrgang 1957, studierte in Wien Medizin und wurde unter der Führung von Prof. K. Wolff zum Dermatologen und Dermatopathologen ausgebildet. Er erhielt 1992-1993 ein Max-Kade-Stipendium und absolvierte ein 2-jähriges Postdoctoral Fellowship bei Prof. J. Pober am Boyer Center for Molecular Medicine an der Yale University in USA. Nach seiner Rückkehr baute er ein Labor für Endothelzellbiologie an der Universitätsklinik für Dermatologie auf, welches zu mehr als 80% drittmittelfinanziert ist. Sein wissenschaftlicher Schwerpunkt sind zell- und molekularbiologische Untersuchungen zur Funktion der Blut- und Lymphgefäße. Der publikatorische Output des Labors seit 1994 wird durch >250 Impaktpunkte, zahlreiche Preisen und einige Patenten eindrucksvoll demonstriert. Grundlagenforschungen zum Thema Regulation der Gefäßneubildung werden in Tiermodellen umgesetzt, um durch Kontrolle des Gefäßwachstums Tumorwachstum und Metastasierung zu hemmen (FWF-Schwerpunkt: "Angiogenesis in disease"). Arbeiten zur Funktion der Endothelzelle in der Entstehung und Aufrechterhaltung von entzündlichen Prozessen führen zu neuen Strategien, Entzündungen zu blockieren und damit Gewebsschäden zu verhindern. In diesem Zusammenhang sind Untersuchungen zur Funktion der endothelialen Zellkontakte (FWF Projekt) ein Haupthema.
Petzelbauer P, Zacharowski P, Miyazaki Y, Friedl P, Wickenhauser G, Castellino F, Gröger M, Wolff K, Zacharowski K. The fibrin-derived peptide Bß15-42 protects the myocardium against ischemia-reperfusion injury. Nat Med March 2005 (DOI number 10.1038/nm1198)
Matsumura, T., K. Wolff, P. Petzelbauer. 1997. Endothelial cell tube formation depends on cadherin-5 and CD31 interactions with filamentous actin. J Immunol. 158:3408-3416.
Kohrgruber N, Gröger M, Meraner P, Kriehuber E, Petzelbauer P, Brandt S, Stingl G, Rot A, Maurer D. 2004. Plasmacytoid dendritic cell recruitment by immobilized CXCR3 ligands. J Immunol 173 6592-6602
Gröger M, Loewe R, Holnthoner W, Embacher R, Pillinger M, Herron GS, Wolff K and Petzelbauer P. 2004. IL-3 induces expression of lymphatic phenotypic markers Prox-1 and podoplanin in human endothelial cells. J Immunol 173:7161-9
Loewe R, Holnthoner W, Gröger M, Pillinger M, Gruber F, Mechtcheriakova D, Hofer E, Wolff K, Petzelbauer P. 2002. Dimethylfumarate inhibits TNF-induced nuclear entry of NF-B/p65 in human endothelial cells. J Immunol 168: 4781-7
Holnthoner, W., Gröger, M., Pillinger, M., Wolff, K., Ashton A.W., Albanese, C., Neumeister, P., Pestell R.G., Petzelbauer, P. 2002. Fibroblast growth factor-2 induces Lef/Tcf-dependent transcription in human endothelial cells. J Biol Chem 277:45847-45853
Loewe R, Holnthoner W, Gröger M, Pillinger M, Gruber F, Mechtcheriakova D, Hofer E, Wolff K, Petzelbauer P. 2002. Dimethylfumarate inhibits TNF-induced nuclear entry of NF-B/p65 in human endothelial cells. J Immunol 168: 4781-7
---