Ao. Univ.-Prof. Dr. Christoph Höller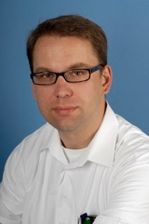 RESEARCHER OF THE MONTH, März 2010
Die Jury "Researcher of the Month" verleiht die Auszeichnung für diesen Monat Herrn Ao. Univ.-Prof. Dr. Christoph Höller aus Anlass der in dem Top-Journal Cancer Research (IF: 7.514) im Jahre 2009 veröffentlichten Arbeit "In vivo imaging of cutaneous T-cell lymphoma migration to the skin" (1). Die Arbeit, welche in Zusammenarbeit mit Kollegen am Wistar Institute in Philadelphia/USA durchgeführt wurde, zeigt erstmals direkt an einem In vivo-Modell die Signalkaskade, die es Zellen eines kutanen T-Zell-Lymphoms erlaubt, aus Blutgefäßen in die Haut einzuwandern. Hierdurch konnte ein wesentlicher Beitrag zum besseren Verständnis der Pathophysiologie dieses in der Haut auftretenden Lymphoms geleistet werden, und es konnten auch potentielle neue Angriffspunkte für therapeutische Eingriffe aufgezeigt werden.
Intravitale Beobachtung der Migration des kutanen T-Zell-Lymphoms in die Haut
Das kutane T-Zell-Lymphom (CTCL) ist durch das Auftreten eines malignen CD4-positiven T-Zell-Klons in der Haut charakterisiert. Es gehört zur Gruppe der niedrig malignen Non-Hodgkin-Lymhome und tritt vorwiegend bei älteren Patienten auf. In der klassischen Verlaufsform, der Mykosis fungoides, zeigt es typischerweise einen langsam fortschreitenden Erkrankungsverlauf, kann jedoch auch, in Form eines Sezary-Syndroms, einen deutlich schwereren Verlauf mit Auftreten maligner Zellen in der Haut und im Blut nehmen. Obwohl die Expression von Adhäsionsmolekülen und Chemokinrezeptoren an isolierten Zellen des kutanen T-Zell-Lymphoms bereits weitreichend charakterisiert wurde, war das Zusammenspiel dieser Moleküle in vivo bislang weitgehend unbekannt. Ein eingehendes Verständnis dieser Zusammenhänge ist jedoch eine wichtige Voraussetzung für die Entwicklung neuer therapeutischer Ansätze.
In der vorliegenden Arbeit konnte durch Anwendung sowohl der intravitalen Echt-Zeit-Epifluoreszenz-Mikroskopie als auch der In-vivo-2-Photonen-Mikroskopie eine direkte Beobachtung von Zellen des kutanen T-Zell-Lymphoms in Gefäßen der Unterhaut durchgeführt werden. Während die eine Methode erlaubt, eine hohe Anzahl von Zellen in einem Gefäß in einem Zeitraum bis maximal 30 Minuten zu beobachten, wird durch die 2-Photonen-Mikroskopie eine Beobachtung einzelner Tumorzellen über mehrere Stunden möglich. In den durchgeführten Beobachtungen an Zellen von Patienten mit Sezary- Syndrom konnte gezeigt werden, dass die Tumorzellen, ähnlich wie CD4-positive Memory-T- Zellen von gesunden Probanden, abhängig von P- und E-Selektin an der Gefäßwand rollen. Weiters konnte beobachtet werden, dass das Chemokin CCL17, jedoch nicht CCL27, welche beide in erhöhter Form im Plasma von CTCL Patienten vorkommen, ausreicht, um Tumorzellen aus dem Blutstrom an die Gefäßwand heranzuführen – eine wichtige Voraussetzung, damit Zellen ein Blutgefäß verlassen können. Um jedoch aus dem Gefäß in das umgebende Gewebe zu migrieren, benötigt die Zelle Signale beider Chemokine. Dies ist von besonderem Interesse, da in der Vergangenheit beide Chemokine als mögliche Regulatoren des Einwanderns von CD4-positiven Memory-T-Zellen in die Haut beschrieben wurden, jedoch kein differentieller Effekt dieser Moleküle bekannt war.
Zusammenfassend: Durch diese Arbeiten ist es gelungen, die Signalkaskade, die zum Einwandern dieser Tumorzellen in die Haut führt, in einem In-vivo-Modell zu entschlüsseln.
Wissenschaftliches Umfeld
Herr Dr. Höller begann seine wissenschaftliche Karriere als Student am Institut für Pharmakologie, wo er unter der Betreuung von Univ.-Prof. Dr. M. Freissmuth über G-Protein-gekoppelte Signaltransduktion dissertierte. 1998 wurde er Mitglied der Forschungsgruppe von Univ.-Prof. Dr. H. Pehamberger an der Universitätsklinik für Dermatologie und befasste sich mit molekular gezielten Therapieansätzen zur Behandlung des metastasierten Melanoms [4-7]. Neben einer fortlaufenden Kooperation mit Univ.-Prof. Dr. V. Sexl am Institut für Pharmakologie arbeitete Dr. Höller auch eng mit dem Team von Univ.-Prof. Dr. B. Jansen an der Universitätsklinik für klinische Pharmakologie zusammen. Eine ebenfalls andauernde Kooperation im Bereich der "targeted therapy" besteht mit Prof. M. Gleave an der University of British Columbia in Kanada [4]. Im Rahmen von Arbeiten zur Regulation der Metastasierung von Melanomzellen [5] kam es zum Kontakt mit Arbeitsgruppen am Wistar Institute in Philadelphia, welcher durch einen Auslandsaufenthalt 2006/2007 zu einer fortlaufenden Zusammenarbeit führte [1,3,9]. Momentan befasst sich Dr. Höller mit der Identifizierung ebenso wie mit der klinischen Etablierung molekularer Therapieansätze für Patienten mit malignen Erkrankungen der Haut [2].
Persönliches
Herr Dr. Höller wurde 1970 in Wien geboren. 1989 Matura mit Auszeichnung, anschließend Studium der Humanmedizin an der Medizinischen Fakultät der Universität Wien, Promotion 1997. Doktorarbeit: "Adenosine-receptor mediated proliferation in HUVECS: mitogen activated protein kinase and p70S6 kinase as intracellular effectors of the A2A adenosine-receptor"(Betreuer: Univ.-Prof. Dr. M. Freissmuth, Institut für Pharmakologie, Universität Wien).
Gleichzeitig mit seiner wissenschaftlichen Tätigkeit in der Arbeitsgruppe von Univ.-Prof. Dr. H. Pehamberger begann er 1998 seine Ausbildung zum Facharzt für Dermatologie und Venerologie an der Universitätsklinik für Dermatologie, welche er 2004 abschließen konnte. 2005 Habilitation für das Fach Dermatologie und Venerologie mit dem Thema: "Identifikation und Evaluation von molekularbiologischen Strategien zur Therapie des malignen Melanoms". Im selben Jahr erhielt er ein Stipendium der Max Kade Foundation und war 2006/2007 als Faculty-Mitglied am Wistar Institute in Philadelphia/USA bei Prof. W. Weninger und Prof. M. Herlyn tätig.
Herr Dr. Höller wurde für seine wissenschaftliche Tätigkeit bereits mit einer Vielzahl von Preisen ausgezeichnet, darunter dem Wilhelm Auerswald-Dissertations-Preis, dem Theodor Billroth-Preis der Ärztekammer für Wien und dem Novartis-Preis der Österreichischen Gesellschaft für Dermatologie. Neben einer Vielzahl von Vorträgen auf nationalen und internationalen Kongressen und regelmäßiger Tätigkeit als Gutachter für internationale Journale unterrichtet Dr. Höller Studenten der Human- und Zahnmedizin und betreut Dissertanten und PhD-Studenten. Langjährige ehrenamtliche Tätigkeit im Rettungsdienst der Johanniter- Unfallhilfe. Herr Dr. Höller ist verheiratet und Vater einer Tochter.
Hoeller C, Richardson SK, Ng LG, Valero T, Wysocka M, Rook AH, Weninger W. In vivo imaging of cutaneous T-cell lymphoma migration to the skin. Cancer Res. 2009 Apr 1;69(7):2704-8.
Schicher N, Paulitschke V, Swoboda A, Kunstfeld R, Loewe R, Pilarski P, Pehamberger H, Hoeller C. Erlotinib and bevacizumab have synergistic activity against melanoma. Clin Cancer Res. 2009 May 15;15(10):3495-502.
Ng LG, Hsu A, Mandell MA, Roediger B, Hoeller C, Mrass P, Iparraguirre A, Cavanagh LL, Triccas JA, Beverley SM, Scott P, Weninger W. Migratory dermal dendritic cells act as rapid sensors of protozoan parasites. PLoS Pathog. 2008 Nov;4(11):e1000222.
Hoeller C, Pratscher B, Thallinger C, Winter D, Fink D, Kovacic B, Sexl V, Wacheck V, Gleave ME, Pehamberger H, Jansen B. Clusterin regulates drug-resistance in melanoma cells. J Invest Dermatol. 2005 Jun;124(6):1300-7.
Hoeller C, Thallinger C, Pratscher B, Bister MD, Schicher N, Loewe R, Heere-Ress E, Roka F, Sexl V, Pehamberger H. The non receptor associated tyrosine kinase Syk is a regulator of metastatic behaviour in human melanoma cells. J Invest Dermatol. 2005 Jun; 124(6):1293-9.
Heere-Ress E, Boehm J, Thallinger C, Hoeller C, Wacheck V, Birner P, Wolff K, Pehamberger H, Jansen B. Thalidomide enhances the anti-tumor activity of standard chemotherapy in a human melanoma xenotransplatation model. J Invest Dermatol. 2005 Aug;125(2):201-6.
Hoeller C, Jansen B, Heere-Ress E, Pustelnik T, Mossbacher U, Schlagbauer-Wadl H, Wolff K, Pehamberger H. Perilesional injection of r-GM-CSF in patients with cutaneous melanoma metastases. J Invest Dermatol. 2001 Aug;117(2):371-4.
Jansen B, Wacheck V, Heere-Ress E, Schlagbauer-Wadl H, Hoeller C, Lucas T, Hoermann M, Hollenstein U, Wolff K, Pehamberger H. Chemosensitisation of malignant melanoma by BCL2 antisense therapy. Lancet. 2000 Nov 18;356(9243):1728-33.
Haass NK, Hoeller C and Herlyn M. Targeting signaling pathways – in the search of melanoma's achilles' heel. In Villares GJ, Bar-Eli M (eds.): Regulation of gene expression in the tumor environment. Springer Science+Business Media B.V., 2008.
Kontakt
Ao.Univ. Prof. Dr. Christoph Höller
Univ.-Klinik für Dermatologie
Abteilung für Allgemeine Dermatologie
Währinger Gürtel 18-20
1090 Wien
---