DDr.in Ulrike Kuchler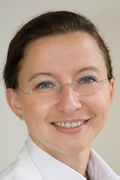 MedUni Wien RESEARCHER OF THE MONTH, März 2012
Die Jury "Researcher of the Month" verleiht die Auszeichnung für diesen Monat Frau DDr.in Ulrike Kuchler aus Anlass der 2011 in dem Top-Journal "Journal of Dental Research" (IF 3.8) erschienenen Publikation "Short-term teriparatide delivery and osseointegration: A clinical feasibility study" [1]. Frau DDr.in Kuchler arbeitet an der Bernhard Gottlieb Universitätszahnklinik, Abteilung für Orale Chirurgie (Leiter: o.Univ.Prof. DDr. G. Watzek) der MedUni Wien und absolviert derzeit einen Forschungsaufenthalt an den Zahnmedizinischen Kliniken der Universität Bern. In der ausgezeichneten Publikation wird weltweit erstmals die Einheilung von Titanimplantaten in den Kieferknochen unter systemischer anaboler Therapie mit Teriparatid (rh1-34 PTH) beschrieben. Die histomorphometrische Analyse der knöchernen Einheilung von Minischrauben, die zusätzlich zu den zahnärztlichen Implantaten gesetzt wurden, bildete den Kern der Arbeit. Die klinische Studie wurde von der Osteology Foundation (Projektleiterin: DDr.in U. Kuchler) unterstützt. Frau DDr.in Kuchler gewann 2010 beim Jahreskongress der European Association of Osseointegration" (www.eao.org) den ersten Preis in der "Basic Research Competition" für eine präklinische Arbeit, in der gezeigt werden konnte, dass unter diabetischen Bedingungen die anabole Wirkung von 1-34 PTH auf die Osseointegration unterbleibt [2].
Teriparatid beschleunigt die Osseointegration von Titaniumimplantaten
Die demographische Entwicklung und die damit verbundene steigende Lebenserwartung gehen mit altersassoziierten Ereignissen wie dem Zahnverlust einher. Die orale Rehabilitation mit dentalen Implantaten ist heute Standard auf dem Gebiet der oralen Chirurgie. Die Einheilung der Implantate, genannt "Osseointegration", hängt von verschiedenen Faktoren ab. Grundvoraussetzungen sind eine ausreichende Menge und Struktur des Alveolarknochens, um eine mechanisch stabile Verankerung der Implantate zu erreichen. Ein weiterer wichtiger Faktor ist die regenerative Kapazität des Alveolarknochens, um eine rasche Einheilung der Implantate zu gewährleisten. Ein wissenschaftliches Hauptaugenmerk in der dentalen Implantologie gilt demnach den lokalen und systemischen Einflussfaktoren der Knochenregeneration. Ziel ist es, eine rasche Einheilung und eine frühe funktionelle Belastung dentaler Implantate zu erreichen. Daher gelangt die therapeutische Förderung der knöchernen Regeneration zunehmend in den Fokus des wissenschaftlichen Interesses.
"Teriparatid" ist derzeit die einzige osteoanabole Substanz, die in der Osteoporosetherapie klinisch angewandt wird. In der von DDr.in Kuchler publizierten Studie wurden bei 24 Patienten jeweils 4 dentale Implantate und 2 Minischrauben, die als Studienimplantate dienten, gesetzt. Nach der Implantation verabreichten sich 12 Patienten täglich per Injektionen während 4 Wochen Teriparatid, 12 Patienten blieben unbehandelt. Nach 9 Wochen wurden die beiden Minischrauben entfernt und histologisch untersucht. Die dentalen Implantate wurden prothetisch versorgt. Die histologische Auswertung der Miniimplantate zeigte eine tendenzielle Steigerung der Menge des neugebildeten periimplantären Knochens und der Knochen-Implantat-Kontakte in der Behandlungsgruppe. Diese Erkenntnisse bilden die Basis für das Design weiterführender klinischer Studien mit dem Ziel, die Osseointegration dentaler Implantate zu fördern [1].
Wissenschaftliches Umfeld
Frau DDr.in Ulrike Kuchler ist seit 2007 an der Abteilung für Orale Chirurgie an der Bernhard Gottlieb Universitätszahnklinik klinisch und wissenschaftlich tätig. Sie ist in Wien Mitarbeiterin der "Bone Research Group" (Leiter: Univ.Doz. DI Dr. R. Gruber), deren Forschungsspektrum von zellbiologischen Experimenten über präklinische bis hin zur klinischen Forschung reicht. Ihre Forschungsschwerpunkte liegen in der Förderung der Einheilung von Implantaten unter kompromittierten Bedingungen [2,3,5] und in der Erweiterung der Aussagekraft radiologischer Verfahren in der Zahnheilkunde [4]. Frau DDr.in Kuchler leitet mehrere präklinische und klinische Forschungsprojekte, die vom Jubiläumsfonds der Österreichischen Nationalbank, dem Medizinisch-Wissenschaftlichen Fonds des Bürgermeisters der Bundeshauptstadt Wien und der Osteology Foundation unterstützt werden.
Die histologische Aufarbeitung und Analyse der Implantate wurde unter Anleitung von Mag. S. Tangl durchgeführt. Bezüglich der klinischen und experimentellen Studien bestehen Kooperationen innerhalb der MedUni Wien mit der Abteilung für Biomedizinische Forschung (Univ.Prof. Dr. U. Losert; Univ.Prof. Dr. H. Bergmeister), der Universitätsklinik für Blutgruppenserologie und Transfusionsmedizin (Univ.Prof. Dr. M.B. Fischer), und dem Ludwig Boltzmann Institut für klinische und experimentelle Traumatologie (Univ.Prof. Dr. H. Redl). Internationale Kooperationen der Arbeitsgruppe bestehen mit folgenden Institutionen: School of Dentistry, University of Michigan, Ann Arbor; Harvard School of Dental Medicine, Boston; College of Oral Medicine, Chung Shan Medical University, Taiwan; Peking Union Medical College; Aracatuba Dental School, Brasilien; School of Veterinary of Lugo, University of Santiago de Compostella, Spanien.
Persönliches
Frau DDr.in Ulrike Kuchler (geb. 1978 in Bad Ischl) beendete das Zahnmedizin-Studium 2006 und das Studium der Humanmedizin 2007. Seit 2007 arbeitet sie an der Abteilung für Orale Chirurgie der MedUni Wien als Universitätsassistentin im klinischen und wissenschaftlichen Bereich und engagiert sich in der Lehre. Sie absolvierte klinische und wissenschaftliche Fortbildungen, unter anderem das Curriculum für Nachwuchswissenschaftlerinnen (2008/2009), und sie nahm an der Sommerakademie Kiel (2009) und dem Summercamp des Junior Commitees der European Association for Osseointegration (2010) teil. In den letzten Jahren präsentierte Frau DDr.in Ulrike Kuchler ihre Forschungsergebnisse auf nationalen und internationalen Kongressen. Ein Auslandsstipendium der Stiftung des "Internationalen Teams für Implantologie" (ITI; www.iti.org) ermöglicht es Frau DDr.in Kuchler, für ein Jahr ihre klinisch-wissenschaftlichen Arbeiten auf dem Gebiet der Oralchirurgie und Implantologie an den zahnmedizinischen Kliniken der Universität Bern zu vertiefen.
Kuchler U, Luvizuto ER, Tangl S, Watzek G, Gruber R. Short-term teriparatide delivery and osseointegration: a clinical feasibility study. Journal of Dental Research. 2011; Aug;90(8):1001-6.
Kuchler U, Spilka T, Baron K, Tangl S, Watzek G, Gruber R. Intermittent parathyroid hormone fails to stimulate osseointegration in diabetic rats. Clinical Oral Implants Research. 2011; May;22(5):518-23.
Glösel B, Kuchler U, Watzek G, Gruber R. Review of dental implant rat research models simulating osteoporosis or diabetes. International Journal of Oral and Maxillofacial Implants. 2010; May-Jun;25(3):516-24.
Gahleitner A, Kuchler U, Homolka P, Heschl J, Watzek G, Imhof H. High-resolution CT of transplanted teeth: imaging technique and measurement accuracy. European Radioliology. 2008 Dec;18(12):2975-80.
Gruber R, Tangl S, Kuchler U. Compromised bone healing: Implantation model. In: Giannobile W, Nevins M, Editors. Osteology Guidelines for Oral & Maxillofacial Regenerations - Preclinical Models for Translational Research. Quintessence Publishing; 225-44
Kontakt
Univ. Ass. DDr.in Ulrike Kuchler
Abteilung für Orale Chirurgie
Bernhard-Gottlieb Universitätszahnklinik
Medizinische Universität Wien
Sensengasse 2a
1090 Wien
---