All News
Mag.a Karin Pfisterer, PhD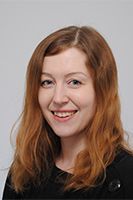 MedUni Wien RESEARCHER OF THE MONTH, März 2015
Die Jury "Researcher of the Month" verleiht die Auszeichnung für diesen Monat Frau Mag.a Karin Pfisterer aus Anlass der im Top-Journal "Journal of Investigative Dermatology" (IF 6.372) erschienenen Arbeit "CD90+ Human Dermal Stromal Cells are Potent Inducers of FoxP3+ Regulatory T Cells." [1]. Die Arbeit wurde an der Medizinischen Universität Wien in der Arbeitsgruppe von Frau Prof.in Dr.in A. Elbe-Bürger, Klinische Abteilung für Immundermatologie und Infektiöse Hautkrankheiten (Leitung: o.Univ.-Prof. Dr. G. Stingl) in Zusammenarbeit mit dem Institut für Gefäßbiologie und Thromboseforschung, Zentrum für Physiologie und Pharmakologie, durchgeführt. Das humane Immunsystem muss täglich die Balance zwischen der Bekämpfung von externen Mikroorganismen und der Toleranz gegenüber eigenen Zellen halten. Die Haut stellt mit einer sehr großen Oberfläche eine der ersten und wichtigsten Barrieren gegen pathogene Eindringlinge dar.
Immunologische Regulation des adaptiven Immunsystems im größten Schutzwall des Menschen - der Haut
Gesunde Haut beinhaltet mehr als 2x1010 T-Zellen [4], wichtige Effektorzellen des adaptiven, erworbenen Immunsystems. Die humane Dermis ist vorzugsweise mit CD4+ T-Zellen besiedelt, welche hauptsächlich regulierende Eigenschaften aufweisen. Über die Ausschüttung diverser inflammatorischer und antiinflammatorischer Zytokine durch CD4+ T-Zellen können die Zellen des Immunsystems aktiviert bzw. zurück zum Grundzustand gebracht werden. Um das Gleichgewicht zwischen einem aktiven und einem inaktiven Immunsystem zu gewährleisten, ist eine exakte Kontrolle der zellulären Zusammensetzung im Gewebe als auch der einzelnen Moleküle in T-Zellen essentiell.
In einer aktuellen Studie konnte K. Pfisterer zeigen, dass die Haut, im speziellen die Dermis, fibroblastoide Zellen beinhaltet, welche aus naiven, nicht differenzierten CD4+ T-Zellen immunsuppressive FoxP3+ regulatorische T-Zellen generieren können. Regulatorische T-Zellen hemmen unkontrollierte Aktivitäten von Effektorzellen. Ist das Gleichgewicht zwischen inflammatorischen und antiinfammatorischen T-Zellen in der Haut gestört, wie dies z.B. bei Genodermatosen der Fall ist, sind häufig chronische Entzündungsherde der Haut die Folge. K. Pfisterer konnte auch zeigen, dass CD90+ dermale Zellen hauptsächlich für die Generierung dieser regulatorischen T-Zellen verantwortlich sind. Die de novo Expression von FoxP3 erfolgt interessanterweise nach Stimulierung des T-Zell-Rezeptors aber unabhängig von kostimulatorischen Signalen. Dadurch könnte der identifizierte Mechanismus die Erhaltung des Gleichgewichts in ruhender menschlicher Haut erklären. Des Weiteren konnte K. Pfisterer in der Studie zeigen, dass diese dermalen Zellen eine perivaskuläre Nische besiedeln und einen wichtigen Beitrag zur Erhaltung deren zellulären Integrität leisten, indem sie zu Gefäßzellen differenzieren können.
Wissenschaftliches Umfeld
Frau Mag.a Karin Pfisterer ist an der Medizinischen Universität seit 2008 als wissenschaftliche Mitarbeiterin tätig. Ihre Diplomarbeit, welche die Interaktion von T-Zellen mit Stromazellen aus der Dermis beinhaltete [3], absolvierte sie unter der Betreuung von Prof.in Dr.in A. Elbe-Bürger. Dieses Projekt wurde in Zusammenarbeit mit Prof. E. Hofer aus dem Institut für Gefäßbiologie und Thromboseforschung, Zentrum für Physiologie und Pharmakologie der Medizinischen Universität Wien erarbeitet.
Seit 2011 untersucht Frau Pfisterer molekulare Mechanismen der T-Zellantwort an der Abteilung für Molekulare Immunologie, Institut für Hygiene und Angewandte Immunologie, Zentrum für Pathophysiologie, Infektiologie und Immunologie (http://www.meduniwien.ac.at/hp/hai), (Leitung: Univ.-Prof. Dr. H. Stockinger). Die kürzlich publizierte Arbeit [2] wurde gemeinsam mit führenden internationalen Kollaborationspartnern fertiggestellt: Prof. O. Acuto, Sir William Dunn School of Pathololgy, University of Oxford, Großbritannien, dem Max-Planck Institute für Biochemie (Martinsried, Deutschland) und dem Institut für Molekulare Biologie in Bratislava.
Die gute Zusammenarbeit zwischen der Abteilung für Molekulare Immunologie und der klinischen Abteilung für Immundermatologie und infektiöse Hautkrankheiten führten nun zu einem in Kooperation erarbeiteten Projekt zwischen Dr. Hannes Stockinger und Dr.in Adelheid Elbe-Bürger, in welchem spezielle T-Zellen in der humanen Haut identifiziert und funktionell untersucht werden sollen. Dadurch soll die Bedeutung von T-Zellen und spezifischen T-Zellarten, welche eine beachtliche Rolle in multiplen entzündlichen Hauterkrankungen spielen, näher untersucht werden.
Zur Person
Frau Mag.a Karin Pfisterer wurde 1980 in Grieskirchen, Oberösterreich, geboren. 2010 schloss sie das Studium Genetik/Mikrobiologie an der Universität Wien mit ihrer in der Abteilung für Immundermatologie bei Frau Prof.in Dr.in A. Elbe-Bürger erarbeiteten Diplomarbeit (Titel: Human Dermal Mesenchymal Stem Cell Subsets Induce FoxP3 in Naive T cells) mit Auszeichnung ab. Frau Mag.a Karin Pfisterer wurde 2012 für ihre Diplomarbeit mit dem INiTS Award für Life Science und dem Woman Award ausgezeichnet. Weiters erhielt Frau Pfisterer drei Fellowships von nationalen und internationalen immunologischen Gesellschaften und mehrere Auszeichnungen für Präsentationen auf internationalen Kongressen. Seit 2011 ist Frau Pfisterer in der Abteilung für Molekulare Immunologie tätig und untersuchte im Rahmen ihrer Dissertation die Rolle von CD222 in T-Zellen (Betreuer: Dr. V. Leksa, Laboratory of Molecular Immunology, Institute of Molecular Biology, Slovak Academy of Sciences, Bratislava, Slovak Republic). Im Dezember 2014 promovierte Frau Mag.a Karin Pfisterer in Immunologie an der Medizinischen Universität mit ausgezeichnetem Erfolg. Frau Mag.a Karin Pfisterer ist stolze Mutter von zwei Söhnen.
Pfisterer K, Lipnik KM, Hofer E, Elbe-Bürger A: CD90+ Human Dermal Stromal Cells are Potent Inducers of FoxP3+ Regulatory T Cells. J Invest Dermatol, advance online publication, 21 August 2014; doi:10.1038/jid.2014.309 (in press).
Pfisterer K, Forster F, Paster W, Supper V, Ohradanova-Repic A, Eckerstorfer P, Zwirzitz A, Donner C, Boulegue C, Schiller HB, Ondrovicova G, Acuto O, Stockinger H, Leksa V: The Late Endosomal Transporter CD222 Directs the Spatial Distribution and Activity of Lck. J Immunol, published online 15 August 2014, doi:10.4049/jimmunol.1303349 (in press).
Vaculik C, Schuster C, Bauer W, Iram N, Pfisterer K, Kramer G, Reinisch A, Strunk D, Elbe-Burger A (2012) Human dermis harbors distinct mesenchymal stromal cell subsets. The Journal of investigative dermatology 132: 563-574.
Clark RA (2010) Skin-resident T cells: the ups and downs of on site immunity. J Invest Dermatol 130: 362-370
Kontakt
Mag.a Karin Pfisterer, PhD.
Institut für Hygiene und Angewandte Immunologie
Zentrum für Pathophysiologie, Infektiologie & Immunologie
Medizinische Universität Wien
1090 Wien, Lazarettgasse 19

Tel.: +43 (0)1-40160-33008
E-Mail: karin.pfisterer@meduniwien.ac.at
---