Ao. Univ.- Prof. Dr. ERIKA JENSEN JAROLIM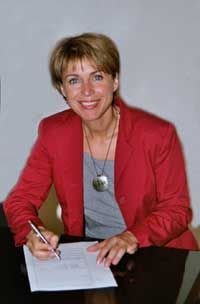 RESEARCHER OF THE MONTH, Mai 2005
Die Jury "Researcher of the Month" verleiht die Auszeichnung für diesen Monat an Frau Ao. Univ.- Prof. Dr. Erika Jensen-Jarolim anlässlich der Zuerkennung des renommierten ECARF (European Centre for Allergy Research Foundation) - Preises (www.ecarf.org) im März 2005. Der Preis wurde ihr für Arbeiten über Nahrungsmittelallergien verliehen, Arbeiten, die Frau. Prof. Jensen-Jarolim initiierte und leitete und die jüngst in hochangesehenen Journalen erschienen sind [1, 2]. In diesen Arbeiten konnte Frau Jensen-Jarolim mit ihrem Team einen völlig neuen Entstehungsmechanismus dieser unter Umständen lebensgefährlichen allergischen Reaktionen aufklären und erstmals den Magen als wichtiges immunologisches Kontrollorgan gegen Sensibilisierungen mit Nahrungsmitteln charakterisieren, dessen "Gate-Keeping"- Funktion durch Magensäure-neutralisierende Medikamente beeinträchtigt wird. Da etwa 10% der adulten Bevölkerung solche Medikamente zu sich nehmen, haben Jensen-Jarolims Ergebnisse seit den ersten Berichten auf dem World Allergy Organization Congress in Vancouver (2003) hohes Interesse erlangt und wurden auch in zahlreichen Medienberichten gewürdigt.
Ein neuer Entstehungsmechanismus von Nahrungsmittelallergien
Frau Prof. Jensen-Jarolim und ihr Team beschäftigen sich seit 20 Jahren mit der Erforschung der pathophysiologischen Mechanismen sowie der immun-therapeutischen Behandlung von IgE-vermittelter Überempfindlichkeit. Allergien sind in stetiger Zunahme begriffen. Von besonderer Bedeutung sind die Nahrungs-mittelallergien, da sie schwere klinische Reaktionen bis zur Anaphylaxie hervorrufen können. Als sensibilisierend wurden bisher jene Proteine eingestuft, welche die gastrointestinale Verdauung intakt überstehen. Jensen-Jarolim konnte u.a. zeigen, dass ein Epitop nur dann anaphylaktogene Antikörper induzieren kann, wenn es in stabilisierter Form, als Mimotop, den gastrointestinalen Transit übersteht. Im Gegensatz dazu werden peptisch degradierbare Proteine nach den geltenden Richtlinien der EU und FDA zur Sicherheitsevaluierung von Nahrungsmitteln als nicht kritisch eingestuft. Die logische Hypothese für die folgenden Studien war, dass unter hypoaziden Bedingungen Pepsine nicht aktiviert und auch prinzipiell "ungefährliche" Proteine unter diesen Bedingungen zu potenten Sensibilisatoren werden können. Nach experimentellen Versuchen gelang tatsächlich der Nachweis, dass auch beim Menschen das Sensibilisierungsrisiko für Nahrungsproteine signifikant mit Hypoazidität korreliert: 153 Patienten mit Erkrankungen des Magens wiesen während einer dreimonatigen säuresupprimierenden Therapie eine signifikante, in 15% de novo Bildung von IgE gegen Komponenten der täglichen Nahrung auf. Interessanterweise lag in diesen epidemiologischen Studien der Altersdurchschnitt der Patienten bei 65 Jahren, was bedeutet, dass Neusensibilisierungen und IgE-Induktion über die orale Route auch noch in einem Stadium der Immunseneszenz auftreten können. Damit werden neue Patientengruppen für die allergologische Diagnostik interessant, nämlich Patienten mit chronischer gastrischer Hypoazidität sowie auch ältere Personen. Der neuentdeckte Mechanismus der Sensibilisierung wurde bereits in das Wörterbuch für Allergologie und Immunologie, Springer Verlag 2004, aufgenommen.
Andere Forschungsgebiete von Prof. Jensen-Jarolim und ihrem Team sind vor allem Mimotope, Epitop-imitierende Peptide, die zur hochspezifischen Vakzinierung im Rahmen der Allergie- und auch Tumortherapie eingesetzt werden. Mimotope erlauben es, passive Immuntherapien durch aktive Immunisierungen zu ersetzen und bauen auf die Induktion kontinuierlich verfügbarer Selbst-Antikörper im Patienten. Auf diesem Gebiet wurden mehrere Patente angemeldet; entsprechende klinische Studien sind in Vorbereitung. Ein besonderes Anliegen der Forscherin ist, als Mitglied der ARGE BioNanoNet, die Entwicklung patientenfreundlicher Impfstoffe mittels Nanotechnologie.
Persönliches
Erika Jensen-Jarolim wurde 1960 in Wien geboren, studierte an der Medizinischen Fakultät der Universität Wien und promovierte 1985. Nach einem dreijährigen Auslandsaufenthalt erfolgten 1999 ihre Habilitation und Verleihung des Titels eines Außerordentlichen Universitätsprofessors, sowie Gründung der Arbeitsgruppe für "humorale Immunbiologie". Seit 2000 ist sie Fachärztin für Immunologie und Pathophysiologie. Sie ist Trägerin zahlreicher Preise, darunter Clemens von Pirquet Prize 2000, Forschungspreise der Österreichischen Morbus Crohn und Colitis ulcerosa Vereinigung (ÖMCCV) 2001 und 1998, Habilitationspreis des Vereins zur Förderung von Wissenschaft und Forschung an den neuen Universitätskliniken des Wiener Allgemeinen Krankenhauses (VFWF), Aventis (Hoechst) Forschungspreis sowie der Forschungspreis der Dänischen Allergie- Stiftung 1989. Auch Arbeiten ihres Teams wurden bereits durch zahlreiche internationale Preise anerkannt. Professor Jensen-Jarolim ist als Managing Editor der International Archives of Allergy and Immunology sowie im Editorial Board bzw. als Reviewer zahlreicher Zeitschriften tätig. Darüber hinaus ist sie eine besondere Mentorin von Frauen in der Forschung im Sinne von Gender Mainstreaming und eine ausgezeichnet evaluierte Vortragende und Prüferin im Medizinstudium.
Schoell I, Untersmayr E, Bakos N, Roth-Walter F, Gleiss A, Boltz-Nitulescu G, Scheiner O, Jensen-Jarolim E. (2005): Antiulcer drugs promote oral sensitization and hypersensitivity to hazelnut allergens in BALB/c mice and humans. – Am J Clin Nutr. 81: 154-60.
Untersmayr E, Bakos N, Schöll I, Kundi M, Roth-Walter F, Szalai K, Riemer AB, Ankersmit HJ, Scheiner O, Boltz-Nitulescu G, Jensen-Jarolim E. (2005): Anti-ulcer drugs promote IgE formation towards dietary antigens in adult patients. – FASEB J. 25; [Epub ahead of print].
Untersmayr E, Poulsen LK, Platzer MH, Pedersen MH, Boltz-Nitulescu G, Skov PS, Jensen-Jarolim E. (2005): The effects of gastric digestion on codfish allergenicity. – J Allergy Clin Immun 115: 377-382.
Roth-Walter F, Schöll I, Untersmayr E, Fuchs R, Boltz-Nitulescu G, Weissenböck A, Scheiner O, Gabor F, Jensen-Jarolim E. (2004): M-cell targeting with Aleuria aurantia lectin as a novel approach for oral allergen immunotherapy. – J. Allergy Clin Immun, 114: 1362-1368.
Hantusch B, Krieger S, Untersmayr E, Schöll I, Flicker S, Spitzauer S, Valenta R, Boltz-Nitulescu G, Scheiner O, Jensen-Jarolim E. (2004): Mapping of a conformational IgE epitope on Phl p 5ausing mimotopes from a phage display library. – J Allergy Clin Immun 114: 1294-1300.
Riemer AB, Klinger M, Wagner S, Bernhaus A, Mazzucchelli L, Pehamberger H, Scheiner O, Zielinski CC, Jensen-Jarolim E. (2004): Generation of peptide mimics of the epitope recognized by trastuzumab on the oncogenic protein Her-2/neu. – J. Immunol.173: 394-401.
Untersmayr E, Schöll I, Swoboda I, Beil WJ, Förster-Waldl E, Walter F, Riemer A, Kraml G, Spitzauer S, Kinaciyan T, Boltz-Nitulescu G, Scheiner O, Jensen-Jarolim E. (2003): Antacid medication inhibits digestion of dietary proteins and causes food allergy: An fish allergy model in Balb/c mice. – J Allergy Clin Immun, 112: 616-623.
Ganglberger E, Sponer B, Schöll I, Wiedermann U, Baumann S, Suter M, Boltz G, Scheiner O, Jensen-Jarolim E. (2001): Monovalent fusion proteins of IgE mimotopes are safe for therapy of type I allergy. – FASEB J 15; 254-256. 10.1096/fj.00-0888fje.
Ganglberger E, Grünberger K, Sponer B, Radauer C, Breiteneder H, Boltz-Nitulescu G, Scheiner O, Jensen-Jarolim E. (2000): Allergen mimotopes for three dimensional epitope search and induction of antibodies inhibiting human IgE. – FASEB J. 14: 2177-2184.
Jensen-Jarolim E, Wiedermann U, Ganglberger E, Zürcher A, Stadler BM, Boltz-Nitulescu G, Scheiner O, Breiteneder H. (1999): Allergen mimotopes in food enhance type I allergic reactions in mice. – FASEB J 13: 1586-1592.
Kontakt:
Ao.Univ.Prof.Dr.Erika Jensen-Jarolim
Zentrum für Physiologie und Pathophysiologie
Mediz. Universität Wien
Währinger Gürtel 18-20
1090 Wien
---