Dr. Benedikt Simon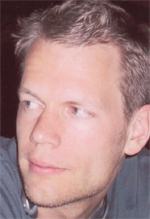 MedUni Wien RESEARCHER OF THE MONTH, Mai 2011
Die Jury "Researcher of the Month" verleiht die Auszeichnung für diesen Monat Herrn Dr. Benedikt Simon aus Anlass der im August 2010 in dem Top-Journal "AIDS" (IF 4.909) erschienenen Publikation "HIV coreceptor tropism in antiretroviral treatment-naive patients newly diagnosed at a late stage of HIV infection" [1]. In der prämierten Arbeit wurde bei einem Kollektiv von spätdiagnostizierten HIV-Patienten der Tropismus der HI-Viren mittels einer genotypischen Nachweismethode und eines neuen bioinformatischen Interpretationsmodells festgestellt und gezeigt, dass auch bei diesen Patienten eine gezielte Therapie mit Korezeptorhemmern sinnvoll sein kann. Diese Publikation entstand im Department für Virologie (MedUni Wien) unter der Leitung von Frau Prof. Dr. E. Puchhammer-Stöckl, in Zusammenarbeit mit den klinischen HIV-Zentren an der Medizinischen Universität Wien (Prof.Dr.Rieger, Dr Pfistershammer), an der Medizinischen Universität Innsbruck (Prof.Dr.Sarcletti) und am Otto-Wagner-Spital, Wien (OA Dr.Brigitte Schmied).
Genotypischer Nachweis des HIV-Tropismus mittels neuartiger bioinformatischer Analyse bei Patienten in fortgeschrittenem Krankheitsstadium
Humane Immundefizienz (HI)-Viren weisen einen spezifischen Tropismus zu einem oder beiden von zwei Chemokinrezeptoren im menschlichen Körper auf, den diese Krankheitserreger als Korezeptor für den Eintritt in eine Wirtszelle zusätzlich zum CD4- Rezeptor benötigen. Diese Chemokinrezeptoren werden als CCR5 und CXCR4 bezeichnet. HI-Viren, die einen Tropismus für CCR5 aufweisen, werden als "R5-trop" oder "R5-Viren", jene, die CXCR4 als Korezeptor verwenden, als "X4-trop" oder "X4-Viren" bezeichnet. Außerdem gibt es "dualtrope" (R5/X4) Virusstämme, die beide Rezeptoren verwenden können [2]. Zu Beginn der Infektion ist die überwältigende Mehrheit der Virusstämme R5-trop, aber mit Fortschreiten der Erkrankung kann man bei Patienten oft eine Zunahme der X4- tropen Virusstämme nachweisen. Für die Praxis relevant ist die Tatsache, dass X4-Viren mit deutlich schnellerem CD4-T-Zell-Verlust und damit rascherer Krankheitsprogredienz assoziiert sind. Außerdem gibt es seit einiger Zeit antiretrovirale Medikamente, sogenannte Korezeptorhemmer, die sich an den CCR5-Rezeptor binden und ausschließlich bei nachgewiesenem R5-Tropismus der infizierenden Virusstämme verabreicht werden dürfen [3].
Der unterschiedliche Korezeptor-Tropismus wird vor allem durch die Aminosäuresequenz eines Proteinabschnittes des Virus festgelegt, der Teil des Glykoproteins (gp) 120, eines Oberflächenproteins des HI-Virus, ist und als "V3 loop" (variable loop 3) bezeichnet wird. Kennt man die Sequenz dieses Teils von HIV, kann man unter Verwendung spezieller bioinformatischen Analysesysteme den Tropismus mit hoher Wahrscheinlichkeit vorhersagen.
In der vorliegenden Arbeit wurde der Tropismus bei einem Kollektiv aus spätdiagnostizierten HIV-Patienten, die bei ihrer Erstdiagnose bereits eine CD4-T-Zellzahl unter 200 Zellen/µl aufwiesen, ermittelt. Spätdiagnostizierte Patienten zu therapieren, stellt oft eine Herausforderung dar, da sie eine höhere Rate von Resistenzmutationen, Komplikationen während der Behandlung, Hospitalisierungen und Sterblichkeit im Vergleich zu anderen Patienten aufweisen. Außerdem wurde vermutet, dass diese Patienten mit höherer Wahrscheinlichkeit bereits CXCR4-trope Virusstämme aufweisen und daher eine Behandlung mit einem CCR5-Korezeptorhemmer weniger häufig indiziert ist.
Die Aminosäuresequenz von gp120 wurde aus Serumproben dieser Patienten ermittelt und der Tropismus des Virus wurde anhand einer neuartigen bioinformatischen Analysemethode, genannt geno2pheno [coreceptor] [4], bestimmt. Dieses System benutzt bioinformatische Berechnungen, sogenannte Support Vector Machines, um vor allem anhand der viralen Gensequenz, den Tropismus der vorhandenen Viruspopulation vorauszusagen. Die Ergebnisse der Tropismus-Bestimmung wurden mit in der Studie mit klinischen Daten korreliert. Dabei wurde festgestellt, dass ein deutlich größerer Teil der spätdiagnostizierten Patienten als früher angenommen mit R5-Viren infiziert ist und somit für eine Therapie mit Korezeptorhemmern in Frage kommt.
Wissenschaftliches Umfeld
Die nominierte Arbeit entstand in der Arbeitsgruppe von Frau Univ.-Prof.in Dr.in Elisabeth Puchhammer-Stöckl am Department für Virologie der Medizinischen Universität Wien (Leiter der Organisationseinheit: Prof. Dr. F. X. Heinz). In Österreich bestehen langjährige Kooperationen des Departments mit den meisten HIV-Behandlungszentren im Hinblick auf Diagnostik und Forschung. Das Department - und speziell die Arbeitsgruppe von Frau Prof. Puchhammer-Stöckl - ist auch Teil eines internationalen Netzwerks, das zur europaweiten Kontrolle der HIV-Resistenzentwicklung beitragen soll, [5,6] internationale Richtlinien für Resistenztestungen und Tropismus-Bestimmungen ausarbeitet [7], und auch zur internationalen Qualitätskontrolle von Resistenzbestimmungen beiträgt. Darüber hinaus bestehen enge Kooperationen mit Dr. R. Kaiser vom Institut für Virologie der Universitätsklinik Köln, vor allem im Bereich der bioinformatischen Auswertung von HIV - und HBV - Sequenzinformationen.
Lebenslauf
Dr. Simon wurde am 10. Mai 1979 in Wien geboren. Er maturierte 1997 am BG/BRG Perchtoldsdorf und studierte Medizin in Wien
(Promotion: 2008). Seine Dissertation "Etablierung einer Methode zum quantitativen Nachweis von Genotypen des Glykoprotein H des Humanen Cytomegalovirus in klinischen Proben" entstand am Department für Virologie der medizinischen Universität Wien (Betreuerin: Frau Univ.-Prof.in Dr.in E. Puchhammer-Stöckl), an dem er seine Facharztausbildung absolviert. Schwerpunkte seiner Forschungsarbeit sind derzeit Resistenzanalysen und Genotypisierungen bei HIV und Hepatitis B - Viren sowie Projekte zum Thema Herpesvirusinfektionen und Transplantation. 2011 wurde Dr. Simon als Council Member des Resistenznetzwerks ESAR nominiert.
Simon B, Grabmeier-Pfistershammer K, Rieger A, Sarcletti M, Schmied B, Puchhammer-Stöckl E. HIV coreceptor tropism in antiretroviral treatment- naive patients newly diagnosed at a late stage of HIV infection. AIDS. 2010 Aug 24;24(13):2051-8.
Berger EA, Doms RW, Fenyö EM, Korber BT, Littman DR, Moore JP, Sattentau QJ, Schuitemaker H, Sodroski J, Weiss RA. A new classification for HIV-1. Nature 1998; 391:240.
» www.ema.europa.eu/docs/de_DE/document_library/EPAR_- _Product_Information/human/000811/WC500022190.pdf(European Medicines Agency Datenblatt Maraviroc)
Sing T, Low AJ, Beerenwinkel N, Sander O, Cheung PK, Domingues F, Büch J, Däumer M, Kaiser R, Lengauer T, Harrigan PR. Predicting HIV co-receptor usage based on genetic and clinical covariates. Antiviral Therapy. 2007 12(7):1097-106.
Paraskevis D, Pybus O, Magiorkinis G, Hatzakis A, Wensing AM, van de Vijver DA, Albert J, Angarano G, Asjö B, Balotta C, Boeri E, Camacho R, Chaix ML, Coughlan S, Costagliola D, De Luca A, de Mendoza C, Derdelinckx I, Grossman Z, Hamouda O, Hoepelman I, Horban A, Korn K, Kücherer C, Leitner T, Loveday C, Macrae E, Maljkovic-Berry I, Meyer L, Nielsen C, Op de Coul EL, Ormaasen V, Perrin L, Puchhammer-Stöckl E, Ruiz L, Salminen MO, Schmit JC, Schuurman R, Soriano V, Stanczak J, Stanojevic M, Struck D, Van Laethem K, Violin M, Yerly S, Zazzi M, Boucher CA, Vandamme AM; SPREAD Programme. Tracing the HIV-1 subtype B mobility in Europe: a phylogeographic approach. Retrovirology. 2009 May 20;6(1):49.
Vercauteren J, Wensing AM, van de Vijver DA, Albert J, Balotta C, Hamouda O, Kücherer C, Struck D, Schmit JC, Asjö B, Bruckova M, Camacho RJ, Clotet B, Coughlan S, Grossman Z, Horban A, Korn K, Kostrikis L, Nielsen C, Paraskevis D, Poljak M, Puchhammer-Stöckl E, Riva C, Ruiz L, Salminen M, Schuurman R, Sonnerborg A, Stanekova D, Stanojevic M, Vandamme AM, Boucher CA. Transmission of drug-resistant HIV-1 is stabilizing in Europe. Journal of Infectious Diseases. 2009 Nov 15;200(10):1503-8.
Vandekerckhove L, Wensing A, Kaiser R, Brun-Vézinet F, Clotet B, De Luca A, Dressler S, Garcia F, Geretti A, Klimkait T, Korn K, Masquelier B, Perno C, Schapiro J, Soriano V, Sönnerborg A, Vandamme AM, Verhofstede C, Walter H, Zazzi M, Boucher C; on behalf of the European Consensus Group on clinical management of tropism testing. European guidelines on the clinical management of HIV-1 tropism testing. The Lancet Infectious Diseases, Early Online Publication, 22 March 2011. doi:10.1016/S1473-3099(10)70319-4
Kontakt
Dr. Benedikt Simon
Department für Virologie
Kinderspitalgasse 15
1090 Wien
---