All News
Dr.in Barbara Kiesewetter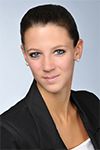 MedUni Wien RESEARCHER OF THE MONTH, Mai 2014
Die Jury "Researcher of the Month" verleiht die Auszeichnung für diesen Monat Frau Dr.in Barbara Kiesewetter aus Anlass der im Top-Journal "Haematologica" (IF 5.935) erschienenen Arbeit "A phase II study of lenalidomide in patients with extranodal marginal zone B-cell lymphoma of the mucosa associated lymphoid tissue (MALT-lymphoma)" [1], welche mit dem Wolfgang Denk-Preis 2013 der Österreichischen Gesellschaft für Hämatologie und Onkologie ausgezeichnet wurde. Diese Auszeichnung wird jährlich für eine wissenschaftliche Arbeit auf dem Gebiet der klinischen Onkologie an junge Wissenschaftler verliehen. Die Arbeit entstand in der Arbeitsgruppe "Extranodale Lymphome und neuroendokrine Tumore" unter der Leitung von Univ.Prof. Dr. M. Raderer an der Klinischen Abteilung für Onkologie, Univ.Klinik für Innere Medizin I (Leitung: Univ.Prof. Dr. Ch. Zielinski) in Kooperation mit der Univ.Klinik für Pathologie, der Univ.Klinik für Augenheilkunde und Optometrie und dem Comprehensive Cancer Center der MedUni Wien.
"Pilot-Studie zur Wirksamkeit von Lenalidomid beim MALT-Lymphom"
Mit dieser Pilot-Studie konnte erstmals die Wirksamkeit und Verträglichkeit des Immunmodulators Lenalidomid beim extranodalen Marginalzonenlymphom des mukosa-assoziierten lymphatischen Gewebes belegt werden, wodurch sich ein möglicher neuer therapeutischer Ansatz ergibt.
Während das gastrische MALT-Lymphom durch seine pathogenetische Assoziation mit dem gram-negativen Bakterium Helicobacter pylori sowie die daraus entstandene und erfolgreich etablierte Therapieoption mit antibiotischer Eradikationstherapie eine hohe Popularität erlangte, gibt es für Patienten mit extragastrischer Manifestation oder relapsierender Erkrankung derzeit noch keinen Therapiestandard. Basierend auf den gemeinsamen Eigenschaften der B-Zell Lymphom-Entität mit dem multiplen Myelom und der bekannten Aktivität des Immunmodulators Lenalidomid bei dieser Erkrankung wurde im Rahmen einer Phase II Studie erstmals die Aktivität der Substanz in einer Dosis von 25 mg Tag 1-21, q = 28 beim MALT-Lymphom getestet. Insgesamt konnten in dieser Pilot-Studie 18 Patienten mit extragastrischem, disseminiertem oder relapsierendem histologisch gesicherten MALT-Lymphom inkludiert werden. Bei einem Drittel der Patienten (n = 6) wurde ein komplette Remission mit einem Maximum von sechs Therapiezyklen erreicht; bei fünf weiteren eine signifikante Reduktion der Tumormasse. Drei Patienten zeigten bei Studienabschluss das Bild einer stabilen Erkrankung, bei zwei weiteren kam es zu einem Tumorprogress und zwei Patienten brachen die Behandlung im ersten Therapiezyklus auf eigenen Wunsch ab. In der Intention-to-treat-Analyse ergibt dies somit ein Gesamtansprechen von 61% (11/18). Die Response-Rate jener Patienten, die tatsächlich zumindest einen Zyklus Therapie erhalten haben, liegt bei 70%. Die Nebenwirkungen waren durchwegs tolerabel mit Neutropenie (Grad III in 3 Patienten) als führende Hämatotoxizität und Hautnebenwirkungen (Exanthem/Pruritus) als weitere häufige Nebenwirkung. Dies ist insbesondere von Bedeutung, weil das MALT-Lymphom sich in vielen Fällen als indolente Erkrankung präsentiert und eine potentielle Therapie ein günstiges Toxizitätsprofil aufweisen muss. Auf Basis der erhobenen Daten erscheint eine Kombination mit dem Anti-CD20 Antikörper Rituximab attraktiv, weil eben jenes Regime aktuell in mehreren anderen B-Zell Entitäten erfolgreich getestet wird. Das entsprechende Nachfolgeprojekt, eine österreichische multizentrische Folgestudie, befindet sich derzeit in der Rekrutierungsphase.
Historisch bedingt erfolgte bisher oftmals eine lokale Therapie des extranodalen MALT-Lymphoms, wobei mit Radiatio oder chirurgischer Resektion hohe Remissionsraten erzielt wurden. Rezenteren Arbeiten zufolge weiß man jedoch zunehmend über das Disseminationspotential dieser Erkrankung bescheid, wobei als Charakteristikum eines indolenten Lymphoms auch nach längerer Zeit Rückfälle auftreten können. Eine systemische Therapie erscheint in vielen Fällen empfehlenswert. Weitere evaluierte Therapieoptionen und Publikationen unter Beteiligung von Frau Dr.in Kieswetter beinhalten u.a.: Arbeiten zur Therapie des MALT-Lymphoms mit Rituximab und Bendamustin [2] sowie Rituximab und Cladribine [3], dem Einfluss von Rituximab auf die plasmazytische Differenzierung [4], die Erweiterung der antibiotischen Therapie bei dieser Entität [5] und die weitere Charakterisierung des extragastrischen MALT-Lymphoms [6, 7].
Wissenschaftliches Umfeld
Bereits während ihres Studiums war Frau Dr.in Kiesewetter in der Forschungsgruppe um Univ.Prof. Dr. M. Raderer an der Univ.Klinik für Innere Medizin I, Onkologie, tätig und beschäftigt sich seither im Rahmen ihres Forschungsschwerpunktes extranodale Lymphome insbesondere mit klinischen Projekten und Studien auf dem Gebiet der MALT-Lymphome. Da es aus derzeitiger Datenlage keinen definierten Therapiestandard beim extragastrischen, HP-refraktären oder relapsierenden MALT Lymphom gibt, ist vor allem die Erprobung neuer Therapieoptionen notwendig. Neben der ausgezeichneten Arbeit veröffentlichte sie auf diesem Gebiet weitere Publikationen, und war an zahlreichen Posterpräsentationen auf nationalen und internationalen Kongressen beteiligt [1-7]. Frau Dr.in Kiesewetter ist auch in Einzelprojekte auf dem Gebiet der T-Zell Lymphome und neuroendokrinen Tumore involviert [8, 9].
Zur Person
Frau Dr.in Kiesewetter wurde 1986 in Wien geboren. Während ihrer AHS-Zeit verbrachte sie 2003 ein Semester in New York City, USA, und maturierte 2005 mit ausgezeichnetem Erfolg. Von 2005 bis 2011 Studium der Humanmedizin an der MedUni Wien, wobei Frau Dr.in Kiesewetter bereits seit 2010 Mitglied der Forschungsgruppe von Univ.Prof. Dr. M. Raderer (Programmdirektion "Extranodale Lymphome und neuroendokrine Tumore") ist. Facharztausbildung seit 2012 an der Univ.Klinik für Innere Medizin I, Klinische Abteilung für Onkologie. Zusätzlich absolviert sie das MedUni Wien Studium "Doctoral Program of Applied Clinical Science" mit einem weiteren Projekt im Bereich der MALT-Lymphome.
Kiesewetter B, Troch M, Dolak W, Müllauer L, Lukas J, Zielinski CC, Raderer M. A phase II study of lenalidomide in patients with extranodal marginal zone B-cell lymphoma of the mucosa associated lymphoid tissue (MALT-lymphoma). Haematologica 2013;98:353-6.
Kiesewetter B, Mayerhoefer ME, Lukas J, Zielinski CC, Müllauer L, Raderer M. Rituximab plus Bendamustine is active in pretreated patients with extragastric marginal zone B-cell lymphoma of the mucosa associated lymphoid tissue (MALT-lymphoma). Ann Hematol 2014;93:249-53.
Troch M, Kiesewetter B, Willenbacher W, Zebisch A, Linkesch W, Fridirk M, Müllauer L, Greil R, Raderer M. Rituximab plus subcutaneous cladribine in patients with advanced extranodal marginal zone B-cell lymphoma of the mucosa associated tissue (MALT-lymphoma): A phase II study by the AGMT (Arbeitsgemeinschaft Medikamentöse Tumortherapie). Haematologica 2013;98:264-8.
Troch M, Kiesewetter B, Dolak W, Jaeger U, Püspök A, Müllauer L, Chott A, Raderer M. Plasmacytic differentiation in MALT lymphomas following treatment with rituximab. Ann Hematol 2012;91:723-8.
Kiesewetter B and Raderer M. Antibacterial therapy in non-gastrointestinal MALT lymphoma: a review of the literature. Blood 2013;122:1350-7.
Jonak C, Troch M, Kiesewetter B, Lukas J, Müllauer L, Jäger U, Chott A, Raderer M. Subcutaneous dissemination pattern in extranodal marginal zone B-cell lymphoma of the mucosa associated lymphoid tissue (MALT-lymphoma). Haematologica 2012;97:766-70.
Kiesewetter B, Müllauer L, Streubel B, Agis H, Hirschl A, Makristhatis A, Raderer M. Primary mucosa-associated lymphoid tissue (MALT) lymphoma of the liver: clinical, molecular- and microbiological aspects. Ann Hematol 2012;91:1817-8.
Raderer M, Kiesewetter B, Püspök A, Jaeger U, Hoffmann M, Chott A. Second line chemotherapy in patients with with enteropahty-associated T cell lympoma: a retrospective single center analysis. Ann Hematol 2012;91:57-61.
Kiesewetter B and Raderer M. Ondansetron for diarrhea associated with neuroendocrine tumors. N Engl J Med. 2013;368-1947-8. (letter)
Kontakt
Dr.in med.univ. Barbara Kiesewetter
Medizinische Universität Wien
Universitätsklinik für Innere Medizin I
Klinische Abteilung für Onkologie
Währinger Gürtel 18-20
1090 Wien
---