DR. JUTTA BERGLER-KLEIN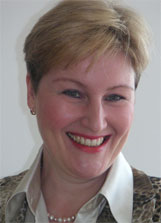 RESEARCHER OF THE MONTH, Juni 2004
Für ihre Forschung zum Thema "Natriuretiche Peptide – ein Prädiktor des symptomfreien Überlebens und des postoperativen Ergebnisses bei schwerer Aortenstenose" wurde Frau Dr. Jutta Bergler-Klein am 4. Juni 2004 mit dem diesjährigen Kardiologenpreis von der Österreichischen Kardiologischen Gesellschaft (im Bereich clinical sciences) ausgezeichnet. Von insgesamt 110 eingereichten Abstracts wurde ihre Arbeit unter die 12 besten gereiht und letztlich mit einem Duchschnittsscore von 9 (von max 10) als beste ausgezeichnet. Die Preisverleihung fand anlässlich der Generalversammlung der Österreichischen Kardiologischen Gesellschaft am Freitag, den 4. Juni 2004 in Salzburg statt. Diese Forschungsarbeit wurde zudem bereits im Mai in "Circulation", der renommiertesten Zeitschrift für Kardiologie, veröffentlicht. Diese Auszeichnungen waren dabei nur zwei weitere herausragende Gründe, Fr. Dr. Bergler-Klein nun für ihre bisherige medizinische Forschungsleistung im Rahmen der neuen Initiative der Medizinischen Universität Wien als erste Forschungspersönlichkeit der neuen Medizinischen Universität Wien zum "Researcher of the month" zu ehren.
Herausragende Forschungsarbeiten bei der Prognose und Verlaufskontrolle von Aortenstenose (Herzklappenverengung)
Frau Dr. Bergler-Klein arbeitet bereits seit 1988 klinisch und wissenschaftlich an der Kardiologischen Abteilung der Universitätsklinik für Innere Medizin II der seit 2004 eigenständigen Medizinischen Universität Wien in der Herzinsuffizienz–Ambulanz, davon die letzten zwei 2 Jahren im Echokardiogaphie-Labor (Herzultraschall), welches eng mit der Ambulanz für Herzklappenerkrankungen zusammenarbeitet.
In der Betreuung von Patienten mit chronischer Herzschwäche bzw. der Herztransplantationsvorbereitung fanden in jüngster Zeit die natriuretischen Peptide ( zB. "BNP", i.e. direkt im Herz gebildete Hormone, welche den Herzkreislauf und die Flüssigkeitshomöostase mitregulieren) zunehmend Verwendung als Prognose- und Verlaufsparameter für die Kontrolle und Behandlung der Patienten. Diese Herzhormone (auch Neurohormone genannt) können direkt aus dem Blut durch eine einfache Blutabnahme bestimmt werden.
Bei der schweren Verengung der Aortenklappe (=Aortenstenose; meist durch Verkalkung, vor allem bei älteren Patienten auftretend, eine der häufigsten Herzerkrankungen neben der koronaren Herzkranzgefäßerkrankung) entsteht zunächst eine Druckbelastung des Herzmuskels, welche später auch in die Herzinsuffizienz (Herzschwäche) münden kann. Die Patienten werden derzeit erst dann operiert, wenn Symptome auftreten (z.B. Schwindel, Atemnot, Müdigkeit, Rhythmusstörungen). Die Symptome können sich aber schleichend entwickeln und somit verkannt werden. Unbehandelt führt die symptomatische Aortenstenose zum Tod, andererseits trägt die Operation (künstlicher Klappenersatz) ebenfalls ein Risiko, zusätzlich besteht die Problematik der künstlichen Herzklappen (eventuelle Fehlfunktionen, Entzündungen, etc.).
Daher bildete sich die Idee, ob die Herzhormone (BNP, NtBNP) mit den Symptomen frühzeitig ansteigen würden, und ob sie in der Erkennung des richtigen Zeitpunktes der Operation (welche in sich ja auch ein Risiko birgt, insbesondere bei älteren Patienten) hilfreich sein könnten. Die "natriuretischen Peptide" können durch neue Tests einfach aus dem Blut bestimmt werden. Im Gegensatz hierzu ist die derzeit übliche Echokardiographie Untersuchung (Herzultraschall) in der Quantifizierung des Schweregrades der Aortenstenose und als Verlaufskontrolle zeitaufwändig und erfordert ein hohes Maß an Erfahrung.
Tatsächlich zeigte sich, dass die natriuretischen Peptide den Verlauf und die Symptomentwicklung der Aortenstenose voraussagen, und auch für das Operationsergebnis eine Bedeutung besitzen (desto höher die Hormone, desto schlechter die Prognose, daher sollten diese Patienten frühzeitig operiert und häufig nachkontrolliert werden).
Frau Dr. Bergler-Klein hat ihren Arbeitsfokus derzeit auf die wissenschaftlichen Arbeitsbereiche Herzinsuffizienz (Herzschwäche), Echokardiographie und Herzklappenerkrankungen bzw. Neurohormone gerichtet und arbeitet hierbei in wissenschaftlichen Arbeitsgruppen gemeinsam mit Prof. R. Pacher (Thema: Herzinsuffizienz), in der Arbeitsgruppe Prof. T. Binder (Echokardiographie) und der Arbeitsgruppe von Prof. H. Baumgartner zum Arbeitsbereich Herzklappenerkrankung.
Jutta Bergler-Klein ist Jahrgang 1962, geboren in Neuss in Deutschland, verheiratet und derzeit in Karenz mit ihrem vierten Kind, das nun 9 Monate alt ist.
Nach ihrer Schulausbildung in Deutschland, den USA, Belgien und Österreich promovierte sie 1987 an der Medizinischen Fakultät der Universität Wien.
Weitere Stationen ihrer bisherigen Forschungslaufbahn waren:
Universitätsklinik für Innere Medizin II, Großhadern, München 1987
Universitätsklinik für Innere Medizin II, Medizinische Universität Wien, seit 1988
Kardiologischen Abteilung der Universitätsklinik für Innere Medizin II Medizinische Universität Wien
seit 2001 Echokardiogaphie-Labor (Herzultraschall)
Bisherige Wissenschaftliche Auszeichnungen:
Österreichischer Kardiologenpreis 1991 (Thema: Cardiomyopathy and Lyme borreliosis)
Theodor Billroth Preis 1991 (Thema: Cardiomyopathy and Lyme borreliosis)
Österreichische Gesellschaft für Transplantation 2001 (Thema: Simultaneous heart and kidney transplantation)
Österreichischer Kardiologenpreis 2004 (Thema: Natriuretic peptides and aortic stenosis)
Ausgewählte Publikationen:
Stanek G, Klein J, Bittner R, Glogar D. Isolation of Borrelia burgdorferi from the myocardium of a patient with longstanding cardiomyopathy. N Engl J Med 1990; 322: 249-252
Klein J, Stanek G, Bittner R, Horvat R, Hozlinger Ch, Glogar D. Lyme borreliosis as a cause of myocarditis and heart muscle disease. Eur Heart J 1991; 12:73-75
Bergler-Klein J, Pirich Ch, Laufer G, Regele H, Grimm M, Mayer G, Oberbauer R. The long term effect of simultaneous heart and kidney transplantation on native renal function. Transplantation. 2001; 71(11):1597-600
Bergler-Klein J, Pacher R, Berger R, Bojic A, Stanek B. Neurohumoral and hemodynamic effects of the selective endothelin antagonist LU 135252 in advanced chronic heart failure. J Heart Lung Transplant. 2004; 23(1):20-7.
Bergler-Klein J, Klaar U, Heger M, Rosenhek R, Mundigler G, Gabriel H, Binder T, Pacher R, Maurer G, Baumgartner H. Natriuretic Peptides Predict Symptom-Free Survival and Postoperative Outcome in Severe Aortic Stenosis. Circulation. 2004;109:2302-2308
---