DR. RONALD DOROTKA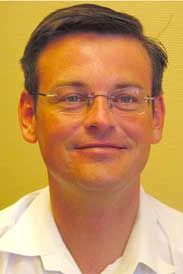 RESEARCHER OF THE MONTH, November 2004
Für seine herausragende Forschungleistung auf dem Gebiet der Knorpelforschung und der Therapie von Knorpelschäden hat die unlängst neu konstituierte Preis-Jury Dr. Ronald Dorotka die Ehrung des "MUW-Researcher of the Month" für den Monat November 2004 zuerkannt. Dorotka erhielt dafür u.a. bereits den diesjährigen Excellence Award der International Cartilage Repair Society.
In den letzten Jahren hat sich Dr. Ronald Dorotka vor allem mit Knorpelschäden und deren Therapie beschäftigt und auf diesem Gebiet zahlreiche Publikationen in Top- und Standardjournalen veröffentlicht sowie seine Forschungsergebnisse auch auf vielen nationalen und internationalen Kongressen mitgeteilt. Derzeit arbeitet Dorotka an zwei weiteren EU-Projekten mit.
Innovative Hightech Methode zur Behandlung von Knorpelschäden durch Knorpelzelltransplantation
Die Behandlung von Knorpelschäden ist trotz vieler Fortschritte unverändert ein hoch innovativer Forschungsbereich. Vor allem Defekte ohne Durchbrechung der subchondralen Knochenlamelle zeigen keine Heilungstendenz, während bei Eröffnung dieser Lamelle zumindest die Chance besteht, eine narbige Auffüllung des Defektes zu erreichen. Deswegen wird bei den bisherigen Knorpelbehandlungen der unter dem Knorpeldefekt liegende Knochen operativ durch Bohrtechniken oder durch die Mikrofrakturierungstechnik eröffnet. Dadurch können Knochenmarkzellen in den Defekt einwachsen und eine Defektreparatur – wenngleich ohne eine vollständige Knorpelheilung – initiieren. Das neu entstandene Gewebe zeigt allerdings nur geringe Ähnlichkeiten mit einem reifen Knorpelgewebe.
In den letzten Jahren konzentrierte sich die Forschung auf die Knorpelzelltransplantation, welche bereits in den klinischen Alltag ihren Einzug gehalten hat. Dabei werden arthroskopisch aus weniger belasteten Gelenksregionen kleine Knorpelstücke entnommen, die daraus gewonnenen Knorpelzellen werden in vitro vermehrt und nach wenigen Wochen im Rahmen eines zweiten operativen Eingriffs in einer Suspension unter einen aufgenähten Periostlappen oder ein Vlies in den Knorpeldefekt eingebracht. Als Weiterentwicklung dieser Methode werden die Knorpelzellen direkt auf einem Vlies gezüchtet und arthroskopisch in den Defekt implantiert. Viele Vliese können bereits mit Fibrinkleber in den Defekt eingeklebt werden, ohne dass Nahttechniken in Verwendung kommen müssen. Insgesamt muss allerdings die Überlegenheit der Knorpelzelltransplantation noch in prospektiven klinischen Vergleichsstudien endgültig geklärt werden.
Als Materialien für Vliese werden derzeit unter anderem Hyaluronsäure, Fibrin oder Kollagene verwendet. Die Tissue engineering-Gruppe um Prof. Stefan Nehrer von der Universitätsklinik für Orthopädie der Medizinischen Universität Wien beschäftigt sich bereits seit Jahren mit der Wiederherstellung von Knorpel und Meniskus mittels Transplantationstechniken. 1996 wurde an dieser Klinik auch die erste Knorpelzelltransplantation in Österreich durchgeführt. Der Orthopäde Ronald Dorotka hat sich innerhalb dieser Forschungsgruppe mit einem dreischichtigen Kollagenvlies befasst. Dabei wurden Knorpelzellen humanen und ovinen Ursprungs ebenso wie Knochenmark-Stromazellen auf dieses Vlies aufgebracht; das Verhalten dieser Zellen in vitro wurde beobachtet. Basierend auf diesen Ergebnissen wurde eine weitere experimentelle Studie durchgeführt, die einerseits die genaue histologische Beurteilung der Mikrofrakturierungstechnik und andererseits den Einfluss des zusätzlich in den Defekt eingebrachten knorpelzellbesiedelten Kollagenvlieses zum Ziel hatte. Dabei hat sich zwar eine vermehrte Defektfüllung durch Mikrofrakturierung gegenüber unbehandelten Defekten gezeigt, die besten Ergebnisse wurden allerdings unter Miteinbeziehung eines zellbesiedelten Vlieses erzielt.
Bei der Therapie von Knorpeldefekten konnten mit diesen neuen Methoden bereits jetzt deutliche Fortschritte erzielt werden. In neuen Forschungsbereichen sind durch den Einsatz von Stammzellen, aber auch von diversen gentherapeutischen Methoden aber durchaus noch weiterführende Verbesserungen zu erwarten.
Zur Person
Ronald Dorotka wurde 1968 in Linz geboren, studierte in Wien und wurde 1995 zum Dr.med.univ. promoviert. Seit 1998 ist er an der Universitätsklinik für Orthopädie (Vorstand Prof. Rainer Kotz) beschäftigt.
Kontaktadresse:
Dr. Ronald Dorotka
Universitätsklinik für Orthopädie
Medizinische Universität Wien
Währinger Gürtel 18-20
1090 Wien
---