Dr. Christopher Schuster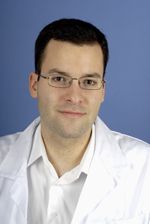 MUW RESEARCHER OF THE MONTH, November 2009
Die Jury "Researcher of the Month" verleiht die Auszeichnung für diesen Monat Herrn Dr. Christopher Schuster aus Anlass der Publikation "HLA-DR+ leukocytes acquire CD1 antigens in embryonic and fetal human skin and contain functional potent antigen-presenting cells" in dem hochrangigen Top-Journal "Journal of Experimental Medicine" 2009 Jan 16;206(1):169-81. Epub 2009 Jan 12. (IP:15.612) [1]. Diese Arbeit entstand in der Arbeitsgruppe für "Zelluläre und Molekulare Immunbiologie der Haut" (Leiterin: A.o. Univ.-Prof. Dr.
A. Elbe-Bürger) an der Klinischen Abteilung für Immundermatologie und Infektiöse Hautkrankheiten (Leiter: Univ.-Prof. Dr. G. Stingl), welche sich seit vielen Jahren mit der Funktionsweise dendritischer Zellen beschäftigt und auf diesem Gebiet intensive wissenschaftliche Kontakte mit führenden nationalen und internationalen Forschern unterhält [2-6].
Der Entwicklungsweg von Langerhans Zellen in embryonaler und fötaler Haut und ihre Bedeutung für die Immunabwehr
Die Entwicklung des Immunsystems im Menschen, beginnend mit der Ausbildung der ersten Immunzellen im Dottersack, ist ein wenig verstandener Prozess. Die Anforderungen an das sich entwickelnde Immunsystem sind enorm. Das Immunsystem des Fötus muss eine Balance zwischen seiner eigentlichen Aufgabe, der Infektionsabwehr, und der Vermeidung überschießender, die Schwangerschaft potentiell gefährdender Immunreaktionen wahren. Es gilt auch möglichst komplikationslos den Übergang vom sterilen intrauterinen in das per se lebensfeindliche, mikrobenreiche Milieu nach der Geburt zu bewältigen. Unter der für diese Aufgaben benötigten Vielfalt an spezialisierten Immunzellen spielen dendritische Zellen eine zentrale Rolle, insbesondere aufgrund ihrer Fähigkeit, je nach Ausreifungsgrad antigen-spezifische Immunantworten bzw. Toleranz zu induzieren. Ziel dieser Studie war es, Rückschlüsse über den Funktionszustand dieser zentralen Immunzellen während der intrauterinen Entwicklung zu gewinnen.
Die Forschungsarbeiten haben gezeigt, dass embryonale Langerhans Zellen, ein Subtyp der dendritischen Zellen der Haut, eine schrittweise phänotypische Entwicklung vollziehen. Anhand von in vitro Testverfahren konnte darüber hinaus gezeigt werden, dass bereits dendritische Zellen aus embryonaler Haut sämtliche für ihre Funktion wichtigen Eigenschaften besitzen. So vermochten diese Zellen kostimulatorische Moleküle hochzuregulieren, Bakterien zu phagozytieren sowie T-Zellen zur Proliferation anzuregen. Es ist jedoch fraglich, ob dieses funktionelle Potential in vivo ausgeschöpft wird. Die hohe Konzentration des immunsuppressiven Zytokins IL-10 in embryonaler Haut könnte nämlich unter anderem die Aktivierung und Mobilisierung dendritischer Zellen verhindern.
Die Bedeutung dieser Arbeit liegt in der Beschreibung eines möglichen Entwicklungsweges von Vorläuferzellen in phänotypisch reife Langerhans Zellen. Es erscheint durchaus möglich, dass beim homöostatischen Ersatz von Langerhans Zellen in adulter Haut eben diese Entwicklungsschritte "rekapituliert" werden. Zudem zeigt diese Studie, dass dendritische Zellen in embryonaler Haut, wenn auch nicht intrinsisch, dann möglicherweise durch ein entwicklungsspezifisches immunsuppressives Milieu inhibiert sein könnten. Diese Ergebnisse untermauern die These, dass der menschliche Embryo in gewissen Situationen bereits intrauterin wirksame Immunantworten auszubilden vermag.
Wissenschaftliches Umfeld
Kooperationen bestehen mit der Universitätsklinik für Dermatologie, Innsbruck (Prof. Dr. N. Romani), dem Department of Molecular Cell Biology, University of Vienna (Prof. Dr. G. Wiche), dem Novartis Institute for Biomedical Research, Vienna (Prof. Dr. A. Stütz und Dr. A. Rot) und der Klinik für Dermatologie, Venerologie und Allergologie, Universitätsklinikum Schleswig-Holstein (Prof. Dr. J. Schröder). Innerhalb der MUW bestehen Kollaborationen mit der Univ.-Klinik für Frauenheilkunde (Ao. Univ.-Prof. Dr. W. Eppel und Univ.-Doz. Dr. M. Imhof).
Unter diesen wissenschaftlichen Rahmenbedingungen hat Dr. Schuster unmittelbar nach seiner Studienzeit begonnen, sich mit der phänotypischen und funktionellen Charakterisierung des kutanen Immunsystems zu beschäftigen, wobei sein besonderes Augenmerk der Ontogenese von Langerhans Zellen in humaner Haut gilt. Dr. Schuster leistete einen wichtigen Beitrag zur Entschlüsselung des Entwicklungsweges von Langerhans Zellen in embryonaler und fötaler Haut.
Persönliches
Dr. Schuster, Jahrgang 1980, begann 1998 mit dem Studium der Humanmedizin an der Universität Wien, absolvierte ein Studiensemester an der University of Bristol (UK) und promovierte 2005 an der neu gegründeten Medizinischen Universität Wien. Er arbeitet seit 2005 an der Klinischen Abteilung für Immundermatologie und infektiöse Hautkrankheiten (Universitätsklinik für Dermatologie) und steht dort seit Ende 2008 in Ausbildung zum Facharzt für Dermatologie und Venerologie.
Schuster Ch, Vaculik Ch, Fiala Ch, Meindl S, Brandt O, Imhof M, Stingl G, Eppel W, Elbe-Bürger A. HLA-DR+ leukocytes acquire CD1 antigens in embryonic and fetal human skin and contain functional potent antigen-presenting cells. J.Exp.Med. 206:169, 2009
Chang-Rodriguez S, Hoetzenecker W, Schwärzler C, Biedermann T, Saeland S, Elbe-Bürger A. Fetal and neonatal murine skin harbors Langerhans cell precursors. J.Leukoc.Biol. 77:352, 2005
Hoetzenecker W, Ecker R, Kopp T, Stuetz A, Stingl G, Elbe-Bürger A. Pimecrolimus leads to an apoptosis-induced depletion of T cells but not Langerhans cells in patients with atopic dermatitis. J.Allergy Clin.Immunol. 115:1276, 2005
Hoetzenecker W, Meingassner JG, Ecker R, Stingl G, Stuetz A, Elbe-Bürger A. Corticosteroids but not pimecrolimus affect viability, maturation and immune function of murine epidermal Langerhans cells. J.Invest.Dermatol. 122:673, 2004
Chang-Rodriguez S, Ecker R, Stingl G, Elbe-Bürger A. Autocrine IL-10 partially prevents differentiation of neonatal dendritic epidermal leukocytes into Langerhans cells. J.Leukoc.Biol. 76:657, 2004
Kociková A, Kolesaric A, Koszik F, Stingl G, Elbe-Bürger A. Murine Langerhans cells cultured under serum-free conditions mature into potent stimulators of primary immune responses in vitro and in vivo. J.Immunol. 161:4033, 1998
Kontakt
Dr. Christopher Schuster
Universitätsklinik für Dermatologie
Klinische Abteilung für Immundermatologie und Infektiöse Hautkrankheiten
Währinger Gürtel 18-20
1090 Wien
---