All News
Dr.in Irene Popow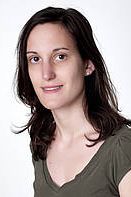 MedUni Wien RESEARCHER OF THE MONTH, November 2014
Die Jury "Researcher of the Month" verleiht die Auszeichnung für diesen Monat Frau Dr.in Irene Popow aus Anlass der im Top-Journal "American Journal of Transplantation" (IF 6.19) erschienenen Arbeit "A Comprehensive and Quantitative Analysis of the Major Specificities in Rabbit Antithymocyte Globulin Preparations" [1]. Die Arbeit entstand in der Arbeitsgruppe von Assoc. Prof. Priv.-Doz. Mag. Dr. Peter Steinberger am Institut für Immunologie, Zentrum für Pathophysiologie, Infektiologie und Immunologie in Zusammenarbeit mit Ass. Prof.in Priv.-Doz.in Dr.in K. Grabmeier-Pfistershammer von der Klinischen Abteilung für Immundermatologie und Infektiöse Hautkrankheiten der Universitätsklinik für Dermatologie und ao.Univ.-Prof. Dr. M. Kundi vom Institut für Umwelthygiene, Zentrum für Public Health. Weitere Mitarbeiter aus dem Institut für Immunologie sind Univ.-Prof. Dr. G. Zlabinger, Ass. Prof. Dr. O. Majdic sowie Mag.a Dr.in J. Leitner. Die Arbeit wurde vom American Journal of Transplantation als Titelgeschichte für die Dezemberausgabe 2013 ausgewählt.
Nachweis und Quantifizierung der Antikörper in kommerziellen Antithymozytenpräparaten
Antithymozytenglobuline (ATGs) werden seit mehreren Jahrzehnten als hoch-wirksame Immunsuppressiva in der Behandlung und Prävention von Abstoßungsreaktionen nach Organtransplantationen, zur Vorbeugung von Graft versus Host Disease nach Transplantation hämatopoietischer Stammzellen sowie zur Behandlung der aplastischnen Anämie eingesetzt. In Europa kommen zwei Präparate, ATG-Fresenius (Fresenius Biotech) und Thymoglobulin (Genzyme), zum Einsatz. ATGs sind polyklonale Immunglobulinpräparate welche durch die Immunisierung von Kaninchen mit der humanen T-Zelllinie Jurkat (ATG-Fresenius) oder Thymozytenpräparationen (Thymoglobulin) gewonnen werden.
Die immunsuppressive Wirkung dieser Präparate beruht auf der Bindung der Kaninchenantikörper an Zellen der behandelten Patienten. Diese Interaktion führt zu einer Depletion von T-Zellen und anderen Leukozyten. Der immunsuppressive Effekt von ATGs beruht auf dieser Verminderung von Immunzellen. ATG-Antikörper können aber auch immunmodulierend wirken, und man nimmt an dass diese Eigenschaften ebenfalls zu der klinischen Wirksamkeit dieser Präparate beitragen. Die Bindung von ATG-Antikörpern an Zellen, die nicht zum Immunsystem gehören wie z.B. Endothelzellen, Erythrozyten und Thrombozyten hat einerseits ebenfalls einen Einfluss auf Immunreaktionen und führt andererseits auch zu unerwünschten Nebenwirkungen der ATG-Therapie, wie Anämie und Thrombopenie. Obwohl diese Präparate schon sehr lange in der Klinik verwendet werden, gibt es vor allem bezüglich der immunmodulierenden Funktionen von ATGs noch viele Unklarheiten. Da diese Effekte auf der spezifischen Interaktion von Antikörpern mit Rezeptoren auf Immunzellen beruhen, ist die Aufklärung der Zielstrukturen von ATG-Antikörpern seit vielen Jahren Gegenstand intensiver Forschungsbemühungen.
Dr.in Popow hat mittels einer am Institut für Immunologie entwickelten Methodik [3; 4] ein Profil der Antigene die von ATG-Antikörpern gebunden werden, erstellt. Darüber hinaus hat sie für alle Antigene die Konzentrationen der gegen sie gerichteten Antikörper bestimmt. Damit stehen erstmals umfassende Informationen bezüglich der Zusammensetzung dieser Präparate zur Verfügung. Diese stellen einen wichtigen Schritt zu einem besseren Verständnis der Funktionsweisen dieser komplexen Therapeutika dar und könnten darüber hinaus die Grundlagen für neue Anwendungen von Antithymozytenglobulinen sein.
Wissenschaftliches Umfeld
Dr.in Popow arbeitet seit 2008 am Institut für Immunologie. Schon in ihrer Diplomarbeit, die von Prof. G. Zlabinger betreut wurde, hat sie sich mit Antithymozytenglobulinen befasst und ihre Interaktion mit B-Zellen untersucht. In ihren weiteren Forschungsarbeiten hat sie sich der Zusammensetzung und Funktionsweise von therapeutischen Antithymozytenglobulinpräparationen gewidmet [1; 2; 5].
Persönliches
Dr.in Popow, geboren 1985 in Wien, studierte Humanmedizin an der Medizinischen Universität Wien. Im April 2012 begann sie die Ausbildung zum Facharzt für Immunologie am Institut für Immunologie, Zentrum für Pathophysiologie, Infektiologie und Immunologie. Im August 2013 erhielt sie ein Stipendium der "European Federation of Immunological Societies" (EFIS). Im März 2014 beendete sie mit Auszeichnung ihr PhD-Studium im Rahmen des Programms "Immunology" der Medizinischen Universität Wien, betreut von Assoc. Prof. Dr. P. Steinberger am Institut für Immunologie.
Derzeit ist Dr.in Popow an der 2. Medizinischen Abteilung für Pneumologie im Wilhelminenspital der Stadt Wien tätig.
Popow I, Leitner J, Grabmeier-Pfistershammer K, Majdic O, Zlabinger GJ, Kundi M, Steinberger P. A comprehensive and quantitative analysis of the major specificities in rabbit antithymocyte globulin preparations. Am J Transplant. 2013 Dec;13(12):3103-13.
Popow I, Steinberger P. HLA Antibodies in ATGs. Am J Transplant. 2014 Jan 21.
Leitner J, Grabmeier-Pfistershammer K, Majdic O, Zlabinger G, Steinberger P. Interaction of antithymocyte globulins with dendritic cell antigens. Am J Transplant. 2011 Jan;11(1):138-45.
Leitner J, Reutner K, Essler SE, Popow I, Gerner W, Steinberger P, Saalmüller A. Porcine SWC1 is CD52--final determination by the use of a retroviral cDNA expression library. Vet Immunol Immunopathol. 2012 Mar 15;146(1):27-34.
Popow I, Leitner J, Majdic O, Kovarik JJ, Saemann MD, Zlabinger GJ, Steinberger P. Assessment of batch to batch variation in polyclonal antithymocyte globulin preparations. Transplantation. 2012 Jan 15;93(1):32-40.
Kontakt
Dr.in Irene Popow
Zentrum für Pathophysiologie, Infektiologie und Immunologie
Institut für Immunologie
Lazarettgasse 19
1090 Wien
T:+43 (0)1 40160-332 41
irene.popow@meduniwien.ac.at
---