All News
Dr.in Anna Sophie Berghoff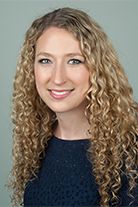 MedUni Wien RESEARCHER OF THE MONTH, November 2015
Die Jury "Researcher of the Month" verleiht die Auszeichnung für diesen Monat Frau Dr.in Anna Sophie Berghoff aus Anlass der im Top-Journal "Neuro-Oncology" (IF 5.286) erschienenen Arbeit "Programmed death ligand 1 expression and tumor-infiltrating lymphocytes in glioblastoma." [1]. Diese Arbeit entstand am Institut für Neurologie in Zusammenarbeit mit der Universitätsklinik für Innere Medizin I, dem Comprehensive Cancer Center, der Universitätsklinik für Neurochirurgie, und der Universitätsklinik für Strahlentherapie; Medizinische Universität Wien, sowie dem Department of Neurology, University Hospital Zürich, Switzerland, Laboratory of Brain Tumor Biology and Genetics, Service of Neurosurgery, Department of Clinical Neurosciences, University Hospital Lausanne (CHUV), Lausanne, Switzerland; Neurology Clinic and National Center for Tumor Disease, University of Heidelberg, Heidelberg, Germany; Clinical Cooperation Unit Neurooncology, German Cancer Consortium (DKTK) and German Cancer Research Center (DKFZ), Heidelberg, Germany.
Die Relevanz der Daten wird dadurch unterstrichen, dass Frau Dr.in Berghoff 2014 zu einer Präsentation ihrer Ergebnisse in die Plenarsitzung der amerikanischen neuroonkologischen Gesellschaft anlässlich deren Jahrestagung in Miami eingeladen wurde.
Die Aktivierung des Immunsystems in Glioblastome
Ein neuer therapeutischer Ansatz?
Das Glioblastom ist der häufigste maligne primäre Hirntumor mit einer eingeschränkten Lebenserwartung von 12 bis 15 Monaten. Die Standardtherapie umfasst eine Kombination aus Chemotherapie mit dem Alkylans Temozolomid und Radiotherapie, jedoch erleidet die Mehrheit der PatientInnen innerhalb eines Jahres ein Rezidiv. Rezente klinische Studien überprüften die therapeutische Wirksamkeit bestimmter zielgerichteter Therapie wie dem Angiogenese Inhibitor Bevacizumab oder dem Integrin Inhibitor Cilengitide. Es konnten durch diese Substanzen aber keine Verbesserungen der Überlebenszeiten erzielt werden. Die Identifizierung neuer möglicher Therapietargets ist daher Gegenstand intensiver Forschung. Ein vielversprechender Ansatz könnte die Anwendung immun-modulatorischer Substanzen sein, mit denen sich bei anderen Krebserkrankungen rezent bemerkenswerte therapeutische Fortschritte erzielen ließen.
In der Studie "Programmed death ligand 1 (PD-L1) expression and tumor infiltrating lymphocytes in glioblastoma" wurde die Infiltration
von Glioblastomen mit T Zellen sowie die Expression der immunsupressiven Marker Programmed Cell Death 1 (PD1) Rezeptor auf T Zellen und Programmed Cell Death Ligand 1 (PDL1) auf Glioblastom Zellen untersucht. Hier zeigte sich, das Glioblastome nur eine sehr geringe Infiltration mit T Zellen zeigen. PDL1 wurde in 88% der Glioblastome exprimiert, was für eine Aktivierung der immunsuppressiven PD1/PDL1 Achse in Glioblastomen spricht. Es zeigte sich eine gute Korrelation von PDL1 Expression zwischen erstdiagnostizierten Glioblastomen und Rezidivtumoren und eine Überexpression von PDL1 im sogenannten mesenchymalen Subtyp, einer besonders aggressiven molekularen Variante des Glioblastoms.
Diese Erkenntnisse sind von therapeutischem Interesse da eine neue Klasse onkologischer Medikamente, die so genannten Immune Checkpoint Inhibitoren, ihre anti-neoplastische Wirkung über eine Hemmung der PD1/PDL1 Achse und einer daraus resultieren Aktivierung der T Zell Antwort generieren. Die Expression von PDL1 auf den Tumor Zellen wurde als prädiktiver Faktor für das Ansprechen auf diese Therapie postuliert. Die ersten klinischen Anwendungen zeigen vielversprechende Ergebnisse bei zahlreichen extrakraniellen Tumoren wie Melanom, Lungenkrebs und Nierenzellkarzinom. Die Ergebnisse der vorliegenden Arbeit unterstützen die Durchführung von klinischen Studien mit Immuncheckpoint Inhibitoren bei Glioblastomen.
Wissenschaftliches Umfeld
Bereits während des Humanmedizinstudiums begann die wissenschaftliche Arbeit von Frau Dr.in Berghoff 2010 in der Arbeitsgruppe von Assoc. Prof. Priv.-Doz. Dr. M. Preusser und Assoc. Prof. Priv.-Doz. Dr. R. Bartsch. Ihre Forschungsschwerunkte sind Prognosefaktoren bei Hirnmetastasen sowie die Interaktion von Immunsystem und Gehirntumoren. Im Rahmen der Unit Central Nervous System Tumors des Comprehensive Cancer Centers Vienna in Kooperation mit zahlreichen Kliniken unter anderem des klinischen Instituts für Neurologie (interm. Leiter: Ao.Univ.-Prof. Dr. J. Hainfellner), der Universitätsklinik für Neurochirurgie (Leiter: Univ.-Prof. Dr. E. Knosp; neuroonkologische Arbeitsgruppe: Assoc. Prof. Priv.-Doz. Dr. G. Widhalm und Assoc. Prof. Priv.-Doz. Dr. S. Wolfsberger), der Universitätsklinik für Strahlentherapie (Leiter: o.Univ.-Prof. Dr. R. Pötter, Programmdirektion ZNS Tumoren: Ao.Univ.-Prof. Dr. K. Dieckmann), der Klinische Abteilung für Neuroradiologie und Muskuloskeletale Radiologie (Leiterin: Univ.-Prof.in Dr.in D. Prayer), dem Zentrum für Hirnforschung (Leiter: Univ.-Prof. Dr. H. Lassmann) und der Universitätsklinik für Innere Medizin I (Leiter: Univ.-Prof. Dr. C.C. Zielinski; Programmdirektion primäre Hirntumore: Ao.Univ.-Prof.in Dr.in C. Marosi) entstanden neben der vorliegenden Arbeit weitere Publikationen zu primären und sekundären Hirntumoren. Die aktuelle Arbeit entstand in enger Zusammenarbeit mit Prof. Dr. W. Wick (Nationales Zentrum für Tumorerkrankungen Universitätsklinik Heidelberg und Deutsches Krebsforschungszentrum) und Prof. Dr. M. Weller (Universitätsklinik Zürich).
Persönliches
Frau Dr.in Berghoff wurde 1987 in Bonn (Deutschland) geboren und absolvierte Ihre Schulausbildung in Rheinbach (Deutschland) und Justin (Texas, USA) bevor sie 2005 in Wien mit Auszeichnung maturierte. Es folgte von 2005 bis 2011 das Humanmedizinstudium sowie von 2011 bis 2014 das Doktoratsstudium "Clinical Neurosciences", beides an der Medizinischen Universität Wien. Die Facharztausbildung begann sie 2011 zunächst am Klinischen Institut für Neurologie und seit 2013 an der Universitätsklinik für Innere Medizin I. Frau Dr.in Berghoff erhielt bereits zahlreiche Preise und Stipendien.
Berghoff AS, Kiesel B, Widhalm G, Rajky O, Ricken G, Wöhrer A, Dieckmann K, Filipits M, Brandstetter A, Weller M, Kurscheid S, Hegi ME, Zielinski CC, Marosi C, Hainfellner JA, Preusser M, Wick W. Programmed death ligand 1 expression and tumor-infiltrating lymphocytes in glioblastoma. Neuro Oncol. 2015 Aug;17(8):1064-75. doi: 10.1093/neuonc/nou307. Epub 2014 Oct 29
Berghoff AS, Ricken G, Widhalm G, Rajky O, Dieckmann K, Birner P, Bartsch R, Höller C, Preusser M. Tumor infiltrating lymphocytes and expression of programmed death ligand 1 (PD-L1) in melanoma brain metastases. Histopathology. 2015 Jan;66(2):289-99. doi: 10.1111/his.12537. Epub 2014 Nov 10.
Berghoff AS, Ilhan-Mutlu A, Dinhof C, Magerle M, Hackl M, Widhalm G, Hainfellner JA, Dieckmann K, Pichler J, Hutterer M, Melchardt T, Bartsch R, Zielinski CC, Birner P, Preusser M. Differential role of angiogenesis and tumor cell proliferation in brain metastases according to primary tumor type: analysis of 639 cases. Neuropath Appl Neuro. 2015 Feb;41(2):e41-55. doi: 10.1111/nan.12185
Berghoff AS, Bartsch R, Wöhrer A, Streubel B, Birner B, Kros JM, Brastianos PK, von Deimling A, Preusser M. Predictive molecular markers in metastases to the central nervous system: recent advances and future avenues. Acta Neuropathol. 2014 Dec;128(6):879-91. doi: 10.1007/s00401-014-1350-7. Epub 2014 Oct 7.
Berghoff AS, Kovanda AK, Melchardt T, Bartsch R, Hainfellner JA, Sipos B, Schittenhelm J, Zielinski CC, Widhalm G, Dieckmann K, Weller M, Goodman SL, Birner P, Preusser M. αvβ3, αvβ5 and αvβ6 integrins in brain metastases of lung cancer. Clin Exp Metastasis. Oct;31(7):841-51.
---