Dr. Matthias Preusser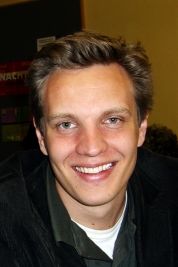 RESEARCHER OF THE MONTH, Oktober 2008
Die Jury "Researcher of the Month" verleiht die Auszeichnung für diesen Monat Herrn Dr. Matthias Preusser aus Anlass der 2007 erschienenen Publikation "Angiocentric glioma: Report of clinico-pathologic and genetic findings in eight cases" in dem Top-Journal "Am J Surg Pathol 2007;31:1709-1718 [1,2]. Das angiozentrische Gliom ist eine neue Tumorentität, die erstmals im Jahre 2005 beschrieben wurde. Die prämierte Arbeit entstand auf der Basis einer übernationalen und interdisziplinären Zusammenarbeit von Fachexperten, welche die histologischen, ultrastrukturellen und molekularen Charakteristika dieses Tumors analysierten. Die von Dr. Preusser initiierte und koordinierte Studie war entscheidend für die Anerkennung des "Angiozentrischen Glioms" als neue Hirntumorentität durch das WHO-Expertengremium [2].
Das angiozentrische Gliom - eine neue Epilepsie-assoziierte Tumorentität
Das angiozentrische Gliom wurde erstmals im Jahr 2005 als neuer Epilepsie-assoziierter Tumortyp mit distinkten klinisch-pathologischen Eigenschaften beschrieben [5,6]. Preusser et al. fügten in ihrer Arbeit weitere 8 Fälle hinzu und erweiterten die Charakterisierung dieses Tumortyps durch genetische Untersuchungen [1].
Fast alle Patienten in dieser Studie hatten eine langjährige Anamnese einer medikamentenrefraktären Epilepsie, die im 3. bis 14. Lebensjahr aufgetreten war. Als Ursache fanden sich kortiko-subkortikale angiozentrische Gliome in der temporalen oder parietalen Großhirnrinde. Nach operativer Entfernung des Tumorgewebes sistierten die Krampfanfälle; Hinweise auf Tumorrezidive wurden in der Nachuntersuchungszeit nicht gefunden.
Histologisch zeigten die Tumoren ein diffuses Wachstum im Hirngewebe mit Ausbildung charakteristischer perivaskulärer Tumorzellverbände, zytologisch fand sich eine astrozytäre und ependymäre Differenzierung; histologische Malignitätszeichen wurden nicht gefunden. Immunhistochemisch fand sich eine Expression der Gliamarker GFAP, Vimentin, S100B Protein und teilweise auch von Podoplanin. Im Rahmen der Studie wurde erstmalig das Genom dieser Tumoren molekulargenetisch untersucht. Es konnten Veränderungen des genetischen Materials auf den Chromosomen 6 und 11 identifiziert werden, die bei der Entstehung dieser Tumoren eine ursächliche Rolle spielen könnten.
Wissenschaftliches Umfeld
Dr. Preusser konnte in Zusammenarbeit des multidisziplinären Neuroonkologie-Teams der MUW mit 5 deutschen Zentren zu den aus der Literatur bekannten 18 Fallbeispielen 8 neue Fälle des angiozentrischen Glioms identifizieren und einer gemeinsamen Untersuchung zuführen. Das interdisziplinäre neuroonkologische Team der Medizinischen Universität Wien setzt sich aus Vertretern der Universitätskliniken für Neurochirurgie, Strahlentherapie, Innere Medizin I, Radiodiagnostik (Abteilung für Neuroradiologie) und dem Klinischen Institut für Neurologie zusammen. Es handelt sich um ein interdisziplinäres Netzwerk ohne formalen Leiter. Ein wesentliches verbindendes Element ist das wöchentlich stattfindende interdisziplinäre Tumorboard an der Universitätsklinik für Neurochirurgie.
Intensive Zusammenarbeit bestand für die prämierte Arbeit mit fünf deutschen Zentren: Institut für Humangenetik, Rheinische Friedrich-Wilhelms Universität, Bonn; Epilepsiezentrum Bethel; Institut für Neuropathologie, Evangelisches Krankenhaus Bielefeld, Bielefeld; Institut für Klinische Neuropathologie, Klinikum Bremen-Mitte, Bremen; Abteilung Molekulare Genetik, Deutsches Krebsforschungszentrum, Heidelberg.
Persönliches
Dr. Preusser wurde 1976 in Mödling geboren. Familiär bedingt verbrachte er einen Teil der Kindheit in Peru, Mexiko, Iran und Frankreich und maturierte 1995 in Wien. Schon vor seinem Medizinstudium war Dr. Preusser als Gaststudent an der "University of South Western Louisiana (USL) Lafayette/USA inskribiert. 2003 Promotion an der MUW Wien, anschließend arbeitete Dr. Preusser mehrere Jahre als wissenschaftlicher Mitarbeiter und Assistenzarzt am Klinischen Institut für Neurologie der MUW (Leitung: Univ.-Prof. Dr. H. Budka). Seit 2006 steht er in Ausbildung zum Facharzt für Innere Medizin an der Universitätsklinik für Innere Medizin I (Leitung: Univ.-Prof. Dr. Ch. Zielinski). 2008 reichte Dr. Preusser zur Habilitation ein. Er ist verheiratet und hat einen Sohn.
Im Rahmen seiner ärztlichen Tätigkeit betreut Dr. Preusser Hirntumorpatienten in der neuroonkologischen Ambulanz (Leitung: Univ.-Prof. Dr. Ch. Marosi) der Klinik, ist für die Rekrutierung von Patienten für internationale prospektive Therapiestudien zuständig und fungiert darüber hinaus als Fachvertreter der Klinischen Neuroonkologie innerhalb des Interdisziplinären Hirntumorboards der MUW.
Seine internationalen wissenschaftlichen Kooperationen entfaltet Dr. Preusser insbesondere im Rahmen der Brain Tumour Group der European Organization for Research and Treatment of Cancer (EORTC) [3,4].
Ausgewählte Literatur
Preusser M, Hoischen A, Novak K, Czech T, Prayer D, Hainfellner JA, Baumgartner C, Woermann FG, Tuxhorn IE, Pannek HW, Bergmann M, Radlwimmer B, Villagrán R, Weber RG, Hans VH.
Angiocentric glioma: Report of clinico-pathologic and genetic findings in eight cases.
Am J Surg Pathol 2007;31:1709?1718.
Burger PC, Jouvet A, Preusser M, Hans, VH, Rosenblum MK, Lellouch-Tubiana A. Angiocentric glioma.
World Health Organization Classification of Tumours. Pathology and Genetics of Tumours of the Nervous System, IARC press, Lyon (2007).
Preusser M, Janzer RC, Felsberg J, Reifenberger G, Hamou MF, Diserens AC, Stupp R, Gorlia T, Marosi C, Heinzl H, Hainfellner JA, Hegi M.
Anti-O6-methylguanine-methyltransferase (MGMT) immunohistochemistry in glioblastoma multiforme: observer variability and lack of association with patient survival impede its use as clinical biomarker. A translational research project of the European Organization for Research and Treatment of Cancer Brain Tumor Group.
Brain Pathol 2008 (in press)
Preusser M, Heinzl H, Gelpi E, Schönegger K, Haberler C, Birner P, Marosi C, Hegi M, Gorlia T, Hainfellner JA.
Histopathological assessment of hot-spot microvessel density and vascular patterns in glioblastoma: poor observer agreement limits clinical utility as prognostic factors. A translational research project of the European Organization for Research and Treatment of Cancer Brain Tumor Group.
Cancer. 2006 Jul 1;107(1):162-70
Lellouch-Tubiana A, Boddaert N, Bourgeois M, et al.
Angiocentric neuroepithelial tumor (ANET): a new epilepsy-related clinicopathological entity with distinctive MRI.
Brain Pathol. 2005;15:281-286.
Wang M, Tihan T, Rojiani AM, et al.
Monomorphous angiocentric glioma: a distinctive epileptogenic neoplasm with features of infiltrating astrocytoma and ependymoma.
J Neuropathol Exp Neurol. 2005;64:875-881.
Kontakt
Dr. Matthias Preusser
Universitätsklinik für Innere Medizin I,
Klinische Abteilung für Onkologie
Währinger Gürtel 18-20
1090 Wien

T.: +43 (0)1 40400 4445
Fax: +43 1 40400 4428
E-Mail: matthias.preusser@meduniwien.ac.at
---