Ao.Univ.Prof. Dr. Elmar Joura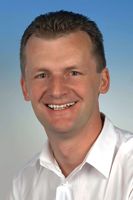 MUW RESEARCHER OF THE MONTH, Oktober 2012
Die Jury "Researcher of the Month" verleiht die Auszeichnung für diesen Monat Herrn Ao.Univ.Prof. Dr. Elmar Joura aus Anlass der 2012 in dem Top-Journal "British Medical Journal (BMJ)" (IF 13.471) erschienenen Publikation "Effect of the human papillomavirus (HPV) quadrivalent vaccine in a subgroup of women with cervical and vulvar disease: retrospective pooled analysis of trial data" [1]. Die Arbeit entstand an der Universitätsklinik für Frauenheilkunde, Abteilung für allgemeine Gynäkologie und gynäkologische Onkologie und dem Comprehensive Cancer Center in Wien. Folgende Institutionen waren an dieser internationalen Kooperation beteiligt:
• Microbiology and Infectious Diseases Department, Royal Women's Hospital and Department of Obstetrics and Gynaecology, University of Melbourne
• Murdoch Childrens Research Institute, Melbourne, Victoria, Australia
• Department of Obstetrics and Gynecology, University Central Hospital, Helsinki, Finland
• Department of Family Medicine and Obstetrics and Gynecology, Medical College of Georgia, Augusta, USA
• Universidad del Rosario, Bogotá, Colombia
• Department of Gynecology and Obstetrics and the Emory Vaccine Center, Emory University School of Medicine and Department of Global Health, Rollins School of Public Health, Emory University Atlanta, Georgia, USA
• Department of Obstetrics and Gynecology, University of Alabama at Birmingham, Birmingham, USA
• Merck Sharp & Dohme, Whitehouse Station, New York, USA.
In dieser Multicenter-Studie konnte der erste Nachweis der Wirksamkeit der HPV-Impfung auch bei Frauen nach vorangegangener HPV-assoziierter Erkankung erbracht werden.
Die quadrivalente HPV-Impfung bei Frauen mit Erkrankungen des Gebärmutterhalses und der Vulva reduziert deren erhöhtes Risiko für weitere HPV-assoziierte Erkrankungen
Die Impfungen gegen humane Papillomaviren wurden zur Prophylaxe von Infektionen und Erkrankungen mit den häufigsten pathogenen HPV- Stämmen (HPV 6, 11, 16, 18) entwickelt. Hauptziel ist die Verhinderung von Gebärmutterhalskrebs, aber auch Karzinomvorstufen an Vulva, Scheide und Anus sowie Genitalwarzen können effektiv verhindert werden. Die idealen Zielgruppen für diese prophylaktische Impfung sind Mädchen und Buben, da hier das größte Expositionsrisiko meist noch bevorsteht. Die Wirksamkeit in nicht infizierten Kollektiven ist sehr gut untersucht, bis dato fehlten Untersuchungen an Frauen, die bereits erkrankt waren. Eine Erkrankung zeigt an, dass diese Personen ein erhöhtes Risiko für eine weitere HPV-assoziierte Erkrankung besitzen, sei es durch eine schlechtere Abwehr oder ein erhöhtes Expositionsrisiko. In der vorliegenden Untersuchung erkrankten immerhin 30% der Frauen nach einer Behandlung von Kondylomen binnen eines Jahres nach der Therapie an einer weiteren HPV- assoziierten Erkrankung.
Im Rahmen der Phase III-Studie zur HPV- 6/11/16/18-Impfung (17.000 junge Frauen im Alter von 15-26 Jahren) konnte die Wirkung an mehr als 1.350 Frauen nach Konisation und 704 Frauen mit HPV-assoziierter Erkrankung an der Vulva plazebokontrolliert untersucht werden. Die Reduktion von neuen Erkrankungen in diesen Subgruppen betrug 46% bzw. 35%. Hochgradige Dysplasien am Gebärmutterhals, die eine weitere Konisation und damit ein deutlich erhöhtes Frühgeburtsrisiko nach sich gezogen hätten, wurden um 65% reduziert.
Die vorgestellten Daten haben auf der "Internationalen Papillomaviruskonferenz (IPC)" in Montreal ein starkes positives Echo ausgelöst. Auf die große klinische Bedeutung wurde in einem Editorial des BMJ von Prof.in J. Kim (Havard Universität) hingewiesen.
Wissenschaftliches Umfeld
Seit Beginn seiner Tätigkeit an der Wiener Frauenklinik standen HPV-assoziierte Erkrankungen im Mittelpunkt des wissenschaftlichen und klinischen Interesses von Dr. Joura. Im Jahr 2001 wurde er als Investigator im Rahmen der klinischen Erprobung von HPV-Impfungen tätig, seit 2008 leitet Dr. Joura das Studienzentrum Wien für die Erprobung der nächsten Generationen (nonavalente HPV-L1-Vakzine) und ist auch im Scientific Advisory Board tätig. Internationale Kooperationen haben zu zahlreichen Publikationen [1-10] und internationalen Vortragseinladungen geführt. Dr. Joura war Vorstandsmitglied der International Society for the Study of Vulvovaginal Disease (ISSVD) und ist im Vorstand der Arbeitsgemeinschaft für Kolposkopie. Im Rahmen des CCC (Comprehensive Cancer Center Vienna) ist Dr. Joura im Subunit Gynäkoonkologie tätig. 2011 wurde mit Unterstützung des Rektorats gemeinsam mit Univ.Prof.in Dr.in U. Wiedermann- Schmidt eine HPV-Impfaktionen für MUW-MitarbeiterInnen, deren Angehörigen sowie StudentInnen mit großem Erfolg initiiert. Eine wichtige Aktion, da die HPV-Impfung im Gegensatz zu allen anderen westlichen Ländern in Österreich leider gesundheitspolitisch nicht umgesetzt wurde. Besonders erwähnenswert ist eine Arbeit, publiziert im Lancet 2007, in der der erste Nachweis für die Wirksamkeit der HPV-Impfung gegen Karzinomvorstufen in der Vulva erbracht werden konnte [10].
Persönliches
Dr. Joura wurde 1962 in Graz geboren. Matura 1980 mit Auszeichnung. Medizinstudium an der Universität Graz mit Promotion im Jahr 1987. Anschließend Tätigkeit am Institut für Pathologische Anatomie in Graz (Prof. H. Denk), Turnusausbildung in der Steiermark, 1991-1994 Facharztausbildung an der 2. Wiener Frauenklinik (freiwillige Facharztprüfung mit ausgezeichnetem Erfolg), 1994 Arbeitsaufenthalt in Tansania, 1996-1997 Absolvierung eines Forschungsstipendiums im National Women's Hospital in Auckland, Neuseeland (Prof. R. Jones), Habilitation 1998. Seit 1997 Oberarzt an der Universitätsklinik für Frauenheilkunde (Leiter: o.Univ.Prof. Dr. P. Husslein) mit gynäko-onkologischem Schwerpunkt. Dr. Joura ist verheiratet und hat vier Kinder.
Ausgewählte Publikationen
Joura EA, Garland SM, Paavonen J, Ferris DG, Perez G, Ault KA, Huh WK, Sings HL, James MK, Haupt RM. Effect of the human papillomavirus (HPV) quadrivalent vaccine in a subgroup of women with cervical and vulvar disease: retrospective pooled analysis of trial data. BMJ 2012;344:e1401
Ault KA, Joura EA, Kjaer SK, Iversen OE, Wheeler CM, Perez G, Brown DR, Koutsky LA, Garland SM, Olsson SE, Tang GW, Ferris DG, Paavonen J, Steben M, Bosch FX, Majewski S, Muñoz N, Sings HL, Harkins K, Rutkowski MA, Haupt RM, Garner EI; FUTURE I and II Study Group. Adenocarcinoma in situ and associated human papillomavirus type distribution observed in two clinical trials of a quadrivalent human papillomavirus vaccine. Int J Cancer 2011;128:1344-53
McCormack PL, Joura EA. Quadrivalent human papillomavirus (types 6, 11, 16, 18) recombinant vaccine (Gardasil®): a review of its use in the prevention of premalignant genital lesions, genital cancer and genital warts in women. Drugs 2010;70:2449-74
FUTURE I/II Study Group, Dillner J, Kjaer SK, Wheeler CM, Sigurdsson K, Iversen OE, Hernandez-Avila M, Perez G, Brown DR, Koutsky LA, Tay EH, Garcia P, Ault KA, Garland SM, Leodolter S, Olsson SE, Tang GW, Ferris DG, Paavonen J, Lehtinen M, Steben M, Bosch FX, Joura EA, Majewski S, Muñoz N, Myers ER, Villa LL, Taddeo FJ, Roberts C, Tadesse A, Bryan JT, Maansson R, Lu S, Vuocolo S, Hesley TM, Barr E, Haupt R. Four year efficacy of prophylactic human papillomavirus quadrivalent vaccine against low grade cervical, vulvar, and vaginal intraepithelial neoplasia and anogenital warts: randomised controlled trial. BMJ 2010;341:c3493
Muñoz N, Kjaer SK, Sigurdsson K, Iversen OE, Hernandez-Avila M, Wheeler CM, Perez G, Brown DR, Koutsky LA, Tay EH, Garcia PJ, Ault KA, Garland SM, Leodolter S, Olsson SE, Tang GW, Ferris DG, Paavonen J, Steben M, Bosch FX, Dillner J, Huh WK, Joura EA, Kurman RJ, Majewski S, Myers ER, Villa LL, Taddeo FJ, Roberts C, Tadesse A, Bryan JT, Lupinacci LC, Giacoletti KE, Sings HL, James MK, Hesley TM, Barr E, Haupt RM. Impact of Human Papillomavirus (HPV)-6/11/16/18 Vaccine on All HPV-Associated Genital Diseases in Young Women. J Natl Cancer Inst 2010;102:325-32
Kruger Kjaer S, Sigurdson K, Iversen OE, Hernandez -Avila M, Wheeler C, Perez G,Brown DR, Koutsky LA, Tay EH, Garcia P, Ault KA, Galrand SM, Leodolter S, Olsson SE, Tang GW, Ferris DG, Paavonen J, Lehtinen M, Steben M, Bosch FX, Dillner J, Joura EA, Majewski S, Munoz N, Myers ER, Villa LL, Taddeo FJ, Roberts C, Tadesse A, Bryan J, Maansson R, Lu S, Vuocolo S, Hesley TM, Saah A, Barr E, Haupt RM. A pooled analyses of continued prophylactic efficacy of quadrivalent HPV vaccine against high grade cervical and external genital lesions. Cancer Prev Res 2009 ;2:868-78
Brown DR, Kjaer SK, Sigurdsson K, Iversen OE, Hernandez-Avila M, Wheeler CM, Perez G, Koutsky LA, Tay HE; Garcia P, Ault KA, Garland SM, Leodolter S, Joura EA, Olsson SE, Tang GWK, Ferris DG, Paavonen J, Steben M, Bosch X, Dillner J, Kurman RJ, Majewski S, Munoz N, Myers ER, Villa LL, Taddeo FJ, Roberts C, Tadesse A, bryan J, Lupinacci, LC, Giacoletti KE, Sings HL, James M, Hesley TM, Barr E. The impact of quadrivalent HPV (type 6/11/16/18) L1 VLP vaccine on infection and desiease due to oncogenic non-vaccine HPV types in generally HPV naïve women aged 16-26. J Infect Dis 2009;199:926-35
Garland SM, Steben M, Sings HL, James M, Lu S, Railkar R, Barr E, Haupt RM, Joura EA. Natural history of genital warts: Analysis of the placebo arm of two randomized phase III trials of a quadrivalent HPV (types 6, 11, 16, 18) vaccine. J Infect Disease 2009;199:805-14
Joura EA, Kjaer SK, Wheeler CM, Sigurdsson K, Iversen OE, Hernandez-Avila M, Perez G, Brown DR, Koutsky LA, Tay EH, García P, Ault KA, Garland SM, Leodolter S, Olsson SE, Tang GW, Ferris DG, Paavonen J, Lehtinen M, Steben M, Bosch X, Dillner J, Kurman RJ, Majewski S, Muñoz N, Myers ER, Villa LL, Taddeo FJ, Roberts C, Tadesse A, Bryan J, Lupinacci LC, Giacoletti KE, Lu S, Vuocolo S, Hesley TM,Haupt RM, Barr E. HPV antibody levels and clinical efficacy following administration of a prophylactic quadrivalent HPV vaccine. Vaccine 2008;26:6844-51
Joura EA, Leodolter S, Hernandez-Avila M, Wheeler CM, Perez G, Koutsky LA, Garland SM, Harper DM, Tang GW, Ferris DG, Steben M, Jones RW, Bryan J, Taddeo, FJ, Bautista OM, Esser MT, Sings HL, Nelson M, Boslego JW, Sattler C, Barr E, Paavonen J. Efficacy of a quadrivalent prophylactic human papillomavirus (types 6, 11, 16, and 18) L1 virus-like-particle vaccine against high-grade vulval and vaginal lesions: a combined analysis of three randomised clinical trials. Lancet 2007;369:1693-702
Kontakt
Ao.Univ.-Prof. Dr. Elmar Joura
Univ.Klinik für Frauenheilkunde
Medizinische Universität Wien
Währinger Gürtel 18-20
1090 Wien
T: +43 (0)1 40400-2962
elmar.joura@meduniwien.ac.at
---