DOZ. DR. BERTHOLD STREUBEL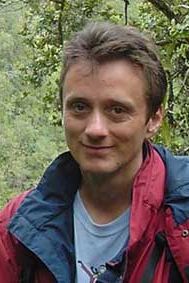 RESEARCHER OF THE MONTH, September 2004
Der Humangenetiker Berthold Streubel leitet die zytogenetischen Untersuchungen am Klinischen Institut für Pathologie und hat mit seinen rezenten Forschungsergebnissen, die im Juli 2004 (Vol. 351:250-259) im New England Journal of Medicine publiziert wurden, für wissenschaftliches und mediales Aufsehen gesorgt. In seinen aktuellen Arbeiten zeigte sich überraschend eine enge genetische Verwandtschaft zwischen Tumorzellen und Tumor-Gefäßzellen; d.h. auch in den Gefäßzellen konnten tumorspezifische genetische Veränderungen (tumorspezifische Translokationen) festgestellt werden.
Plakativer gesagt, zeigte sich in seiner Forschung, dass bestimmte Formen von Blutkrebs – die so genannten B-Zell-Lyphome – offenbar entgegen bisheriger Ansichten "bösartig" bis in die Blutgefäße hinein sind. Bisher war man davon ausgegangen, dass die für die Gefäßneubildung – und damit die für das Tumorwachstum wichtige Ausweitung der Nährstoffversorgung – verantwortlichen Zellen rein "gutartigen" Ursprungs seien. Diese neuen wissenschaftlichen Erkenntnisse könnten, obwohl – wie Dr. Streubel meint – die Forschung hier noch ganz am Anfang steht, auch neue Therapiestrategien hervorbringen, mit denen bösartige Tumore von ihrer Blutversorgung abgeschnitten werden könnten.
Lymphomspezifische genetische Abweichungen in mikrovaskulären Endothelzellen bei B-Zellen Lymphomen
Schwerpunkt der Forschungsarbeit von Dr. Streubel (in Diagnose und Forschung) sind genetische Veränderungen von hämatopoietischen Tumoren. Die neuesten Arbeiten beschäftigten sich mit genetischen Veränderungen der Blutgefäße in B-Zellen Non-Hodgkin Lymphomen.
Das Wachstum der meisten Tumore hängt von der Bildung neuer Blutgefäße ab. Im Gegensatz zu den genetisch instabilen Tumorzellen gelten die Endothelzellen von Tumorgefäßen als normale diploide Zellen, bei denen keinen Mutationen vorkommen. In der jetzigen Studie an 27 B-Zellen Lymphomen konnte jedoch gezeigt werden, dass in allen Tumoren ein Teil der mikrovaskulären Endothelzellen (Median 37%) die lymphomspezifischen chromosomalen Translokationen aufweisen. Des Weiteren wurden idente numerische chromosomale Abweichungen sowohl in den Lymphomzellen als auch in den Endothelzellen nachgewiesen. Diese Ergebnisse weisen darauf hin, dass mikrovaskuläre Endothelzellen von B-Zellen Lymphomen teilweise genetisch verwandt mit den Tumorzellen sind und deshalb einen neuen Aspekt in der Tumorangiogenese aufwerfen.
Diese Arbeit wurde in Kooperation von Pathologie (Prof. Chott), Innere Medizin I (Prof. Jäger) und Labormedizin (Prof. Wagner, Prof. Schwarzinger) durchgeführt.
Zur Person
Berthold Streubel, geb. 1970, studierte und promovierte in Medizin (1994) in Wien. Er ist Facharzt für Medizinische Biologie, Zusatzfacharzt für Humangenetik und habilitierte 2004 für das Fach Humangenetik. Seit 2001 arbeitet er im AKH am Klinischen Institut für Pathologie, wo er das zytogenetische Labor aufgebaut hat. Die Aufgaben in der Routine sind die Diagnose genetischer Krankheitsbilder, genetische Beratung und die zytogenetische und molekulargenetische Labordiagnostik. Forschungsschwerpunkt sind die genetischen Veränderungen von Lymphomen.
Publikationen als Erstautor der letzten 12 Monate (= IP: 57.526)
Streubel B, Simonitsch-Klupp I, Müllauer L, Lamprecht A, Huber D, Siebert R, Stolte M, Trautinger F, Lukas J, Püspök A, Formanek M, Assanasen T, Müller-Hermelink HK, Cerroni L, Raderer M, Chott A. Variable frequencies of MALT lymphoma-associated genetic aberrations in MALT lymphomas of different sites. Leukemia 2004; in press.
Streubel B, Ye H, Du MQ, Isaacson PG, Chott A, Raderer M. T(11;18)(q21;q21) is not predictive of response to chemotherapy with 2CdA in patients with gastric MALT lymphoma. Oncology 2004; in press.
Streubel B, Chott A, Huber D, Exner M, Jager U, Wagner O, Schwarzinger I. Lymphoma-specific genetic aberrations in microvascular endothelial cells in B-cell lymphomas. NEJM 2004; 351:250-259.
Streubel B, Huber D, Wöhrer S, Chott A, Raderer M. Frequency of chromosomal aberrations involving MALT1 in MALT lymphoma arising in patients with Sjögren's syndrome. Clin Cancer Res 2004; 10:476-80.
Streubel B, Lamprecht A, Dierlamm J, Cerroni L, Stolte M, Ott G, Raderer M, Chott A. T(14;18)(q32;q21) involving IGH and MALT1 is a frequent chromosomal aberration in MALT lymphoma. Blood 2003; 101: 2335-2339.
Kontaktadresse:
Univ.-Doz.Dr. Berthold Streubel
Klinisches Institut für Pathologie
Medizinische Universität Wien
Währinger Gürtel 18-20
1090 Wien
---