All News
Dr. Josef Singer, PhD, Judith Fazekas, MSc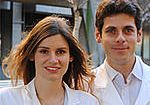 MedUni Wien RESEARCHER OF THE MONTH, Jänner 2015
Die Jury "Researcher of the Month" verleiht die Auszeichnung für diesen Monat an Herrn Dr. Josef Singer und Frau Judit Fazekas, MSc anlässlich der 2014 im Top-Journal "Molecular Cancer Therapeutics" (IF 6.107) erschienenen Arbeit "Generation of a canine anti-EGFR (ErbB-1) antibody for passive immunotherapy in dog cancer patients." (equally contributing) [1]. Die Arbeit entstand mit Förderung des FWF im PhD Kolleg CCHD der MedUni Wien, Studienleiterin Prof.in E. Jensen-Jarolim, Leiterin der Abteilung für Komparative Medizin des Messerli Forschungsinstitutes mit Standort am Institut für Pathophysiologie und Allergieforschung, in enger Kooperation mit der Veterinärmedizinischen Universität Wien sowie der FH Campus Wien, der Universität für Bodenkultur, der Capital Medical University Peking und der Universität Hamburg.
Entwicklung des weltweit ersten caninen Immunglobulins:
Ein wesentlicher Beitrag zum interdisziplinären Dialog
zwischen Human- und Veterinärmedizin
Nach dem Vorbild des Comparative Oncology Consortium des National Cancer Institute sollen durch Vergleiche menschlicher und tierischer Krebserkrankungen raschere Entwicklungen von neuen Krebstherapeutika erreicht werden. Anstelle Ergebnisse von Mausstudien direkt auf den menschlichen Krebspatienten zu übertragen, wird der "Tierische Patient" dazwischengeschoben. Krebstherapien, die beispielsweise in einer spontanen Tumorerkrankung eines Hundes erfolgreich getestet wurden, bringen nicht nur Nutzen für das krebskranke Tier, sondern ermöglichen auch die Anwendung beim menschlichen Krebspatienten.
In älteren Hunden (Canis lupus familiaris) ist Krebs tatsächlich eine der führenden Todesursachen. Das Mammakarzinom tritt bei Mensch und Hund gleich häufig auf, hat einen ähnlichen Verlauf und die Prognose verschlechtert sich beim Auftreten von Fernmetastasen. Auch die Tumorbiologie und die in Krebszellen beteiligten Signalwege sind sehr ähnlich [2], beispielsweise tragen etwa 30% der Hunde-Mammakarzinome die bekannten Krebsantigene HER-2 oder EGFR. Menschliche und canine (Hunde-) EGFR und HER-2 Antigene haben sogar eine 92%ige molekulare Identität ihrer Aminosäuresequenzen [3].
Mittlerweile sind zielgerichtete Therapien mit dem monoklonalen Antikörper Cetuximab gegen das EGFR-Krebsantigen ein fester Bestandteil vieler Therapieschemata in der humanen klinischen Onkologie, und werden z.B. in der Behandlung von metastasiertem Darmkrebs und Tumoren der HNO-Region angewendet.
Das Ziel dieser Studie war es, ein rekombinantes Hunde-anti-EGFR Immunglobulin für vergleichende Studien zu produzieren. Das von Dr. Singer und Fazekas et al. hergestellte canine Immunglobulin "can225IgG" hat wie Cetuximab die Fähigkeit, das Zielmolekül EGFR an Tumorzellen zu erkennen, ein Großteil des Immunglobulins wurde jedoch auf Hund umgebaut, caninisiert. Dies ist wichtig für eine optimale Verträglichkeit, wenn can225IgG klinisch-diagnostisch an Hunden mit Mammakarzinomen eingesetzt wird. Entsprechende Studien sind in Vorbereitung und werden wegweisend sein für neue zielgerichtete Therapien oder Kombinationstherapien beim Menschen.
Wissenschaftliches Umfeld
Der Forschungsschwerpunkt von Dr. Singer und Fazekas, MSc ist die Entwicklung neuer Immuntherapeutika gegen Krebs [4-10]. Derzeit arbeiten sie an der Generierung verschiedener humaner und caniner Immunglobuline der Klassen IgG und IgE, der radioaktiven Markierung von Antikörpern zu diagnostischen und therapeutischen Zwecken ("Theranostics") sowie an einer neuartigen Impfung gegen Krebs.
Persönliches
J. Fazekas, MSc, wurde 1988 in Sopron (Ungarn) geboren und maturierte 2007 mit Auszeichnung. Anschließend studierte sie Molekulare Biotechnologie an der FH Campus Wien und verbrachte während ihres Bachelorstudiums einen Forschungsaufenthalt bei Prof.in B. Berger-Bächi an der Universität Zürich. Ihre Masterarbeit unter der Leitung von Prof.in E. Jensen-Jarolim an der MedUni Wien schloss sie 2013 mit ausgezeichnetem Erfolg ab. Anschließend Aufnahme in das PhD-Programm Cell Communication in Health and Disease (CCHD), wo sie ebenfalls an tumorimmunologischen Fragestellungen arbeitet. Für ihre Forschungsarbeiten erhielt sie mehrere Travel Grants und Auszeichnungen nationaler und internationaler Fachgesellschaften, sowie 2013 einen Posterpreis auf der Jahreskonferenz der Europäischen Gesellschaft für Allergologie und klinische Immunologie (EAACI).
Dr. J. Singer, PhD wurde 1984 in Mistelbach (Niederösterreich) geboren und absolvierte die Matura am Bundesgymnasium Laa/Thaya mit Auszeichnung. Er studierte Humanmedizin an der Medizinischen Universität Wien. Schon während seiner Diplomarbeit unter der Leitung von Prof.in E. Jensen-Jarolim verbrachte Josef Singer zwei Forschungsaufenthalte am King's College London. Im Anschluss an sein Medizinstudium arbeitete er als Stationsarzt in Bad Windsheim (Deutschland), ehe er in das PhD-Programm Cell Communication in Health and Disease (CCHD) aufgenommen wurde. In dieser Zeit führte ihn ein
6-monatiger Auslandsaufenthalt an das Boston Children's Hospital, Harvard Medical School. Dr. Singer schloss 2014 seine Dissertation mit dem Titel "IgE-based Immunotherapy of Cancer - a Comparative Oncology Approach" mit Auszeichnung ab.
Singer J*, Fazekas J*, Wang W, Weichselbaumer M, Matz M, Mader A, Steinfellner W, Meitz S, Mechtcheriakova D, Sobanov Y, Willmann M, Stockner T, Spillner E, Kunert R, Jensen-Jarolim E. Generation of a canine anti-EGFR (ErbB-1) antibody for passive immunotherapy in dog cancer patients. Molecular Cancer Therapeutics 2014 Jul;13(7):1777-90.
*… equally contributing co-authors
Singer J and Jensen-Jarolim E. IgE based Immunotherapy of Cancer: Challenges and chances. Allergy 2013 Oct 14.
Singer J*, Weichselbaumer M*, Stockner T, Mechtcheriakova D, Sobanov Y, Wrba F, Horvat R, Thalhamer J, Willmann M, Jensen-Jarolim E. Comparative oncology: ErbB-1 and ErbB-2 homologues in canine cancer are susceptible to cetuximab and trastuzumab targeting. Mol Immunol. 2012 Apr;50(4):200-9.
*… equally contributing co-authors.
Singer J and Jensen-Jarolim E. IgE-based Immunotherapy of Cancer - A Comparative Oncology Approach. J Carcinog Mutagen 2014 May 31;5(3):1000176.
Petricevic B*, Laengle J*, Singer J, Sachet M, Fazekas J, Steger G, Bartsch R, Jensen-Jarolim E, Bergmann M. Trastuzumab mediates antibody-dependent cell-mediated cytotoxicity and phagocytosis to the same extent in both adjuvant and metastatic HER2/neu breast cancer patients. J Transl Med. 2013 Dec 12;11:307.
*… equally contributing co-authors
Spillner E, Plum M, Blank S, Miehe M, Singer J, Braren I. Recombinant IgE antibody engineering to target EGFR. Cancer Immunol Immunother. 2012 Sep;61(9):1565-73.
Jensen-Jarolim E and Singer J. Cancer vaccines inducing antibody production: more pros than cons. Expert Rev Vaccines. 2011 Sep;10(9):1281-9.
Jensen-Jarolim E and Singer J. Why could passive Immunoglobulin E antibody therapy be safe in clinical oncology? Clin Exp Allergy. 2011 Oct;41(10):1337-40.
Weichselbaumer M, Willmann M, Reifinger M, Singer J, Bajna E, Sobanov Y, Mechteriakova D, Selzer E, Thalhammer JG, Kammerer R, Jensen-Jarolim E. Phylogenetic discordance of human and canine carcinoembryonic antigen (CEA, CEACAM) families, but striking identity of the CEA receptors will impact comparative oncology studies. PLoS Curr. 2011 Mar 16;3:RRN1223.
Karagiannis P*, Singer J*, Hunt J, Gan SK, Rudman SM, Mechtcheriakova D, Knittelfelder R, Daniels TR, Hobson PS, Beavil AJ, Spicer J, Nestle FO, Penichet ML, Gould HJ, Jensen-Jarolim E, Karagiannis SN. Characterisation of an engineered trastuzumab IgE antibody and effector cell mechanisms targeting HER2/neu-postive tumour cells. Cancer Immunol Immunother. 2009 Jun;58(6):
915-30. Epub 2008 Oct 22.
*…equally contributing co-authors.
Kontakt
Dr. Josef Singer, PhD
Medizinische Universität Wien
Abteilung für Komparative Medizin, Institut für Pathophysiologie und Allergieforschung,
Währinger Gürtel 18-20
1090 Wien
---